Looking at a chart of the S&P 500 (NYSEARCA:SPY) it should be evident to all that there is a certain amount of trepidation among investors at present. The quick sell-off we saw in January held long-term support, but the recovery from the lows has been ponderous for the most part and bounces have tended to be sold as we have approached prior support levels.
Much of that is par for the course, given that the velocity of the January decline will have trapped many late-to-the-party longs who were likely to be looking for an easy escape now that they have clawed back their losses. But despite the precarious position we currently find ourselves in, I continue to believe that we will see new all-time highs in the indices over the next year, and a patient approach is therefore warranted.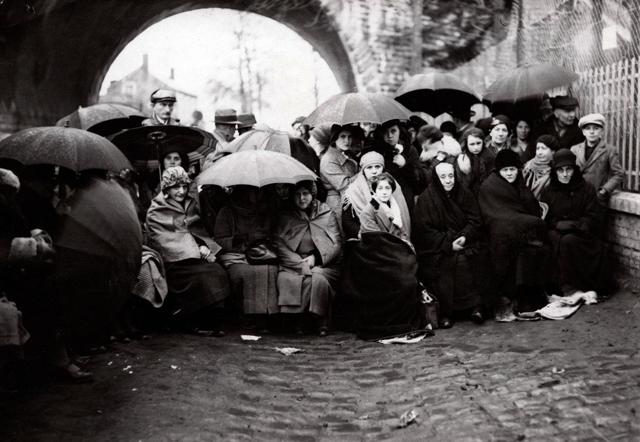 Since I haven't contributed an article for a while now, I thought I'd do a general piece on a range of markets rather than something sector-specific. Hopefully, that should be enough to convey how I think we should be positioning for the swings, but if it's some tasseomancy on next week's price action you're free to post in the comments section and I'll do my best to oblige.
Market Landscape
Much of the recent negative price action in stocks has been attributed by the press to current White House foreign policy on trade, and in terms of the daily swings, there is a case to be made that the Orange One could act a little more statesman-like when making his views known publicly. Looking at US politics from the outside has been comical at times, but you can well imagine the day traders screaming at him to button his lip every time the market dropped 2% after some threatening tweet or other.
Trump the man quite often comes across as vain, pouting at his poor press coverage and flaunting his 'successes' in equal measure (has there been anything in between yet?), but it's the barrage of non-sequiturs in his press engagements that I find interesting as they perhaps speak to a confused mind. It's like Christopher Walken had a lovechild with Derek Zoolander and the result is the 45th President of the United States. You have to wonder whether he actually has a concrete plan in place, or is he just careening from one car crash issue to the next. This is from his Montana speech last week (go on, read it in your best Walken voice):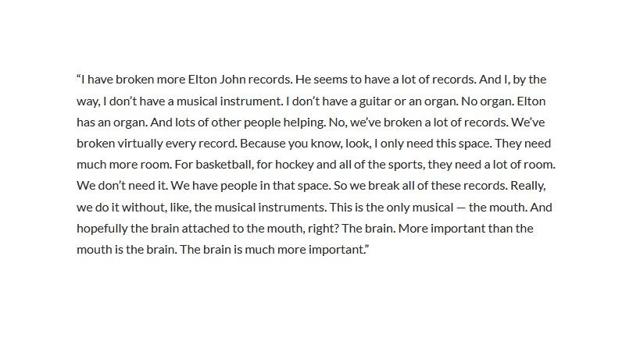 Perhaps it is best to approach him in the same way you would an illusionist - ignore the patter and focus on what they actually do - and in that respect it is hard to argue against him 100% at present (although I am fully aware that there are issues that have not been handled well). Lowering taxes was the correct choice given 10 years of Fed accommodation has abjectly failed to spur true economic growth; and getting 'Little Rocket Man' to lay down arms and return US prisoners was fantastic in my opinion. Saint Obama would no doubt have earned another Peace Prize had he managed the same.
I haven't read the Art of the Deal (and don't intend to) but I would imagine the posturing we saw in his dealings with North Korea and are currently seeing with China make up a large part of his tactical nous - he bullies and cajoles his opponent to put them off balance and gain an advantage prior to sitting down and ultimately hammering out a deal. Yes, that has been said before, but it is still true, and on that basis, I think we'll see headline risk dissipate and calm restored to markets over the next month or two as the US and China come to mutually beneficial terms on trade. Bigly.
Rather than concentrating on Trump and his apparent buffoonery, instead I think the focus should be on the bond markets if we want to ride the bigger and more long-lasting market moves - Fed policy is far more important here than people realize. The decision to continue their tightening cycle despite the fact that virtually no other major economy is currently following suit is guaranteed to pile pressure on government debt for the rest of the world, and will likely be a real positive for US dollar-based assets moving forward should they maintain their current course.
A case could be made that the movement in stocks since the start of the year is more the result of a re-positioning in treasury bond holdings among the major players, in part because stocks tend to be sold when you want to drum up a bid in treasuries to sell into, but also because many still employ a fixed allocation model, meaning that in order to reduce their bond holdings they must sell stocks in equal measure. Ultimately, this should be a boon for equities in the years to come as more of this liberated bond money finds its way into blue chips, but it may well be a choppy ride for some time still.
Bonds
Borrowing while interest rates are low is generally considered to be smart; but then that really only applies where you anticipate higher rates in the future and (crucially) intend not to borrow more (for a while). With that in mind let me ask you this question - Just how many countries do you think used the low rate environment of the last 10 years to significantly reduce their debt burden?
If you are thinking 'don't be silly Ben - austerity is for peasants!' you would of course be correct (and probably dark around the eyes like me), since the only real difference between then and now is the man on the street has a much harder time borrowing money. Government carried on regardless, never skipping a beat, and in that regard you have to admire their efficiency and selflessness - they already shoulder the burden of feeding and housing the needy, and they now borrow for them too.
Stats from the OECD show that general government debt (their outgoings) as a percentage of GDP (the activity that produces their income) has risen quite substantially from pre-2008 crash levels: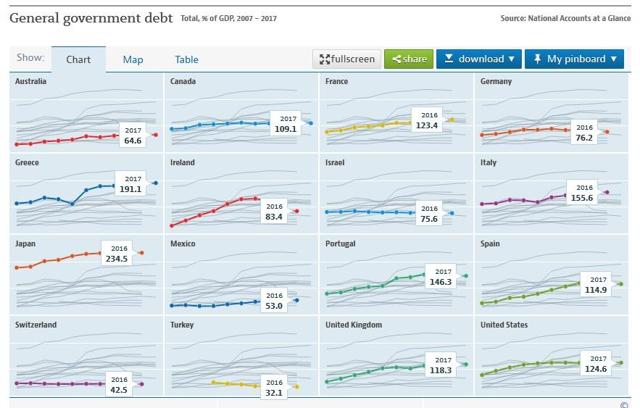 The reality is that many major governments are now servicing borrowings in excess of their income, but figures don't yet reflect the true position since they are being propped up by Central Banks which have been the major buyer of new debt via their QE programs and have kept interest rates (borrowing costs) artificially low. Now that the Fed has begun to scale back their accommodation, the other CBs have two choices - either they follow suit by raising rates and ending QE, thereby blowing out government budgets; or they continue to buy and hope wage inflation swells tax coffers to the point they can move.
In either case, interest rates have to rise eventually in those countries still employing a bond-buying program, and the fact that the Fed has gone first and currently pay a far higher coupon makes them eminently more attractive, so the recommendation is (and has been for some time) long US Treasuries (NYSEARCA:TLT) and short just about any other non-US government debt. Personally, I like a pair trade between the US and French 10-year bonds, and plan to temporarily swap out the long side (US10Y) for a US cash fund when the decline begins in earnest (later this summer?).
Currencies
I just can't get my head around the US Dollar (NYSEARCA:UUP) bearishness that pervades the financial forums. The spread between European and US bond yields alone should be enough to deter even the most ardent of bears. If it is a choice between lending money to Spain for 10 years at 1.3% or the United States at 2.8%, it isn't really a choice at all. The hesitation can only have been on the currency side, but now the greenback has recovered its composure you could well imagine more institutions coming around to this point of view.
Add to that the (still) huge amounts of US Dollar debt issued by non-US countries (which results in a need for US Dollars in order to make interest repayments), and a Fed policy that is increasing the borrowing cost of this debt as it matures and is rolled over, and you have quite a compelling fundamental argument for continuing US Dollar strength: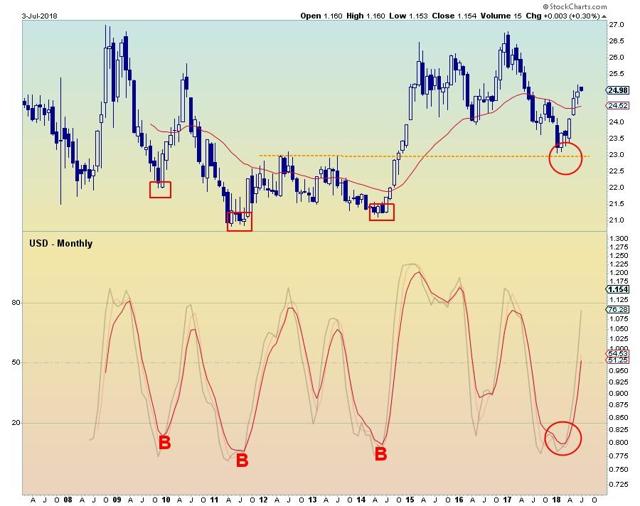 Given the recent run higher from support, there is a better than good chance we see some give back over the next month or so (it is European holiday season after all), but overall I'm in the camp that says we head all the way back to the 2017 highs by year-end. If you are a non-US investor my recommendation would be to buy US Dollar assets as you should get some currency appreciation to cushion any downside in whatever asset you pick; for US-based investors, I like using any bounce we see near term to position for a short on the euro (NYSEARCA:FXE).
Commodities
It isn't unheard of for precious metals to rally with the US Dollar, but all the same I'd be wary of those calling for an imminent upside breakout in gold (NYSEARCA:GLD). The rally that is being touted now (and has been continually touted for the last 5 years) has once again lost overall momentum, and we are flirting dangerously with a break of support.
That being said I wouldn't bet against an upside pop over the next couple of months; I just don't see us taking out key resistance at $1400, and instead favor a dead cat bounce and an eventual retest of the $1100-1150 area into year-end. Short-term resistance starts at $1286.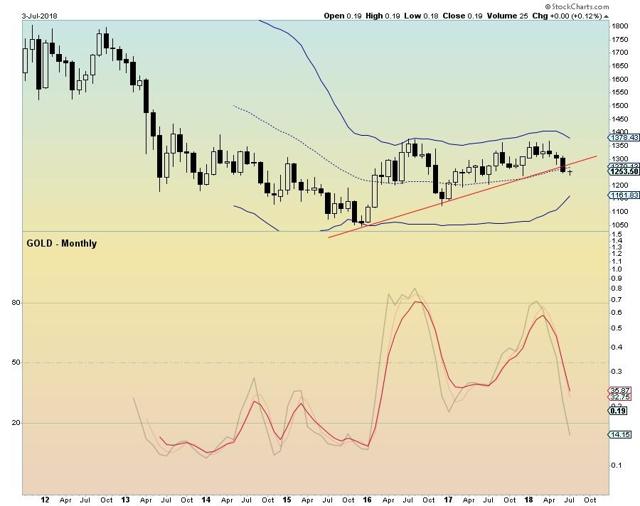 Oil (NYSEARCA:USO), on the other hand, has been a brilliant long trade since the ratio oscillator (ratio of long to short) turned up on the monthly time frame in the Fall of 2017. We are now reaching the kind of levels where you could expect to see a top form, so although I do think we will head to the $80-84 area near term, there is a fairly good chance we back-test the breakout at $62 before we go on to challenge the 2011 highs.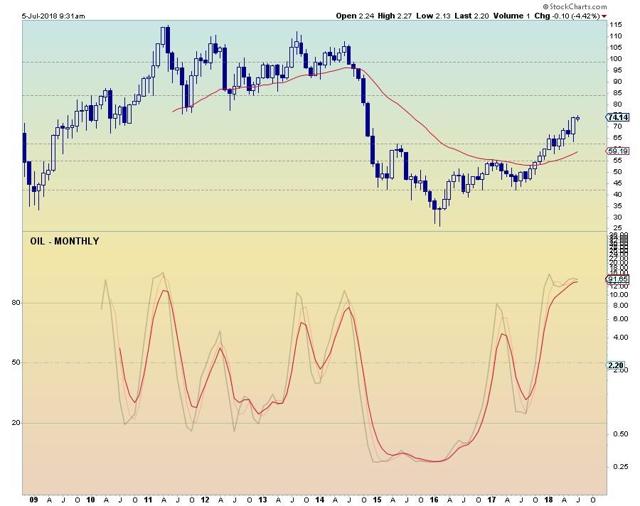 Natural Gas (NYSEARCA:UNG) has been a bit of a bogey chart for me over the last year. Every time I think it is about to break out and confirm the long-term low, sellers re-enter the fray and it falls back to $2.5 support. We are currently trading at fair value, but monthly indicators are turning higher which says bullish belief is returning to this market despite the choppy price action. I favor buying weakness here, but just be aware that you may have to take a longer-term view. On a monthly close back above $3.3 the target would be up towards $5.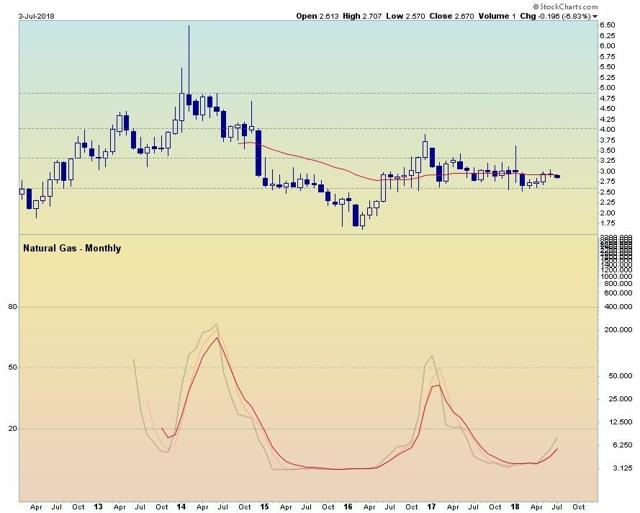 Equities
Given the position in the bond markets, has there ever been a better time to own stocks? Much of the disbelief in a long-term rally from here seems to stem from the view that this is all one move from the 2009 lows, and given that bull markets typically average 7-9 years in duration, a bear market must be imminent. So let me be clear: 2015/2016 was a bear market, with the average stock and many individual sectors getting clobbered during that period, and we are therefore only two years into what should be an extended upside run.
Of course not all equity markets are equal, and given my views on both the debt markets and the US Dollar, it remains hard to love emerging market equities (NYSEARCA:EEM) at present. However, we have seen 20%+ declines in many of these charts now, so a lot of the negative effects of Fed interest rate policy and the dollar rally must surely be priced in. On balance, I am staying away from Emerging Markets until the monthly ratio oscillator turns higher once more, but I am watching closely: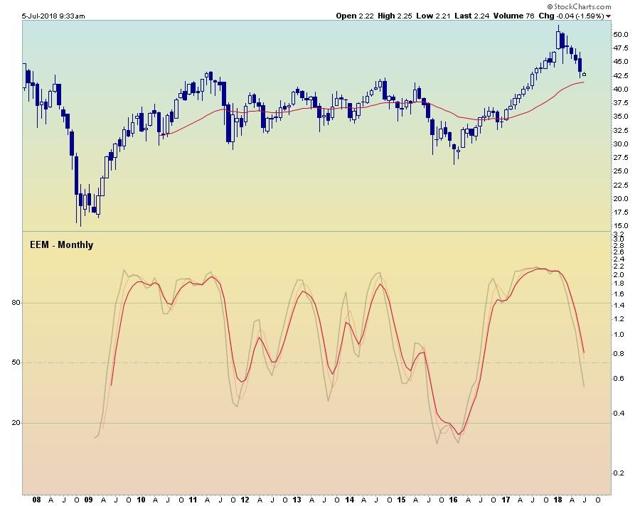 US equities in general have maintained a far more potentially bullish posture, with small caps (NYSEARCA:IWM) and tech (NASDAQ:QQQ) making new all-time highs within the last two months despite global indices struggling to hold their short-term gains. In itself that is a real show of strength and should have your spidey-sense tingling. The correction we have experienced since the start of the year may now be coming to an end: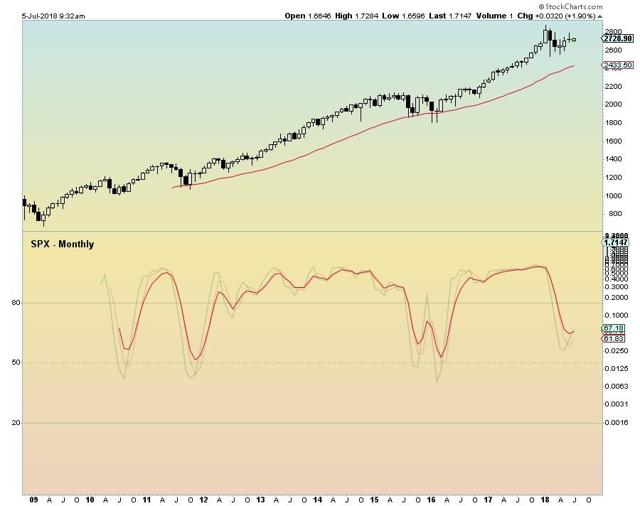 For the S&P 500 (SPX) we can't completely rule out another leg down into support at 2450 or thereabouts, but if we did see that move it would represent a good buying opportunity. My primary view is that we will continue to see choppy price action, but overall we should rally throughout the second half of the year, and the next major upside target of note is 3300.
Bitcoin
I had to include something on bitcoin (BTCUSD) as it has been the phenomenon asset class of the last two years. The price rise has been insane at times, but with the advent of a futures market and public interest still enthusiastic, it would appear that cryptocurrency is here to stay: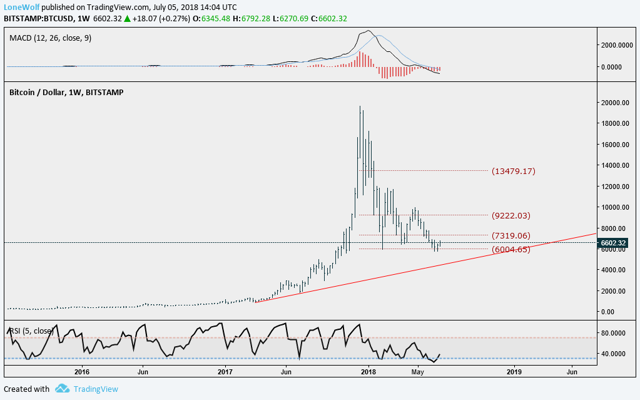 The coins get all the press accolades, but it is actually the implementation of blockchain processes that you need to pay attention to. Coins are given the label 'cryptocurrency' because they are the unit of account used to pay miners for processing transactions on the blockchain, but in terms of their real world utility they don't yet function as a medium of exchange. Instead, for the average holder of cryptocurrency they are more of a speculative asset class with a value based primarily on the perceived future cost and popularity of mining.
At present, investors (sorry, "HODLers") buy cryptocurrencies on the assumption that there will be a growing number of blockchain transactions processed as part of a service, and therefore rising demand for the currency used to compensate miners. I think that assumption is fair, and given that there are huge savings to be made by companies which currently employ staff to process data or value transactions and switch to a blockchain method, you can well imagine that demand for bitcoin and the like will grow and price will therefore eventually achieve consistency.
The challenge for blockchain companies (and bitcoin enthusiasts) is to integrate with the retail world, so that holders of cryptocurrency can utilize/spend it more freely in their local economies or online. I think the next evolutionary trend we'll see in this sector is just that, and I know of one company in particular that is working on a tech solution. They will be making an announcement within the next 2-3 weeks, and if anyone has an interest I'll be happy to pass on the details.
Support for bitcoin remains in the $5000-6000 area, $3000 at the outside, but even if we hold that area on any coming drop I am not sure we'll get an immediate rally to match the speed of the initial upside move - the HODLers may have to suffer a bit longer.
Thanks for reading - I wish everyone a happy and successful second half of the year! I'll leave you with this.
Disclosure: I am/we are long SPX, UUP.
I wrote this article myself, and it expresses my own opinions. I am not receiving compensation for it (other than from Seeking Alpha). I have no business relationship with any company whose stock is mentioned in this article.