The Permian Basin is the powerhouse of oil production growth in the U.S. This is why the bottlenecks and the resulting Permian discounts are the latest hot topics in the energy sector causing pain and uncertainty to the formerly hot Permian producers.
Due to slow progress in new pipeline construction, Permian oil production has run ahead of pipeline capacity over the last quarters and therefore, the discounts for Midland WTI to Cushing WTI and Houston WTI are widening at a rapid pace. Based also on our extensive research in the area, we come to the conclusion that these logistical constraints are set to remain acute in 2019. Actually, we forecast that these differentials will get worse in 2019 before they get better in 2020.
Meanwhile, we haven't found any article on a financial website to-date with the Permian pipeline projects that are coming online by 2020 and are expected to mitigate the serious logistical problems in the region. This is why we decided to write this article summarizing the most significant oil and gas pipeline projects in the Permian Basin while also making our forecasts and providing our recommendations.
The Permian Oil Pipeline Projects By 2020
Since 2014, Permian production has been increasing at a breakneck pace as new players are entering the prolific Permian Basin.
In 2017, average daily output in the hottest U.S. shale oil play was about 2.5 MMbp/d, an approximately 25% increase from 2 MMbp/d in 2016, according to the U.S. Energy Information Administration (EIA).
And we haven't seen signs of slowing down over the last months. Permian production has been ramping up reaching about 3.3 MMbp/d in Q2 2018, while there is currently about 3.1 MMbp/d of pipeline capacity to take crude oil out of the Permian basin, according to Bloomberg Intelligence, leaving the producers without committed pipeline space high and dry.
On that front, the latest project that came online in H1 2018 was Enterprise Products Partners' (EPD) Midland-to-Sealy pipeline with an expanded capacity of 575,000 bpd, as illustrated below: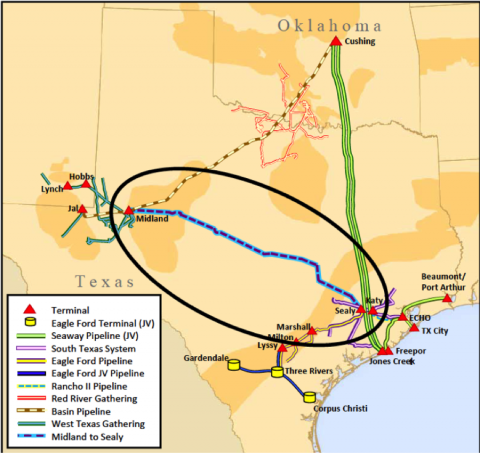 Source: Seeking Alpha
Meanwhile, Permian production is projected to reach almost 5 MMbp/d by the end of 2020, according to Chevron (CVX) and IHS Markit.
But fortunately, pipeline help is coming and the new pipelines will raise capacity to about 5.5 MMbp/d by the end of 2020, which is expected to narrow the existing double-digit oil spread.
Specifically, the most significant, oil pipeline projects that will add about 2.4 MMbp/d of capacity and will become fully operational in the next 18 months are:
1) Energy Transfer Partners' (ETP) Express 3 pipeline flows from the Permian to Nederland, as illustrated below (brown color):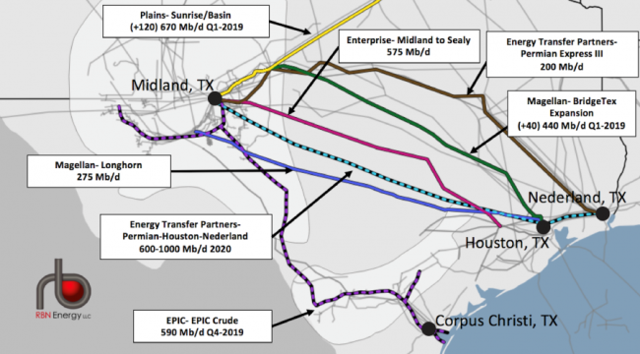 Source: RBN Energy
ETP will bring online the remaining available capacity of 50,000 bpd for its 140,000 bpd Permian Express 3 pipeline in Q4 2018, and is also evaluating an additional 200,000 bpd expansion on the Express 3 pipeline.
Moreover, as illustrated above (blue and black colors), ETP recently said that it plans to build a crude pipeline from the Permian basin to the Houston Ship Channel and Nederland, Texas, which will have an initial capacity of up to 600,000 bpd and will be easily expandable to 1 million bpd. This new pipeline is likely to come online by 2020.
2) The Gray Oak Pipeline is expected to come in service in H2 2019, as illustrated below: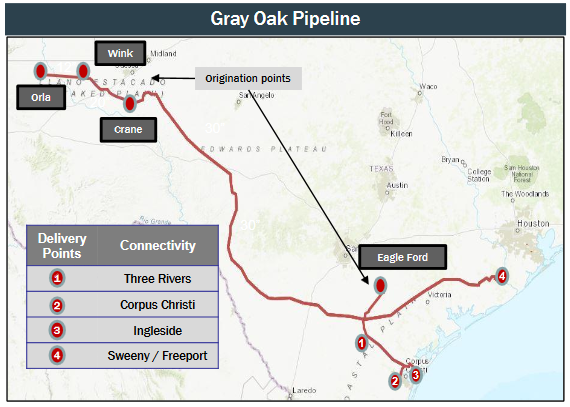 Source: PSXP Q1 Presentation
The Gray Oak Pipeline's origination stations will be constructed in Reeves, Loving, Winkler, and Crane counties in West Texas, as well as from locations in the Eagle Ford production area in South Texas. The pipeline will transport up to 700,000 bpd and its capacity could ultimately be expanded to approximately 1 million bpd. The Gray Oak pipeline is 75% owned by Phillips 66 Partners (PSXP) and 25% by Andeavor (ANDV) which was recently acquired by Marathon Petroleum (MPC).
3) Plains All American's (PAA) Sunrise Extension is scheduled for H1 2019 adding 120,000 bpd in capacity to move volume from the Delaware Basin to the Cushing, as illustrated below: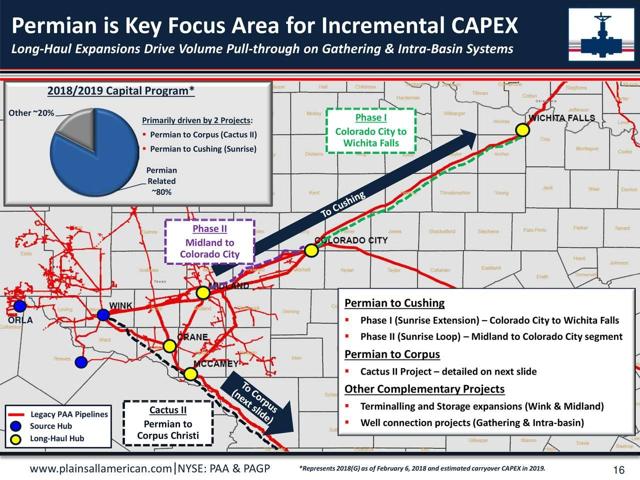 Source: Seeking Alpha
4) PAA's Cactus II is scheduled for Q3 2019. It will have origination points at Orla, Wink, Midland, Crane and McCamey, Texas and will carry 585,000 bpd from the Permian Basin to the Corpus Christi/Ingleside area, as illustrated below: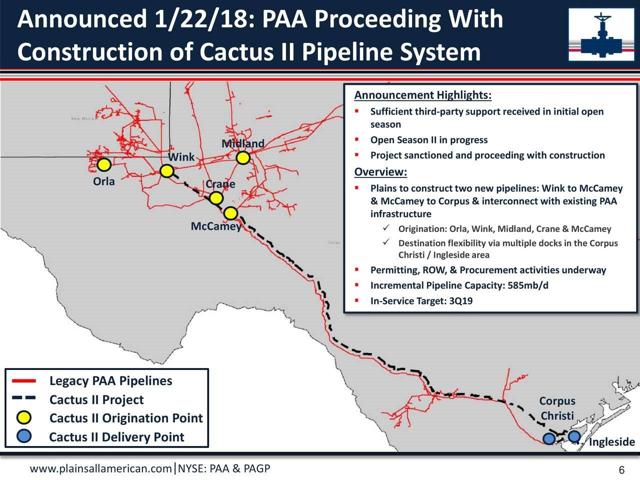 Source: PAA's website
5) EPIC's pipeline is expected to come in service in H2 2019 delivering an initial 590,000 bpd of Permian and Eagle Ford crude to Corpus Christi, as illustrated below: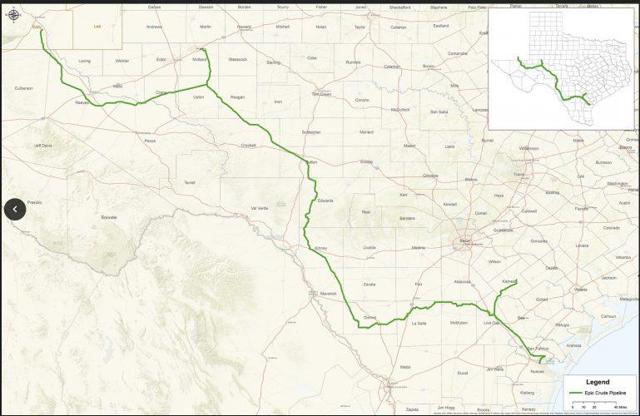 Source: EPIC's website
6) PAA's and Magellan Midstream Partners' (MMP) BridgeTex pipeline is expected to add 40,000 bpd of capacity in early 2019, as illustrated below: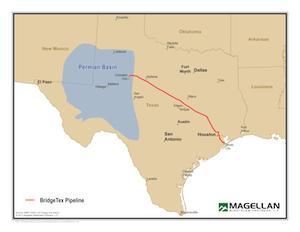 Source: Magellan Midstream Partners' website
Our Forecasts For The Permian Oil Discount By 2020
Midland WTI crude was at a $2.50-2.80/bbl discount to Houston WTI in Q1 2018, widened at a $8-$10/bbl discount to Houston WTI crude in Q2 2018 and currently is around $13/bbl, as shown here.
As also presented above, no new pipeline capacity is imminent. Some might say thattruck transport could help fill the void. The problem is that there is a shortage of truck drivers in the Permian Basin, so we don't believe that truck transport can meaningfully help when it comes to the pipeline constraints. Rail could be an option and help somewhat although most of the existing rail facilities in the Permian Basin are designed for frac sand and not crude movement.
Meanwhile, the oil production in the Permian Basin is expected to grow by almost 1 million barrels per day on a YoY basis.
Therefore, we forecast that the discount will remain in "double-digit territory" and will not stabilize below $10/bbl in the second half of 2018.
Based also on the timelines of the aforementioned oil projects, we don't see a substantial improvement next year and we believe that the painful bottleneck will not ease in 2019. Actually, we forecast that the discount will remain at or above $10/bbl by the end of 2019, while we will not be surprised if it approaches $15/bbl for a short period of time during 2019.
In other words, we project that the pipeline bottleneck could grow worse in 2019 before stabilizing below $10/bbl in early 2020.
The Permian Natural Gas Pipeline Projects By 2020
According to the U.S. Energy Information Administration, natural gas production in the Permian is projected to be slightly over 10 Bcf/d in 2018. Based also on current activity levels, privately-held NAmerico Energy Holdings LLC projects that natural gas production will reach 20 Bcf/d by 2025.
In our opinion, this significant rise in production is not solely the result of rising rig count and improving completion design. A key contributor to this rise is that the Permian wells get gassy over time. Therefore, we expect that Permian's natural gas will gradually attract more attention and will gradually become a big part of the Permian producers' realized pricing and their profitability.
That said, several natural gas pipelines are being built to transport about 6.5 Bcf/d of natural gas from the Permian Basin to Mexico or to the Gulf Coast LNG markets over the next couple of years. Specifically, the most significant natural gas pipeline additions by 2020 are:
1) The 1.98 Bcf/d Gulf Coast Express Pipeline owned by Kinder Morgan (KMI), Targa Resources Corp. (TRGP) and DCP Midstream Partners LP (DCP) is expected to come online in Q4 2019, as illustrated below (brown and black colors):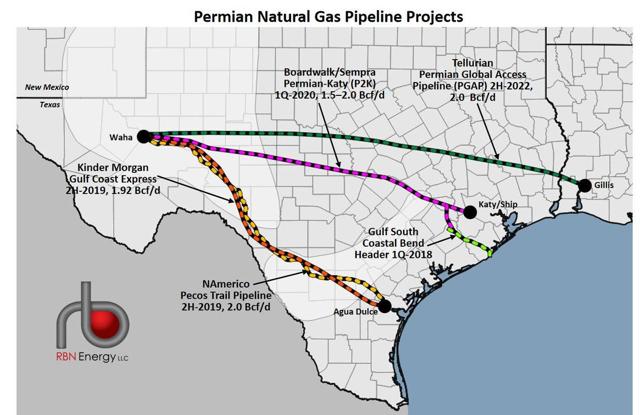 Source: RBN Energy
2) The 1.85 Bcf/d Pecos Trail pipeline owned by privately-held NAmerico and Cresta Energy is expected to come online in 2019, as illustrated above (yellow and black colors).
3) The Permian-Katy Pipeline owned by Sempra Energy (SRE) and Boardwalk Pipeline Partners (BWP) is proposed to transport up to 2.25 Bcf/d and is expected to be in service in Q4 2020, as illustrated below: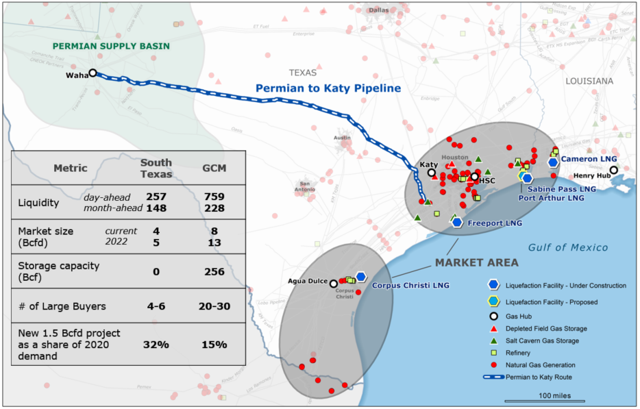 Source: The project's website
Our Forecasts For The Permian Natural Gas Discount By 2020
A few years ago, natural gas prices in the Permian Basin were bouncing within 10-30 cents of the benchmark Henry Hub. However, times have changed since late 2017. The discount between the Waha hub in Pecos county, Texas and Henry Hub plummeted to multi-year lows of $1.40/MMBtu under Henry Hub in April 2018, while the average discount this year stands at approximately $0.90/MMbtu.
Unfortunately, we forecast that the Waha discount coupled with increased volatility are here to stay, because the aforementioned nat gas projects can hardly keep up with the anticipated YoY nat gas production growth by the end of 2020.
Actually, based on the timelines and the capacities of the aforementioned nat gas projects, we project that the average Waha discount to Henry Hub will stand at or above $0.90/MMbtu for the remainder of 2018.
And we will not be surprised if it stays for an extended period of time above $1/MMbtu in 2019.
We also forecast that the Waha differential will narrow and will stabilize well below $0.90/MMbtu effective H1 2020.
The Effect On The Permian Energy Producers
According to their charts, the vast majority of the pure Permian producers along with the energy producers with significant exposure to the Permian Basin have dropped or have remained flat relative to their early 2017 prices. And this poor performance took place despite the fact that WTI has risen significantly since early 2017.
Specifically, we refer to Jagged Peak Energy (JAG), Centennial Resource Development (CDEV), Laredo Petroleum (LPI), Sanchez Energy (SN), Carrizo Oil (CRZO), Concho Resources (CXO), RSP Permian (RSPP), Devon Energy (DVN), Noble Energy (NBL), Resolute Energy (REN), Abraxas Petroleum (OTCQX:AXAS), Halcon Resources (HK), Contango Oil & Gas (MCF), Matador Resources (MTDR), Cimarex Energy (XEC), Parsley Energy (PE), SM Energy (SM), Earthstone Energy (ESTE) and Approach Resources (AREX).
Of course, more than one reasons have weighed on these stocks over the last twelve months such as corporate developments (i.e. questionable or bad deals) and weak balance sheets due to high leverage. However, we believe that the aforementioned Permian oil discount has to be added to this list.
More importantly, the Permian oil discount will continue to be a major headwind, while the Waha discount could make things worse over the next months.
Takeway
Currently, the limited production takeaway capacity in the Permian Basin is the most challenging constraint for the energy producers. And this refers to both the oil pipelines and the natural gas ones.
Based also on the aforementioned pipeline projects and their nameplate capacities, we project that the Midland WTI-Houston WTI discount and the Waha-Henry Hub discount will get worse before they get better.
Therefore, we forecast that these discounts will continue to weigh on the Permian stocks limiting their upside, so we highly recommend investors are not overweight on the Permian plays in the short to medium term.
Instead, we strongly encourage them to check the Canadian oil market where they can find some very attractive investment opportunities, thanks also to the recent positive news associated with Trans Mountain pipeline and Enbridge's (ENB) Line 3 project.
On that front, we painstakingly select for our subscribers specific Canadian oil-weighted producers with healthy balance sheets, low key metrics, proven management teams with skin in the game that are potential takeover targets. And we are firm believers that our carefully selected oil-weighted Canadian picks can outperform over the next 12 months. One of them is Cardinal Energy (OTCPK:CRLFF) for the reasons mentioned here.
However, we will keep a close eye on the Permian plays, their drilling results and their corporate developments in order to re-evaluate our "wait and see" approach in the first half of 2019.
Disclaimer: The opinions expressed here are solely my opinion and should not be construed in any way, shape, or form as a formal investment recommendation. Value Digger does not accept any liability for any loss or damage whatsoever caused in reliance upon such information. Investors are advised that the material contained herein should be used solely for informational purposes. Investors are reminded that before making any securities and/or derivatives transaction, you should perform your own due diligence. Investors should also consider consulting with their broker and/or a financial adviser before making any investment decisions.