Enphase Energy (NASDAQ:ENPH), driven by solid growth and the news of a strategic partnership with SunPower (SPWR), has seen its stock price rise 159% YTD. Enphase provides module level power electronics (MLPE) solutions for solar energy systems. The company's next generation microinverter system, IQ8, promises to supply a viable grid-free energy solution, an advancement that will allow ENPH to unlock new global markets.
I decided to take a closer look at the company's fundamentals and prospects for future growth by building a discounted cash flows model to derive an intrinsic value for ENPH.
Methodology
In order to calculate free cash flows (FCF) in any given year, I used the equation
FCF = EBIT * (1-T) + Depreciation & Amortization - Capital Expenditures - Change in Net Working Capital, where
EBIT = earnings before interest and taxes, or operating income,
T = effective tax rate,
CapEx = net PP&E (current year) - net PP&E (prior year) + depreciation, and
∆NWC = (current assets (current year) - current liabilities (current year)) - (current assets (prior year) - current liabilities (prior year)).
I treated the last four quarters of released financial statements (the final three quarters of 2017 and the first quarter of 2018) as "Fiscal Year 2017" and forecasted ten future years of FCF using "2017" as the base year. I then calculated a terminal value for the company and discounted these future FCF back to the present day by the company's weighted average cost of capital. I found an intrinsic market value for ENPH by subtracting debt and adding back current cash reserves, and I found an intrinsic share price by dividing this number by shares outstanding.
As this is intended to be a simple model, I forecasted only the material items on the financial statements (those necessary to perform FCF calculations), shown in this image.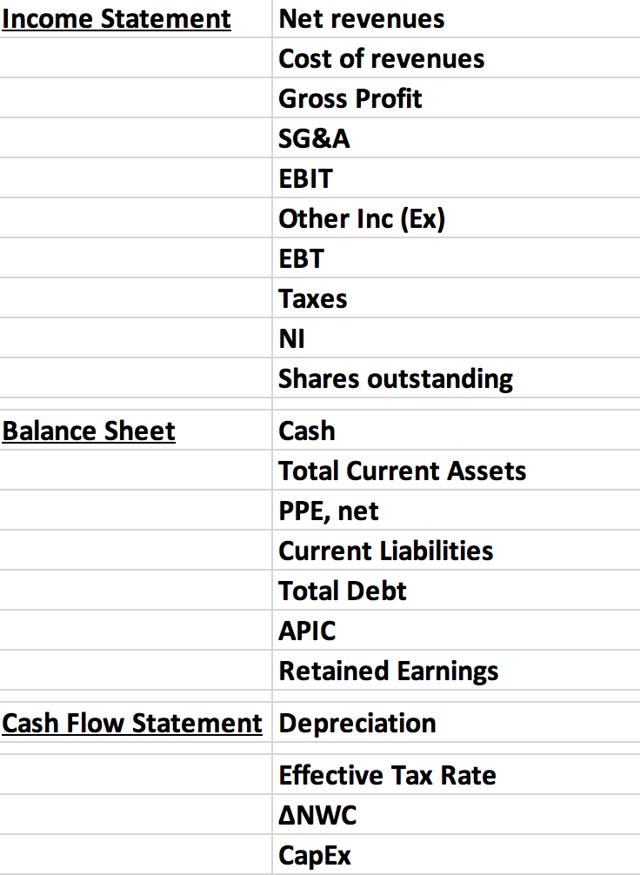 Assumptions
Income Statement
To forecast net revenues, I began by building in Enphase management's guidance on added revenues from the recent acquisition of SunPower's (SPWR) microinverter business; that is, adding $60 million in revenues by the second half of 2019 (on the conservative side of the $60-$70 million guidance). I chose to ease this revenue in, adding $15 million in 2018 and $45 million in 2019, given that the partnership is expected to begin later this year (and keep in mind that my "Fiscal Year 2018" includes Q1 2019). Due to an expected slowdown of residential solar installation growth in 2018 in the United States, I forecasted revenue to grow at 10% in 2018 in addition to the added $15 million and to speed up slightly to 12% growth in 2019, in addition to the added $45 million. These numbers are still slightly below annual solar growth rates from previous years, but I believe this relatively high growth rate is justified based on an expectation of falling solar prices per watt in the back half of 2018 and 2019. Falling prices should drive up solar sales volumes, which in turn increases demand for complementary components like microinverters. Finally, I believe that in 2020 and beyond the company will experience even more rapid growth given that a greater percentage of customers will come from emerging solar markets that can benefit greatly from the upcoming IQ8 system. The system's grid-free energy solution will be highly valuable to the 870 million people around the world estimated to still live without electricity by 2020. For this reason, I expect Enphase revenues to trend upward to 18% in 2022 before trending down to a more reasonable 5% growth rate at the end of the forecast horizon. I believe that 18% may even still be a conservative estimate for global growth given that solar energy grew by roughly 40% in 2017, but this number takes into account that 2016 and 2017's growth rates were historic highs and are unlikely to be met again.
I forecasted gross margin (GM) by trending the number upward from 28% in 2018 to a steady 32% from 2021 onward. This is a mixture of management guidance from both the most recent earnings call and the SunPower acquisition. CEO Badri Kothandaraman stated in early May that he expected ENPH to reach its 30-20-10 target (30% GM, 20% operating expenses, and 10% operating income) by the end of 2018. 32% represents a middle ground between this operating model and the 33%-35% expected GM on the SunPower partnership. In addition, I used 20% of revenue as the operating expenses, and then subtracted operating expenses from gross profit to find operating income (EBIT), rather than using the 10% guidance (although the number generally came out close to 10%). I used 15% of total debt to calculate interest expense, which is a fairly stable historic average, and applied a 21% tax rate. This number is highly conservative given that the company has paid taxes at rates much lower than that in recent years, but since management offers minimal guidance on how the tax rate will change as the company begins to generate positive net income, I decided to make a conservative estimate.
Balance Sheet
I forecasted cash to grow at a reasonable rate of 5%, given that I expect the company to continually invest its cash in technology and expansion. I forecasted current assets to grow at 15% until 2022, then 5% to the end of the forecast horizon. I expect current liabilities to grow slightly more slowly until 2022, at 10%, then grow at the same rate as current assets. I forecasted PP&E to stay at around 10% of revenues as it historically has, and I predicted that total debt would trend down from around 400% of equity in 2018 to a stable 50% in 2022 and beyond. I projected that Additional Paid-in Capital would grow to around $500 million in 2022 after a steady increase in shares outstanding to the total number of shares authorized, 125,000,000. The current number of shares outstanding is roughly 96,000, but at current growth rates should reach the full 125,000,000 in the next few years. Retained earnings I increased each year by the calculated net income value.
Cash Flow Statement
The only cash flow statement item that I elected to forecast was depreciation, given that Enphase does not list depreciation expense on its income statement. I forecasted depreciation as 35% of net PP&E in each future year, a steady average over the past few years.
Other Assumptions
I calculated a terminal value for ENPH using a WACC of 7.26% and a terminal growth rate of 2% on FCF beyond the ten year forecast horizon. I used a WACC retrieved from GuruFocus. I know this may not be the most accurate measure of WACC, but again, this a simple model that I intend to expand upon. I used this WACC to discount forecasted FCF for the next ten years as well. I used 125,000,000, the total authorized number of shares, as the value for shares outstanding.
Results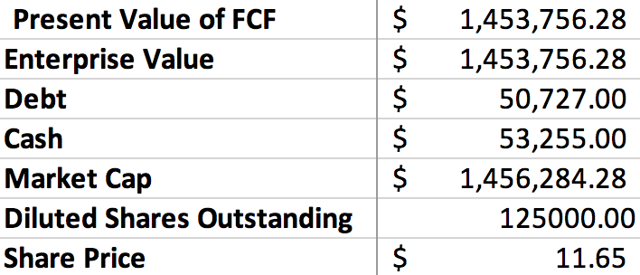 My DCF Analysis yields an intrinsic value for ENPH of $11.65/share, a 57% premium to the current share price of $7.40. I believe that the share price still has significant upside, given the company's strong technology tailwinds and the rapid global growth of solar energy using MLPE technology.
I intend to continue building and refining this model, and I plan to update it when Enphase post Q2 earnings next month. Again, this is intended to be a simple DCF model, but I'm open to input on how it can be improved. Please leave your thoughts in the comments below.
Editor's Note: This article covers one or more microcap stocks. Please be aware of the risks associated with these stocks.