Economic growth is sustainable; valuations are high, yet justifiable; sentiment remains positive; monetary policy is semi-accommodating; and recent tax cuts in the United States have provided a fiscal boost for many companies. Therefore, current market conditions support further growth.
However, markets have been growing for almost 10 years now, and as an average growth cycle lasts for 10-12 years, it appears investors are moving away from risky assets. That's especially so for those who follow developments in credit markets.
A Brief Reminder
Credit is your future consumption that you decide to use today. Thus, the maximum amount of credit one can obtain should be bound by the total lifetime consumption of that person. If one expects to earn 1 million USD over her lifetime, at no point in time, in theory, should her credit exceed 1 million minus the amount already consumed.
However, people tend to forget this, and they keep expecting that wealth may be magically created via debt. Every bubble ever witnessed happened because there was too much of leverage. This time won't be different.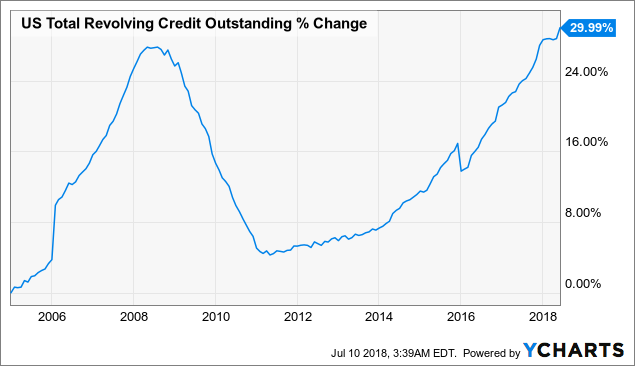 De-risking Is Already Happening
Since the beginning of 2018, large investors have expected higher interest rates and have been moving away from risky assets. There are some good reasons for that. For example, after almost ten years, it's once again worthwhile to hold USD-denominated fixed income securities!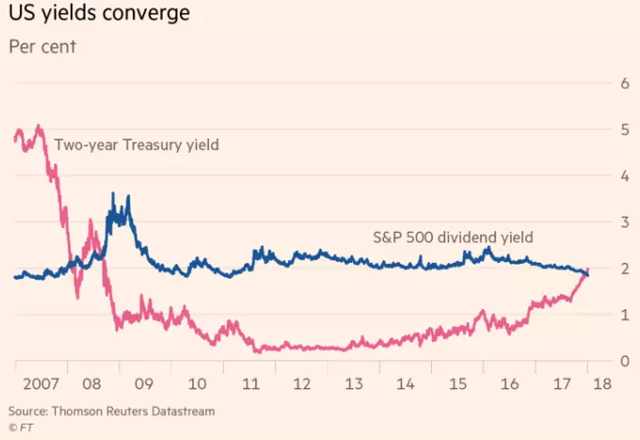 Source: Financial Times
The shift in investors' risk appetite is obvious in equity markets and the US dollar.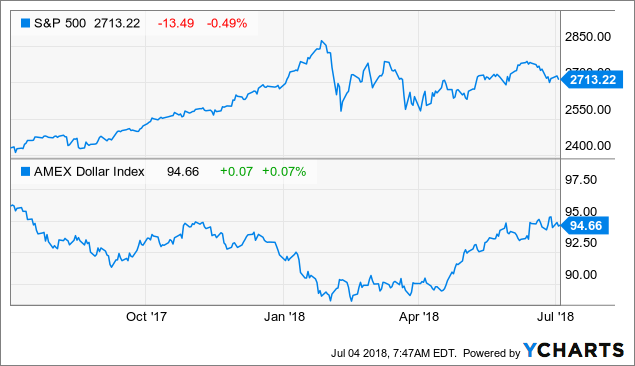 Price action in equity markets suggests that a major correction is underway. A year or so before every major crash since 1929, US indices stopped growing despite good macro and corporate earnings data.
For approximately six months now, there has been no real demand for equities. According to a number of unrelated reports published by different media outlets, large institutional investors are decreasing their allocations towards equities. In addition, they are advising their clients to do the same.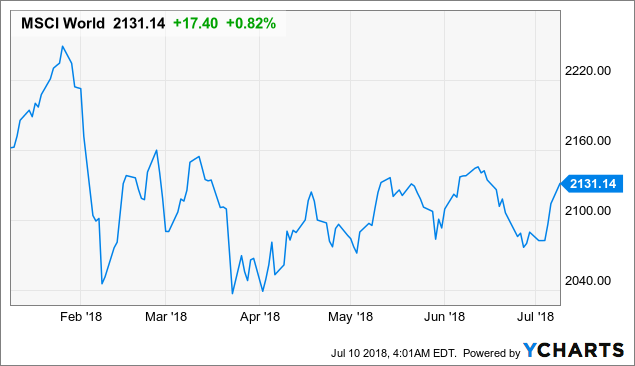 The risk-off moods are also obvious in emerging bond markets.

Source: St. Louis FED
Corporate emerging-market bonds, which in recent years had been heavily bought by sovereign wealth funds and large institutional players, have been crashing since the beginning of this year. So are US corporate bonds, which according to Bloomberg and Financial Times are experiencing their 100-day period in almost 18 years.

Source: St. Louis FED
While changes in yields are not very dramatic, if you consider current debt-servicing ratios and changes in the debt structure over the last ten years (more on this here), you see the situation might get nasty.
In theory, if an investment-grade company has to pay 20 percent of its revenue to service its debt, then an increase in yields from 1.1 percent to 1.3 percent means that the debt-servicing ratio (DSR) for that company will go up to 24 percent after refinancing. And if some high-yield company has a DSR of 30 percent, then an increase in yields from 5.6 to 6.4 will increase its DSR to 38 percent when the debt is refinanced.
Thus, changes in yields might start causing troubles for some companies with weaker balance sheets in the near future. Whilst yields keep increasing, there will be blood. And they will keep increasing because the Fed says so.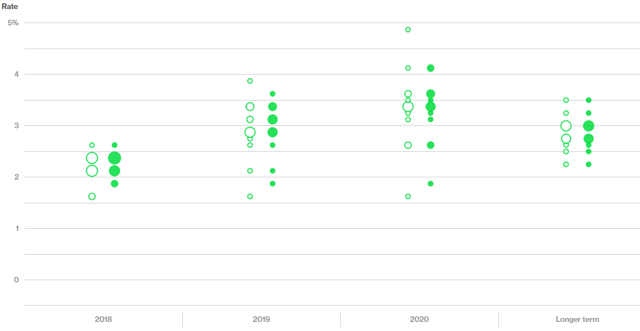 Source: Bloomberg
This is the newest dot-plot from the Fed. Assuming the rumors about the new governor are true, the Fed will keep increasing base rates according to the dot-plot (more on man with a plan by Macro Tourist). In fact, markets believe the Fed will be even harsher than what the dot-plot suggests.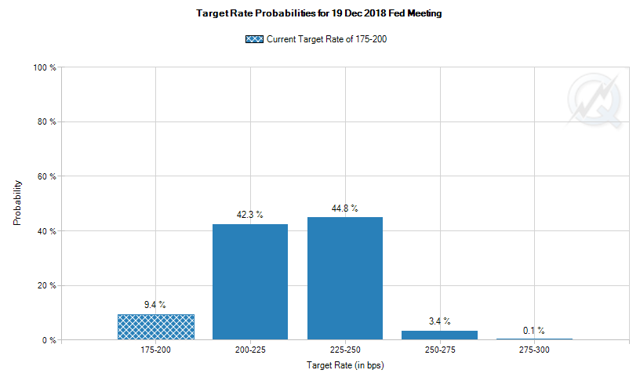 Source: CME Group
It is very likely that interest rates and therefore, yields on government and corporate bonds will continue to rise. That will move debt-servicing ratios up, hurting profitability at many companies. As a result of that, all the ratios that justify equity prices will become much worse.
What Should We Do?
Cash is king. Especially when it comes to the US dollar. Now it is possible to earn interest on ultra-short-term government bonds and term deposits. Thus, that is what you need to be doing - buying ultra-short bonds and opening deposit accounts.
Of course, have some money in equities and bonds. Because despite all the logical conclusions, markets can remain irrational much longer than you can remain solvent. So, if somehow all of this risk-off sentiment disappears at the end of the growth cycle because central bankers or politicians pull some rabbits out of their hats, risky assets might continue to go up.
However, if events take their natural course and in a few months, we start seeing companies unable to service their debt in a non-zero interest-rate environment, cash will be the best asset to have.
Because cash buys stuff. Consider this:

Source: St. Louis FED
Before every crisis over the last forty years, the US yield curve became flat and inverted. However, just before the recession hit, when central banks noticed that they had raised base rates too much, the yield curve started to steepen once again.
If you hold cash now, whenever the curve stops flattening or inverting and the Fed stops announcing further interest rate hikes, you can simply buy Treasury bills with 1-2 year maturities and 3-5 percent yields. Hold them for some time, collect capital gains, and start buying equities with 30-50 percent discounts.
Because all of this will definitely happen. Whenever the first well-known blue-chip company announces that it intends to restructure its debt due to whatever reasons (in reality because they cannot refinance at low enough rates), a crash will follow. The ending of the story is always the same; nothing ever changes.
Disclosure: I/we have no positions in any stocks mentioned, and no plans to initiate any positions within the next 72 hours.
I wrote this article myself, and it expresses my own opinions. I am not receiving compensation for it (other than from Seeking Alpha). I have no business relationship with any company whose stock is mentioned in this article.