Andeavor Logistics LP (NYSE:ANDX), formerly Tesoro Logistics LP, has been suffering alongside other midstream companies for reasons that are unclear. Interest rates may have risen, but are still historically low. Perhaps there is a perception issue that upfront costs of building out new capacity will weigh on the company's near term earnings. Whichever the reason, Andeavor's business seems to be performing well regardless of any negative perceptions that exist. The company has a strong financial position and yield support now of nearly 10%, has won multiple new gathering systems contracts, and is at a historical price support level. As a result, ANDX looks poised to rally off of its lows for a move higher to the $50 range.
Andeavor Logistics Fundamentals Strong
Andeavor is trading near its 52-week lows. But, the stock is yielding over a 9% dividend at current levels, and is trading at an attractive PE ratio of 17.75x earnings (vs. the S&P 500, which historically trades between 15x-20x earnings).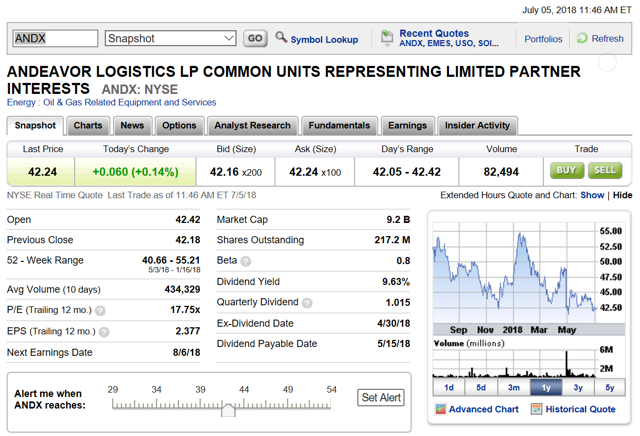 Source: E*TRADE
The stock also appears to be at structural support of $42.50, since that was the price ANDX tagged three times previously this year and ultimately rallied higher. So, it would seem that ANDX is at a critical inflection point on its chart, insinuating a volatile move is coming. Up or down, investors cannot be sure, unless we take a closer look at the numbers.
Technicals Bullish
So, it appears that on a max timeframe chart for Andeavor, the stock has a good chance of holding current support at the $40 level, since that was a strong support area seen in 2013 and 2016. If and when the stock moves higher towards the $50 level, expect some selling pressure to come in at that point, since that is the where the next resistance area lies.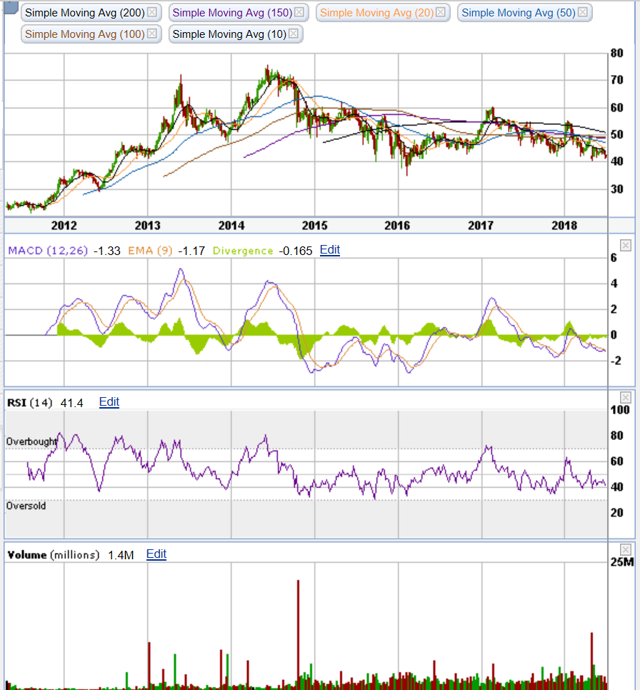 Source: E*TRADE
With the yield approaching 10% at these $40 levels, it seems likely that Andeavor's shares will catch bids from income-oriented funds searching for yield, as well as growth investors looking to cash in on the trend of widening differentials in the Permian caused by explosive shale production.
Financials Sound
Andeavor reported net income of $139 million, which was an increase of $61 million year over year. Earnings were negatively impacted by $8 million due to maintenance of Andeavor's refineries on the West Coast. Crude oil gathering volumes and movements on their High Plains Pipeline in the Bakken also decreased 7% to 304,000 barrels per day from the prior quarter, due to competition from Energy Transfer Partners (ETP) and DAPL. The reduction in volumes was offset, though, by increased volumes of 5% in the Permian, which was a record for the company.
Total debt was $4.1 billion, and leverage in the first quarter of 2018 was below Andeavor's threshold of about 4 times.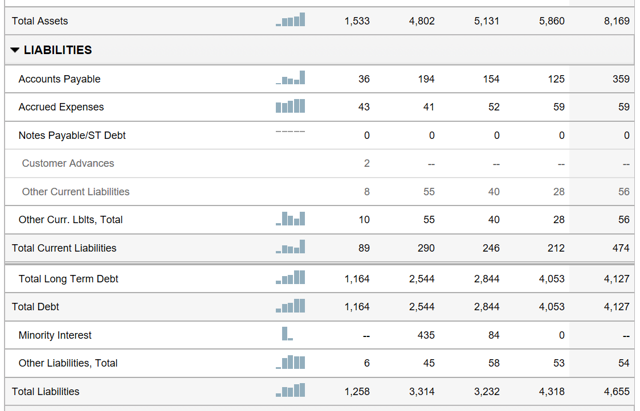 Source: E*TRADE
As seen by the balance sheet above, total assets are twice more than total liabilities. With a healthy balance sheet and rising earnings, the company should have no trouble paying out their dividend. In fact, Andeavor plans to raise their dividend again next quarter, which would represent their 29th consecutive quarterly distribution increase. Last but not least, dilution risks remain low, as the company stated that no new public common equity raises would be necessary.
Catalysts For Andeavor
In addition to strong earnings, the company has catalysts to drive its stock price higher, including winning five new oil gathering systems contracts in the bottlenecked Permian Basin, which will bring their total acreage commitments to 72,000 acres there.
Andeavor is also connecting their current Conan gathering system to their recently acquired Rio Pipeline, which will allow for even more takeaway capacity in the Permian, and make it easier to send volumes to the Midland area. On top of winning more gathering systems contracts, the company is collaborating with Phillips 66 (PSX) on the Gray Oaks Pipeline, which is a long-haul pipeline with connected marine capability that allows for more takeaway points out of the Basin. So, not only is Andeavor growing revenues at a quick pace, but they are also helping the oil and gas industry deal with takeaway capacity, and grow as well.
Analysts Targets
Analysts seem bullish on Andeavor, and feel that the bottom is in, with a low target of $43, and a high target of $52.00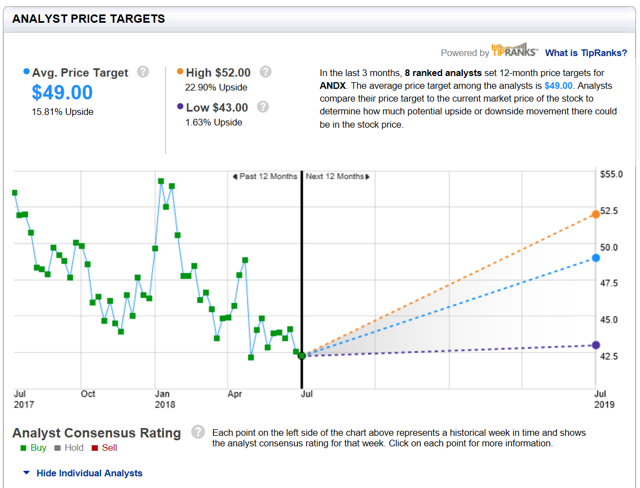 Source: E*TRADE
The average low target of $43 is above current share prices, as I write this article, and therefore could be marking the bottom in share prices. Considering that the stock is near 52 week lows, has found structural support around the low $40's, is more than 20% off of recent highs, and has won 5 new gathering system contracts in the Permian, the path of least resistance certainly seems higher for Andeavor.
Conclusion
Andeavor is winning contracts left and right in the Permian, almost doubling their acreage position in just one quarter, due to explosive shale growth seen in the region. While drillers could suffer from bottlenecking issues, midstream players like Andeavor get to reap all of the benefits, and even help solve the industries problems in the process.
The company deserves a premium multiple, alone, for the value they add to the oil and gas industry to adequately expand production. But, if that isn't enough to get investors on board, a 9.5% dividend, multiple gathering system awards, and a share price that is near historical support levels, should. As a result, investors searching for yield and growth could size into Andeavor on any dips to $40, with stop losses placed below support at around $37.95.