Investors continue to shake off the trade tariff-induced fear from last month as the month of July is shaping up to be an impressive one for stocks. As we'll discuss in today's commentary, the pieces are starting to come together in favor of a low-volume, but constructive, summer rally in the broad market. We'll also talk about how investor can best position themselves to take advantage of it.
The Nasdaq Composite in particular is looking good and is within reach of making a new high, while the S&P 400 Mid Cap Index (MID) has already done so. The relative strength and leadership of the midcap stocks is a leading indicator for the large caps and should eventually result in a recovery high for the S&P 500 Index (SPX). As I've mentioned here in past commentaries, the MID has a long history of preceding the SPX in making new highs. It's certainly uncommon for the MID to make a new high while the SPX fails to do so.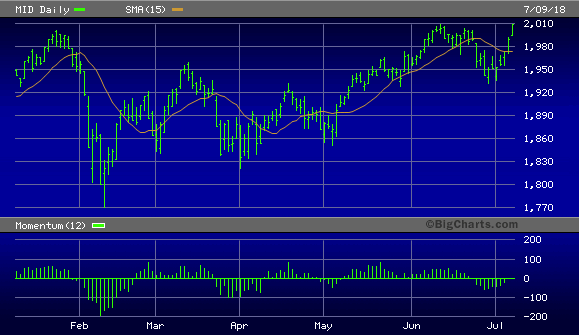 Source: BigCharts
Let's now take a look at the stock market's internal picture. For the third straight day, internal selling pressure on both exchanges diminished and showed signs of almost complete recovery. On the NYSE, Monday's ratio of 52-week new highs to new lows was an extremely impressive 9:1. On the Nasdaq, the new high-new low ratio was 5:1. Meanwhile the number of stocks making new 52-week lows on both exchanges was well under 40, which is exactly what we want to see from a bull's perspective. If the new lows can remain under 40 for at least 2-3 more days we'll have strong confirmation that the tariff-related selling pressure has likely ended.
The number one indicator I'm following right now, which has been spot on in terms of highlighting the relative strength and dominant interim direction of the tech sector, is the cumulative new 52-week highs and lows for the Nasdaq. As I continue to emphasize, investors should lean bullish in favor of owning the strongest performing tech stocks and ETFs as long as this valuable indication of incremental demand continues rising.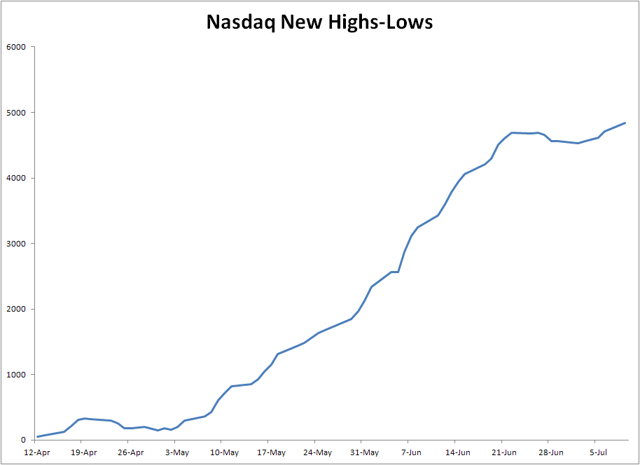 Source: WSJ
Combined with the positive NYSE cumulative volume and breadth of recent days, the diminution of new lows and the expansion of stocks making new highs tell us that the market is primed for a summer rally. Although cumulative volume (i.e. advancing minus declining volume) is rising, the overall volume of trade on the NYSE has been diminishing of late - undoubtedly due to declining participation as Wall Street enjoys the traditional July vacation season. Thus, the broad market's next rally phase is likely to occur on light volume. While some analysts believe this is a danger signal, there have been numerous instances in recent years of sustainable rallies occurring on lighter-than-average volume without threatening the integrity of the long-term upward trend. The reason for this is due partly to the influence of program-based trading and the relative absence of retail traders compared to former years. Thus most of the buying done in this bull market, even when volumes were thin, were mostly the result of informed buying.
This year's summer rally is also likely to be low-volume affair due to the almost complete lack of interest in equities among the general public. For whatever reason, the average small investor has shown little interest in this phase of the bull market and will likely continue sitting it out while the market moves higher in the coming months. This clears the field for the insiders and informed investors to operate, which in turn means the strength of intermediate-to-longer-term uptrend will be stronger. When the public is participating on a big scale, this tends to create massive upside moves which are impressive in magnitude and fun to trade. Yet the public also tends to be far more fickle than the professional element on Wall Street, which creates greater volatility and in turn leaves the market more vulnerable to sharp declines.
Even with lower overall trading volume this summer, the broad market should remain in good shape in the months ahead since liquidity remains abundant and the market's fundamental backdrop remains quite bullish. As Scott Grannis observed in his latest blog, corporate profits justify higher stock prices as equity valuations are only "moderately higher" than their long-term averages. He noted moreover that profits are now at exceptionally high levels relative to GDP by comparison.
Aside from the continued relative strength in the tech sector, investors would also do well to focus their attention on the consumer discretionary sector. Consumer discretionary stocks are showing impressive relative price strength versus the benchmark S&P 500. The strengthening U.S. economy and rising consumer sentiment are also factors which favor higher prices for this stock sector in the months ahead. Note the constructive aspect of the Consumer Discretionary Select Sector SPDR ETF (XLY) shown here, especially when compared against the SPX.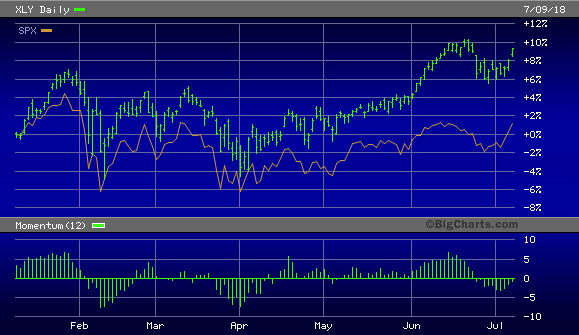 Source: BigCharts
While there are enough strong sectors and industries right now to justify a summer rally, there is one area in major need of improvement. The financial sector has been badly lagging the S&P 500 and has served as a drag on the large caps. Were it not for the weakness in the bank and broker/dealer stocks, the S&P 500 would undoubtedly have already recovered its previous high from January by now. Below is a graph comparing the relative strength of the Financial Select Sector SPDR Fund (XLF) with the S&P 500 (SPX). Before the summer is over, we should ideally see a recovery underway in the financial sector stocks. Otherwise, the market could be setting up for a late-year correction.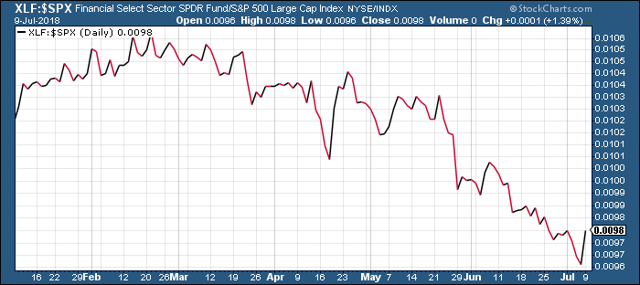 Source: StockCharts
For now, though, there is enough internal strength in the broad market to carry the major averages through the summer with their upward trends intact. Indeed, in view of everything we've discussed here, there should be enough ammunition for a summer rally from a fundamental, sentiment, and technical perspective. Investor sentiment continues to be cautious after last month's internal correction, and this will provide a shock absorber for the stock market going forward. In the event that concern over trade tariffs rears its ugly head again this month, the lingering fear and uncertainty will keep the bull market's "wall of worry" intact. Thus investors should remains optimistic and avoid the temptation to sell short a rising market.
Strategically, investors should also maintain intermediate-term long exposure to the stock market via ETFs and outperforming individual stocks in strong sectors. My continued preference is for tech sector stocks in the e-commerce sphere, including the First Dow Jones Trust Internet Index Fund (FDN). Investors should remain somewhat defensive until the three factors mentioned above take place. Now would also be a good time to prune portfolios by trimming losses among under-performing large cap stocks, raising stops on all long positions, and taking some profits on winners.
Disclosure: I am/we are long XLK, IYR. I wrote this article myself, and it expresses my own opinions. I am not receiving compensation for it (other than from Seeking Alpha). I have no business relationship with any company whose stock is mentioned in this article.