REIT Performance
REITs averaged a 4.04% total return in June, outpacing the Dow Jones Industrial Average (2.88%), S&P 500 (2.56%) and NASDAQ (0.03%). After the huge REIT selloff in January and February, the REIT sector has outperformed the broader market for each of the past 4 months. REITs still remain behind the broader market when measuring year to date total return, but that gap has steadily narrowed since the end of February. With REITs still trading at a median discount to NAV of 4.5%, there is certainly room for further outperformance over upcoming months. In this monthly publication, I will provide REIT data on numerous metrics to help readers identify which property types and individual securities currently offer the best opportunities to achieve their investment goals.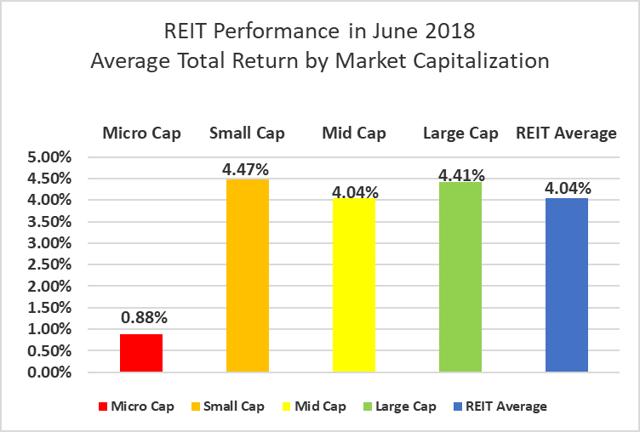 Source: Graph by Simon Bowler, Data compiled from SNL.com
For the first time in 2018, REITs average a positive total return year to date. Micro-cap REITs, however, significantly underperformed larger REITs in June. This magnified the YTD performance deficit of micro-cap REITs, which still remain in the red thus far in 2018. Small cap and mid cap REITs continue to lead the sector.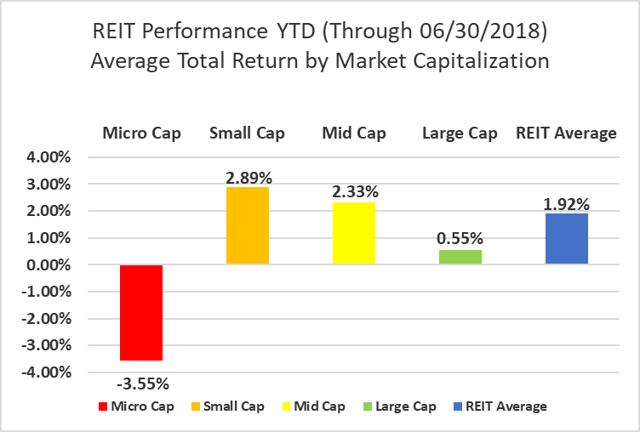 Source: Graph by Simon Bowler, Data compiled from SNL.com
18 out of 20 REIT Property Types Yielded Positive Total Returns in June
Although Hotels and Advertising had very slight negative returns in June, the other 90% of the property types generated positive returns for investors. The breadth of strong performance across the REIT sector shows that the REIT recovery remains strong and is not isolated within specific property types. The extent of the gains, however, varied greatly with Corrections (12.03%) and Student Housing (10.25%) leading the pack. These gains were strong enough to catapult these property types to the strongest year to date performances as well, dethroning Hotels, which had yielded the strongest returns over the first 5 months of the year.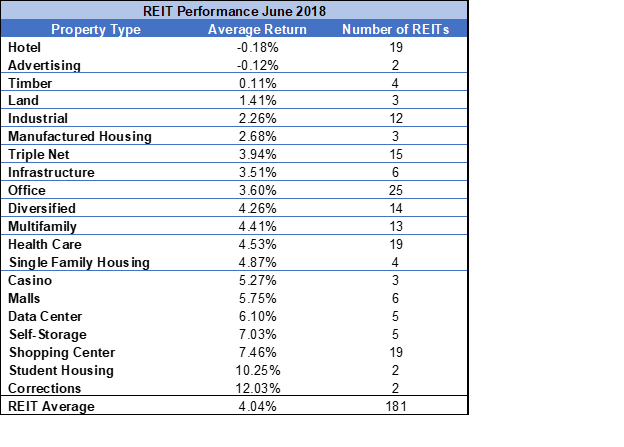 Source: Table by Simon Bowler, Data compiled from SNL.com
Four months into the REIT recovery that began in March, 65% of REIT property types are now in the black for YTD total return. Despite the media continuing to diagnose brick and mortar retail with a terminal illness, Shopping Center REITs (7.46%) and Mall REITs (5.75%) continued their recovery in June with returns in excess of that of the REIT sector and the broader market. Investors have likely been drawn back in by the massive discounts to net asset value and the very attractive dividend yields offered by many of the retail REITs.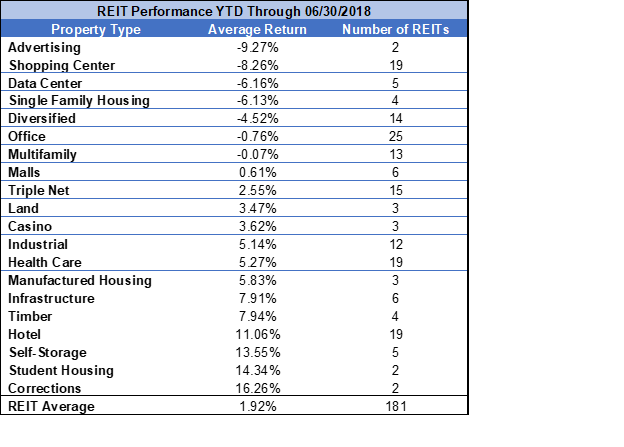 Source: Table by Simon Bowler, Data compiled from SNL.com
As the REIT rally grew stronger in June, REITs experienced meaningful FFO multiple expansion, rising from an average P/FFO of 15.4x at the end of May to 15.9x at the end of June. The Mall and Hotel property types currently trade at the lowest P/FFO. In fact, among the 8 REIT securities with the lowest FFO multiples, 7 are Mall or Hotel REITs. Among Mall REITs, CBL Properties (CBL) and Washington Prime Group (WPG) trade at only 3.2x and 4.9x respectively. The hotel REITs that are priced at the lowest multiples are Ashford Hospitality Trust (AHT) and Sotherly Hotels (SOHO), which trade at 5.7x and 6.7x respectively.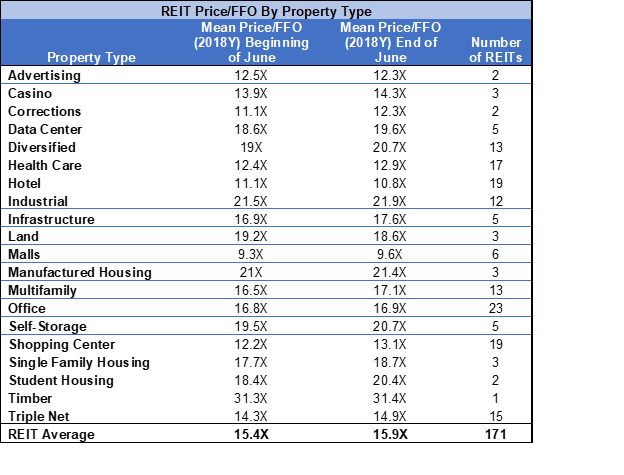 Source: Table by Simon Bowler, Data compiled from SNL.com
Performance of Individual REIT Securities
Summit Hotel Properties (INN) was the worst performing REIT in June (-6.41%), joined by 6 other hotel REITs in the bottom 10 performers. It should be noted, however, that there is not a single hotel REIT in the bottom 30 performers year to date. DDR Corp. (DDR) was the top performing REIT in June with a stellar 20.44% return. This was due primarily to DDR's June 4th filing for a spinoff of 49 assets, including the entire troubled Puerto Rico portfolio. The assets were spun off into a separate publicly traded company called Retail Value Inc. (RVI), which began trading on the NYSE on July 2nd. 84.5% of REITs yielded a positive return in June, bringing a majority of REITs (56.9%) into the black for the first half of 2018.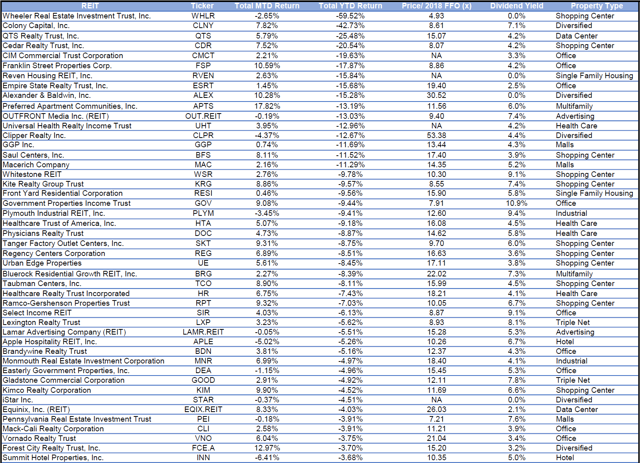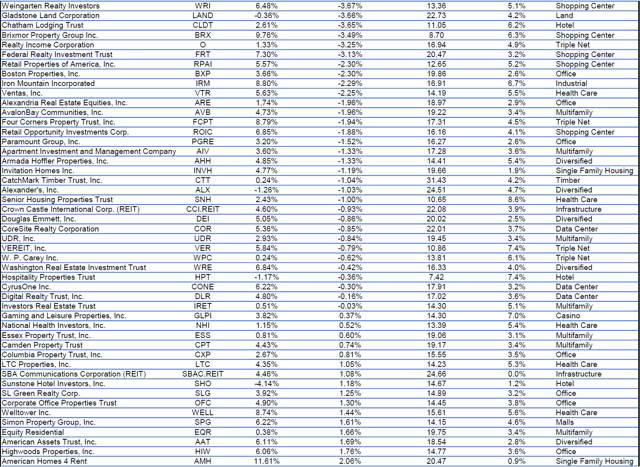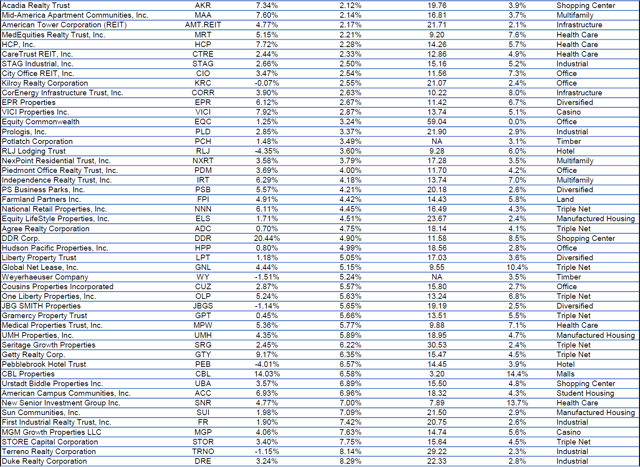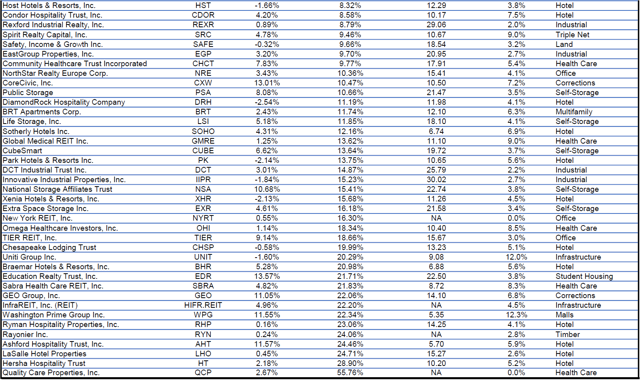 Source: Table by Simon Bowler, Data compiled from SNL.com
For the convenience of reading this table in a larger font, the table above is available as a PDF as well.
Simon_Bowler_REIT_Data_06_30_2018.pdf
Source: Table by Simon Bowler, Data compiled from SNL.com
Dividend Yield
Dividend yield is an important component of a REIT's total return. The particularly high dividend yields of the REIT sector are, for many investors, the primary reason for investment in this sector. As many REITs are currently trading at share prices well below their NAV, yields are currently quite high for many REITs within the sector. Although a particularly high yield for a REIT may sometimes reflect a disproportionately high risk, there exist opportunities in some cases to capitalize on dividend yields that are sufficiently attractive to justify the underlying risks of the investment. I have included below a table ranking equity REITs from highest dividend yield (as of 06/30/2018) to lowest dividend yield.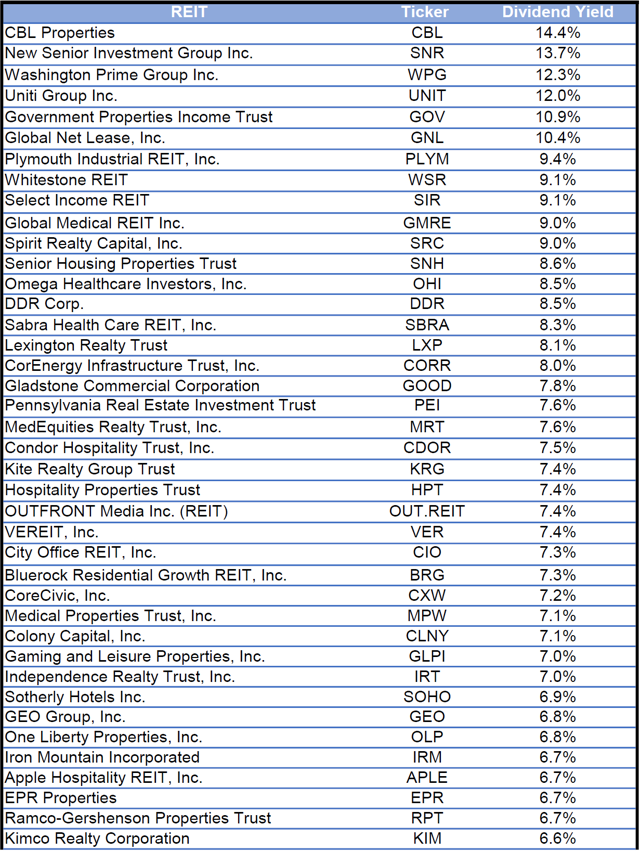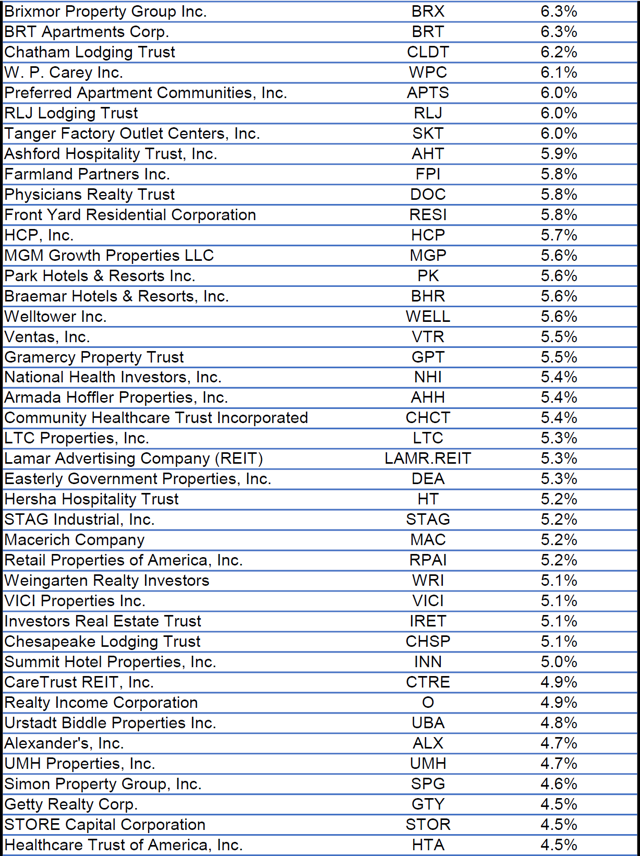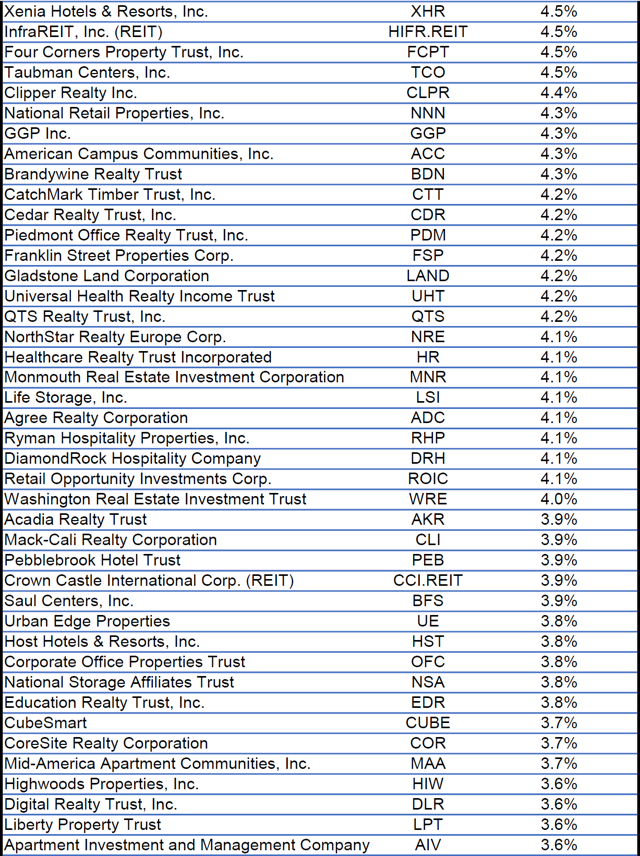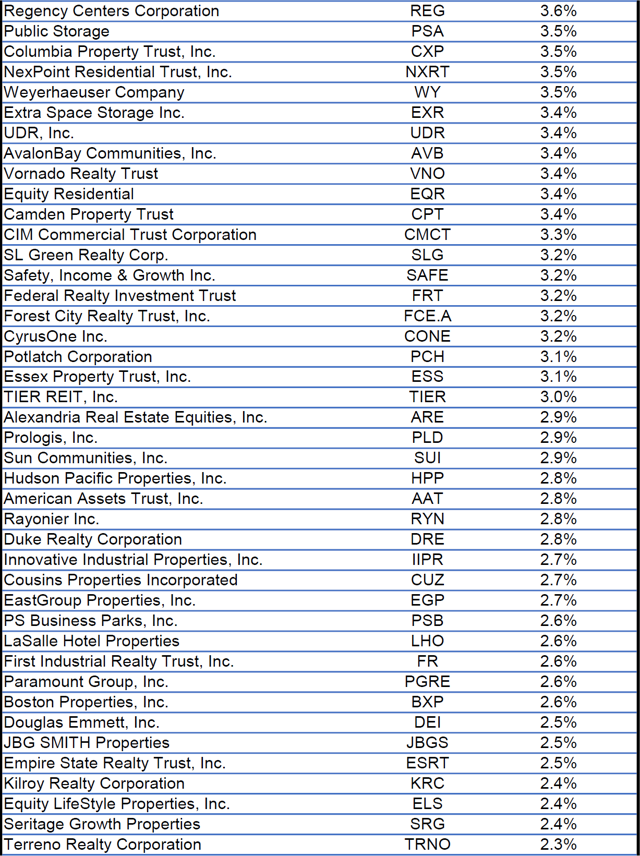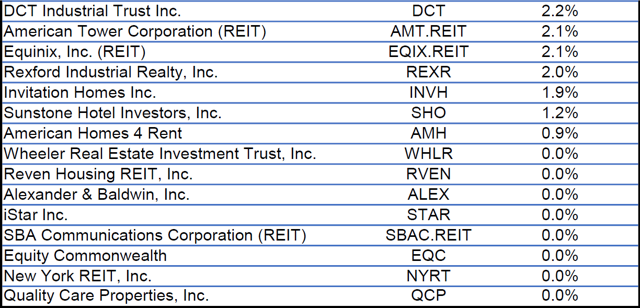 Source: Table by Simon Bowler, Data compiled from SNL.com
For the convenience of reading this table in a larger font, the table above is available as a PDF as well.
Simon_Bowler_Dividend_Yield_Ranking_06_30_2018.pdf
Source: Table by Simon Bowler, Data compiled from SNL.com
Although a REIT's decision regarding whether to pay a quarterly dividend or a monthly dividend does not reflect on the quality of the company's fundamentals or operations, a monthly dividend allows for a smoother cash flow to the investor. Below is a list of equity REITs that pay monthly dividends ranked from highest yield to lowest yield.

Source: Table by Simon Bowler, Data compiled from SNL.com
Although current dividend yield is a particularly important factor in selecting which security in which to invest, dividend growth is also certainly worth considering. The first table below lists the REITs and other real estate companies that have increased their dividend thus far in 2018 (as of the end of May). For those who are interested in investing in Canadian REITs, the table includes six additional monthly dividend REITs that hiked their dividend in 2018. The 2nd table lists the number of dividend raises by property type.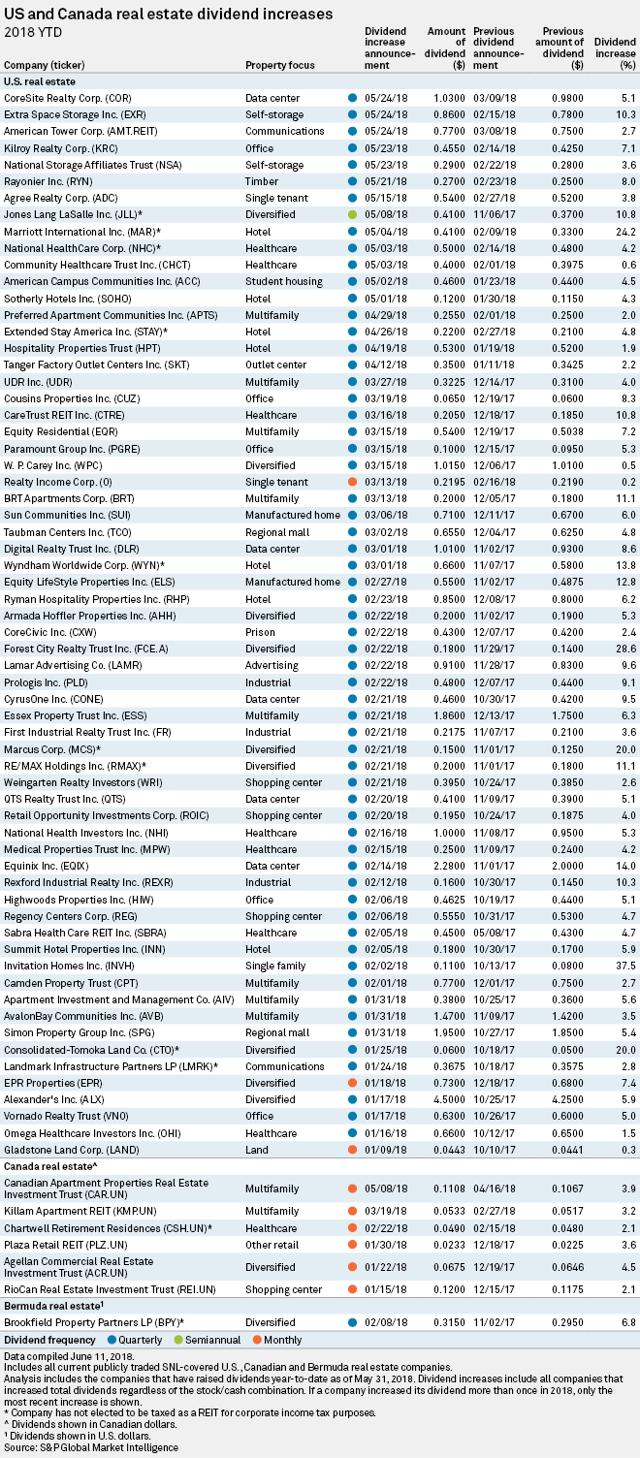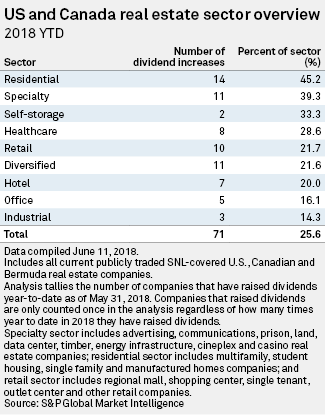 Source: SNL.com
Valuation
There is currently a meaningful difference in valuation between private real estate markets and public markets. The fact that many publicly traded REITs are trading at substantial discounts to their NAV has created arbitrage opportunities that led to a tremendous increase in REIT M&A activity in the first half of 2018.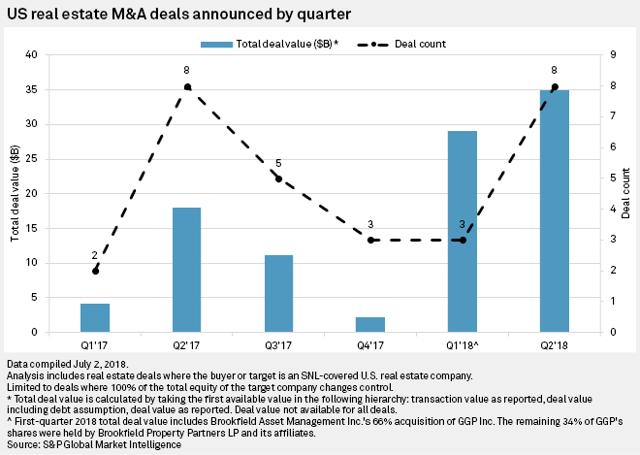 Source: SNL.com
The REIT sector discount to net asset value has narrowed sharply since mid-February, but most securities remain at a discount. Valuations differ dramatically between property types and among individual securities within each property type. Even within property types that trade at premiums to NAV, there are individual securities that are available at a substantial discount to NAV. For example, the median industrial REIT closed Q2 2018 at a 5.5% premium to consensus NAV, but Industrial Logistics Properties Trust (ILPT) was priced at a 26.7% discount.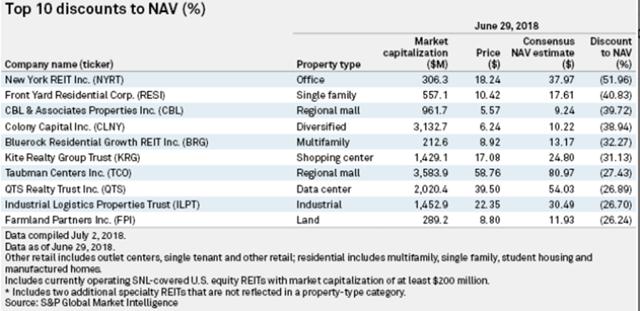 Source: SNL.com
Takeaway
At current discounted pricing, REITs are still attractively valued relative to the broader market and are poised to extend their four-month streak of outperformance. Mall, Shopping Center and Advertising REITs are particularly well positioned to outperform over upcoming months. Retail REITs remain severely discounted and many offer very high dividend yields. Advertising has lagged behind all other property types thus far in 2018, and may see an overdue recovery in the 2nd half of the year. Given the tremendous pricing disparities across property types and securities as well as the potential for further M&A in the REIT sector, active investors who carefully follow the data have the opportunity to generate substantial alpha over upcoming months.
Disclosure: I am/we are long AHT, SOHO, CBL, WPG. I wrote this article myself, and it expresses my own opinions. I am not receiving compensation for it (other than from Seeking Alpha). I have no business relationship with any company whose stock is mentioned in this article.
Additional disclosure: 2nd Market Capital and its affiliated accounts are long AHT, SOHO, CBL and WPG. I am personally long CBL, SOHO and WPG. This article is provided for informational purposes only. It is not a recommendation to buy or sell any security and is strictly the opinion of the writer. Information contained in this article is impersonal and not tailored to the investment needs of any particular person. It does not constitute a recommendation that any particular security or strategy is suitable for a specific person. Investing in publicly held securities is speculative and involves risk, including the possible loss of principal. The reader must determine whether any investment is suitable and accepts responsibility for their investment decisions. Simon Bowler is an investment advisor representative of 2MCAC, a Wisconsin registered investment advisor. Positive comments made by others should not be construed as an endorsement of the writer's abilities as an investment advisor representative. Commentary may contain forward looking statements which are by definition uncertain. Actual results may differ materially from our forecasts or estimations, and 2MCAC and its affiliates cannot be held liable for the use of and reliance upon the opinions, estimates, forecasts and findings in this article. Although the statements of fact and data in this report have been obtained from sources believed to be reliable, 2MCAC does not guarantee their accuracy and assumes no liability or responsibility for any omissions/errors.