REITs have been quite disappointing with a 2-year return of just 5.65% which represents less than 2 years of dividends.

Source: SNL Financial
Returns this low are just not enough and we refuse to accept the inevitability of low returns that so many pundits are describing.
Frankly, REIT returns have been low because the index consists primarily of large caps with bloated valuations. Through an active approach, we can own more of the good stuff and avoid the overvalued names that are so prevalent in the major REIT indices. We have done precisely that in the 2nd Market Capital Corsaires High Yield Portfolio (2CHYP) and it has so far generated favorable results.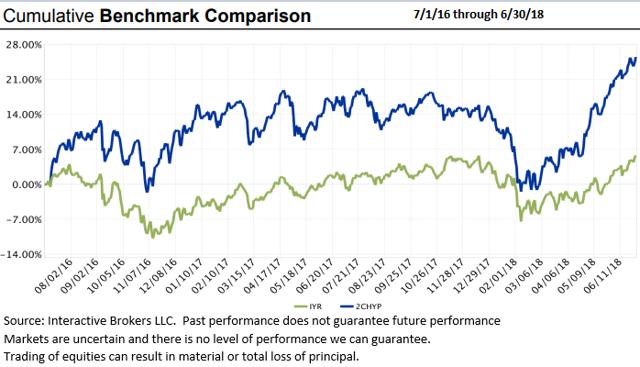 Since 2CHYP's inception on 7/1/16, it generated returns of 25.5% compared to the iShares US Real Estate ETF (IYR), which came in at 5.8% or the MSCI US REIT Index (RMS), which returned 2.7%. With full acknowledgment of our fallibility, we intend to continue to outperform.
Following are the holdings of 2CHYP as of 6/30/18 along with analysis detailing why we believe we are well positioned and our investment process.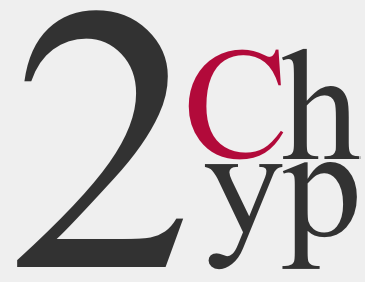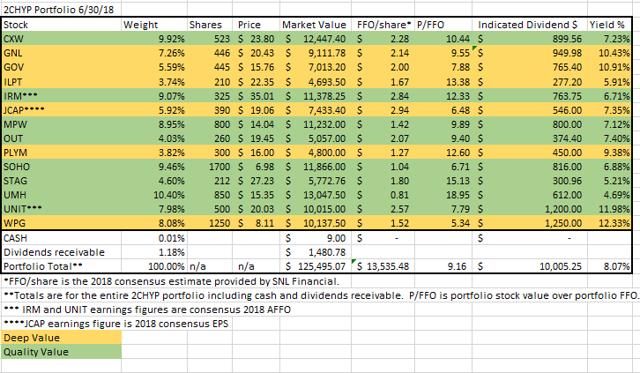 Portfolio analytics
While no metric is a perfect gauge of a stock's return potential, funds from operation or FFO is one we have grown to like quite a bit. The more FFO a company generates relative to its share price, the more it can pay dividends and the more it can reinvest in its business for growth. 2CHYP as a whole has an FFO yield of 10.91% with a somewhat conservative average payout ratio of 73.9%. This means that for every $100 invested in these stocks, we get $8.07 in dividends and $2.84 of capital reinvested by the companies.
In contrast, $100 invested in the SNL US REIT index will only result in $3.95 of dividends and $1.28 of capital reinvested by the companies as the index trades at a P/FFO of 19.13X and has an FFO payout ratio of 75.6%.

Far too often people compare value vs. growth, and I think it gets overlooked that value as measured by some form of cash flow per share/price per share (whether its PE, P/FFO, or P/AFFO) actually represents increased reinvestment growth. A higher cash flow yield means a company can both pay more dividends and reinvest more in the business relative to the investor's marginal dollar.
Thus, in pointing out that 2CHYP has a P/FFO of 9.16X compared to 19.13X of the index, I want it to be clear that this means substantially bigger dividends and substantially more capital being reinvested in growth. The deep valuation of 2CHYP's holdings really is the secret sauce that makes it work.
However, it is probably not wise to just go scooping up whatever deep value stocks make it through a screen. Many stocks are cheap for a reason. Many are value traps. The good kind of value cannot be reliably found through a screen or algorithm. It requires rigorous fundamental analysis to determine intrinsic value. It is the intrinsic value that makes the difference between undervalued and cheap-for-a-reason. In the section below, we share 2CHYP's investment process.
2CHYP's Process
In an investment environment filled with uncertainty, we see 2 constants:
Stock prices will be volatile.

Stock prices will trend toward fair value in the long run.
A majority of professional investment institutions see constant number 1 as an enemy. They go to great lengths to minimize the volatility of their portfolios and have adopted many of the following practices:
Investing based on pricing correlations.

Diversification based on historical correlation.

Using options to hedge against big swings.

Paying attention to Beta.

Extreme diversification.
None of these practices are intended to produce alpha and many of them reduce one's ability to produce alpha. I would argue that none of these "best practices" are in the best interest of the clients. These techniques merely serve to reduce the volatility of the managed portfolio so that the investment managers can minimize the chance of getting fired.
Rather than viewing constant number 1 as the enemy, we have adapted our trading practices to use it as a source of alpha. It merely requires having a flexible investment time horizon and if that can be accomplished, the exploitation of stock price volatility is possible.
We constantly monitor the spread between market price and intrinsic value. Given that stock prices are volatile and the intrinsic value is rather stable, the spread between market price and intrinsic value is constantly in flux. Investing from this framework is remarkably simple: buy when market price is less than intrinsic value and sell when it is greater.
An important note here is that this strategy requires absolutely no ability to predict future market price volatility. It simply relies on the belief that stock prices will eventually move toward intrinsic value. Allow me to clarify the process through the following illustration.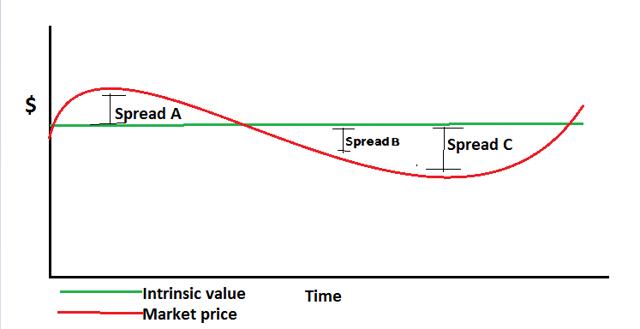 At point A where the red line (market price) is above the green line (intrinsic value), we would be sellers. If the spread got sufficiently large we would consider going short. Conversely, we buy when the market price is materially below intrinsic value. This means we would likely be buyers at spread B. We are not market timers and have no ability to "call the bottom". Volatility can easily increase an already large spread leading to Spread C.
This is the sort of temporary loss that most institutional money managers work so hard to avoid. Instead, we see it as an additional opportunity. If the stock was a good buy at Spread B it is an even better buy at Spread C and we will often buy more when our stocks dip in price if fundamentals have not changed.
The idea is that eventually the magnitude of spread will go to 0 as stock prices track intrinsic value over the long run. Thus, as long as we have the patience and a flexible investment horizon, stock price volatility is a source of alpha, not the enemy.
This concept gets more interesting when applied across the investment universe rather than a single stock. Presently, there are about 193 publicly traded US-based REITs. At any given time, many of these 193 will be trading at market prices that exceed intrinsic value while others will be trading at discounts to intrinsic value. While I cannot illustrate 193 stocks, we will use 6 below to demonstrate the concept.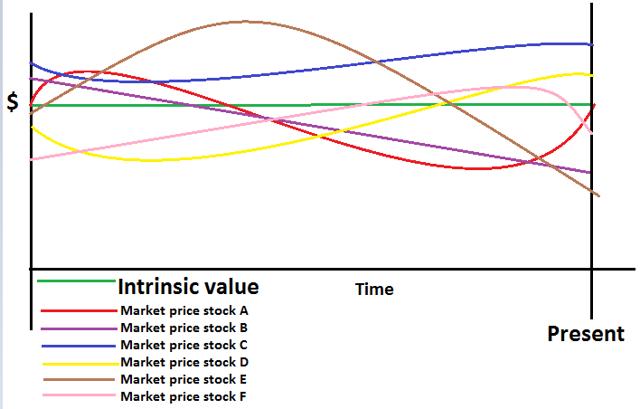 At any given time, we will attempt to own the basket of stocks that are most discounted, so in the graph above we would have owned all the stocks except C (blue line) at some point in history, but presently, we would own B and E (purple and brown) and possibly F (pink) if it was sufficiently beneficial in terms of diversification.
The clear hurdle to the success of this strategy is that intrinsic value is a somewhat subjective concept. There is no single number or figure one can look at to ascertain intrinsic value and any attempt to calculate it is subject to error. There are simple ways to estimate intrinsic value such as looking at consensus NAV which is easily accessible for most of the 193 REITs. However, we think a more granular approach can generate a more accurate estimation. As such, we perform rigorous fundamental analytics on each REIT to arrive at its intrinsic value.
I can say with certainty that we will be wrong about the intrinsic value of some of 2CHYP's holdings. The goal is merely to be right on as many of them as possible such that the portfolio works as a whole. Estimation of intrinsic value for each of the REITs is what I spend a majority of my time doing, but for the sake of brevity we have condensed each analysis down to a paragraph or two. After a brief note on diversification, we will get to the individual stocks.
Diversification
When people think about REITs, they think offices and apartments with maybe some consideration to malls and hotels. If one is to look at an index, this would be a fairly accurate view of REITs as these property sectors dominate by market cap. If one digs a bit deeper, REITs are far more diversified with exposure to just about every aspect of the economy. REITs have exposure to tech, energy, telecommunications, farmland, timberland, advertising, manufacturing, e-commerce, healthcare, et cetera. Major REIT ETFs may be lacking in this sort of diversification, but the selection of REITs in 2CHYP has far wider reach into various pockets of the economy.
Fiber infrastructure 7.98%
Uniti Group (UNIT) is deeply undervalued due to the market disliking its tenant concentration with Windstream (WIN). While WIN has an uncertain future it looks to have no solvency issues for the next few years. Additionally, UNIT's lease is functionally above the senior debt in WIN's capital stack because it is necessary for a majority of WIN's revenues. This credit risk has dominated UNIT's story to the extent that its growth prospects are being overlooked. We see large opportunity in 2 areas:
Vertical integration

Lease-up
Uniti has a unique opportunity in that it owns both towers and the fiber supplying the towers with backhaul. This means it can be a wholesale provider, which puts it at advantage when leasing towers. As Uniti already owns the fiber and there is plenty of excess capacity, the incremental expense is minimal causing any growth in this area to be high margin.
The same is true of Uniti's fiber business. Uniti's fiber is operating at significantly less than half of capacity giving it ample room to take on new tenants. Growth and tech are both overvalued right now in general, yet Uniti is both a growth and a tech play that happens to trade at a dividend yield north of 10%.
Industrial 12.16%
We are overweight industrial as it has excellent demand drivers through both logistics and manufacturing. The main problem with the industrial REIT sector as a whole is that its valuation is quite rich. However, the industrial REITs held in 2CHYP actually qualify as value stocks with deep discounts to NAV and low FFO multiples.
Industrial Logistics Properties Trust (ILPT) owns Hawaiian land that is nearly irreplaceable today. It acquired this land over a decade ago when such opportunities were more prevalent. This land is leased out to industrial companies for roughly 30 year terms. Over the next couple years, a good chunk of these leases are up for renewal and the current rates are substantially below market. We are anticipating rollups in the vicinity of 30% which should translate to strong same store NOI growth as well as bottom line growth.
Assets of this caliber would normally trade at a premium multiple, but because ILPT is externally managed, it trades at a discount. While I also am concerned by RMR, its external manager, I think the magnitude of discounting is extreme which leaves the company opportunistically priced.
Plymouth Industrial REIT (PLYM) is arguably too small for a publicly traded REIT which is causing its overhead to significantly diminish the flow-through of rent to the bottom line. A recent wave of acquisitions will get it over the threshold and should allow FFO/share to take off. Upon stabilization, we see FFO/share somewhere in the $1.30-$1.70 range.
Admittedly, this is a huge range and we have not been able to get it any narrower even after extensive modeling and discussions with management. The reason the range is so wide is because the small size combined with the high leverage causes each acquisition and each rent roll to have an oversized impact on FFO/share.
I believe the market is trading PLYM cheaply because the tiny market cap is making it rather illiquid and the lack of earnings visibility can be seen as too risky. With careful and patient trading, however, I view the reduced liquidity as an opportunity to pick up cheap shares when others are dumping. Further, the lack of earnings clarity is less concerning when even the low end of the range ($1.30) would put Plymouth at a cheap multiple relative to just about every industrial REIT peer. While this is a risky position, there is substantial upside as it becomes more established.
Stag Industrial (STAG) is, in my opinion, a more intelligent industrial REIT. Most operate with cookie cutter business models.
Prologis and First industrial develop on spec and through build-to-suit.

Terreno and Rexford acquire in a specific set of submarkets
Static strategies such as these can get companies in trouble. PLD and FR both developed all the way up to the Financial Crisis and got decimated as a result. They failed to monitor the markets for oversupply, operating seemingly on auto-pilot. I suspect similar troubles will fall on TRNO and REXR as they are still acquiring presently, even as cap rates have gotten dangerously low. Any spike in interest rates or even a slowing of rental rate growth could trigger a revaluation from the 4%-5% cap rates where these companies are acquiring to the 5%-6% range. That would be an instant loss of about 20%-25% of value.
STAG does things a bit differently. It acquires if and only if the acquisition appears to be accretive based on a sophisticated model that takes into account as many relevant inputs as they can collect. Sometimes this will be Class A properties in a top tier market and other times it will be Class B in a lower tier market. The important thing is they have the flexibility and awareness to not get in trouble. The acquisition model is not foolproof, but I think it is miles ahead of the competition.
Storage 5.92%
As detailed in a previous article, I am bearish on self-storage. Valuations are high and growth is slowing as rental rates have hit a point of increased elasticity. Jernigan Capital (JCAP) is set up differently and I believe it has the ability to prosper despite the challenging environment. Essentially, its growth will be more reflective of the last 3 years than the next 3. Allow me to elaborate on this point.
JCAP's underwriting is such that when it embarks on a development, it underwrites for rental and occupancy rates that exist at the time of underwriting. This means the developments it financed in 2015 are accruing value on the earnings statement at a linear rate equal to the difference between development cost and the value of the property assuming 2015 rental rates.
Well, as these properties come online, the rental rates are 2018 rental rates which are about 10% to 15% higher than underwritten. This value is not accounted for in the linear amortization and represents upside to the already strong yields on invested capital. JCAP is riskier than other self-storage as a developer and as an mREIT, but it has great upside and strong management with Dean Jernigan being a true veteran of the industry.
Advertising 4.03%
Outfront Media owns billboards and other advertising surfaces throughout the US which it leases out on short-term contracts which are often only a month. This creates a lack of visibility into future cash flows which I believe makes many REIT investors uncomfortable, causing it to trade at a significantly discounted multiple. Interestingly, OUT's strategy is to move toward even shorter leasing periods with the end goal being to have the capability to lease for hours at a time.
In their traditional form, billboards still have a considerable cost to changing over as the surface needs to be repainted with the new advertiser's campaign. The cost of doing this prohibits extremely short-term contracts. However, OUT is going digital which facilitates 2 key abilities that should increase revenues.
Simultaneous leasing in which the space is rented to multiple advertisers concurrently with the screen flipping between the ads at predesignated intervals. Theoretically, this would allow them to lease up to 300% occupancy. Time slot advertising: Fast food restaurants could advertise during rush hour on roads that are near the restaurant. McDonald's (NYSE:MCD) could show an egg McMuffin on the morning commute and a Big Mac on the evening commute. Essentially, the more an advertiser can target their ads to those for whom it is relevant, the more they will pay for the space.
As digital billboards are still a small portion of outdoor advertising, it is hard to calculate the magnitude of impact on earnings or the timing of rollout. Once again, I think this lack of visibility is causing OUT to trade cheaply.
The market seems uncomfortable with the lack of clarity, but I believe there are enough bounds to paint a good picture. Digital seems like a positive opportunity that will increase earnings by an unknown amount and given that OUT already pays out a fully covered large dividend, any amount of earnings growth is enough to make the stock worth it at this price.
Healthcare 8.95%
Healthcare operators are troubled right now. Senior housing has severe oversupply, SNF operators are dropping like flies and hospitals are struggling with margins as labor costs rise.
In this tough environment I like Medical Properties Trust (MPW) as it has the biggest cushion between the operators and the REIT due to a high EBITDAR coverage ratio over 2X. Other REITs, including the big 3, have coverage ratios in the 1.0X to 1.5X range which makes them more sensitive to changes in operator profitability. MPW's operators are losing margin along with everyone else, but it is less likely to affect MPW because as long as the EBITDAR coverage remains above 1X for each of its operators, they can pay rent and more importantly, they WANT to continue paying rent as the business is net profitable. MPW has a great track record of FFO/share growth and trades at less than 10X forward FFO.
Data Security, Processing And Storage 9.07%
Iron Mountain (IRM) is the global leader in secure storage of physical data and it is now expanding its scope of services to digital data with massive data center acquisitions and developments. Generally, I dislike data center acquisitions as the cap rates are quite low, but IRM has the potential to increase the cap rates through synergies with its legacy business. IRM has a service in which it converts a customer's physical data to digital for a small fee and once it is stored on the cloud, the customer can have IRM shred the physical documents. As cloud storage is higher margin for IRM, we see this transition doing good things for its bottom line.
We met with IRM's management at REITWEEK and they seem like a solid team. This, along with IRM's stellar track record as a public company, gives us confidence that IRM's transition will be successful.
Hotels 9.46%
Sotherly Hotels (SOHO) is a deep value play on the hotel space. As the US economy continues growing at a healthy clip, hotels are benefiting from the increased demand from both business and leisure. The market has taken note with hotel REITs returning about 15% over the last year. With these gains, many of the hotel REITs are getting expensive and we have sold some of our RLJ and HT as a result.
SOHO moved up with the rest, but it was so outrageously cheap that even after the gains it remains deeply discounted to NAV. Using an 8% cap rate on forward NOI, we estimate its properties are worth $11 to $12 per share making it a bargain at $6.98. It is a well run company with people at the helm who really know the hotel business. I suspect its low market price is a result of its small market cap which comes with low liquidity.
Manufactured Housing 10.4%
Most investors who follow UMH Properties (UMH) are already aware of the key aspects that provide UMH with upside:
Tight zoning limits supply.

UMH's landbank of adjoining land provides development opportunity.

Lease-up potential of its existing communities provides high margin growth.
In recent months, I think these have been priced in with UMH now trading at almost 19X FFO. This is far more expensive than we would typically own as we are value investors at heart. So why such a large position?
Well, UMH has a sizable refinancing opportunity as Freddie Mac loans become available to communities above a certain occupancy level. This could drastically lower UMH's cost of capital and cause FFO/share to significantly beat consensus estimates.
Malls 8.08%
Retail sentiment has been a wild ride. One week the consensus narrative is the retail apocalypse then the next week the market will seemingly decide in unison that retail is oversold. I do not know how retail will turn out, but I feel fairly confident in the relative strength of Washington Prime (WPG).
Some malls will survive, and the survivors will be those who can best adapt to customer demand. WPG is ahead of the game in converting to service and experience based retail that is more resistant to the e-commerce threat. This is undoubtedly a risky position, but at 5.3X FFO, I feel the upside is worth the risk.
Triple Net 7.26%
Valuations have converged in the NNN space. The low end NNN REITs now trade only a few turns below the high end and much of the mispricing is gone. Global Net Lease (GNL) stands as our last bastion of extremely high yield triple net, but even it has appreciated materially in recent weeks, taking it somewhat close to fair value. I am confident that at some point mispricing will return to the space, but for now it appears the opportunity in triple nets has closed. GNL is still very high yield above 10%, but the remaining upside is limited.
Office 5.59%
Generally, I am not a fan of office real estate as the negotiating power rests firmly in the hands of the tenants. Even among high quality office buildings, re-leasing often involves a fairly extreme amount of concessions to the tenant.
Historically, the government is a terrible negotiator as the bureaucracy reduces incentives to get the best deal possible. I suspect this will create less painful re-leasing for office properties leased to government entities. Among the office REITs, Government Properties Income Trust (GOV) is one of only 2 REITs that primarily leases to the government and GOV is significantly cheaper than Easterly. Much of the discount is due to its external management, but the related discount is too extreme in my opinion. With a nearly 11% dividend yield, we see some upside to GOV shares.
Corrections 9.92%
CoreCivic (CXW) is the market leader in privately run correctional facilities. This business is often subject to the whims of politicians who are in turn subject to public will. In a rational business environment, almost 100% of detainees would be held in privately run facilities as they operate far more efficiently with per diems that are well below the cost of holding detainees in public facilities. As such, the portion of detainees allocated to private operators is always in flux causing earnings for CXW to be in flux.
Presently, I would argue that earnings are at low tide as the impacts of California pulling out are climaxing, causing CXW's occupancy to be about 10% below normal levels. Thus, what we are looking at is trough earnings and CXW is trading at just over 10X trough earnings.
Historically, CXW trades at a higher multiple and its FFO/share is poised to recover. This could create a multiplicative effect as both FFO and the multiple on FFO increase.
Wrapping it up
The key aspects that could drive 2CHYP's returns are its deep value and fully covered high dividend yield. With a P/FFO of 9.16 across the portfolio, it is less than half the multiple of the SNL REIT Index which has a multiple of 19.13X. 2CHYP's dividend yield is more than double that of the index, coming in at 8.07% compared to 3.95%. Importantly, these dividends are well covered with a 73.9% payout ratio that is actually lower than the 75.6% payout ratio of the index.
Out of 193 REITs, we have rejected most, instead filing the 2CHYP portfolio with the ones we view as the most opportunistic. We take great pride in our work and welcome any questions you may have.
2nd Market Capital and its affiliated accounts are long CXW, GNL, GOV, IRM, JCAP, MPW, OUT, PLYM, SOHO, STAG, UMH, UNIT and WPG. I am personally long CXW, GNL, GOV, ILPT, IRM, JCAP, MPW, OUT, PLYM, SOHO, STAG, UMH, UNIT and WPG. This article is provided for informational purposes only. It is not a recommendation to buy or sell any security and is strictly the opinion of the writer. Information contained in this article is impersonal and not tailored to the investment needs of any particular person. It does not constitute a recommendation that any particular security or strategy is suitable for a specific person. Investing in publicly held securities is speculative and involves risk, including the possible loss of principal. The reader must determine whether any investment is suitable and accepts responsibility for their investment decisions. Dane Bowler is an investment advisor representative of 2MCAC, a Wisconsin registered investment advisor. Commentary may contain forward looking statements which are by definition uncertain. Actual results may differ materially from our forecasts or estimations, and 2MCAC and its affiliates cannot be held liable for the use of and reliance upon the opinions, estimates, forecasts and findings in this article. Positive comments made by others should not be construed as an endorsement of the writer's abilities as an investment advisor representative.
Important Notes and Disclaimer
The holdings presented were the entire holdings of 2CHYP as of 6/30/18, but may not represent the holdings for other time periods. We do not intend presentation of 2CHYP's holdings as a recommendation, but rather as a statement of historical fact.
We cannot determine whether the portfolio holdings presented are suitable for any given reader. Readers are encouraged to contact their financial professional to discuss the suitability of any strategies or holdings prior to implementation in their portfolio.
The specific securities identified and described herein do not represent all of the securities purchased or sold for advisory clients of 2nd Market Capital Advisory Corporation (2MCAC). It should not be assumed that investments in the securities identified and described were or will be profitable.
A list of all prior purchases and sales made by the investment advisor representative in the 2CHYP portfolio is available upon request. It should not be assumed that purchases and sales made in the future will be profitable or will equal the performance of the securities in this list.
All content that relates to 2CHYP's future performance are considered forward-looking statements. These forward-looking statements involve uncertainties that could cause actual performance or results to materially differ, and readers are cautioned not to place undue reliance on them.
Benchmark Comparison: 2CHYP is compared to the iShares U.S. Real Estate ETF because it is a common method for investing in a portfolio of REITs, and we view it as a competitor or alternative to 2CHYP. IYR has fees that are factored into performance, while 2CHYP does not have a fee aside from trading commissions which are factored into performance. 2CHYP's dividends are reinvested, while IYR's dividends are paid but not reinvested.
Strategy and market conditions: 2CHYP uses a bottom-up stock selection process which may fare better in certain market conditions than in others. It may perform better when value is in favor or worse when value is out of favor.
Expenses: Returns reflect the deduction of any transaction expenses. There are no costs or management fees charged nor deducted.
Past performance does not guarantee future results. Investing in publicly held securities is speculative and involves risk, including the possible loss of principal. Historical returns should not be used as the primary basis for investment decisions. Although the statements of fact and data in this article have been obtained from sources believed to be reliable, 2MCAC does not guarantee their accuracy and assumes no liability or responsibility for any omissions/errors.
Calculation Methodology: 8 quarter return for the period 7/1/16 through 6/30/18, unaudited. Dividends in 2CHYP are reinvested.
Conflicts of Interest. We routinely own and trade the same securities purchased or sold for advisory clients of 2MCAC. This circumstance is communicated to clients on an ongoing basis. As fiduciaries, we prioritize our clients' interests above those of our corporate and personal accounts to avoid conflict and adverse selection in trading these commonly held interests.
Disclosure: I am/we are long CXW, GNL, GOV, ILPT, IRM, JCAP, MPW, OUT, PLYM, SOHO, STAG, UMH, UNIT, WPG. I wrote this article myself, and it expresses my own opinions. I am not receiving compensation for it (other than from Seeking Alpha). I have no business relationship with any company whose stock is mentioned in this article.