Investment Thesis
Oxford Lane Capital Corp. (OXLC) is a closed end management investment company, which invests in collateralized loan obligations or CLOs. OXLC offers a solid risk-adjusted return for immediate income investors – which should not be overlooked.
What exactly is a CLO structure?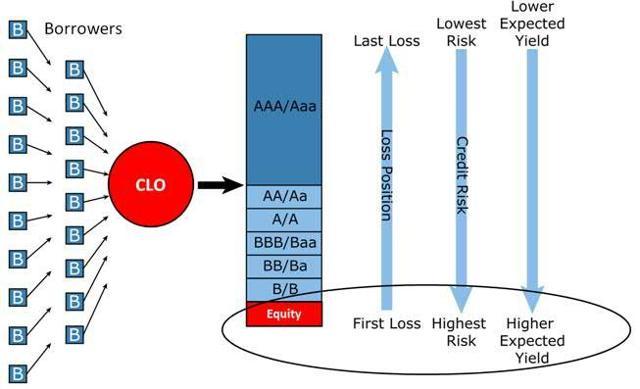 Source
CLOs bring together two groups of people: Borrowers and lenders. Multiple borrowers or smaller loans are consolidated into one large structure, which multiple lenders provide the equity for. Different lenders will purchase various tranches, the higher rating offer greater safety but lower yields. These higher rated tranches get first dibs on payments when loan payments are made. As you work down the tranches, the yield increases along with risk. The final position is the equity tranche - it bears no credit rating, it receives payments last, but offers the greatest yield.
In the event that payments are missed or sent to collections, the higher tranches have greatest strength. This means that the equity tranche may not receive payments at times.
OXLC's CLO Investments
OXLC focuses on growth and steady income via CLOs. OXLC is a closed end management investment company; this is not to be confused with closed end funds, or CEFs.
With a CEF, you are purchasing shares of a fund that is managed by another company. A perfect example of this is Cohen & Steers Select Preferred and Income Fund, Inc. (PSF), which is a CEF that invests in preferred securities. PSF is managed by Cohen & Steers, Inc. (CNS) that offers various CEFs and mutual funds.
With OXLC you are investing in the company itself, which, unlike Cohen & Steers, offers no individual funds but seeks to grow its own value. OXLC does this via CLO. OXLC is invested in 62 different CLOs, of which 58 it holds the Equity position. This provides OXLC its high rate of income, which it readily distributes back to its shareholders.

Source: OXLC Earnings Slides
These various CLOs provide OXLC with a vast diversified borrower base. This means that as one of their 1490 borrows collapses only 0.7% of their total portfolio is at risk. This wide scale diversity adds a measure of safety amongst OXLC's high-risk focus.
The Dividend
OXLC is highly attractive due to its exceptionally high dividend yield. Currently, it offers investors just over a 15% yield paid out on a monthly basis. OXLC transitioned from quarterly payouts to monthly payments in January; this transition accompanied a slight annual dividend increase. Monthly dividends provide a ready source of immediate income to use as needed, or simply reinvest into your portfolio. OXLC covers this dividend based on the yield it receives from the CLOs its invested in. OXLC's investments offer a yield of 16.8% - allowing room for additional growth of their portfolio while covering their payments to you.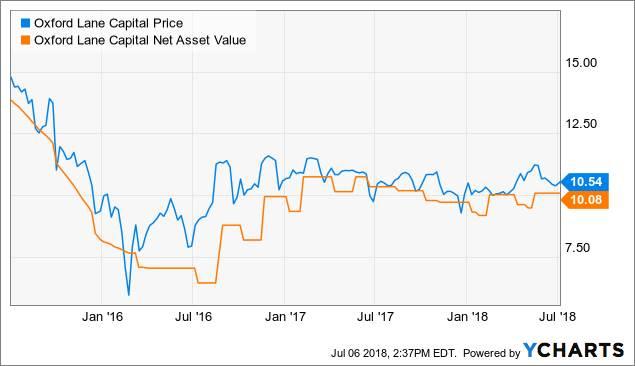 OXLC data by YCharts
After a period of declining net asset value, OXLC has recently seen its portfolio growing again slowly. This is in conjunction to continued steady dividend payments.
Looking Forward
OXLC is in a strong position moving forward. As the prime rate increases, it can cause companies, which carry a large amount of debt to struggle. Although the company has a large amount of debit, its CLO investments see their yields increase as the prime rate does. This means that essentially any prime rate increase balances out in their income and expense.
Furthermore, as the economy continues to improve, OXLC is well-positioned to capture additional CLO investments as companies seek much-needed financing to grow.
Investor Takeaway
Investments in OXLC offer a high yield immediate income but with a caveat - there is also increased risk. OXLC's portfolio is once again starting to grow and its dividend saw a slight annual increase in January. I would not expect any explosive growth in share price, which is perfect for those looking to grow a position or initiate a new position to capture a covered high-yield dividend.