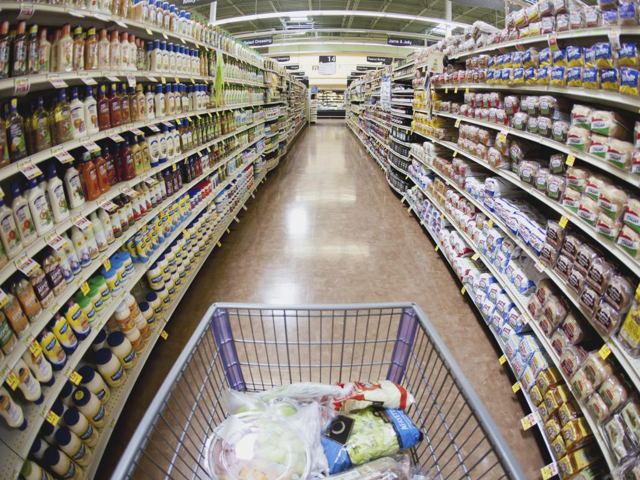 Markets since January have felt uncertainty not experienced in years, and it's thrown off many retail investors - especially those who attempted to profit from shorting volatility. Though I'm an outspoken bull, there's something to be said from sensible positioning into companies with strong fundamentals, excellent track records, and a future that isn't going anywhere. Companies like this tend to weather downturns much better than their more speculative counterparts and reward shareholders greatly for this.
In the past few weeks, I've been hearing a lot of talk about the "ETF bubble." For most purposes, I'm an advocate of low-cost, passive investing that is held for the extremely long term. However, it does cause some negative externalities - when trillions of dollars are allocated to a certain set of companies (like the S&P 500), fund inflows necessarily inflate the prices of those companies without inflating the rest of the market. At best, this makes benchmark indices temporarily inflated until the market corrects while at worst, worsens potential bubbles. Fortunately, this allows for some wiggle room in active value investment. In regards to macro analysis, Warren Buffett says "we don't look at macro" when evaluating companies. For his purposes, that's an excellent point - trading macro tends to work best with commodities rather than equities. Trading sentiment would be far more effective, demonstrated in the success of momentum ETFs and quant funds.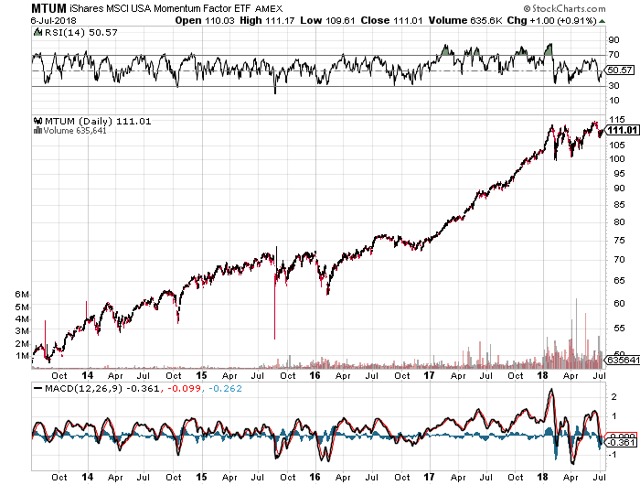 My own software and quant research using Dr. Robert Shiller's data has backed this up. Risk-adjusted returns were maximized (in simulation) when buying the S&P 500 index immediately after a >=1% increase in price the previous month and selling when it fails to meet that threshold. However, investors today should be positioning themselves for a far less smooth ride. Buffett can afford to ride out a downturn and will probably be quite happy when one inevitably hits (as you should be too). Whether or not you're bearish on U.S. markets, sensible allocation is increasingly necessary. In this article, we will examine some companies in the consumer goods sector, with a focus on staples. Companies in this area include Procter & Gamble (NYSE:PG), Colgate-Palmolive (NYSE:CL), Campbell Soup (NYSE:CPB), General Mills (NYSE:GIS), and Kraft Heinz (NASDAQ:KHC), as well as ETF, plays in the sector.
Interestingly, most of the performance (on a risk-adjusted basis) of the consumer staples sector has been generated during recessions. This is largely explained by the core concept of consumer staples - people are going to buy them no matter what, and these conglomerates will remain profitable in nearly any market.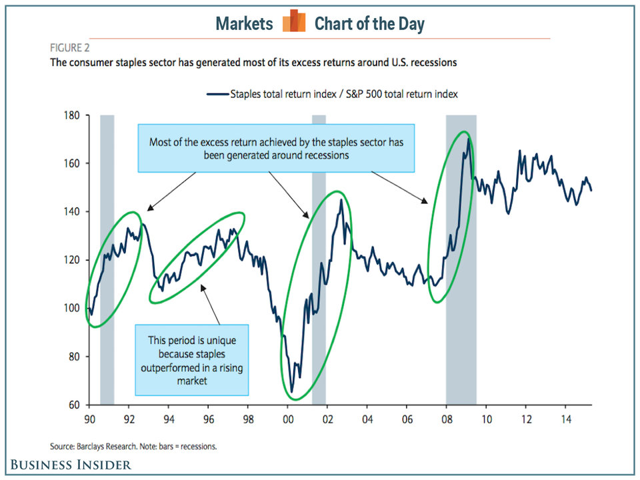 Before I dive deeper into a few of my favorite individual companies, I'll outline ETF options for the sake of my readers who find indexing to be more effective:
ETFs are abundant; I recommend Fidelity's FSTA (expense ratio 0.08%), Vanguard's VDC (expense ratio of 0.10%), or the well-known SPDR fund XLP (ER of 0.13%). I see little sense in exploring other options in the ETF sphere given our thesis of consistent profitability and excellent potential as a hedge. Some small- and mid-cap ETFs exist as well, notably the Invesco S&P SmallCap Consumer Staples ETF (NASDAQ:PSCC) (ER of 0.29%, which is definitely acceptable given the fund's scope). Berkshire Hathaway (NYSE:BRK.A) (NYSE:BRK.B) may function as a similar vehicle, given their massive allocations to consumer staples like Coca-Cola (NYSE:KO), Kraft Heinz, Fruit of the Loom, and Walmart (NYSE:WMT), though this obviously comes with caveats.
Macro Factors
Because of the focus on hotter sectors, many companies in consumer goods (and real estate) have been battered over the past several years. Procter & Gamble's stock price is scarcely above its pre-crisis high, but the index has done quite well and is trading at a single-digit PE ratio. This should be taken with a grain of salt, as sometimes low valuations are a result of poor business practices (such as most of the telecom sector) but is nonetheless a telling signal for us to take interest in.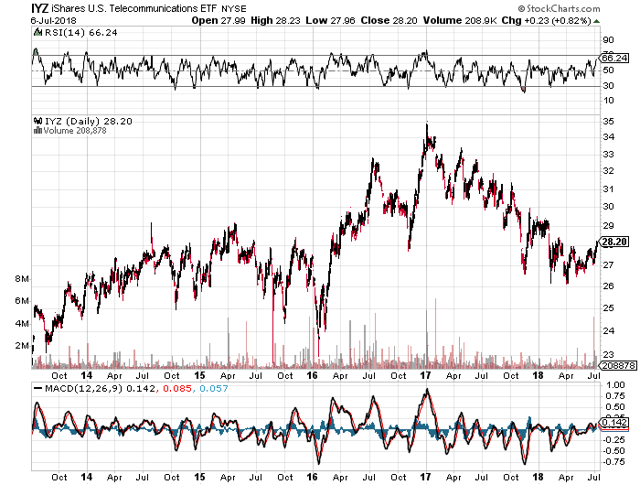 Value investing comes down to identifying market inefficiencies and profiting from the spread of valuations from when the market behaves irrationally to when it behaves rationally. As with any strategy or thesis, risk taken on ought to be sane and limitable, whether we're talking sports or stocks. That being said, I don't believe that many consumer staples companies are fundamentally threatened by the "Amazon Effect." E-commerce certainly hurts margins, but it also allows companies to access greater economies of scale and automate some functions of the business, which in the long run can reduce or eliminate the margin reduction caused by potentially smaller moats. At the end of the day, Americans (and all citizens of the world) are generally willing to pay a premium for a product they know and trust. A simple review of Colgate-Palmolive's brand portfolio should tell you all you need to know - how many of these brands do you have under the kitchen sink? Perhaps, like me, you order the bulk of them from Amazon. This indicates that management is savvy to how the Internet affects their business and is capable of continued prosperity, if not leveraging trends for even greater returns.
Top Names
Procter & Gamble is one of the oldest companies still around and has been a member of the Dow since 1932, making it the second-oldest index component. Their valuation at around 20 times earnings is by no means strikingly low, but when we take into account the quality of the business and the consistency of profits (not to mention their juicy dividend), this is a fair multiple. The company's return on equity of 18% and assets of 8% is excellent, while they maintain a fairly conservative balance sheet and don't chase growth funded by risky debt. This, for my investments, is the most important factor - I don't believe in gorging on bad debt like many are apt to do. With shares down over 13% year to date and a dividend yield of over 3%, PG appears to be a compelling investment. Shares actually tend to rise in recessions and therefore, may provide selective inverse exposure to generate alpha. We'll go over this in more detail in the Portfolio Construction section.
Colgate-Palmolive has exhibited impressive growth in the past year and shows no signs of stopping - they've grown EPS by 12.5% over last year and have been consistently expanding margins. Though their yield is a measly 2.1%, it allows for management to redeploy more capital in a tax-advantaged manner for greater future returns to shareholders. Interestingly, given the relatively poor performance of shares, CL's PE ratio is a whopping 27 times the TTM average. Coupled with a 4.5% return in the past month, the market appears to be pricing in future growth of the company when it has failed to over the past several years - which are telling, as debt levels are at remarkable lows. I'm quite impressed with their balance sheet - with only about 6.5B in long-term debt and 12B in liabilities, Colgate has positioned itself for long-term sustainability. CL is certainly not at bargain prices but is valued lower than its historical averages. Sometimes, quality has a price.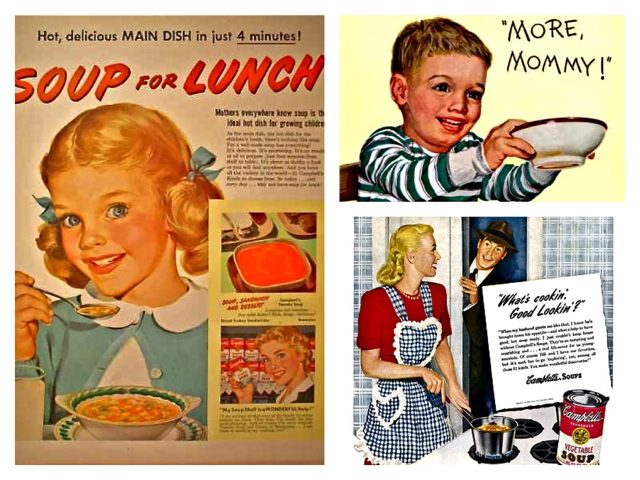 I've never been a fan of canned food, and I don't like Campbell Soup's business either. With their long-time CEO stepping down and debt exceeding equity by roughly 7 times, along with a PE of nearly 27, CPB seems fundamentally broken. Macro trends support this as well - consumers have been shying away from packaged goods from conglomerates towards smaller businesses and Whole Foods, while CPB's emerging markets expansion has largely been stagnant over the past decade. Despite their efforts to appeal to a younger, more health-conscious base, growth has been floundering for some time now and it will only get worse without major changes in management. This is a shame for a company that used to be so iconic of American business and has access to rare economies of scale that could even allow it to come close to ending world hunger while taking decent profits - but management doesn't appear to be interested.
General Mills is a bit more compelling at a first glance, given that stock is sitting just above recent 5-year lows and has a more fair PE ratio of just 13. Though the company is facing some struggles with growth, particularly domestically, they've been growing their dividend since the 1800s and show no real signs of stopping. Dividend growth is at roughly inflation for the past twelve months, but at an annualized rate of 8% for the past five years. GIS's growth issues are fixable and already priced in (and then some). As African markets open up, and as their European segments continue to grow, I am confident that GIS will overcome their struggles in America. Additionally, thanks to their strong credit and reasonable debt-to-equity of 2.58, General Mills has room for domestic M&A action. Though this may prove to be a challenge, evidenced by their overpriced acquisition of Blue Buffalo, greater acquisition of brands like Annie's and Nature Valley will bring more appeal to the current paradigm of consumers in America and beyond. Though I am not about to take a position due to some issues with management (such as cutting benefits and opacity at the middle levels), I will happily own a piece of GIS when I see meaningful efforts to improve in these areas. One unique tactic I use to gain an edge in analysis is reading low-end employee reviews and their thoughts on the company. So far, it's panned out excellently. If a company doesn't respect their lowest worker, it is not sustainable in the long run and profits will be hurt. Regardless, General Mills is a hell of a lot better than the likes of Wells Fargo (NYSE:WFC), as far as ethics go.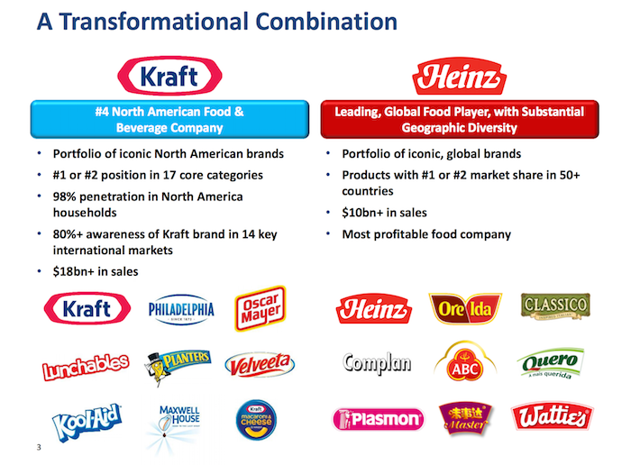 Kraft Heinz, like General Mills, is sitting just above long-term lows and yields just under 4%. Earnings have been growing, and KHC sits at a P/E of just 7x. Debt/equity is fairly low for the sector, at just 0.81, and interest expenses are very well-covered by earnings. Price-to-book is indicative of a bargain as well, at just 1.2x as compared to their long-term average of 1.73. Book value has grown at 14.6% for fiscal 2017, and margins appear to be very strong. KHC's fundamentals are excellent and show compelling mispricing by the market despite short-term stagnancy of revenue. Regardless of future growth, Kraft Heinz runs very little risk of fundamental collapse and will be able to grow their dividend for years to come.
Who doesn't love a good turkey sandwich? Tyson Foods (NYSE:TSN) is known for dominating the American protein industry and sets itself apart from the rest of the packaged foods industry by investing heavily into its future prospects. With market shares in beef, chicken, and pork of 24%, 21%, and 17% respectively, fast growth is certainly not impossible. Especially in chicken, Tyson has been focusing on vertical integration to optimize the supply chain and enhance operating margins - and is not afraid to make acquisitions to support innovation. Fundamentals are strong: debt is low at 0.82x equity, growing revenue, and strong dividend growth prospects, with a payout ratio of just 15%. Though quarterly reports show some deterioration in earnings, long-term prospects outweigh this as risks are clearly priced in (Tyson Foods trades at below 14 times earnings) and the dividend growth rate over the past 3- and 5-year terms is over 40%. Since the current yield on TSN is 72% higher than the historical norm, a simple mean regression would imply a fair value of over $110 per share. Furthermore, the Shiller (or 10-year trailing) PE ratio is 71% higher than the current PE - backing up the view that Tyson is being undervalued. Employees also strongly approve of management, and mostly enjoy working for the company - another excellent sign. So long as management can continue to improve their ethical practices, margins, and market share, the company is excellent and I will probably initiate a position soon.
Lesser-Known Plays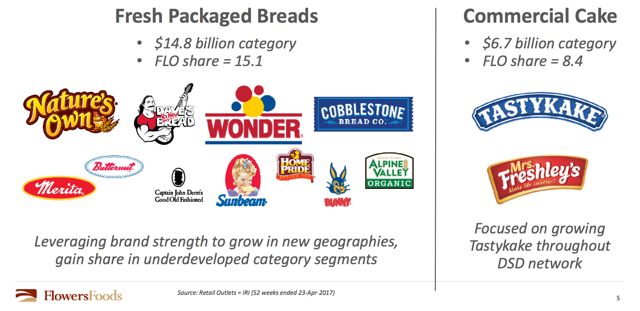 Flowers Foods (NYSE:FLO), known for their packaged baked products such as Nature's Own, Wonder, and Tastykake, has been having major troubles growing revenue and actually now has an unsustainable dividend - paying out $0.72 per share while only generating $0.66 in earnings. Fortunately, they have a fairly conservative debt-to-equity of 0.68. This indicates that they have adequate time to address this either by growing revenues, margins, or cutting the dividend. That being said, over the past decade earnings have grown by 12% on an annualized basis and their dividend has increased over that same time period, making FLO one of the Dividend Achievers. They derive about 15% of earnings from store-branded products, which shows that the company is not wholly dependent on their brand to drive profit. Being able to adapt to consumer preferences is a positive marker for a company that lacks the moat of stronger businesses. In that same vein, Flowers Foods has begun to diversify into organic products, which is a powerful long-term play. Management has indicated that they expect stagnant growth over the next few years, and insiders have had a net sell-off of nearly 800,000 shares in the past twelve months. This company is deserving of attention, but the downside risk is disproportionate to the reward and a wait-and-see approach is most appropriate.
Dean Foods (NYSE:DF) is a fairly well-known small-cap company that has been on a steady downward crash since the financial crisis of '07. Their PE ratio is just above 14x TTM earnings, which is on the lower side of a fair valuation for the company. Debt-to-equity is also in that range, at 1.39, which isn't terrible and does give management some flexibility for future growth. However, in May, Moody's downgraded their credit rating to a B2, which is the equivalent to Standard & Poor's "B" and places it into the "Highly Speculative" category. Given their difficulties and management's resistance to change, I believe this credit rating is too extreme, but it does indicate fundamental deterioration and major over-concentration in dairy products.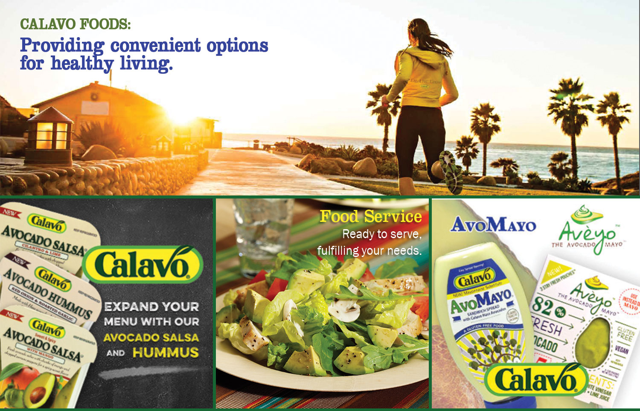 For those with a strong appetite for risk and a love of avocados, Calavo Growers Inc. (NASDAQ:CVGW) is a small-cap food distributor based in California. This location may be excellent for the distribution network but does have an impact on tax expense. They were ranked as America's Best Small Company by Forbes, and employees appear to be very happy with the company. For such a small, risk-on stock, CVGW maintains next to no debt - an excellent choice to mitigate risk. This also allows management access to more capital to finance growth, if it is ever needed. Capital return via their dividend is reasonable, with a payout ratio of 45%. Again, this allows for flexible capital deployment to finance growth. Unfortunately, Calavo Growers has a PE ratio of around 42 - growth may be priced in already. That said, dividend growth is excellent, with a 5-year average of 9.4% (annualized). Should prices come down to the $80-90 range, I will be entering a larger position as I like their conservative business practices and growth prospects, though I wish they would incorporate in a more tax-advantaged location.
Portfolio Construction
Here, we will construct a model portfolio with my dual thesis of overweight technology and a large allocation to consumer staples as a hedge. All will be rebalanced annually, with dividends reinvested. The testing period is 2005-2018 to accommodate availability of these funds. The first portfolio will be equal-weights the SPDR Consumer Staples ETF and the Vanguard Information Technology ETF (NYSEARCA:VGT). The second will be three equal weightings of XLP, VGT, and short-term Treasuries (via SHY). The third portfolio will be pure consumer staples, and our benchmark is the S&P 500.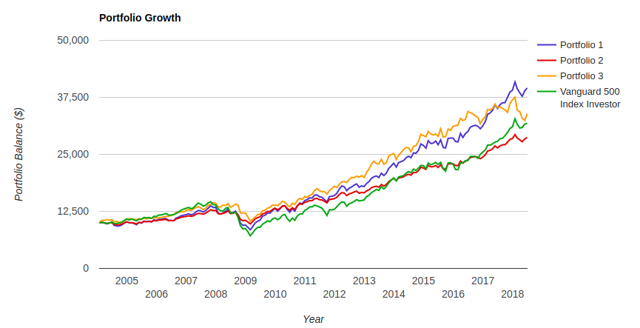 Clearly, our consumer staples ETF (Portfolio 3) has done quite well, outperforming all others on an absolute basis until recently. It has a beta of 0.71, and a maximum drawdown of just 28%. Reinvested dividends are very helpful to a portfolio. On a risk-adjusted basis, it has beaten the market, generating a Sharpe ratio of 0.73 and alpha in excess of 3.75%. However, over the past decade or so, this has vastly underperformed the benchmark, especially on a risk-adjusted basis. Investors ought to address sector concentration - which I will do in the two other portfolios.
Past performance is not indicative of future results, however, and our two other model portfolios perform excellently over all time periods. Though it has greater volatility from 2005-2008, our equal-weight tech and consumer staples portfolio (Portfolio 1) generated a slightly higher Sharpe and alpha of 2.56%, while beating the market on an absolute basis by almost 1.7%. It does have a high beta, however, due to the allocation to technology.
Lastly, our equal-weight Treasuries, tech, and consumer staples portfolio (Portfolio 2) is a notably risk-off approach to playing these two sectors. Its maximum peak to trough drawdown was just 24.25%, less than half that of the market, and the Sharpe exceeded all others by a fair margin at 0.79. Alpha was slightly greater, at 2.60%, as compared with a pure tech allocation of 1.1% over the same time period.
| | | | | | | | | |
| --- | --- | --- | --- | --- | --- | --- | --- | --- |
| Portfolio | CAGR | Stdev | Best Year | Worst Year | Max. Drawdown | Sharpe Ratio | Alpha | Beta |
| Portfolio 1 | 10.01% | 12.44% | 38.09% | -28.91% | -38.44% | 0.74 | 2.56% | 0.92 |
| Portfolio 2 | 7.59% | 8.14% | 25.40% | -17.05% | -24.25% | 0.79 | 2.60% | 0.92 |
| Portfolio 3 | 8.84% | 10.76% | 26.30% | -15.02% | -28.12% | 0.73 | 3.75% | 0.71 |
| S&P 500 | 8.36% | 13.30% | 32.18% | -37.02% | -50.97% | 0.58 | | 1.00 |
To wrap things up, the consumer staples sector is looking quite attractive now, especially when paired with revolutionary funds or stocks. Many companies are undervalued, and in today's market these are not opportunities to pass up, and due to increased interest in niche consumer markets among millennials, small-cap stocks have opportunities to develop moats that they never had before. Personally, I'll be stock picking in this sector because I feel that more opportunity is to be had with value plays than passive indexing - but history shows that indexing this sector is hard to do badly.
Disclosure: I/we have no positions in any stocks mentioned, but may initiate a long position in PG, KHC, CVGW over the next 72 hours. I wrote this article myself, and it expresses my own opinions. I am not receiving compensation for it (other than from Seeking Alpha). I have no business relationship with any company whose stock is mentioned in this article.
Additional disclosure: I am/we are long BRK.B, VGT