Investment Thesis
Microsoft (MSFT) offers investors a high-quality investment, without requiring that investors pay a heavy price tag. Microsoft's Azure continues to build on its strong momentum and looks set to become the leading cloud provider.
Investing Strategies
I am a firm believer that when it comes to investing you can either buy the cheapest stocks, in a Graham or Walter Schloss-like approach or follow Buffett's approach of buying into the very highest quality company which is fully entrenched and dominating its market. Having said that, Buffett had historically shunned tech companies, but with the world evolving towards a tech-dominated economy, he has had little choice, then to once more adapt to an ever-evolving playing field.
This brings me to the other side of the coin. Why so many investors fail to beat the market over time? Because they too casually pick companies which are 'a bit of value' and 'a bit of quality'. This halfway road, in my humble opinion, is treacherous and leads to abysmal returns.
Why Microsoft Now?
I have commented many times on SA that investing in Microsoft for the approximate 15-year time span between 2000 and 2015 left investors with lackluster returns. As Microsoft during this period, found itself in that middle ground, which I describe above.
Further, as a value investor, well versed in John Templeton's teaching, I know that I should know better than to argue that 'This Time It's Different'. And while that little 4-letter phrase has (thankfully) kept me out of a lot of trouble in the past, I honestly believe that Microsoft has a strong opportunity ahead and that investors, at present, are not being asked to pay up for this opportunity.
Underappreciated Azure
There are many companies attempting to carve out a niche in the cloud market. Given that I follow the tech space closely, you can rely on my work to inform you that leading the number one place in the cloud sector is jointly matched between Amazon's (AMZN) AWS and Microsoft's Azure (without too much hair-splitting we can work off this fact). In a strong third place, comes IBM (IBM). Next up, would be Alphabet's (GOOGL)(GOOG) Google Cloud Platform - this last contender is growing mighty fast, however, currently, it is not strong enough to meaningfully challenge the top three providers (although this potential could be worthwhile investing in).
Next, and this is really quite interesting. AWS, for all the noise that Amazon's fan base make, was up 49% YoY as of Q1 2018. Which is strong growth by Amazon, no doubt, and significantly better than it had been growing for some time (it finished FY 2017 up 43% YoY). On the other hand, Microsoft's Azure has had more than 5 quarters growing at plus 85% - which is feverishly faster growth.
Finally, IBM's cloud has had its trailing twelve months growth of currency adjusted 20% (with Q1 2018 growing at just 14%).
My whole point here is that, in spite of Azure's size and leading market position, it is still growing at a phenomenal pace. Whereas Microsoft's competitors are doing well, Azure simply leaves them in the dust.
Valuation
In light of the context, I describe above, in the table that follows, pay close attention to Amazon's valuation, particularly the cash flow multiples which investors are willing to pay for Amazon.

Source: author's calculations, morningstar.com
Many investors argue that Amazon's crown jewel is not the retail side of its operations, which generates close to 90% of its total revenue (with close to nil profitability overall), but its AWS platform, which is responsible for just 10% of Amazon's total revenue, yet carries operating profit margins close to 26%. Hopefully, the table above goes a long way to show how far from bubble-territory Microsoft's stock is being valued at.
Finally, I find it important to remind readers, that although Microsoft does not fully disclose the profitability of Azure, we do know that Microsoft finished fiscal 2017 with overall operating profits of 25.2% and that for the last 3 quarters, as Microsoft's cloud operations continue to grow at a strong clip, Microsoft's Intelligent Cloud segment (which Azure belongs to) reports operating income margins of roughly 34% - reinforcing once more, that Azure carries higher margins than AWS, and as the table above highlights, Microsoft is also more cheaply valued than its main competitor, Amazon, in the cloud space.
Takeaway
I contend that Microsoft's Azure is headed for the number one stop in its sector, while at the same time, carrying the best margins and that at present investors are not being asked to pay up for this potential.
Disclaimer: Please do your own due diligence to reach your own conclusions.
Note: The only favor I ask is that you click the "Follow" button, so I can grow my Seeking Alpha friendships and our Deep Value network. Please excuse any grammatical errors.
Find alpha in unloved names with enormous upside potential...
At Deep Value Returns, I'm laser-focused on two things: free cash flow and unloved businesses. Companies that are going through troubled times, but that are otherwise stable and cash flow generative can be bought on the cheap, providing investors with an opportunity for exceptional returns once those names come back in favor - as they often do. If you're looking for a deep value investing approach inspired by Buffett, Icahn, and Greenblatt that can help you generate between 50% and 200% potential upside in just a few years, then sign up for your two-week free trial with Deep Value Returns today!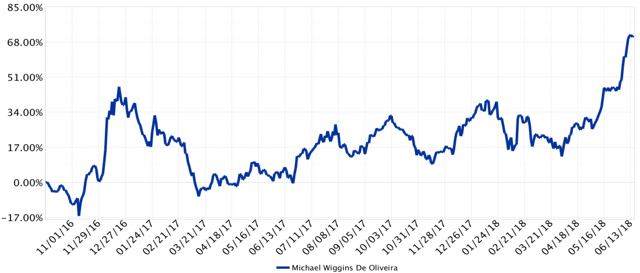 Disclosure: I/we have no positions in any stocks mentioned, and no plans to initiate any positions within the next 72 hours.
I wrote this article myself, and it expresses my own opinions. I am not receiving compensation for it (other than from Seeking Alpha). I have no business relationship with any company whose stock is mentioned in this article.