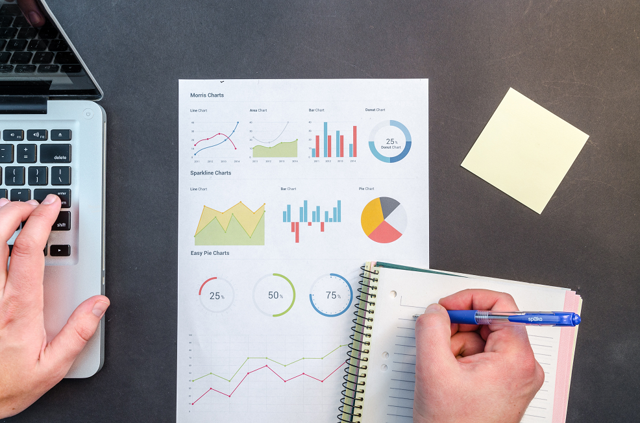 Image source: Pexels.com
Investment Thesis
A positive growth outlook for the Euro area in cooperation with the expansionary monetary policy work in favor of tighter Economic Monetary Union (EMU) spreads. This clearly applies to Italian BTPs. Analysts believe that the Bank of Italy will absorb around one-third of the country's gross government bond issuance this year, reflecting its quantitative easing allocation.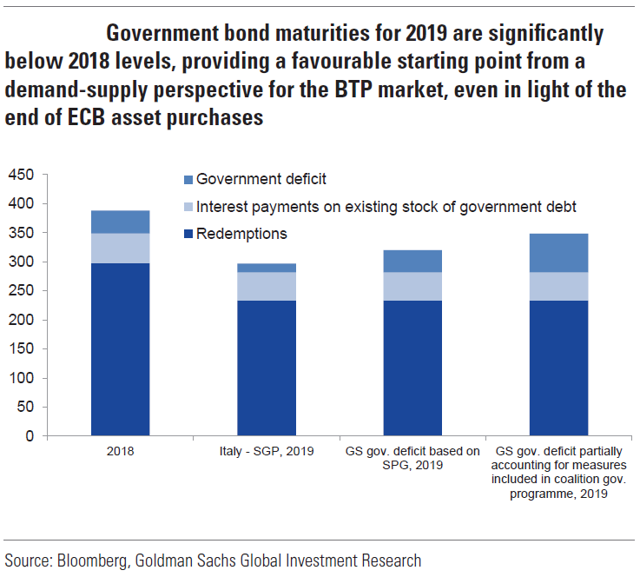 Source: Bloomberg, Goldman Sachs Global Investment Research
However, investor doubts continue on the possibility that a more structural convergence between Italy and the other countries would happen. Much of the ground Italy lost since the Global Financial Crisis in both nominal GDP (per capita) and public debt has not been made up yet.
Analysts believe that an extension of the bond sell-off relies on European long-dated yields, which are also moving higher as US interest rates reconnect to their macro "fair value." BTPs remain susceptible to more weakness, reflecting heightened policy uncertainty against a backdrop of moderate EMU-wide systemic risk.
In this credit risk research, we will assess the creditworthiness of Italian assets sizably.
Analysis Of BTP And Spreads
International investors worry about a watering down of key reforms like pension and labor market introduced in the wake of the recession to lift Italy's potential growth. No new major policy changes are seen on the horizon either. According to analysts of Goldman Sachs (GS), the 10-year interest rate differential between Germany and Italy is expected to reach 125 basis points (+/-30 basis points), levels last seen in 2016. Italy's recent economic performance suggests there is room for the spread to tighten much beyond these numbers.
Analysts further noted that the 10-year BTP/Bund spread is trading at 150 to 160 basis points. This represents a "premium" to their estimated fair value. They attributed such premium to the political uncertainty due to the Italian election. Both the Euro-Dollar forex and domestic equity market (FT-MIB) have incorporated a "gap risk" following the Italian elections.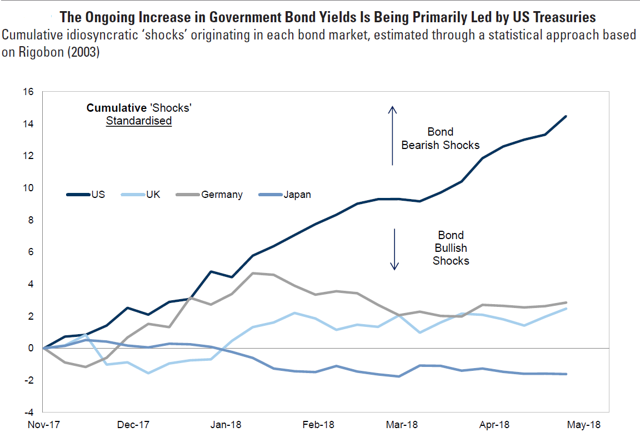 Source: Goldman Sachs Global Investment Research, Bloomberg
Compared to Spain, this country remains the top pick of EMU peripherals. Spanish bonds trade 80 basis points revealing a stronger outlook for economic activity growth.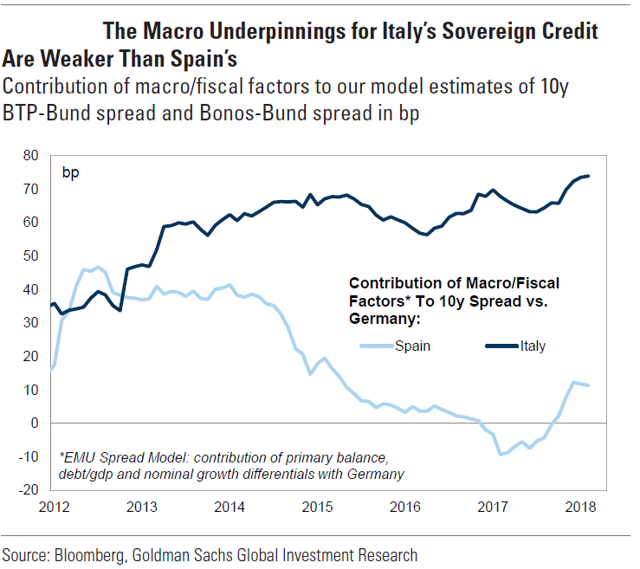 Source: Bloomberg, Goldman Sachs Global Investment Research
Systemic Risk
EMU systemic risk should remain modest even in the face of tensions in Italy. Mostly, redenomination risk is evident in EMU government bonds and other Euro area financial assets. It is now back to its pre-crisis levels, according to analysts of Goldman Sachs. This is due to a combination of the ECB's large scale quantitative easing. Most investors expect that the ECB will intervene to act as the key "lender of last resort."
The US Fed has restated its inflation objective of 2% as highlighted in its policy statement. This suggests that if this trend is sustained, a float in inflation above 2% (core personal consumption expenditure at 1.7%) will not be met with an excessively strong policy response.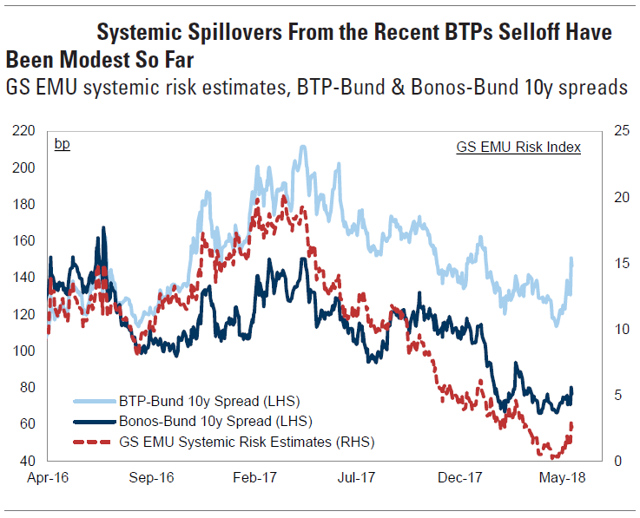 Source: Goldman Sachs Global Investment Research, Bloomberg
GS further noted that they would expect the responsiveness of the long-end of the U.S. yield curve to upward inflation surprises would rise. This systemic factor already considers that a further two interest rate hikes are already priced in for the rest of the year. Hence, this should result in a buildup of inflation risk premium in the forwards, and a steeper nominal curve than the market is discounting. More particularly, the slope between 10-yr and 2-yr Treasuries is priced to fall by a further 20 basis points to 30 basis points.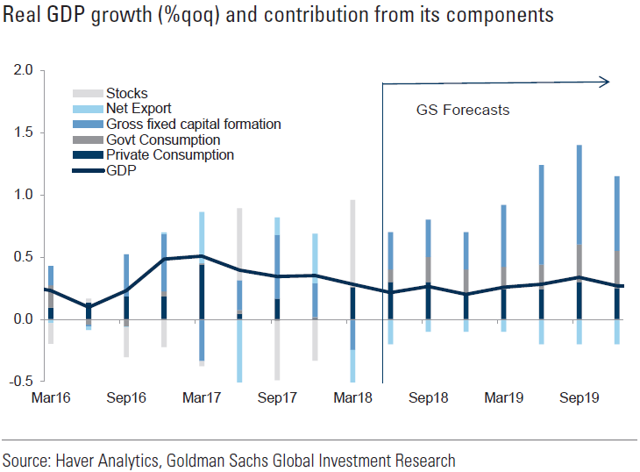 Source: Haver Analytics, Goldman Sachs Global Investment Research.
Bond Market Liquidity
The market experienced an unnerving episode of weak liquidity in the recent dramatic sell-off in Italian bonds. The majority of bond trading days are uneventful from a liquidity point of view. However, following the Italian bond sell-off, traders see periods when there will be less liquidity at the best bid/offer and through the various levels of the order book. Some traders added that there were occasionally days when liquidity in a particular bond will drop 30% to 40%.
That decline in liquidity should not come as a surprise if the bond market is down significantly. The risk reward for market makers to give meaningful size has changed as spreads have narrowed. So if an investor is a buy side institutional trader comparing their liquidity for the past 15 years, the investor would need to consider not only how much liquidity he/she was getting back then, but also what spreads he/she was paying. As a market maker, the investor would always employ a two-sided approach in investment strategy and not biased.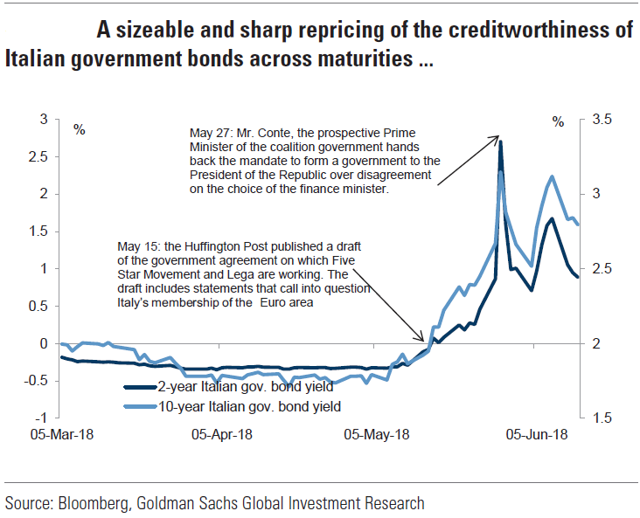 Source: Bloomberg, Goldman Sachs Global Investment Research
My Takeaway
In my opinion, Italy has the resources to service its debt. The country can fully repay creditors as spending cuts are possible and privatization can also help reduce the stock of debt. The Italian debt problem is predominantly one of internal distribution of resources while the future governments will be pressed to clarify what economic policy mix they will pursue. Note that there are around two-thirds of the stock of government bonds now in domestic hands.
In this context, the value of long-dated Italian government bonds could also be affected by a future European Central Bank (ECB) decision taken at the European scope over fiscal integration and possible solutions for existing legacy debt. It is possible that more integration will in the future lead to conversion of national bonds into Euro area securities. This is unlikely to take place in the next five years, but is a relevant scenario for securities spanning a 10-year or 30-year horizon. Investor concerns related to the potential subordination of legacy debt could also weigh on longer-dated Italian government bonds.
Going forward, a significant reduction in interest rate expenses is unlikely to occur, unless at the Euro area level, significant steps toward more fiscal and political integration are taken. On the revenue side of the budget, it is also worth considering that. Further increases in taxes are difficult to implement, as they could become a more significant drag on GDP growth.
Analyzing further Italy's debt servicing capacity, the debt to GDP ratio declined from 122% to 105% while primary surplus averaged 3.2% of GDP. The GDP growth, meanwhile, averaged 1.5% over the period from 1995 to 2008. Italy was able to maintain a primary surplus of 5% of GDP but only from 1995 to 2000. Its primary surplus declined to an average of 2% from 2001 to 2008. A significant contribution to the reduction of public debt came from the decline in interest rate expenses.
By looking at the historical Italian numbers, I estimated that growth of Italy's long term debt sustainability will be sound. By estimates, the Italian general government debt was around €2.01 trillion and government securities outstanding already reached €1.69 trillion four years ago. Government debt peaked at 127.5% of GDP in 2013 and fell to 123.2% to €2.07 trillion by 2016. I estimate general Italian government debt was 262% of GDP in 2011 (versus 192% for the Euro area) relative to total tax revenues. United Kingdom has 208% of GDP while the United States has 325% of GDP.
However, I also believe that at current levels, Italian bonds are not yet cheap even after a significant price correction. Asset prices better contemplate the fundamentals of the Italian economy.
Following the melodramatic bond sell-off, the Italian economy was negatively perceived as having weak potential growth, high public debt and an overhang of bank non-performing loans. In addition, a new government would not possibly pursue a structural reform agenda that could offset these weaknesses rapidly.
For some compelling reasons, first I believe that the Italian economy is obviously slowing down post sell-offs. GS recently lowered its 2018 and 2019 real GDP growth forecast to 1.2% and 1.0%, respectively (down from 1.4% and 1.2%). Second, the outlook for Italy's public finance is expected to worsen owing to the new government's policy programme. Third, there is an increasing probability that credit rating agencies could downgrade the Italian sovereign rating. It could particularly occur if some of the economic policies targeted by the coalition government are carried out on a larger scale.
Credit rating agencies place Italian government debt two notches above their speculative investment grade. A one-notch downgrade would lead to a further increase in risk premium that investors would demand to hold Italian assets. Fourth, the relationship between the Italian government and its European partners could go confrontational. Finally, political uncertainty in Italy remains at large. The government is not clear how long the current coalition will remain in power especially as components of the coalition appear to bear incentives to return to the polls.
This article was written by Gold News business journalist Hans Centena. If you found this article to be informative and would like to hear more about my investment research, please consider hitting the "Follow" button above.
Disclosure: I/we have no positions in any stocks mentioned, and no plans to initiate any positions within the next 72 hours. I wrote this article myself, and it expresses my own opinions. I am not receiving compensation for it (other than from Seeking Alpha). I have no business relationship with any company whose stock is mentioned in this article.
Additional disclosure: Gold News is not a registered investment advisor or broker/dealer. Readers are advised that the material contained herein should be used solely for informational purposes. Investing involves risk, including the loss of principal. Readers are solely responsible for their own investment decisions.