[To truly innovate, differentiate and engage today's changing clients, financial professionals today need to borrow more heavily from the design industry. "Design thinking" leads to more purposeful and thoughtful creation of financial services offerings based firmly on client needs.
To learn more about this "design" approach, The Institute for Innovation Development recently talked with Nick Gregory, President and CEO of the Financial Engineering Institute (FEI) and a series of sister organizations, all created to specifically design and engineer solutions for financial professionals who manage High Net Worth (HNW) family and business wealth. Nick has been hard at work retooling innovative turnkey financial solutions to some of the most complex HNW financial challenges.]
Hortz: Can you explain your definition of the term "financial engineering" and why you chose it as your moniker and branding approach for your organization?
Gregory: When I was in private practice as a financial advisor many years ago in the Cleveland-Akron area, I was working strictly with owners of manufacturing and construction companies. I'd walk into a contractor's office and there'd be blueprints all over his floor, conference table, desk, and so on. I started to think that they might identify with "financial engineering" as a way they could look at and start understanding the entire financial ecosystem around their families and businesses.
In addition, the research I read showed, both then and now, through numerous independent studies, that HNW family leaders and business owners were in search of the following - by priority: 1. Comprehensive Financial Planning, 2. Estate Planning, 3. Tax Planning, 4. Legacy Planning, 5. Asset Management. Key point is that "asset management" ranked last, but most advisory firms seem to have their "focus" upside down. We took a different approach – we listened to what our clients wanted.
So I asked myself: What if I fused advanced knowledge, experience, services and products with sound engineering principles to create a synergized financial hub around all their key areas of need for their businesses and their families? As a financial advisor, it also helped me brand, position and differentiate myself in the marketplace from the more sales intensive, commission-oriented "financial product providers".
And so, "financial engineering" evolved from my private practice and mindset to an innovative "wealth engineering" platform I built for advisors today with a comprehensive set of client compliant, turnkey offerings. All of which are supported by mentoring, training, marketing and case design along with monthly newsletters, teleconferences and national conferences.
Hortz: What types of financial professionals are gravitating to your comprehensive "wealth engineering" platform? How do you work with them?
Gregory: Our modular, consultative approach allows for the 2,200+ wealth management firms and 22 broker dealers that we currently work with to select various fee structures – retainer, special project, rate per hour, etc. with private label licensing fees of our proprietary programs baked into all.
These firms all vary in what they are up to and where they came from. But they all wish to expand their revenue silos while deepening client relationships by becoming more holistic in working with HNW families and businesses. They appreciate our ability to fine tune our proprietary programs into their respective objectives, time tables, etc. – what we call "open-option practice engineering".
Hortz: What types of client and advisor needs did you see that drove you to create this Institute and how did you build FEI to address those problems?
Gregory: From the HNW client perspective, we took a much more holistic view on what surrounds successful families and their businesses? As the diagram below depicts, we determined 10 key areas of support needed: family governance, tax engineering, planned giving, risk management, estate planning, investment planning, asset protection, private banking, strategic business planning and life style services.
The more complex the family wealth and asset assortment is, the more dynamic and disjointed it all becomes. Professional advice from law firms, accounting firms, real estate firms, financial advisors, insurance investment professionals is usually quite fragmented and comes from a very focused, closed minded point of view – not examining all of the connective tissue of the entire financial ecosystems of their clients. So how can HNW families deal and coordinate with all the different disparate issues and advice and product providers they tolerate and how do they figure out what they are missing as they evolve?
So over the past 42 years we've spent a lot of time simplifying the complexities of those 10 areas that surround the entire wealth ecosystem of these families and building a network of what we call "expert sourcing" firms that have the expertise and specialize in theses various areas to assist us building out resources and solutions for HNW advisors. Therefore, we engineered an exclusive concierge services platform with their issues in mind.
From the advisor perspective, we asked ourselves: What if an advisory firm could easily fortify their client value proposition by fusing key HNW services and products into their firm offering? This could create fresh revenue while enhancing client acquisition and retention. Further providing these as turnkey solutions in a private label manner could assist in branding, positioning and differentiating the advisory firm against their competition, really providing them with an unfair advantage in the marketplace.
So, we built out FEI and The Family Wealth Hub, with our comprehensive and harmonized online dashboard of turnkey HNW solutions, to position the advisor to be able to sit with their HNW clients and uniquely position themselves in the middle of those 10 HNW need areas that are strewn with important opportunities and pitfalls. The diagram below depicts the synchronized Family Wealth Hub Dashboard we engineered.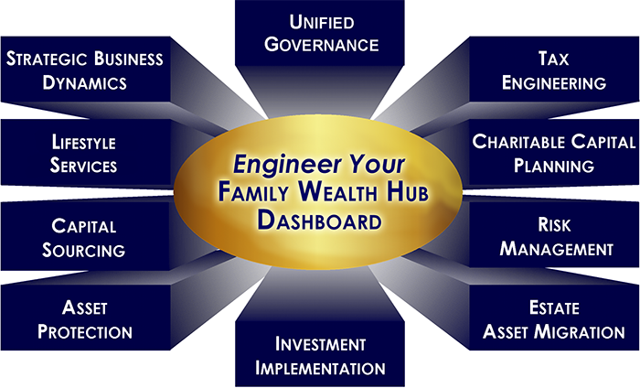 Hortz: Tell us more about one of those HNW need areas of planned giving and your "converting taxable capital into charitable capital" program and how your Charitable Capital Design Center ties into the process.
Gregory: Because of all the misperceptions surrounding "planned giving", we decided to redefine the term as a specific form a "capital" - "charitable capital planning"- and spinoff The Charitable Capital Design Center from FEI. It is dedicated to support financial advisors, wealth management firms, non-profit organizations, law firms and accounting firms to get the tax knowledge, marketing materials, specialized tools and best practices coupled with mentoring, training and case design to help clients/donors "convert taxable capital into charitable capital".
Using the heart of tax law dating back to 1969, clients/donors can divert substantial amounts of "taxable capital" (income, capital gains and estate tax incentives) and use that "capital" to pin-point exactly what causes they wish to contribute to in satisfying their giving desires. The charitable capital planning program is embedded within our wealth engineering platform and includes a set of tools for advisor/donor use: donor advised funds and gift annuities, as well as, lead remainder and private income trusts. The program helps advisors and their clients better understand, better plan and give more!
Hortz: Let's step back a little. How did you go about actually developing your turn-key programs? What have you learned that you can share with advisors on how to best go about "designing" their own client offerings?
Gregory: I personally start, when I'm building a new program, by looking in the mirror and asking, "If I were an advisor sitting in front of a client, what would I need to motivate that client to do something"? How do we clarify? How do we crystallize things? How do we simplify the complex down to a point where the client goes, "Oh. I see how that works. Tell me more." We always start with the client.
We develop client compliant marketing materials that an advisor can private label and sit down with a client to attempt to get that family to look at things in a bigger picture way. And help motivate that family to identify with what their real needs, concerns and objectives are; whether it involves asset protection, private banking, risk management, tax engineering, planned giving, and so on. It's becomes an interesting design task to get the client, in conjunction with the advisor, to start identifying with what opportunities and pitfalls may exist within their wealth ecosystem.
We "teach and educate" advisors on the use of metaphors, analogies, pictures, diagrams and real stories to help with client understanding, retention, along with the motivation of intelligent action. Clients are intimidated, confused and frustrated by "crazy financial jargon".
We then look to design the proposed solution with the resources, systems, and the expert sourcing firms needed in an easy-to-understand solution package and intuitive process that can be coordinated and managed by their central, go-to HNW financial advisor "wealth engineering" expert.
Hortz: What is your best advice for financial professionals in innovating their value propositions and designing their own financial solutions for HNW family and business wealth?
Gregory: Advisors need to give strong consideration to innovating their way into a true wealth management dimension and building a gatekeeper position across their clients' other financial professionals. They can provide comprehensive "wealth engineering" with highly competent advice and efficient implementation. The result is custom designed success blueprints for families and businesses, deeper inter-generational relationships and substantially enhanced revenues.
We are living proof that through purposeful design, you're able to transform a traditional firm into a major league, comprehensive family office structure with multiple points of revenue. We've designed and built, over time, a family of companies that surround advisors that want to be true wealth management firms; to position advisors to become "wealth engineers" that are competitively able and motivated to deal with the entire wealth ecosystem life support system of their HNW families and businesses. We carefully selected and organized expert sourcing team of HNW specialty firms, private label turnkey programs, a time-tested wealth engineering process, a harmonized online HNW dashboard, regional chapters and advanced case design support that all work together to position advisors with an unrivaled value proposition for their HNW clients.
So, in summary, remembering that exponential innovation breeds obsolescence, we all must embrace innovation within the financial advisory business or face extinction. In this financial services "sea of sameness", a firm can certainly brand, position and differentiate itself through true innovation to step-up to "Top Tier Wealth Advisory" status.