Welcome to the cooler than expected edition of Natural Gas Daily!
Housekeeping item first.
We expect a +54 Bcf change in the storage report for the week ended July 6. A storage report of +54 Bcf would compare with +58 Bcf last year and +77 Bcf for the five-year average.

Source: ICE
Long-range weather outlook shows cooler than normal weather for the second half of July
Natural gas prices are taking it on the chin today with August contracts trading to $2.789/MMBtu and September trading around $2.76/MMBtu. We disclosed last week that we exited our long DGAZ position.
The price drop today came on the back of a very bearish ECMWF-EPS long-range weather outlook yesterday. The bearish outlook shows a cooler than normal weather lasting from July 23 to August 6.

Source: StormVistaWxModels.com
One of the big reasons why we were short natural gas was precisely because of the bearish long-range weather outlook for the end of July. The timing of this cooler than normal outlook couldn't have come at a worse time for the natural gas bulls. Lower 48 production has been averaging above ~81 Bcf/d and on pace to reach ~82 Bcf/d later this month, and fundamentals have been showing a daily surplus above ~10 Bcf/d despite high power burn.

Source: HFI Research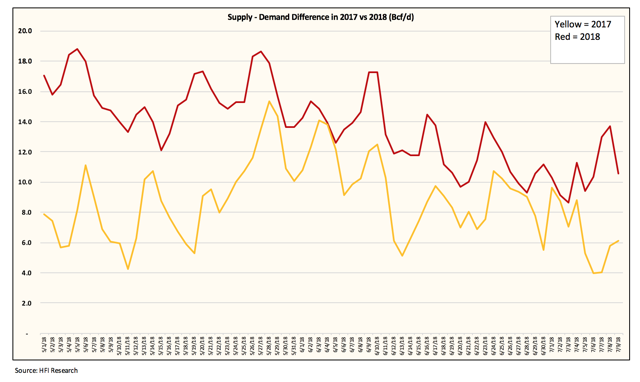 Source: HFI Research
Now that our price target of $2.80/MMBtu has been hit for August, we think if this bearish weather scenario plays out, September contracts could fall as low as $2.70/MMBtu. We would be interested in taking a long position if the weather outlook shows warmer than normal signs reappearing.
For the time being, we don't think it's favorable risk/reward to play the hero in trying to catch this bottom just yet. We see more downside risk in prices, especially if this bearish weather outlook plays out.
HFI Research Natural Gas
Thank you for reading. If you have historically found our public natural gas articles insightful, you will certainly find our premium write-ups to be even better now. We have made major improvements over the last year incorporating a dedicated section on weather, trader commentary, and fundamentals. Now we are introducing what we would do with our positioning. If you are interested, you can see here more info.
Disclosure: I/we have no positions in any stocks mentioned, and no plans to initiate any positions within the next 72 hours. I wrote this article myself, and it expresses my own opinions. I am not receiving compensation for it (other than from Seeking Alpha). I have no business relationship with any company whose stock is mentioned in this article.