It has been a difficult three months for gold bulls. After peaking once again near $1,370 per ounce, gold has experienced a steady decline over the past by as much as $130 per ounce (nearly 10%). Over the past week, gold has been forming what might in hindsight look like a bottom, but it will need to convincingly overtake the $1,260 price level for bulls to get excited again.
The daily chart shows that the MACD recently had a bullish cross, which is good news for bulls. The point of control (where the highest amount of volume has traded) in 2018 is above $1,335.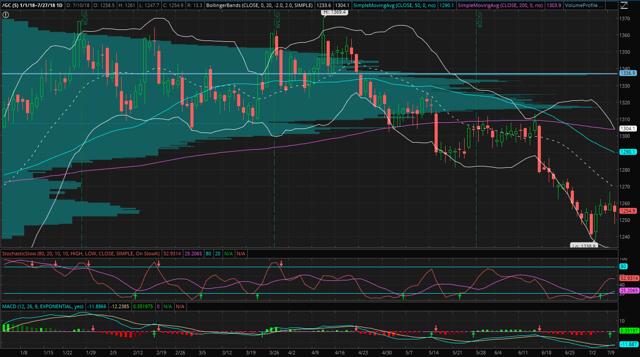 Source: Thinkorswim
One thing that makes us less bullish in the short run is the increasing open interest in the COMEX gold futures market. On Monday, July 9th, open interest increased by over 9,000 contracts in a day that had a morning rally that faded into the afternoon.
The point of control for the past 20 days is near $1,258. It is possible that we will look back at the $1,258 level as either the launching pad to take price higher or the ceiling that catapulted gold to a new low.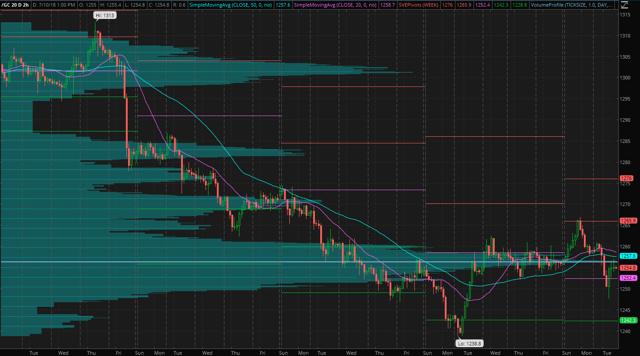 Source: Thinkorswim
Gold COT Report
The most recent gold COT report is favorable in our view because the commercial net short position is about 50% of the 3-year average. Lows in commercial short interest tend to precede rallies, and peaks in commercial short interest tend to precede price declines.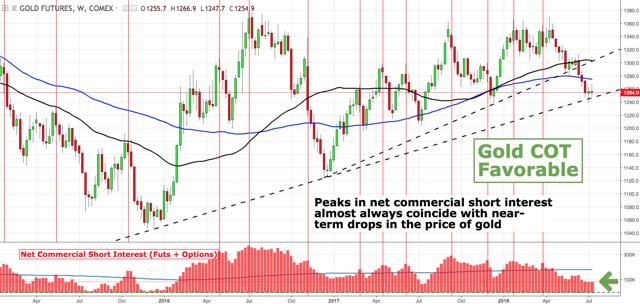 Source: Trading View
Gold Options Market Indicator
We study the options markets in the gold market to evaluate where large traders have incentive to move price prior to option expiration. This is similar to "max pain" calculations, but in our case, the data is more actionable and reliable. Since June 2017, we have seen mean reversion between the gold price and the Op-ex Price Magnet 75% of the time. If you are interested to learn more about this "Price Magnet" indicator, please click this link.
The current open interest in the August gold option market suggests that the large traders will maximize their profits between $1,265 and $1,280 on July 26th. This higher range could be a price magnet that helps to lure the price of the gold futures higher.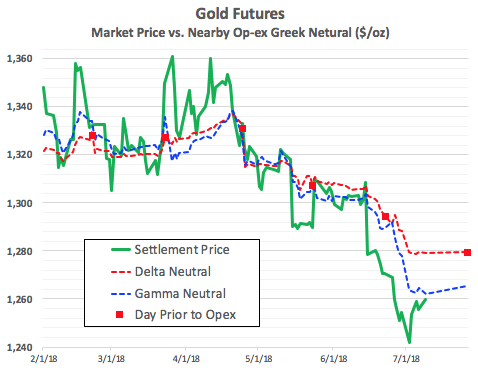 Final Comments
We are cautiously optimistic that gold will head higher from here in the short run, but it might need some geopolitical catalyst to break the downward momentum. Another lower low would further crush the already decimated sentiment in this market.
In my Commodity Conquest service, I publish a daily commodity report for gold, crude oil, natural gas, and agriculture. I also do in-depth coverage of eight energy firms.
My verifiable trading record on all completed trades through July 5th includes a win rate of 88% on my stock coverage trades, with an annualized return of over 102%.

Disclaimer
This article was written for informational purposes and is not a recommendation to buy or sell any securities. I never intend to give personal financial advice in any of my articles. All my articles are subject to the disclaimer found here.