There are many familiar faces in the world's 20 largest tech giants by market-cap: Apple (AAPL), Amazon (AMZN), Alphabet's Google (GOOG, GOOGL), Microsoft (NASDAQ:MSFT), Facebook (FB), Alibaba (BABA), Tencent (OTCPK:TCEHY), Netflix (NFLX), Ant Financial, Salesforce (CRM), Booking Holdings (BKNG), PayPal (PYPL), Baidu (BIDU), Uber (UBER), JD.com (JD), Didi Chuxing (DIDI), Xiaomi (XI), eBay (EBAY), Airbnb (AIRB), Meituan-Dianping (MEIT) and Toutiao (the last two share the 20th rank spot).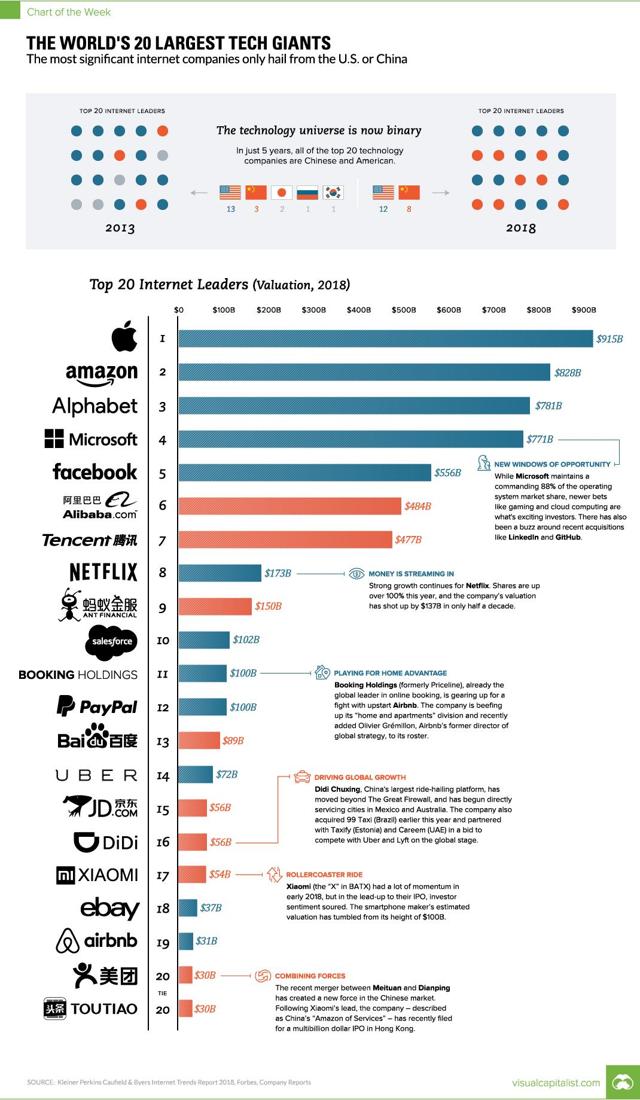 Interestingly, out of the 20 largest tech giants globally, none is located outside of the United States and China.
In total, the above list of companies is worth ~$6 trillion, with a rough 75%/25% split in favor of the USA over China.
If the number $6T rings a bell - it's perhaps the $5T (out of the $6T) that we've touched upon last month.
In a recent article about the FAANG stocks, I've written the following:
The FAANG gang accounts for 81% of the S&P 500 return this year. Adding Microsoft (MSFT) to the mix and you get six stocks ("FAANMG") that account for the entire YTD return of the S&P 500.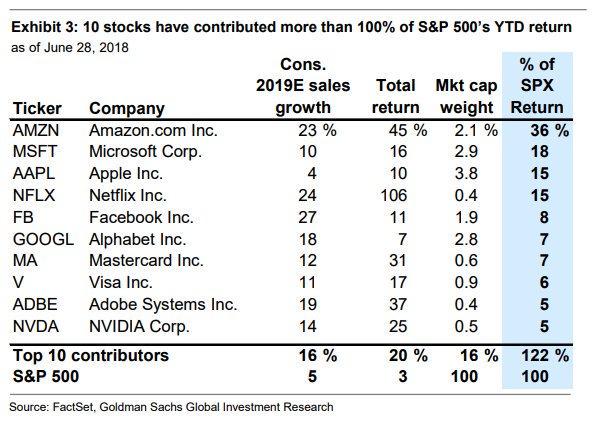 FAAMNG is an expanded version of the FAANG where MSFT is being added to the five-member gang - Facebook, Apple, Amazon, Netflix, and Alphabet's Google.
Since November 2017, the so-called FAAMNG stocks have pushed the S&P500 (SPY) up 2.66%. Meanwhile, the other 494 stocks (gave up on naming all the tickers...) are collectively down 0.40%.
Overall, during that time-frame, the S&P 500 was up 2.26%. Based on that calculation, the FAAMNG is responsible for circa 118% out of the S&P 500 return over the past 9 months!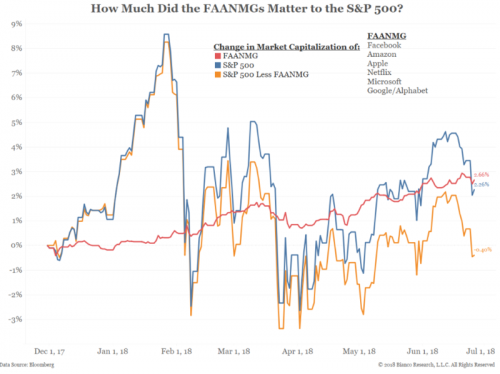 Meanwhile, one of the readers-commentators came up with an interesting idea observation: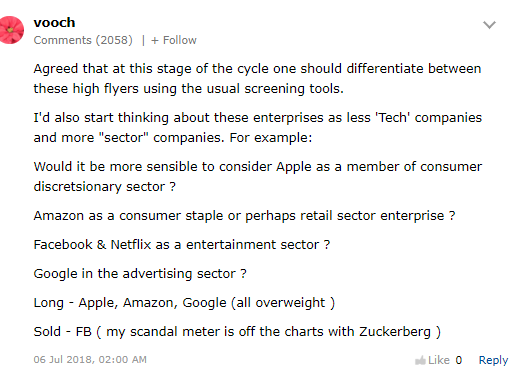 I can certainly accept the fact that the FAAMNG is not a pure-sole tech gang anymore; perhaps never been... Nonetheless, no matter how we classify the gang members they are all participating, contributing and/or impacting the current e-commerce bubble: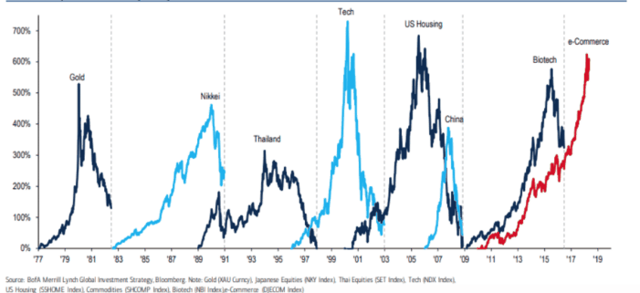 Putting it differently, reclassification (sometimes) doesn't make much of a difference.
Mike Wilson, Morgan Stanley's (MS) chief US equity strategist, believes we are at a turning point - and it's not good news for tech stocks (QQQ). The bank's much anticipated rotation from high growth/risk into defensive sectors seems to have started playing out over the past few weeks.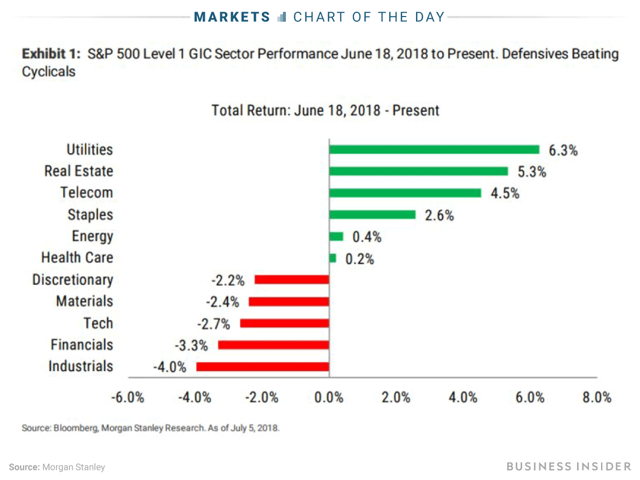 He notes that since June 18th, defensive sectors like utilities (XLU, VPU) and real estate (VNQ, XLRE, IYR) have outperformed cyclical sectors such as tech (XLK) and financials (XLF). Wilson claims two "peaks" out of three conditions needed for a valid-healthy rotation are already in place: i) Y/Y earnings growth, ii) US 10-year Treasury yield. According to Wilson, both have peaked.
The third condition, in case you were wondering, is an inverted yield curve (as measured by the 10-2 spread). We are not too far off that.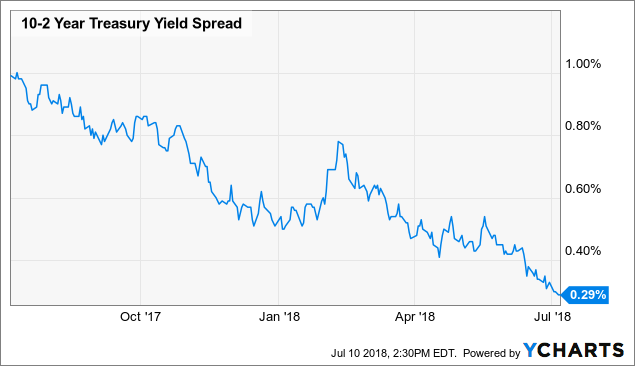 As a result, MS has upgraded the consumer staples (XLP) and telecom (IXP) sectors to equal weight.
Mike Wilson is far from being the only one sounding more cautious and moving into a more defensive mode recently.
Kristalina Georgieva, chief executive officer of the World Bank, has joined a slate of top policymakers warning about the global debt pileup. In a Bloomberg interview, she said that "After a decade of low interest rates, the corporate and public debt in many places has ballooned to a staggering $164 trillion".
Here is another chart we've used recently in another CAPE-focused article, showing the development of global debt over the past twenty years: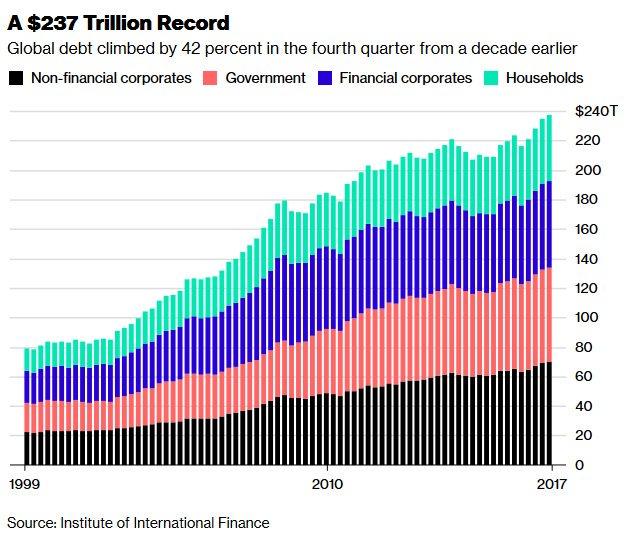 From a debt/GDP perspective, here are the IMF calculations for the end of 2017. In case you wonder, things haven't improved ever since.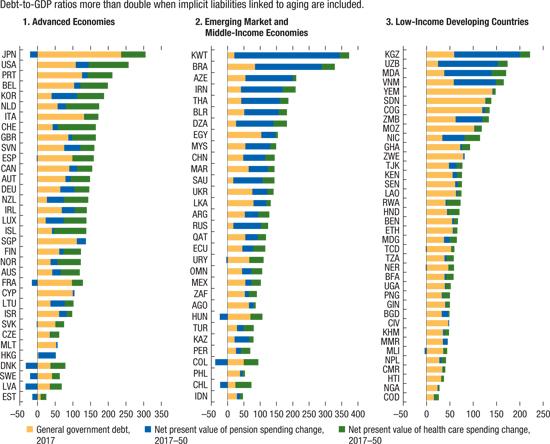 Because you know how the famous "duck test" goes: If it looks like a bubble, swims like a bubble, and quacks like a bubble, then it probably is a bubble.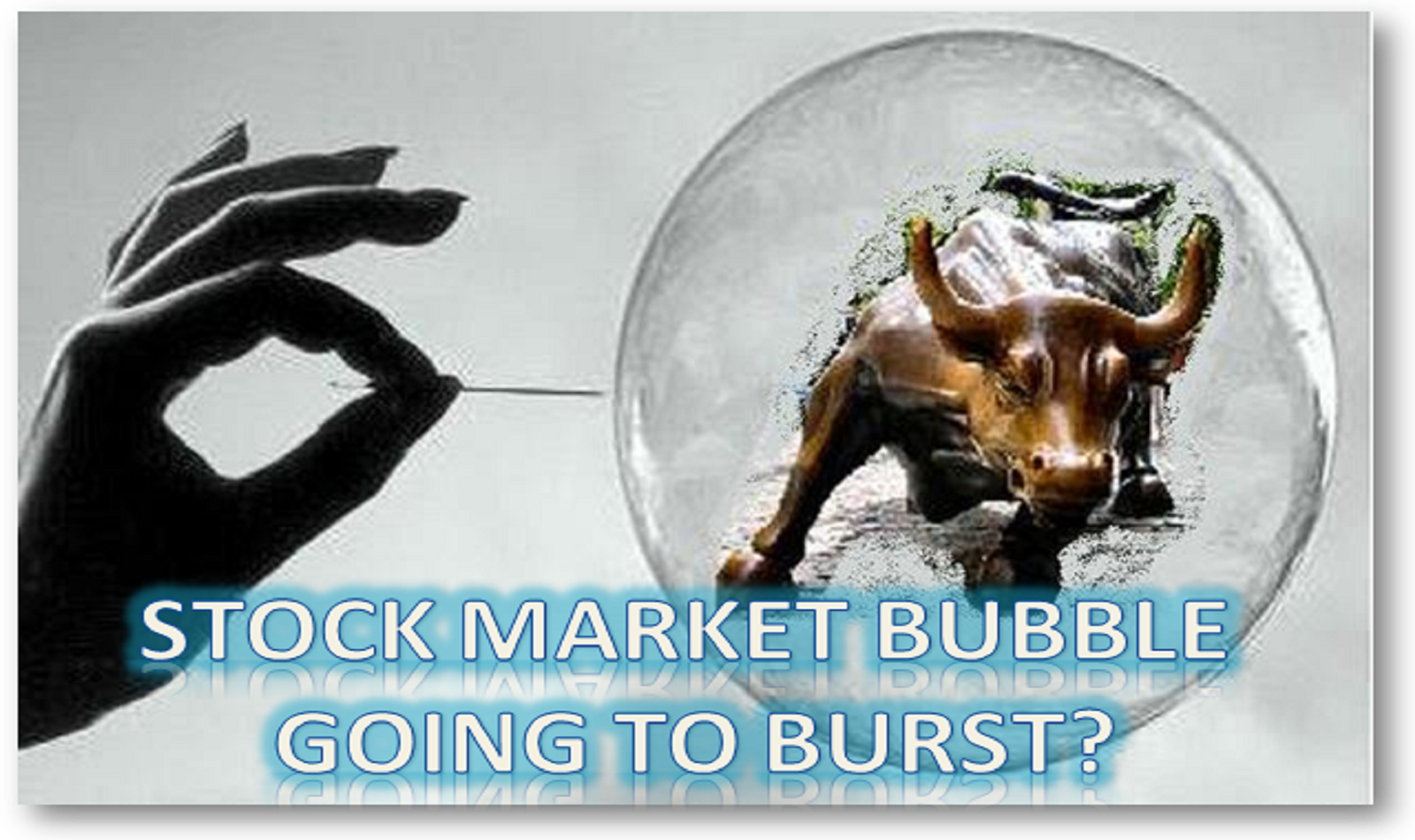 Having said that, when you look at something and ask yourself "Is it an opportunity or a threat?" remember that it all lies in the eyes of the beholder and the portfolio of the holder.
Author's note: If you like this article, please scroll up and follow us. In order to make the most out of following us, please make sure that you're not only following us, but also doing so at real time:

That's the only way to get notifications regarding both articles and blog posts (such as this one) that we publish at real time.

The Wheel of FORTUNE monthly review for April is now available. Make sure you check it out while our free trial is still on!
The Wheel of FORTUNE is one of SA Marketplace most comprehensive services. Our universe (of coverage) is unlimited and we touched upon all types of securities: common stocks, preferred shares, public bonds, baby bonds, options, currencies, commodities and even multiple startegies.
Since 3/1/18 Trapping Value is part of The Wheel of FORTUNE, so you now get two for the price of one.
Take advantage of a two-week, free of charge, first-hand experience before you commit to the service on a longer-term basis.
Make sure you read the reviews (173/175 possible stars) subscribers wrote about the service to gain a better understanding of what you may expect out of it.
Disclosure: I am/we are long MS. I wrote this article myself, and it expresses my own opinions. I am not receiving compensation for it (other than from Seeking Alpha). I have no business relationship with any company whose stock is mentioned in this article.
Editor's Note: This article discusses one or more securities that do not trade on a major U.S. exchange. Please be aware of the risks associated with these stocks.