"Oaktree's mission is to deliver superior investment results with risk under control and to conduct our business with the highest integrity."
Oaktree (NYSE:OAK) may be one of the most conservative publicly traded alternative asset managers. While maximizing distributions and shareholder value is important, the company does not pursue these goals at the cost of higher risk. Oaktree is focused on investing in a risk-controlled manner, protecting the principal of investors and avoiding losses. This conservative approach is manifested at both the corporate level (i.e., avoiding the pitfalls of corporate acquisitions in the name of adding AUM) and the individual fund level (avoiding the higher-risk segments of each market). Investors in Oaktree units should be cognizant of this investment philosophy, as it truly differentiates the company from its industry peers. Investors in Oaktree units must evaluate the possible trade-offs of their investment. Are you comfortable knowing that Oaktree is very conservative in its deployment of capital at this stage in the cycle? Are you comfortable with good absolute returns but weak relative returns to other managers? Are you comfortable with the pace at which the company is growing AUM and fee-related earnings?
Distributions
Despite an investment environment over the last five years that has not been kind to Oaktree and its investment philosophy, the company has remained faithful to its operating principles and continues to generate attractive distributions, while avoiding the higher-risk segments of the market. Outside of the anomaly in Q2 2017 due to Oaktree's exit of AdvancePierre Foods, quarterly distributions have historically been around 60 cents per unit. With a series of closed-end funds set to begin earnings fees in the coming quarters, I expect muted fee-related earnings growth in upcoming quarters and continued distributions of at least 60 cents per unit until full fees on invested capital are charged at the onset of the Distressed Opportunities Fund Xb investment period, which is expected to be in 2019.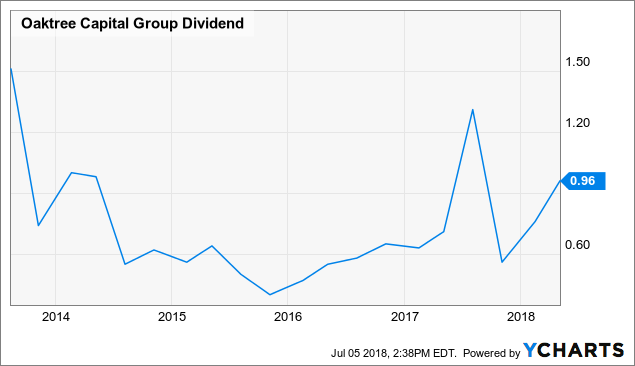 Assets Under Management Growth and Low Volatility
As Howard Marks has articulated, Oaktree does not pursue growth for growth's sake and has opportunistically expanded its product offerings to meet the needs of its investor base. Unlike other competitors in the space, Oaktree has never felt the need to be an asset gatherer and has eschewed acquisitions of businesses that it feels are not complementary to its culture and investment philosophy. While the jury is still out on the company's acquisitions of Oaktree Specialty Lending Corporation (NASDAQ:OCSL), previously Fifth Street Finance Corp. (FSC); and Oaktree Strategic Income Corporation (NASDAQ:OCSI), previously Fifth Street Senior Floating Rate Corp (FSFR), other alternatives managers such as Carlyle have experienced difficulties in effecting successful acquisitions (see Carlyle Group's acquisitions of Claren Road, Emerging Sovereign Group, Diversified Global Asset Management and the impairment charges taken in accordance with those difficult investments).
Although senior management continues to focus on growing AUM through logical next-generation funds and select step-out strategies, AUM has stalled at the $100 billion level (excluding Double Line) over the last few years, as the company has been a net seller of assets. That said, Oaktree's insistence on risk mitigation at the fund level has resulted in many of its open-ended strategies missing performance benchmarks due to the conservative positioning of portfolios. Despite this, I believe a clear and consistent approach to portfolio management and risk-aware corporate culture represent a unique proposition in the alternative investment universe.
While the company has not outperformed its competitors in terms of price appreciation, it continues to outperform with respect to volatility. Even with a very conservative focus on investing and AUM growth, I believe Oaktree presents a unique opportunity to purchase units of an alternative asset manager with attractive distributions, low volatility and a focus on downside protection that will suit the portfolio needs of risk-averse investors.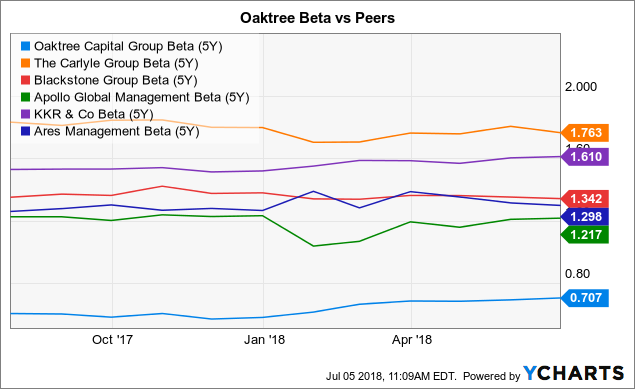 Consistent Investment Philosophy Across Strategies
Over the past several years, much attention has been given to Howard Mark's comments on the financial markets, cryptocurrencies, cycles and risk. His comments have elicited differing reactions among those in the investment community, including many members of the Seeking Alpha community. One thing that Howard has made clear in his interviews and memos is that he is a steadfast believer in fundamental, bottom-up investment analysis with a focus on principal protection and avoiding losses.
Howard's views permeate across the company and all its strategies. Whether it is Oaktree's Special Situations and Distressed Opportunities funds avoiding auctions and refusing to overpay for assets, or Oaktree's High Yield Bond and Senior Loan portfolios which generally avoid CCC-rated debt and volatile industries, the company's strict adherence to its investment philosophy rewards its fund investors and unitholders with lower volatility and consistent distributions.
Bruce Karsh Is Just Getting Started
Bruce Karsh, Chief Investment Officer of Oaktree and one of the pioneers of distressed debt investing, may be 62 years old but he is just getting started. While Howard Marks is the public face of Oaktree, the executive behind the operation and the man most responsible for investment performance is Bruce Karsh. Bruce has been investing in distressed debt for over 30 years, and in his current role is highly involved in the running of Oaktree's credit funds, including its distressed opportunities, value opportunities and multi-strategy (global credit) platform.
Bruce has a war chest of over $10 billion, mostly in Opps Xb, that he can deploy in the coming years, and he has been intimately involved in Oaktree's new liquid global credit strategy, which has been gaining traction in recent quarters amidst strong performance. Additionally, Bruce's eye for attractive deals brought him into the realm of professional sports, as he is a minority owner of the Golden State Warriors and an investor and board member of Axiomatic Gaming, a leading esports and gaming platform. He is only just getting started and will continue to be a guiding and stabilizing force at the firm for years to come.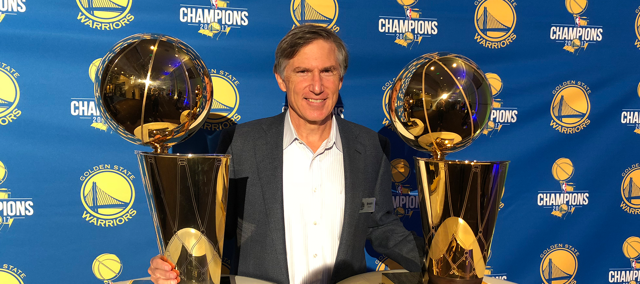 Why Oaktree?
Oaktree is not a flashy asset manager. It doesn't make headline grabbing acquisitions. It flies under the radar, and that is how the company likes it. Oaktree hasn't felt the need to make corporate-level acquisitions like Carlyle and Blackstone, and it is content pursuing its time-tested, risk-controlled investment philosophy, even in the face of an investment climate that has rewarded risk-taking. With consistent distributions, low volatility, a disciplined investment philosophy and an executive group led by Jay Wintrob, Bruce Karsh and Howard Marks, I believe Oaktree is well-positioned for the next market cycle and represents an attractive investment for risk-averse investors in search of yield.
Disclosure: I am/we are long OAK.
I wrote this article myself, and it expresses my own opinions. I am not receiving compensation for it (other than from Seeking Alpha). I have no business relationship with any company whose stock is mentioned in this article.