Knowledge transforms a poverty-stricken society into a fully modernized economy. Education has been the cornerstone for China's development, improving their capabilities, well being, and quality of life. Ever since they enacted the Compulsory Education Law in 1986, making it mandatory for all school aged children to receive nine years of education, the literacy rate has jumped from roughly 74% to over 96%. Even more so in the past decade, they have encouraged educational reform. In 2010, they released an outline of what they would like to accomplish by 2020. The synopsis of it was to modernize education, improve the curriculum, deliver equal education to all, and develop ways for lifelong learning.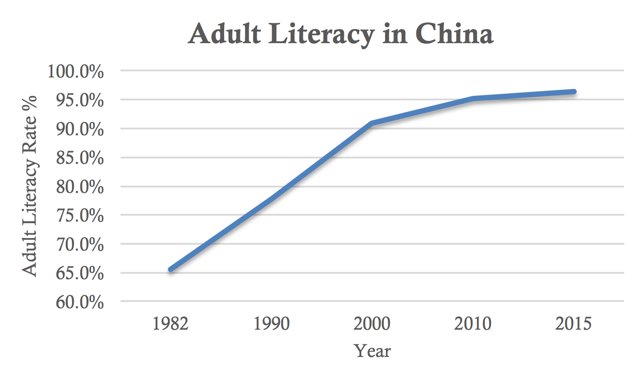 This article is going to discuss vocational education and training (VET). It is my belief that in the coming decades, VETs will be the matchstick firing rural development. With the support of the government, privatizing education and the expansion of the internet, VETs will provide the tools for millions to be bumped up into the middle class. This will then trigger a wave in which the impoverished rural economy will flourish and China's growth will be revitalized.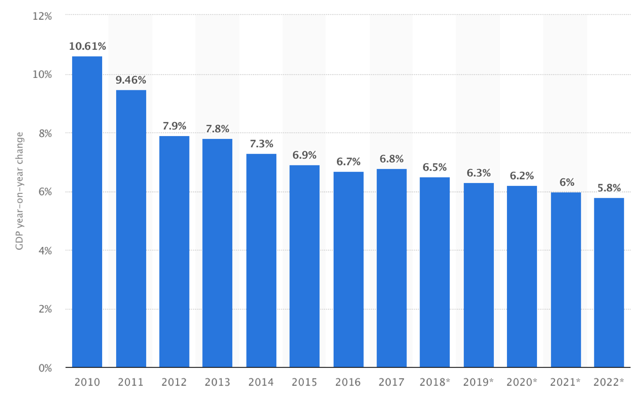 Over the past eight years, China has implemented a series of new laws and amendments to improve the quality and framework of vocational education. That is because in their 2010 outline, they stated that vocational schools, "…is a major channel through which to boost economic growth, promote employment, improve people's livelihood and address issues pertinent to agriculture, rural areas and farmers, and partly because it is a key link in mitigating structural conflicts between labor supply and demand." They believe VETs will be the key to creating a Utopian society. In February, the Ministry of Education (MOE) promoted their success, explaining that they have created the world's largest modern vocational education system. In 2016, there were 9.3 million newly enrolled students and 26.8 million current students. With, an additional 53.3 million registered at training institutions. That is more than all the children in the United States attending public school grades PreK-12th.
The numbers look positive; much of what China wanted in 2010 has been accomplished. Although, diving deeper, vocational education needs a large overhaul. The National Center on Education and the Economy (NCEE) released a report in 2015 showing the challenges VETs face. There were four main conclusions that I took away: reconstructing the curriculum, improving the educators, breaking down the cultural barrier, and creating a road from vocational schools to higher learning institutions.
Revamping the curriculum was the key task that needed to be done. The NCEE spoke with many businesses and discovered that most of the students coming out of these programs were unprepared for their careers. This was due to the programs focusing too heavily on entry-level positions and not on the broader skills. With constantly changing environments, many new grads were unable to think critically, apply knowledge and adjust to new market conditions. This may have been in part due to the limited practical experience by the teachers. Most VET faculty are not from the industry or have any industry experience.
Culture is also a big factor in why many students are opposed to vocational schools. In China, knowledge is viewed as superior, and working with your head over your hands implies leadership, causing many students to forgo any secondary education. Which is why, on top of a campaign to change society's perspective, there needs to be a way to use vocational schools as an avenue to higher education. Implementing a Bologna Process, similarly, to how the EU did, could be a way in creating a unilateral system. The Bologna Process is an agreement between 48 European countries to work together in creating a universal and modern educational system. One of the main attributes is the compatibility standardization, making it easier for students to move within Europe. If China were to implement a standard qualification metric system for all schools, it would allow students attending technical and vocational schools to merge into higher learning institutions.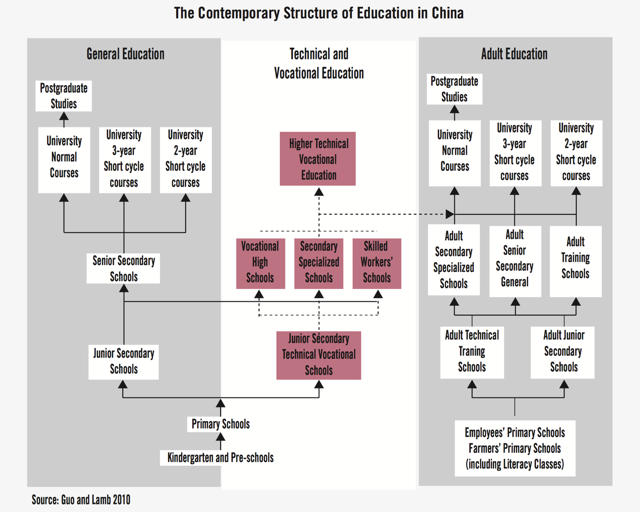 For-profit institutions could be the answer to many of these challenges. On September 1, 2017, an amendment to the Law of Promoting Privately-run Schools took effect. The purpose of the amendment was to increase the development and operation of for-profit private schools. Private institutions will be more open to working with businesses to develop and improve their curriculum. My reasoning is that constructing a well-rounded program will provide students with the knowledge they need to do more than entry level work. Once students graduate and can apply this knowledge showing that they have a broad set of skills and lead to raises and promotions, reflecting well for the institution. This will in turn increase enrollment and boost the stock price.
Private institutions also have incentives to provide experienced professors. Currently, most of the faculty lack knowledge and experience pertinent to teaching students. Charging higher tuition fees will not only allow but require for-profit schools to hire the best teachers. Which in return will create the best students.
Culture is the bedrock for all nations. Trying to disrupt or change that requires years of campaigning. Though, in order for society to adapt and grow, it is required. Currently, vocational schools are viewed as second class institutions; similarly, to how the United States views them. The Chinese government, however, has pushed hard over the years to change that. Fortunately, they have had some success. The MOE stated back in February, "…vocational education becomes more tuned to market demand and undergoes significant improvement in terms of quality, it has become more widely-accepted in society and well-recognized by parents and children." Over time, with the support of the government and large corporations, I firmly believe they will destroy that cultural barrier.
Privatizing education is the solution to fix vocational schools. Although, there is another movement forming that will make VETs flourish in the coming years. Seven hundred and seventy-two million people in China have internet access and two hundred and nine of them live in rural areas. China's online population is the biggest in the world, growing 5.6% from 2016 to 2017. The internet will solve the labor gap issue, allow millions to join the middle class, and fix China's stunted growth. As of now, most vocational programs are located in urban cities, inhibiting rural dwellers from receiving the education they need to acquire new skill sets. Although, the MOE has said it plans to be at the forefront of global development of massive open online educational courses (MOOC). With 490 national-level online courses available and another 3,000 expected to be added by 2020, they will lead the charge in setting regulations and standards for MOOCs. As vocational programs adapt, it will allow millions of career farmers and unskilled laborers to transition into technicians, mechanics, and engineers. Which would fix the supply/demand paradox many industries are facing. It will also increase the average wage, boosting consumer spending and stimulate the rural economy.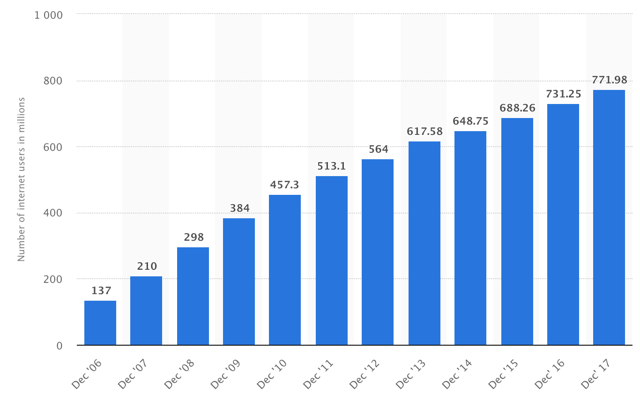 For the past two to three decades, China's government has been pushing towards higher education, shifting from a manufacturing driven to a service economy. As for-profit institutions revamp vocational education and adapt to the online world, millions of people will be able to receive an education they never once could get. These three companies are in a great spot to lead the way in this high growth industry.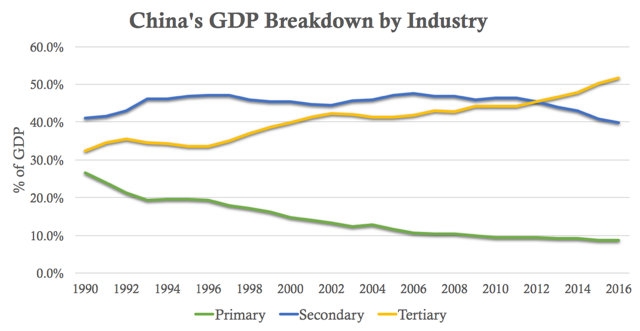 *Data provided by National Bureau of Statistics of China
Tarena International Inc. (NASDAQ:TEDU)
| | | |
| --- | --- | --- |
| P/S:1.61 | P/E: 120.88 | P/FE: 111.11 |
| P/CF: 11.42 | P/B: 2.13 | EV/EBITDA: 138.81 |
Tarena provides professional education services, focusing mainly on the IT industry. They have an interesting business model combining in-person teaching with online learning to create a well-rounded approach. Conducting a live lecture in Beijing to students, while simultaneously webcasting the lecture to learning centers across China. The learning centers are staffed each with one to two teaching assistants in each classroom to provide help when needed, while supplementing these lectures with their proprietary learning management system called Tarena.
Financial Highlights for the First Quarter 2018:
Net revenue increased 22.10% y/y for the first quarter of 2018.
Total course enrollment in the first quarter of 2018 increased 13.80% y/y to 27,893.
Total student enrollment in the first quarter of 2018 increased 10.30% y/y to 30,647.
Total number of learning centers increased 25% y/y to 200 as of March 31, 2018.
Mr. Shaoyun Han, the CEO of Tarena, said they are rolling out high growth and high demand topics in order for students to be prepared for future employment in AI. Some of the courses that have already been released are Linux, Big Data, and Python; and many more are to come.
Second quarter of 2018 net revenue is expected to be between RMB 500.00 million to RMB 520.00 million, a 9.70%-14.00% y/y increase.
Total net revenue for the full year of 2018 is expected to be between RMB 2,300.00 million and RMB 2,450.00 million, a 16.50%-24.10% y/y increase.
New Oriental Education & Technology Group (NYSE:EDU)
| | | |
| --- | --- | --- |
| P/S: 6.83 | P/E: 53.22 | P/FE: 32.26 |
| P/CF: 24.68 | P/B: 7.49 | EV/EBITDA: 49.51 |
New Oriental Education is not a provider of vocational training or technical training. Although, they have an array of educational services that will benefit from the internet, and the government's push for education. They are the largest provider of private educational services in China. With a wide range of programs, services and products, such as language training, test preparation, primary and secondary school education, online education, content development, pre-school education and many more.
Financial Highlights for the Third Fiscal Quarter:
Net revenue increased 41.20% y/y for the third fiscal quarter of 2018.
Total student enrollments in academic tutoring and test preparation courses increased 7.70% y/y to roughly 861,400 for the third fiscal quarter of 2018.
The total number of schools and learning centers increased 24.53% to 1,000 y/y for February 28, 2018.
Fourth quarter of fiscal year 2018 net revenue is expected to be between US$661.4 million to US$680.9 million, a 36.00%-40.00% y/y growth
| | | |
| --- | --- | --- |
| P/S: 1.38 | P/E: - | P/FE: - |
| P/CF:12.56 | P/B:2.16 | EV/EBITDA: 11.21 |
ATA Inc. provides assessment based computer testing services in China. Using their proprietary testing technology and testing platform, they conduct professional licensure and certification exams across an array of industries. Online proctoring will be essential to the development and growth of online education. Vocational testing, university examinations, primary and secondary education and many more industries will utilize this technology.
*ATA Online is currently in a share purchase agreement. If it goes through, it will take 98-99% of business revenue.*
Financial Highlights for the First Quarter 2018:
Net revenue decreased 90.50% y/y due to the reclassification of approximately RMB1.4 million as a result of the adoption of new revenue guidance ASC 606 in quarter one of 2018.
Net loss from continuing operations improved 31.62% y/y to RMB11.1 million for the three months ended March 31, 2018.
ATA Inc. has 3,379 authorized testing centers, and believed to be the largest testing center network of any commercial testing service provider in China.
Conclusion
Finding vocational schools in China to invest in presents a challenge. Currently, there are a finite amount of public companies. Although, over time, I believe with for-profit institutions becoming more prevalent, there will be an influx of opportunities. As of now, Tarena International is in the best position to lead the way in online learning.
Disclosure: I/we have no positions in any stocks mentioned, and no plans to initiate any positions within the next 72 hours. I wrote this article myself, and it expresses my own opinions. I am not receiving compensation for it (other than from Seeking Alpha). I have no business relationship with any company whose stock is mentioned in this article.