Trump is doing everything to curb illegal immigration and the number of illegal immigrants in the U.S. During his campaign, he touted the idea that he was going to build a wall to prevent illegal immigrants. While no wall has been built, the government and immigration control have grown an increasingly tough stance on immigration. This has caused increased numbers of detained illegal immigrants without space to hold them. In steps, the two largest private prison companies in the U.S.: CoreCivic (NYSE:CXW) and GEO Group (NYSE:GEO). When the public prisons can't hold all the necessary prisoners, they contract their detention to private prisons.
Despite the expected share price increase for private prison firms following Trump's election, the CXW has struggled since while GEO has appreciated.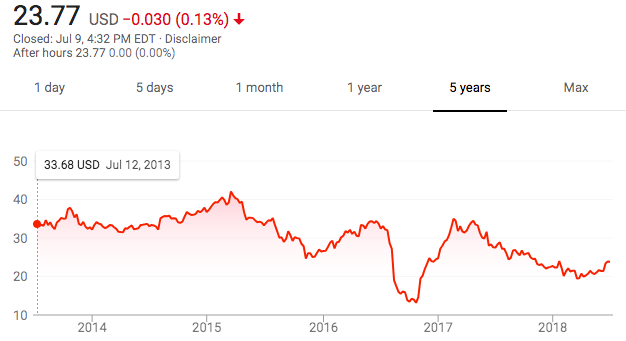 (Google Finance - CXW)

Immigration policies have increased the number of detainees daily. While the Obama administration basically had a don't ask don't tell policy on illegal immigration, this is not true with the Trump administration that struggles to make a dent in the nearly 4% of our population that is here illegally.
As our federal prisons were at approximately 114% capacity in 2016, there is a clear need for added space and decreased costs. This is when private prisons come into play. As the government detains more immigrants, we can expect large increases in the needs of private prisons and increased revenue for these prisons. While the chart below shows increasing average detainees, it doesn't show the massive jump expected by DHS who claim the average number of detainees in 2018 is expected to be around 51,379. This is a large area for growth as "In 2015, the private prison industry operated 62 percent of immigration detention beds and ran nine of the ten largest detention centers housing ICE detainees" meaning that if that number is similar today, that is a total of just under 36k detainees daily. However, the number is expected to be higher: up to 75% today, meaning upwards of 38k. As the average day recorded $76 of revenue for CoreCivic for normal prisoners, the number for ICE detainees is estimated closer to $107-$112 per day. With these estimates, this would mean ICE is accounting for nearly $1.6B in revenue for these companies.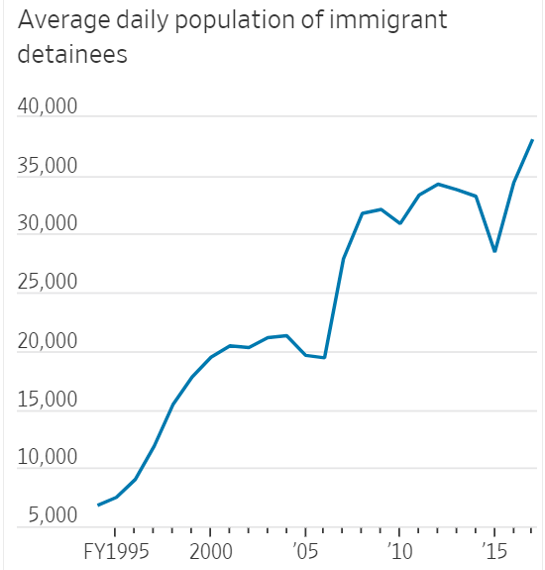 This may seem high until you look at ICE's most recent budget requests. As such a significant amount of this goes to private prisons, Trump's immigration stance and the way it has been enforced have created a massive growth opportunity for private prisons.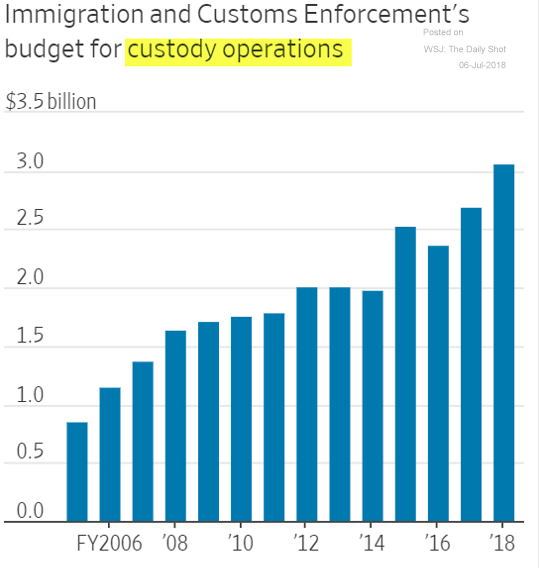 As stated in CoreCivic's 10-Q, the increased security at the border and the increased number of border apprehensions have actually lowered their number. This should be short-lived as the average detainee turns from those just entering the country to those already here. As the DHS estimates show, the number of detainees is expected to rise greatly. As the companies benefit from favorable contracts such as this one, we should watch their profits grow.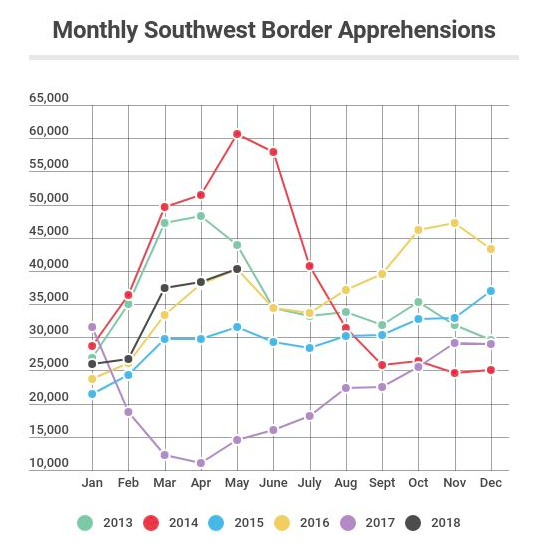 (Illegal Immigration Statistics)
As many prisons are overcrowded and the BoJ is in need of places to put prisoners, the private facilities are there to help. Outside of ICE, the federal government has about 11% of its inmates in private facilities. At the estimated $76 mentioned before for average per bed nightly cost, this adds up to over $500 million in revenue added just from the federal government.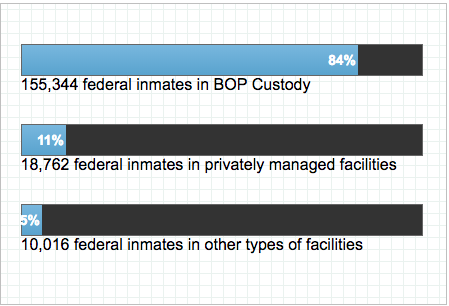 As the new supreme court justice has been picked, how will he affect rulings on immigration? According to Senate Majority leader Mitch McConnell, Brett Kavanaugh is very partisan. This should mean raised support for Trump's future immigration tactics and likely even larger increases in detainees. Look for rulings to come up that go Trump's way as this will inevitably help the private prison industry.
Disclosure: I/we have no positions in any stocks mentioned, and no plans to initiate any positions within the next 72 hours.
I wrote this article myself, and it expresses my own opinions. I am not receiving compensation for it (other than from Seeking Alpha). I have no business relationship with any company whose stock is mentioned in this article.