It was nice while it lasted.
This week got off to a decidedly good start on Monday, when Chinese equities rallied the most since 2016, a welcome sign coming as it did on the heels of the seventh weekly decline in a row for the Shanghai Composite, which remains mired in a bear market.
The positive vibes spilled over into emerging market assets more broadly, with EM FX extending a recent bounce off the lowest levels since October of last year.
By Tuesday afternoon, the Dow (DIA) had logged its fourth consecutive day of gains and the rallying cry appeared to be something akin to this: "What trade war?"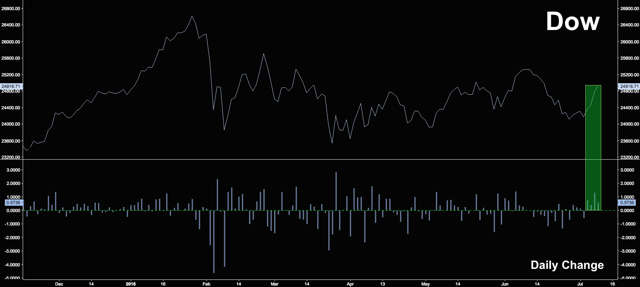 (Heisenberg)
For some folks, the upbeat tone for risk assets on Monday and Tuesday came as something of a surprise, considering the backdrop. On Friday, at one minute after midnight, the U.S. imposed tariffs on $34 billion in Chinese goods, prompting an immediate response from Beijing. That makes it highly likely that the Trump administration will move ahead with levies on an additional $16 billion in goods within two weeks. China will immediately retaliate.
Of course the deadline (July 6) for the imposition of levies on the first $34 billion of Chinese products has been in place for quite some time, so it's not as if it was a surprise. And to the extent you think Chinese equities diving into a bear market and the Chinese yuan depreciating at the fastest pace since 2015 counts as bad news being "priced in", well then it would be fair to say that by the time the deadline came and went on Friday, the initial $34 billion in tit-for-tat duties was already in equity prices.
Stateside, the Russell 2000 (NYSEARCA:IWM) was outperforming, precisely because investors assume (perhaps wrongly) that small caps are more insulated from trade frictions than their large cap cousins and the Nasdaq (QQQ) was buoyant thanks to the assumption that earnings season will continue to support the bull case for the heavyweight names that accounted for the entirety of the broader market's first half gains.
All of that suggests that what happened on Friday on the trade front was priced in ahead of time and the fact that the Trump administration was preoccupied over the weekend with the Supreme Court pick and preparing for this week's NATO summit, probably helps explain why there was a lack of escalations on trade. The relative quiet helped embolden investors.
And then, at 4:50 PM in New York on Tuesday, this crossed the tape:
U.S. IS SAID POISED TO RELEASE $200 BILLION CHINA TARIFF LIST
The market reaction was immediate. Here's USDJPY (FXY), for instance: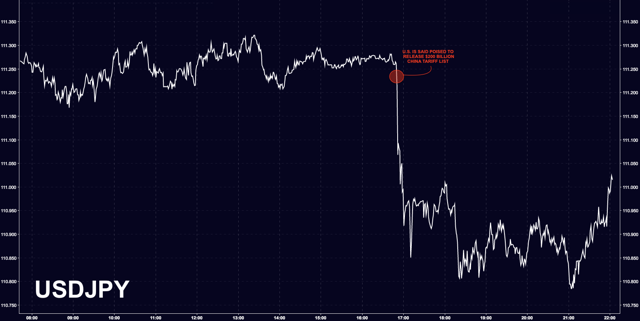 (Heisenberg)
As soon as S&P futures opened, it was the same story: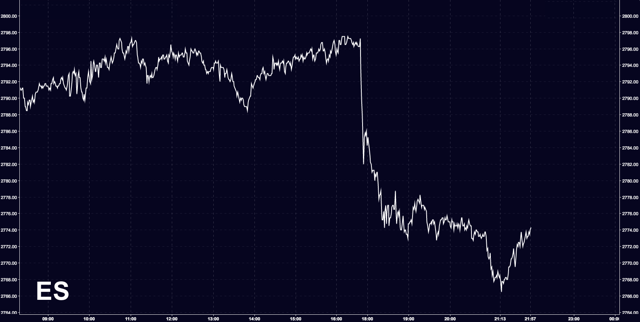 (Heisenberg)
Shortly after Bloomberg's initial reporting (that linked story has been updated now), the USTR made it official, releasing the full list along with a press release.
Importantly, the threat that the Trump administration would publish this list has been hanging over markets for some time and if you go back and look at the various timelines and projections produced by Wall Street, the 10% tariff on $200 billion in Chinese imports usually ends up finding its way into the "risk" or "worst case scenario" sections. Here's one such timeline from Barclays for those who might have missed it (I've posted it a couple of times here and elsewhere):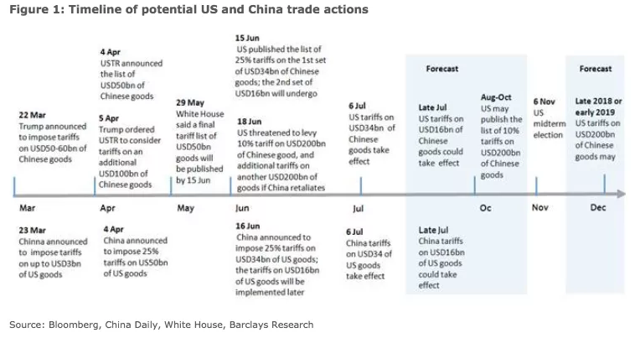 (Barclays)
You can read some additional color from analysts in my Tuesday night coverage of this (the full list is embedded in that post too, in case you can't find it on the USTR's official website), but suffice to say this is further evidence of the Trump administration's intention to push the proverbial envelope until something snaps. And by "something", I mean U.S. equities (SPY).
You're reminded that late last month, Wall Street came under quite a bit of pressure after multiple outlets (FT, WSJ and Bloomberg) reported that the administration was considering using the 1977 International Emergency Economic Powers Act to restrict Chinese investment in U.S. industries. Trump would ultimately "blink", deciding instead on an effort to modernize CFIUS, generally seen as a less aggressive approach.
Wall Street's subsequent resilience in the face of persistent tension on the trade front seems to have emboldened the administration anew and that brings us to Tuesday evening and the publication of the above-mentioned list.
It's possible Trump's advisors believe that earnings season will help cushion any potential blow to sentiment from trade tensions, because after all, the corporate profit picture should come out looking pretty rosy: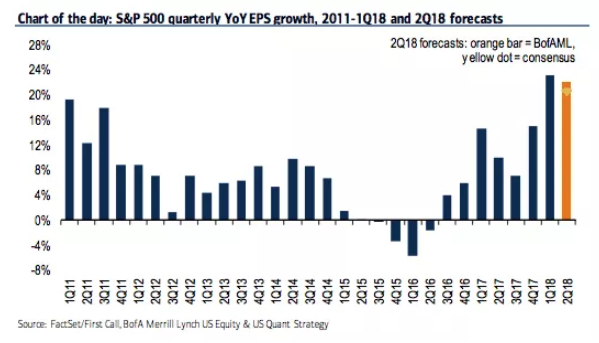 (BofAML)
But irrespective of what we hear from management (and by the way, you'll want to listen for any mention of trade concerns and/or pressure on margins from wage inflation on the Q2 calls) in the weeks ahead, one big concern here is that the more Chinese products Trump slaps with tariffs, the more likely it is that domestic prices will rise for consumer goods.
According to a Bloomberg article out Tuesday, Fed officials have been studying the following visual originated by Mark Perry, who describes it as "the chart of the century":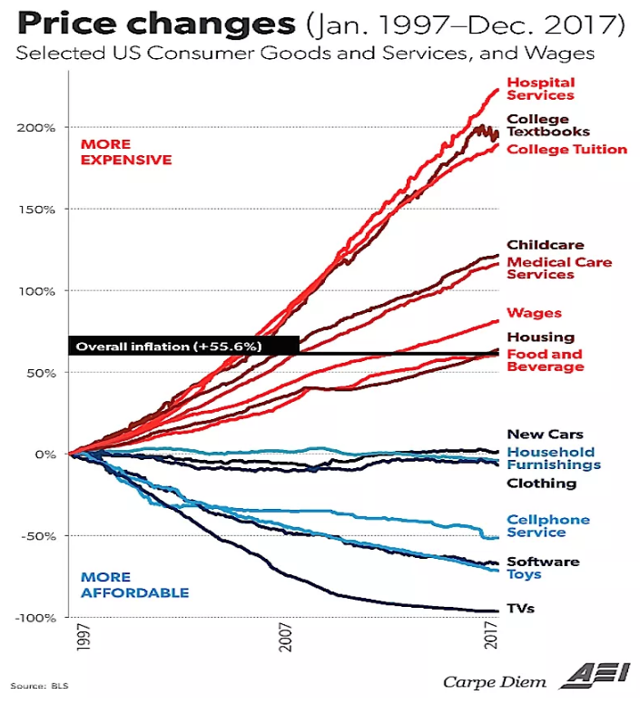 (Mark Perry)
Here are a couple of quick excerpts from the Bloomberg piece linked above:
Plugged as possibly the chart of the century by economist and originator Mark Perry, it shows that prices of goods subject to foreign competition -- think toys and television sets -- have tumbled over the past two decades as trade barriers have come down around the world. Prices of so-called non-tradeables -- hospital stays and college tuition, to name two -- have surged.

Just as globalization has been a headwind holding back inflation, its unraveling could end up being a tailwind in the years ahead, pushing costs higher as countries and companies retreat from the international marketplace. That would be on top of the one-time effect that Trump's tariffs will have on prices of selected imports, putting pressure on the Fed to raise interest rates at a faster pace than the gradual path it has currently mapped out.
Does that ring a bell? It should, if you're a Heisenberg reader. Three weeks ago I tied in the Phillips curve discussion with the tariffs issue on the way to arguing that if Deutsche Bank's Aleksandar Kocic is correct to say that the Phillips curve tends to reassert itself with a vengeance in late-stage recoveries and if Barclays is correct to contend that "a reversal of trade integration/ openness trends implies a steeper Phillips curve", well then the Fed is in a rather precarious position that will leave them hyper-sensitive to nascent signs of inflation and increasingly prone to hiking aggressively.
If you throw in upward pressure on the prices of consumer goods engendered by tariffs and also account for the fact that piling late-cycle fiscal stimulus atop what would already be a Phillips curve that's prone to steepening aggressively by virtue of where we are in the expansion, you've got a potential problem on your hands.
As I put it on Tuesday morning, it's possible that policymakers, accustomed to the ongoing deflationary shock engendered by globalization, now lack the proper tools to fight inflation without denting economic activity, especially if the same thing that's driving inflation higher (a trade war) is putting downward pressure on growth. That opens the door to a situation where the Fed slows down growth but can't get a handle on inflation.
When it comes to quantifying the effects of the proposed tariffs on inflation, it's impossible to nail down a precise figure, but Goldman gives it a shot in a note dated Monday:
The imposed tariffs also are likely to boost inflation but the effect should likewise be modest. With the tariffs implemented on July 6 now in effect, we estimate that tariffs will increase core PCE inflation by a cumulative 4bps year over year (yoy) over the next several months. If the White House follows through with all of the proposed tariffs over the next several months, the total effect could reach 20bp (Exhibit 3).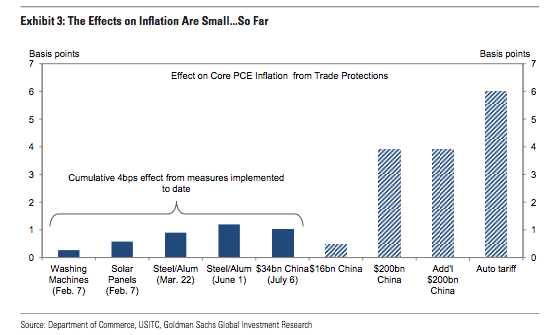 Again, none of this should be new to anyone who has followed this closely. This has always been the risk: The combination of late-cycle fiscal stimulus and protectionism ends up pushing inflation higher and forcing the Fed to tighten aggressively late in the cycle. This is complicated further by the fact that the Fed is trying to rundown the balance sheet (i.e., reduce support for the U.S. debt market) at a time when Treasury supply is rising in order to fund stimulus.
All of that is dangerous for myriad reasons that should be readily apparent to anyone with even a rudimentary understanding of economics.
As far as what the publication of the new list targeting $200 billion in Chinese products means for risk sentiment in the near-term, it's obviously not the best news the market could have gotten just when the Shanghai Composite was stabilizing and EM assets were trying to dig themselves out of a hole.
As ever, U.S. investors have the earnings tailwind at their backs and the corporate bid (i.e., buybacks) is still there, but the issue here is that with each passing escalation, analysts and traders are starting to think that maybe the Trump administration has more in mind here than simply bolstering the GOP ahead of the midterms.
If they truly intend to rewrite the rules of global trade and commerce, then all bets are off in the medium-term, even if you believe it's in the long-term best interest of the United States.
Nothing further for now.
Disclosure: I/we have no positions in any stocks mentioned, and no plans to initiate any positions within the next 72 hours. I wrote this article myself, and it expresses my own opinions. I am not receiving compensation for it (other than from Seeking Alpha). I have no business relationship with any company whose stock is mentioned in this article.