Gold has teased a bottoming attempt in the last few days, but, to date, that attempt has been just that - a tease. What looked like a potentially deep correction of the rally in the U.S. dollar index gave investors some hope that gold would feed off the currency's weakness. There is a continued danger, however, that gold will remain subject to dollar-related selling pressure in the near term. In today's report, we'll look at how the yellow metal isn't out of the woods yet and still faces at least one important obstacle to confirming a short-term bottom.
Gold, like no other asset, has tried and tested the patience of its biggest supporters for long stretches this year. The gold "bug" community hasn't vented as much frustration in past years as it has in recent months over the metal's inability to launch a sustainable rally. When the next big moment for the bulls will come is anyone's guess, but the best strategy is one based on patient defensiveness rather than bold aggression. To that end, investors should continue to maintain high levels of cash and wait for gold to confirm an immediate-term bottom, at which time some of that cash can be deployed.
The problem which has confronted gold time and time again this year has been the unwillingness, or inability, of the gold bulls to take decisive control of the market when they've had clear-cut windows of opportunity. Specifically, there have been at least three instances this year when conspicuous short-term weakness in the U.S. dollar index (DXY) resulted in only a moderate rally or failed rally attempt in the gold market. Normally, a sharp dollar decline can be counted on to galvanize the gold bulls into pushing the metal price significantly higher.
Since the start of the year, however, gold has had great difficulty in getting any kind of meaningful rally started when even a number of technical factors are in its favor. This is the classic attribute of a bear market, which gold is undeniably experiencing right now. In a bear market, gold's counter-trend moves are largely determined by short-term technical considerations and not long-term fundamentals. This is why investors need to focus on the short-term if they are to make any money on the metal (at least until gold's longer-term prospects improve).
In past years, gold bulls have even used dollar weakness as an excuse to rally gold beyond the boundaries of reason, which resulted in gold becoming excessively "overbought" before an eventual pullback in the gold price followed. Nowadays, the ardor of the bulls for gold has cooled considerably, and the rallies have become progressively shallower even when the dollar weakens. A case in point was the complete failure of gold to rally in early June even as the dollar index (DXY) pulled back and fell under its 15-day moving average (below).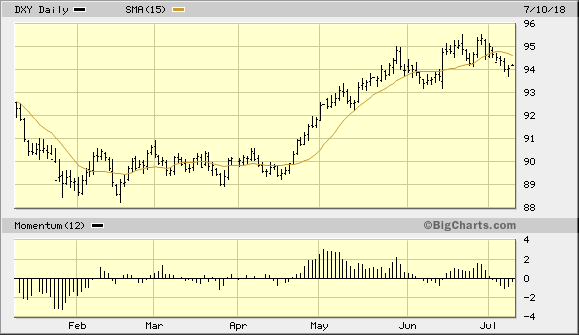 Source: BigCharts
What's more, gold sold off sharply in June even though the dollar index barely closed above its former high from late May. Gold's most recent decline, in other words, was out of all proportion to the moderate strength in the dollar index. The extent to which gold suffered last month can be seen in the graph of the iShares Gold Trust (IAU), which suffered a 5 percent drop in June while falling to a 7-month low. To date, the IAU still hasn't recovered, and while it's showing signs of trying to establish a low, the bottom hasn't yet been confirmed by the gold ETF.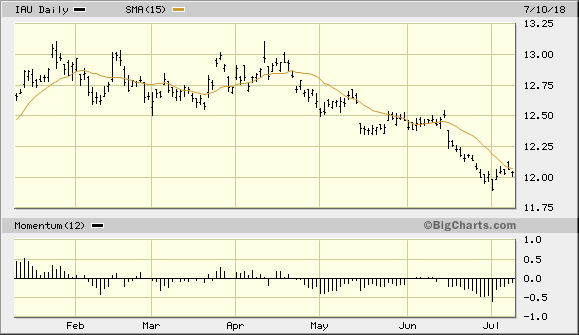 Source: BigCharts
As per our discussion in the previous two reports, gold still has a window of opportunity to rally based on the latest pullback in the dollar index and the strengthening of the euro currency. Historically, there has been a close connection between strength in the euro and rallies in gold, with the former often leading the latter. As of Tuesday, the Invesco CurrencyShares Euro Currency Trust (FXE) remains above its 15-day moving average and is clearly trying to rally. If FXE can move higher in the coming days, it would bode extremely well for the immediate-term gold outlook. The move needs to happen quickly, though, as the dollar index is still within reach of its yearly high and could well reverse its latest decline, and a dollar rally at this point would all but shut the gold rally window.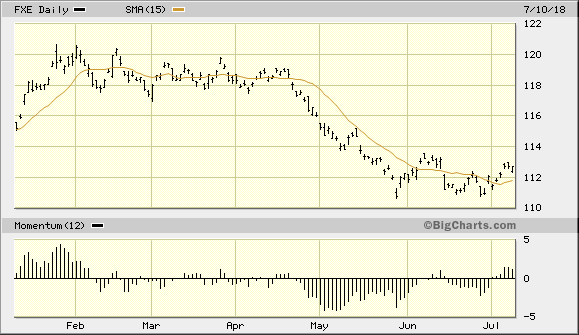 Source: BigCharts
For now, I continue to recommend that investors avoid new commitments to the iShares Gold Trust. Despite the positive indication from the euro currency mentioned in this commentary, the burden remains on the gold bulls to prove the metal's immediate overhead supply problem has been resolved and that they are serious about regaining control of gold's short-term trend.
Disclosure: I/we have no positions in any stocks mentioned, and no plans to initiate any positions within the next 72 hours.
I wrote this article myself, and it expresses my own opinions. I am not receiving compensation for it (other than from Seeking Alpha). I have no business relationship with any company whose stock is mentioned in this article.