Thesis:
Kroger (NYSE:KR) has had a bit of a rough ride since peaking out around $41 per share in beginning of 2016. Since that point Kroger collapsed to around $19 per share and has recently floated between the mid to high 20's. Food deflation, tight profit margins, and Amazon's (NASDAQ:AMZN) purchase of Whole Foods took a serious toll on Kroger and its investors. In the first article I wrote about Kroger, I addressed the qualitative aspects associated with the business; such as its initiative to reduce the amount of cashiers via automated cashier systems, selling staple brands and products at better prices, and transition towards providing a smooth and user-friendly ecommerce platform to stimulate online shopping revenue and compete with the likes of Amazon. With that being said, Kroger is still in the works in terms of its automated cashier system implementation, however, they have demonstrated the success I believe investors wanted to see when it comes to multichannel revenue. Kroger's multichannel revenue transition and success demonstrates Kroger's ability to compete and generate shareholder equity. For this reason I believe Kroger will start to receive more recognition, and I am reiterating my optimism and price targets for Kroger going forward.
Multichannel Revenue:
Kroger initiated their online shopping experience and made the transition to multichannel revenue streams. Amazon's entry into the grocery business left them with no other choice, as consumers are adapting to time and price efficient shopping via ecommerce. As stated in the thesis and in my previous article on Kroger—Kroger: A Value Long-Term Investment—I believed Kroger would achieve these goals, and if they did, that they were an undervalued security. Per Kroger's first quarter press release results, Kroger grew their online sales by a whopping 66% in the first quarter of 2018 and they grew their Simple Truth and Simple Truth Organic brands by double-digits. Kroger announced a partnership with online grocery supermarket, Ocado, and is enhancing Kroger Precision Marketing, a marketing service that connects online customers with advertisers at the point-of-sale to stimulate up-sales and revenue. With more and more customers choosing to shop online due to convenience, Kroger's success with online sales growth, partnership with Ocado, and online point-of-sale marketing tactics are all strong indicators of Kroger's current success with their transition to a multichannel revenue stream, as well as their commitment to continue and improve their online segment.
Original Price Target/Forecast:
In my original analysis of Kroger I addressed the nature of Kroger's price drop and its association to Amazon's entry in the grocery market. Many sold off their Kroger stock and understandably so considering Amazon's effective business model tied in with convenience and the fact that more people are transitioning to healthier and organic foods—the signature business model of Amazon's new subsidiary, Whole Foods. However, I felt optimistic about Kroger in the fact that I believe food shopping is something many enjoy doing offline and Kroger's massive footprint along with the fact that Kroger was pushing towards improving supermarket shopping experience and implementing an online segment. With the results addressed above, I feel even more optimistic that my initial forecast is achievable.
| | |
| --- | --- |
| Current Market Price | $28.77 |
| FY18 Intrinsic Value | $36.59 |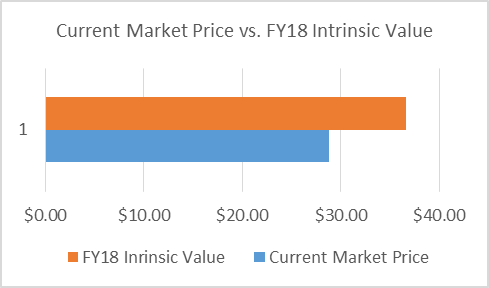 (Dalton H. 2018. MS Excel.)
As seen above my analysis found that Kroger's FY18 intrinsic value is $36.59. With its current market price of $28.77, the FY18 value would represent an upside potential of 27.18%. Per Kroger's 1Q18 press release, they sold their convenience store business unit for $2.15B, which comes out to $1.59 per share. In the same press release Kroger is forecasting FY18 earnings per share of $3.64-$3.79. This would clearly represent a massive improvement in Kroger's earnings from the past, but is primarily attributed to selloff of their convenience store business unit. Currently Wal-Mart has a P/E ratio of 19.10, Amazon's P/E is at 375.96, and Target's P/E ratio is 14.37. The average P/E ratio of Target and Wal-Mart comes to 16.74, as Amazon's cannot rationally be used. With Zack's FY earnings estimates of $2.12 and a 16.74 P/E ratio, Kroger has an FY18 value of $35.49 per share, which is not far from my initial forecasted FY18 values. Overall, I believe Kroger will likely see the $35-$36 per share range by the end of FY18. I believe Kroger is underfollowed, undervalued, and that it has been unnecessarily sold by the general market. I would recommend buying Kroger at today's prices with the anticipation to make roughly a 23%-27% return by the end of FY18.
Conclusion:
Overall, Kroger has demonstrated their longevity and ability to keep up with modernization, strong competition, the revolution of ecommerce, and customer adaptation. Kroger was punished when Amazon stepped into the grocery industry, yet they have proven that they are still capable of keeping up with the implementation of online shopping and establishing a multichannel revenue source. They have and will continue to put resources into their online shopping experience to stimulate more business and give customers a convenient, at home shopping experience. They have also grown strong brands and are continually working on improving their in-store shopping experience. Due to Kroger's success in transitioning to market and consumer adaptations along with their massive brand and footprint in the grocery industry, I believe Kroger has what it takes to compete and build shareholder equity. Irrationality has left Kroger undervalued, and I believe they are worth a look for any investor looking for a secure investment with a lot of potential.