Trucking Shortage:
As ecommerce and logistical needs grow, the need to ship items across the country has grown with it. Most companies in our country have to send large amounts of freight every year to both manufacture and sell their products. As a WSJ article mentions, companies spent a record $1.5 Trillion on shipping costs in 2017. This, according to a Transport Topics article, is because "Spending on truck freight services surged nearly 25% and freight shipments grew 12.6% in 2017."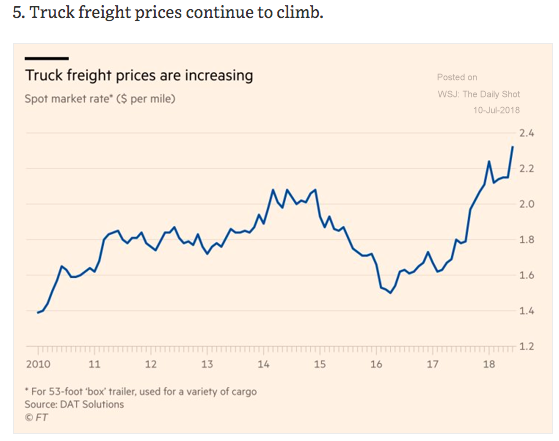 (Daily Shot)
While this seems good for trucking companies, and it is, there are more factors to look at. First is the rising price of oil, which increases one of the largest costs for the shipping industry, but this tends to be directly transferred to customers as fuel surcharge. Next is increasing pay truck drivers are demanding. This is where the costs are truly rising for trucking companies. The question then becomes whether or not the increased revenue will more than offset the increase in wages and if this presents a driver of growth, or if it will be a headwind. In addition to the trucking industry, I will take a look at a few segments and specific companies this will affect.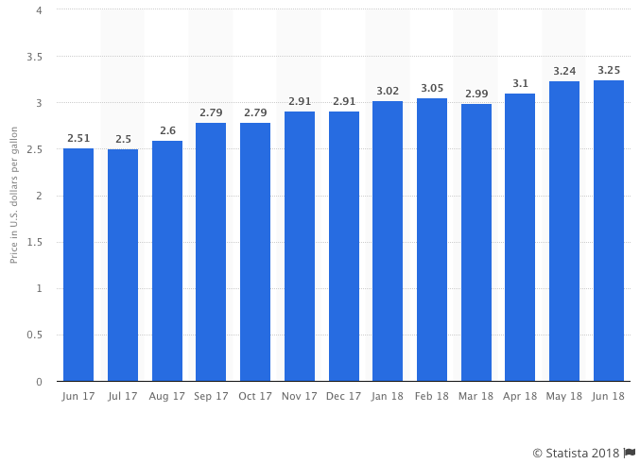 (Statista)
As we can see from the graph below, the amount of cargo being shipped is increasing rapidly with a 12.6% change YoY. However, faster than the growth of the amount of cargo being shipping is the amount companies are spending to ship that cargo. As the CSCMP's State of Logistics Report states "Trucks transport 70% of consumer goods in this country." As I will discuss later in the article, this will affect some major industries and some big names in both the retail and manufacturing businesses.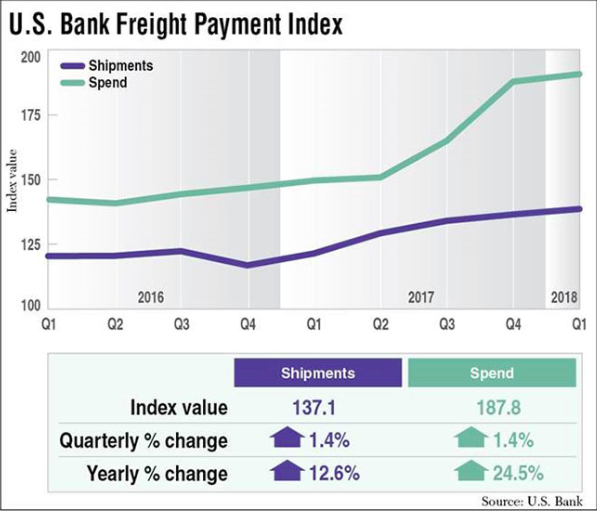 (U.S. Bank)
Looking at their 10-Q, we see that the reasons for the increases in freight prices are not only the increase in oil price but also the inability to get drivers. As the shipping and logistics industry grows, there are not enough truckers to fulfill the needs of the companies doing the shipping. While the growth of ecommerce should hypothetically be a growth driver for shipping companies, the inability to obtain drivers proves to be a major headwind preventing growth. According to the American Trucking Associations, the U.S. is short nearly 50,000 truck drivers to meet the current demand, and that number is growing.
((NASDAQ: CNBC))
The shortage of drivers is driven by certain factors discussed in the article cited above on CNBC, some of which are obvious and some more news related. The most clear is that trucking is a demanding industry with many nights on the road and trips of up to ten days without being home. This is a tough job to sell. The next is demographics; truck drivers are only 6% women which basically cuts out half the population, as well as "All in all, the average age of a truck driver now hovers around 49, he said; seven years more than the age of the average U.S. worker overall." and it is even higher at 52 for private fleets. The industry is aging out and is not being properly turned over. As unemployment is at serious lows, there isn't a need to pursue jobs in shipping. The length of unemployment has dropped, leaving unemployed more confident that they will find a job, not a good sign for an industry with low pay and a poor work-life balance. While turnover has decreased, this is not enough to provide the necessary supply the industry needs.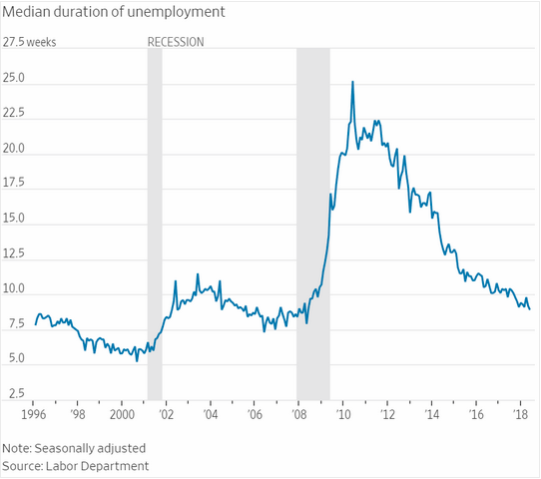 (Daily Shot)
The next factor is the introduction of electronic logging devices in trucks. These devices ensure that drivers are not driving over the legal number of hours considered safe in a day. "Adding to the shortage, a federal mandate for electronic logging devices that took effect in December is limiting the number of hours drivers can work." As quoted from an article by Evelyn Chang at CNBC, "Previously, a driver may have started the clock only after picking up goods from a warehouse. But now, the devices are taking into account all hours on the road, which can quickly push a driver past the legal limit of consecutive work hours." The same article claims "As soon as these logging devices were implemented, it resulted in a 10 percent drop in productivity because these truckers were obviously spending more time driving than they should have been," Csongor said, according to a transcript from Thomson StreetEvents that CNBC found using financial search engine AlphaSense." According to Thomas Black at Bloomberg, the number of drivers the industry was short was as high as 248,000 at the end of last year, and he goes more into depth about the effects of the ELD (electronic logging device) mandate.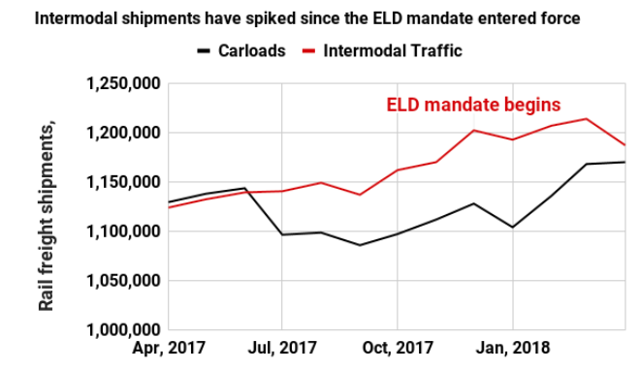 (Supply Chain Dive)
This inability to obtain drivers has had effects on the entire economy. Shipping has gotten expensive, and it has affected everyone. Manufacturing companies are having trouble shipping their supplies to get to projects. Retail faces obvious issues as ecommerce and shipping from manufacturers to distributors to stores and straight customers all see added costs. While shipping has gotten more expensive, it has also gotten slower; companies like Amazon (AMZN) and Walmart (WMT) which offer free two-day shipping are having to pay even larger premiums to get packages delivered at those speeds. Railroad companies have been major gainers as the need to ship across country has grown, and they don't face the same driver headwind.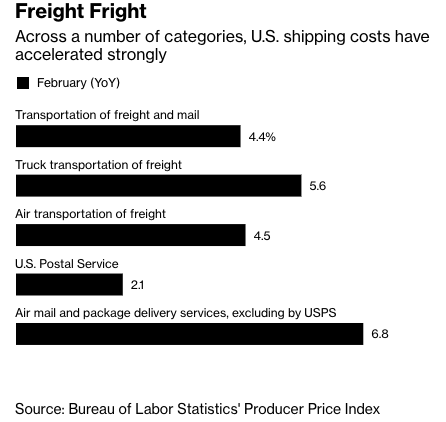 (BLP Producer Price Index)
Here is how this shortage will affect each industry and these companies:
E-Commerce:
Amazon:
Amazon is the face of free shipping. The company is known for its razor-thin margins and its two-day free shipping through Amazon Prime. According to their 10Q, "Shipping costs, which include sortation and delivery center and transportation costs, were $4.4 billion and $6.1 billion in Q1 2017 and Q1 2018". With margins this thin and such a high shipping bill, the company can ill afford higher shipping prices without compensation.
(AMZN-10Q)
This is why they announced that Amazon Prime will now be raised from $99 a year to $119 a year. While prime is definitely able to command such prices, it will be interesting to see if the company starts to struggle to remain in the black. In addition, the two-day guarantee adds a timing pressure aspect to their shipping cost that will command a higher price as slower alternatives are not an option. Expect lower margins in upcoming quarters as shipping costs takes a bite out of their profits.
Walmart:
For the same reasons as Amazon, Walmart will have trouble maintaining profitability with rising shipping costs as it attempts to battle Amazon for customers. In order to compete, Walmart has offered the same two-day shipping as Amazon but without the annual membership fee. This means that there is no added revenue being used to mitigate this spending. While the company is a brick and click operation and, thus, does not ship all of its items to customers the way Amazon does, in turn reducing exposure to shipping prices, it still must pay for transporting items to stores. As said in the company's 10Q,
"Gross profit rate decreased 23 basis points for the three months ended April 30, 2018, when compared to the same period in the previous fiscal year. The decrease was primarily due to price investments as well as higher transportation expenses, resulting from higher fuel costs and third-party trucking rates."
With Walmart's $3.2B in sales through ecommerce and Sam's Club's additional $.6B, the effects won't be as strong as they are on Amazon, but with their push to expand their ecommerce footprint, we can expect the impact to grow. The company will continue to be highly affected by this increase in prices and should feel the pressure on their margins as well.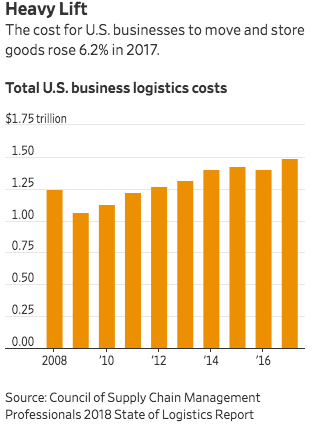 (CSCM State of Logistics Report)
Railroads:
Union Pacific (UNP):
The amount of freight being shipped by Union Pacific is growing rapidly. The company has seen increased demand and has done their best to increase hiring to take advantage.
According to a Chicago Tribune article,
"Consumer goods are increasingly transported via railroad, which is slower but more cost-efficient than via truck. A shortage of truck drivers, driven by increased shipping demand from companies such as Amazon and Wal-Mart, has pushed up the price of goods as well as the cost of trucking, making rail freight more attractive, Schoonmaker said."

"At Union Pacific, volumes of intermodal trailers and containers - which are used for consumer freight, as opposed to coal or grain - are up 7 percent in the second quarter of this year to date compared with the same period last year. Overall freight traffic was up 4 percent, dragged down by a decline in coal volume, though that also is a healthy growth rate, Schoonmaker said."
This presents large growth opportunities for not only the top line but also for margins which should grow with the supply demand curve shift.
In addition as petroleum prices in the U.S. decline, the revenue from chemical shipping - one of the company's largest segments - has increased significantly.

(Snapshot of CSX)
CSX (CSX):
As stated in a Forbes article,
"CSX Corporation (CSX) generates its revenues primarily from various commodities freight, including agriculture, coal, and industrial, among others. The Intermodal segment accounts for over 15% of the company's value, according to our estimates. We forecast mid-single digit segment revenue growth in the near term. This can be attributed to the expected steady growth in volume and pricing, led by a positive impact of capacity constraints in the trucking industry."
as well as stated in a Supply Chain Dive article,
"As part of its Precision Scheduled Railroading initiative, CSX is building 13% longer trains to move in point-to-point service for fewer delays, Dean Piacente, vice president of intermodal sales and marketing, said at an investor conference. The company's investment plan includes adding 600,000 units of capacity in intermodal terminals."
These increases should help increase volume simultaneously to the natural increase in margins caused by increased prices. Expect large top line and bottom line growth as these changes are implemented. After negative results in previous years, the growth should be a welcome change for investors.
Norfolk Southern (NSC):
According to the same article that cited CSX's plans,
"Norfolk Southern (NYSE:NS) is gearing up for the surge in traffic, as intermodal volumes were up 9% through late May, Alan Shaw, executive vice president and chief marketing officer, told the Wolfe Global Transport Conference.

NS is stepping up train crew hiring and locomotive leasing to improve overall service levels. Shaw said the company is adding 700 train and engine employees and leasing 90 locomotives to improve velocity."
That in addition to,
"NS announced a rate hike of up to 15% on containers in the EMP domestic interline container pool it shares with Union Pacific. The increase will affect only a small portion of the company's non-contract domestic container traffic, Shaw said. NS is also revisiting long-term intermodal contracts to increase pricing in the next few years."
These changes will obviously increase volume similarly if not more than the changes being implemented by the other railroad companies. Also as one of the few companies with announced specific raises in prices, we can know that revenue should be increasing for those segments.
Food:
Tyson (TSN):
According to a Reuters article,
"Tyson Chief Executive Officer Tom Hayes told Reuters in an interview that its price increases "should be in place for the second half" of its fiscal year, and that it has begun negotiating price increases with retailers and food service operators. The company declined to specify how much its freight costs increased in recent months, but a spokesman said they are up between 10 to 15 percent for the total industry."
Increases in prices for basic goods such as the ones Tyson sells can have large effects on sales. Per their 10Q, with operating margins accounting for only 5% of sales, the room for increased shipping prices is non-existent, prompting the increase in prices.
Mondelez (MDLZ):
Confectionary and snack company Mondelez International Inc. halted operations over a weekend late last month at its Toledo, Ohio wheat flour mill - the second-largest flour mill in the United States - because the plant could not get enough rail cars to carry flour to bakeries, a spokeswoman said. Without a secure supply chain in place, the company must either invest further into securing its supply chain or face the risks of repeating this scenario. Look to see increased prices paid for transportation.
Conclusion:
The rise in shipping costs will have ripple effects across nearly every segment of the market. The retail markets will have to either raise costs which would hurt sales or eat into their margins. This is especially true of ecommerce. Many companies reliant on their supply chains delivering items with speed could need higher inventories to protect against delays or pay for priority shipping, both of which increase costs and hurt profits. The main industry to be helped is the railroad industry which should see increased rates and volume as companies must seek alternatives to trucking. Overall, this increase in shipping costs will have a broad increase on the cost of items which could raise inflation expectations and hurt many businesses' profits.