Running of the Bulls
The annual running of the bulls in Pamplona, Spain, began under a week ago. The bull market in crude oil has been running for well over a year. Many a short seller has been caught in its horns.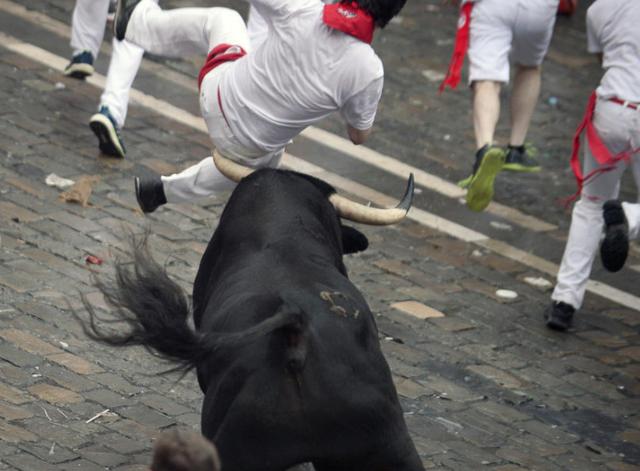 The 2018 daily chart for the continuous front-month contract for WTI crude might suggest that the crude oil price is forming a rounded top. The slow stochastic is signaling a possible swing lower, while the MACD indicator could also be ready to signal a swing lower.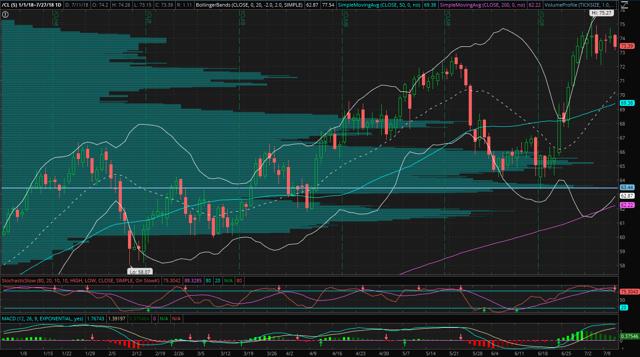 Source: Thinkorswim
The 2 hour chart over the last 20 days shows that the front-month August contract has a point of control at $73.66. This point of control could either be an area of consolidation before price launches higher, or it could become a point where the price advance is rejected. There are areas for repair in the $70-$72 price range.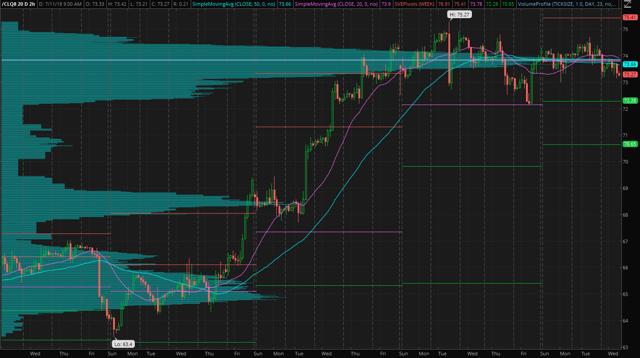 Source: Thinkorswim
COT Report
There are many ways to interpret the Commitment of Trader's ("COT") data, and one way that we evaluate the crude oil market is to look where the largest traders have placed their bets. In late 2015, the large traders were net long and price advanced. At the moment, the large traders are heavily net short, so we view this as unfavorable for bulls. The COT data can take many weeks and months to materialize, so this is not a "sell now" indicator.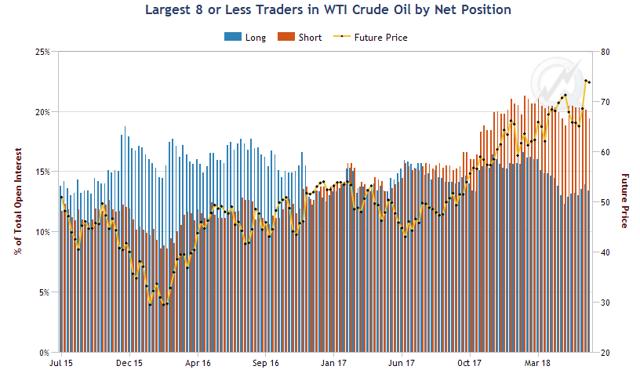 Source: CME Group
Crude Oil Options Market Indicator
We study the options markets in the crude oil market to evaluate where large traders have incentive to move price prior to option expiration. This is similar to "max pain" calculations, but a step beyond it. Since June 2017, we have seen mean reversion between the crude oil price and the Op-ex Price Magnet about 75% of the time. If you are interested to learn more about this indicator, please click this link.
The current open interest in the August crude oil option market suggests that the large traders will maximize their profits if price moves to the $70 to $72 range on or before July 17 th.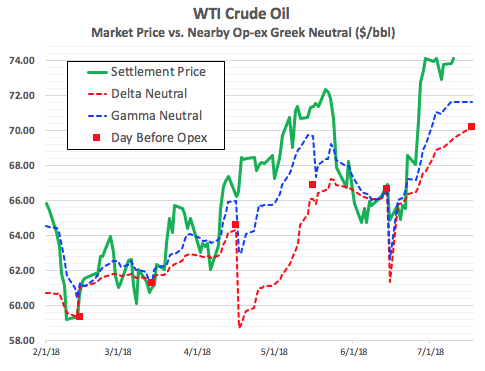 Final Comments
The "trend is your friend," and there is little doubt that the overall trend in crude oil is up. Nevertheless, we may look to catch a swing lower in crude oil if the trend in the 2-hour turns lower and back-tests the $73/bbl level.
Disclaimer: This article was written for information purposes and is not a recommendation to buy or sell any securities. I never intend to give personal financial advice in any of my articles. All my articles are subject to the disclaimer found here.
Commodity Conquest
In my Commodity Conquest service, I publish a daily commodity report for gold, crude oil, natural gas, and agriculture. I also do in-depth coverage of eight energy firms.
My verifiable trading record from on all completed trades through July 5th includes a win rate of 88% on my stock coverage trades, with an annualized return of over 102%.

Disclosure: I/we have no positions in any stocks mentioned, and no plans to initiate any positions within the next 72 hours. I wrote this article myself, and it expresses my own opinions. I am not receiving compensation for it (other than from Seeking Alpha). I have no business relationship with any company whose stock is mentioned in this article.