PBF Energy (PBF) is one of the eight firms that I follow closely on a fundamental basis. Over a year ago, I was quite bullish on this company, and wrote several articles about my bullish thesis, including Going Long PBF Energy. PBF was one of my top performers for 2017.
PBF Energy, Inc. (PBF) is the fifth largest independent petroleum refiner in the U.S., having grown through a series of acquisitions. PBF has refineries in four of the five U.S. PADD regions, which provides some portfolio benefits. A map of PBF's five refineries along with particulars is shown below. A recent PBF's investor presentation can be accessed by clicking this link.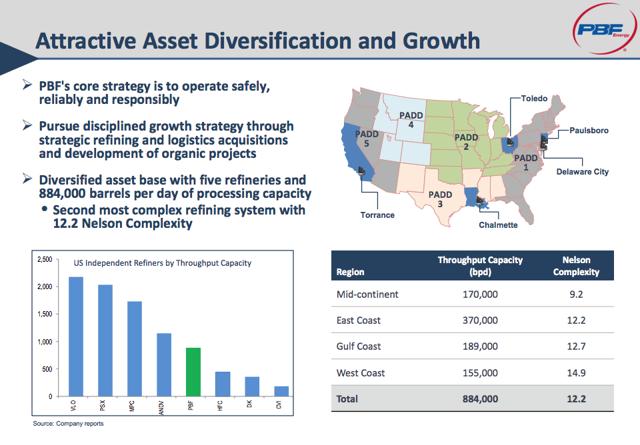 Technical Reversal?
PBF has recently pulled back from a high near $51/share to about $44/share at the time of this article. The slow stochastic and MACD are showing bullish reversal signs, so PBF could rise on technical buying and trend following trading algorithms.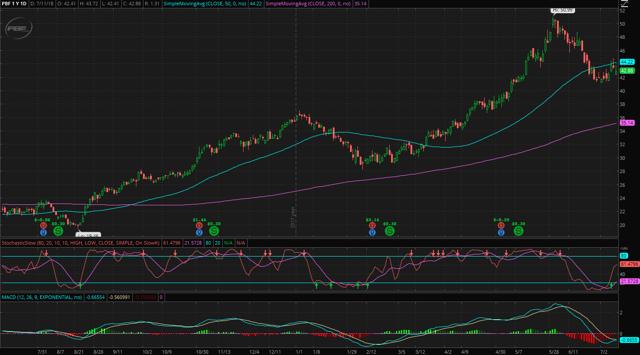 Source: Thinkorswim
Refining Margins
The profitability of PBF is of course dependent upon refining margins – the profit from converting a barrel of crude oil into gasoline, diesel and other components. Generic refining margins (the 2-1-1 crack spread) have recently fallen from as high as $25/bbl to a low just above $15/bbl, a nearly 40% decline in under two months! Not surprisingly, PBF and its refining peers corrected lower.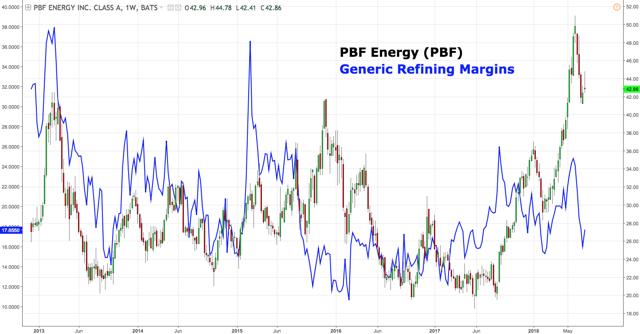 PBF Earnings Forecast
PBF has geographic variability in its crack spreads, with about 40% of its refinery on the East Coast and 20% each in the Mid-continent, Gulf Coast and West Coast regions. East Coast tends to have the lowest refining margins (particularly when Brent crude is trading at a premium to WTI crude), and West Coast refining margins can be the highest on average. As Paulo Santos mentioned in a recent article, PBF doesn't have great access at the moment to lower-priced crude oil, and as a result its refining margins – on average – will likely be less than its peers for the upcoming quarter. In the recent past, PBF also had mentioned regional pipeline limitations which had forced it to bring in crude oil by rail, which is more expensive than pipeline transport.
If refining margins remain where they are currently, I anticipate that PBF will not meet consensus estimates for earnings for each of the next three quarters. This situation could change if the refining margins improve.

On the positive side, PBF should see lower expenses from Renewable Identification Numbers, and this has already been factored into our forecast. PBF earnings are admittedly tricky to forecast due to its inventory accounting and adjustments, so we tend to focus on its EBITDA and Enterprise Value to EBITDA ratio to get a sense for whether PBF is a good fundamental value. After it reports Q2 earnings, PBF will have decent trailing financial metrics. However, if refining margins remain where they are, we expect PBF's trailing metrics to deteriorate.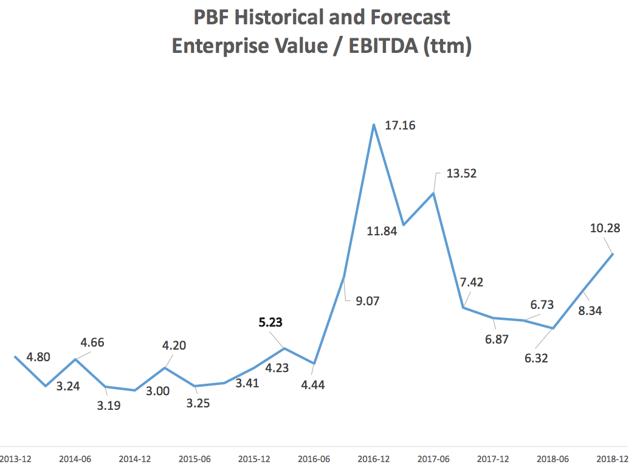 Final Comments
While PBF could be viewed as a decent investment on trailing metrics, and it could rally on technical and other factors, we don't consider it to be a great value based upon the current refining margin forward curve.
PBF always pays a $0.30 per share dividend, which at $44/share amounts to a 2.7% dividend yield.
Disclaimer
This article was written for information purposes and is not a recommendation to buy or sell any securities. I never intend to give personal financial advice in any of my articles. All my articles are subject to the disclaimer found here.
Commodity Conquest
In my Commodity Conquest service, I publish a daily commodity report for gold, crude oil, natural gas, and agriculture. I also do in-depth coverage of eight energy firms.
My verifiable trading record from on all completed trades through July 5 th includes a win rate of 88% on my stock coverage trades, with an annualized return of over 100%.

Disclosure: I/we have no positions in any stocks mentioned, and no plans to initiate any positions within the next 72 hours.
I wrote this article myself, and it expresses my own opinions. I am not receiving compensation for it (other than from Seeking Alpha). I have no business relationship with any company whose stock is mentioned in this article.