The median family cannot afford the median home in several expensive markets, like the San Francisco Bay Area, Seattle, and Los Angeles. Also, DTI ratios on new mortgages are high and rising, raising the risk that many borrowers will not be able to pay back their loans if the economy slows. New buyers will be unable to buy homes at current prices when interest rates rise, which will create another fall in housing prices. Consider avoiding stocks that suffer from a real estate slowdown, such as homebuilders, small/mid-size banks, and mortgage companies with heavy exposure to California, Nevada, Oregon, Washington, and Florida.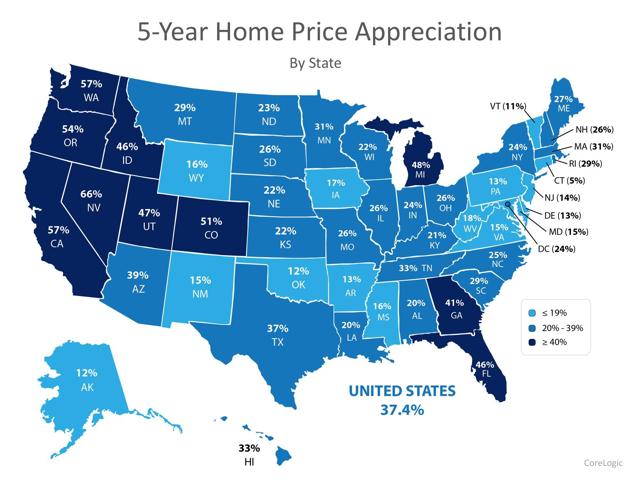 Housing prices 2012-2017- Core Logic data (subtract 10 percent for inflation-adjusted figures).
Since December 2017, the end of this dataset, median sale prices in the Bay Area, Los Angeles and Seattle metro areas have continued to rise at a breakneck pace of over 15 percent per year. Other markets such as Las Vegas and Miami aren't far behind in appreciation.
Let's compare this to the last bubble.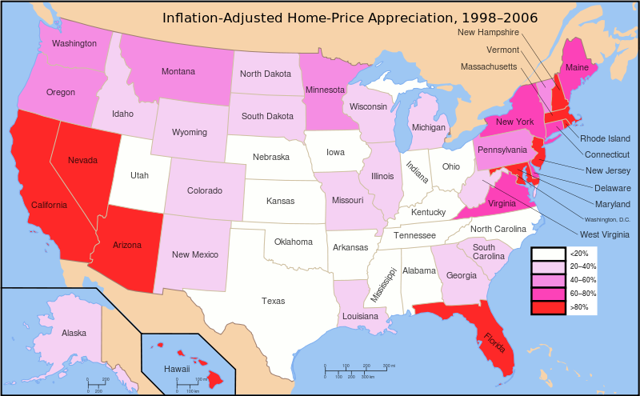 Housing prices 1998-2006- FRED data
Recognize a pattern?
While a meltdown on the same scale as 2007-2009 is unlikely, it is abundantly clear that when the median family cannot afford the median home, a correction will happen sooner or later. Take the San Francisco Bay Area, for example: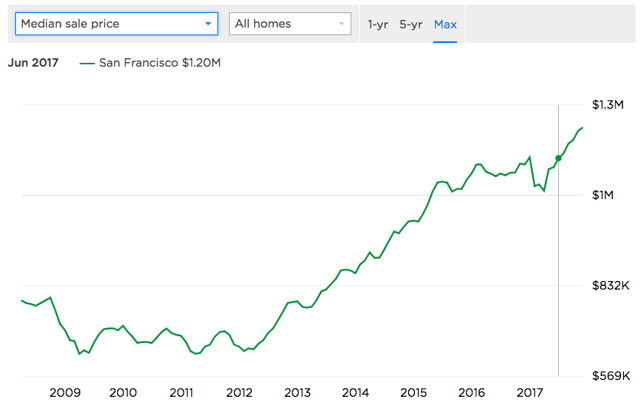 -Bay Area median sale price–note the explosion since 2012.
The median income in the Bay Area is up roughly 20 percent since 2011, and housing prices are up more than 80 percent. The median income for the Bay Area is roughly $90,000, but the median home is over $900,000 in value and rising fast. Compare this to Dallas Fort Worth, with a median household income of $60,000 and a median home price of $230,000. It's equally clear that the median family in Dallas can afford their home and the median family in the Bay Area cannot. This can be proven with a simple online mortgage calculator. This will not end well. The same story of a housing crash is likely to repeat when interest rates normalize. The only rational thing for any given housing market is for the median family to be able to afford the median home with a 30-year mortgage and 20 percent down. Otherwise, wages will be forced higher. People have to live somewhere. Unlike Manhattan, which also has a median home value over a million dollars and plenty of relatively affordable housing within a 45-minute commute, there's nowhere to hide in the Bay Area, as the suburbs are almost as expensive.
The Federal Reserve is likely to push through 6-7 more interest rate hikes in this cycle. If mortgage rates normalize, the demand for homes will dry up.
Inflation is likely to rise due to low unemployment and the double whammy of tax cuts and a boost in fiscal spending at the same time. While this is great for growth in the short term, stronger inflation is likely to follow as the unemployment rate continues to fall. The Federal Reserve is tasked with the dual mandate of keeping unemployment low and inflation at roughly a 2 percent target. In order to do this, they are likely to need to raise interest rates by 150-200 basis points over the next two years to control inflation. With QE ending and more normal fiscal policy in place, interest rates across the board will rise.
American consumers are highly leveraged. DTI ratios on new mortgages have been rising so much so that Fannie Mae raised the maximum allowable DTI on conforming loans from 45 to 50 percent in July 2017, under the reasoning that it would give disadvantaged people better chances at buying a house. By February 2018, over 20 percent of Fannie Mae purchased loans had over a 45 percent DTI, pouring gasoline on the fire of rising home prices. Meanwhile, the median income of American families barely budged. Some mortgage companies revolted, protesting that these loans are going to default at a high rate. But as long as Fannie Mae guarantees them, then there will be some portion of lenders who will produce tons of them. Meanwhile, the credit agencies made changes to the FICO scoring system to exclude judgments from credit reports, meaning that today's FICO scores are not an apples-to-apples comparison with past FICO scores. This gives risky lenders the ammo they need to profit off risky loans by selling them to the government or securitizing. Still, avoid the stocks of any banks heavily concentrated on the West Coast, Nevada, and Florida.

-Mortgage rates over the last 25 years. Rates have never had a sustained increase!
Despite the popular perception of tech millionaires, the San Francisco Bay Area real estate market is heavily dependent on financing, as are most West Coast markets. Estimates for cash sales of houses are around 25 percent. Therefore, roughly 75-80 percent of home purchases in the Bay Area are with mortgages. The average DTI nationwide is roughly 37 percent and is likely higher in the Bay Area. But what happens to affordability if mortgage rates rise 200 basis points? It turns out that just a 1-2 percent rise has a huge effect on affordability. Although mortgage rates were in the teens in the 1970s and 1980s, the difference then was that home prices were lower to compensate for high mortgage rates. Today, the prices already are high and will need to come down for the market to stabilize.
For every 1 percent that mortgage rates rise, residential housing prices will fall roughly seven percent.
Don't believe it? Run the numbers yourself with an online mortgage calculator. Raise the interest rate 1-2 percent and see what it does to the payment.
If inflation hits 3 percent, which is a reasonable assumption given the tax cuts and increased spending from Washington, then the Federal Reserve is likely to raise rates by 200 basis points to pull a little of the excess out of the economy, placing the short-term rate at 4 percent. The 10-year Treasury yield should move to its long-term average of 1.5+ percent above the short-term rate, and mortgage rates should follow roughly 1.5 percent above Treasuries. This gets you a mortgage rate of 7 percent, roughly 2.3-2.5 points higher than currently. This will be enough to drop housing prices by 15 percent across the board and 25 percent in unsound markets like San Francisco, Seattle, Los Angeles, and Las Vegas. Combine this with a moderate but not severe economic slowdown and you might get a decent amount of bank failures. Investors shouldn't look for a repeat of 2008-2009, but a crisis somewhat like the S&L crisis of the 1980s is plausible and even likely given declining credit quality and rising prices. There's no need to rush out and sell your index funds, but it may be worth avoiding sectors vulnerable to an overdue cyclical downturn in real estate.