We are roughly three weeks away from Apple's (AAPL) fiscal 3Q18 earnings release, scheduled for July 31, after the closing bell. Analysts project revenues of $52.3 billion, suggesting a YOY increase of nearly 16% that would be the highest rate since October 2015. EPS consensus estimates of $2.18 sit right around what I calculate is management's implied earnings guidance at the mid-point of the range, give or take a couple of pennies.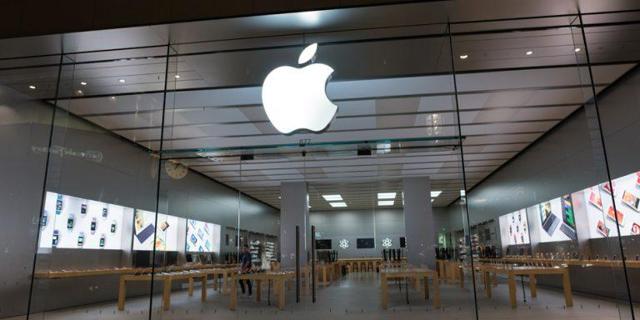 Credit: Insider Financial
Fiscal 3Q is traditionally the least eventful of Apple's quarters: the end of the period is roughly four or five months away from the thick of the shopping season and several weeks ahead of the annual iPhone portfolio refresh. Furthermore, with the bursting of the "super cycle bubble," I bet analysts and investors will maintain expectations under check going into the quarter, which may in part explain why consensus revenue currently sits just below the mid-point of management's outlook range.
In regards to the iPhone, I expect the shift to higher-ticket devices to continue in fiscal 3Q18. Supporting my expectations are the number of units activated in the quarter, as provided by Mixpanel (see chart below). Notice how the popularity of the iPhone X, 8 and 8 Plus has clearly improved compared to the 7 series and older. With an expected increase in ASP, smartphones should be the key driver behind revenues and gross margins surpassing the mid-point of the guided range, in my opinion.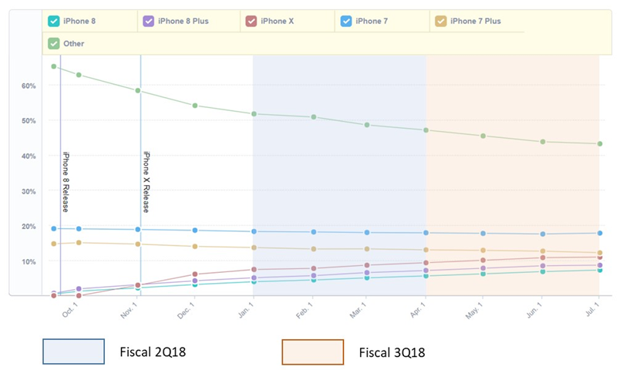 Data source: Mixpanel
On the iPad side, I stay confident that Apple will once again deliver solid results, despite the total industry decline in units shipped that reached the double-digits last quarter (nearly -20% ex-iPads, see right chart below). My optimism is grounded not only on what seems to be greater acceptance of Apple's tablets in the market (see blue line on left chart below), but also on the introduction of the lower-end iPad announced at the end of fiscal 2Q18. As I have presented before, I believe the $299 model will help Apple tap into an under-penetrated niche, despite the potential reduction in ASP that the new unit might end up producing.

Source: DM Martins Research, using data from IDC
Lastly, I believe the service business will continue to move higher as it has in the past few quarters. Per my estimates, Apple is just slightly ahead of schedule on its goal to double service revenues by 2020 (see chart below). As I have discussed in more detail recently, monetization of Apple's growing installed base will likely result in the App Store and other services becoming the most meaningful generators of income for the Cupertino-based company in the not-too-distant future. I have no reason to believe that fiscal 3Q18 will throw the longer-term trajectory off.

Source: DM Martins Research, using data from company reports
Below is my projection for fiscal 3Q18 results, along with management's outlook and the Street consensus. All factored in, I predict an all-around beat, the fifth consecutive one, this time by $550 million on sales and two cents on per-share earnings.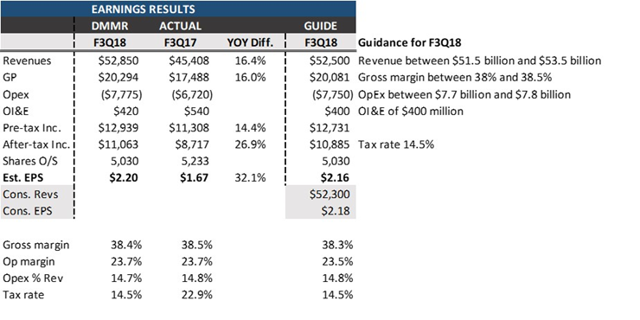 Source: DM Martins Research, using data from company reports
On the stock
Regardless of how Apple might perform in fiscal 3Q18 and absent major surprises that I find unlikely to take place, I continue to find AAPL one of the best stocks to own in the tech world. With shares trading at a modest 16.5x forward earnings that I find too modest to properly reflect the strong fundamentals and growth prospects, I remain a confident AAPL holder, despite the stock's robust 28% market value appreciation in the past 12 months.
Note from the author: If you have enjoyed this article, follow me by clicking the orange "Follow" button next to the header, making sure that the "Get email alerts" box remains checked. And to dig deeper into how I have built a risk-diversified portfolio designed and back-tested to generate market-like returns with lower risk, join my Storm-Resistant Growth group. Take advantage of the 14-day free trial, read all the content written to date and get immediate access to the community.
Disclosure: I am/we are long AAPL.
I wrote this article myself, and it expresses my own opinions. I am not receiving compensation for it (other than from Seeking Alpha). I have no business relationship with any company whose stock is mentioned in this article.