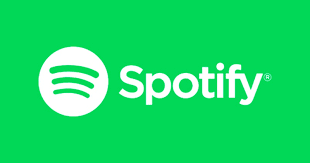 (Source: Spotify)
Headquartered in Stockholm, Sweden, Spotify (NYSE:SPOT) is a powerhouse and a game changer in the way people access and listen to music. Spotify has over 75 million subscribers (the company says it's going to 100 million by the end of the year) and 170 million active monthly users who are able to stream over 35 million tracks on demand. It is moving the music industry from a transaction-based to an access-based model allowing users to stream on demand.
In just my lifetime, we have gone from 8-track tapes to records, to cassettes, to CDs, to iPods. Remember Napster? Then, companies like Pandora (NYSE:P) came onto the scene. Now, most of the music I listen to is streamed from one source or another. I say most as my daughter has recently been listening to records - the old records. Maybe it's a throwback to old technology and a fad. I do miss the old album covers with pictures of the bands and their song lyrics.
However, streaming is where it's at - a worldwide library of songs that I want to listen to anytime and anywhere. While the youth might be trying out records, they are coming and staying with Spotify.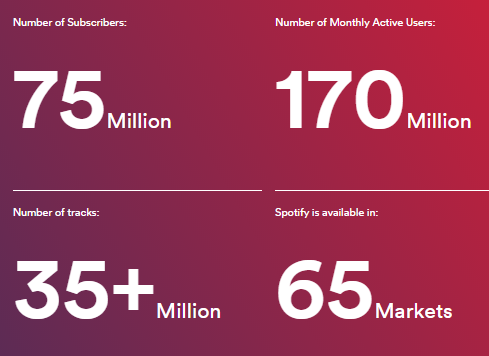 (Source: Spotify)
Recent News
Spotify just went public in April of this year. According to the annual report by the International Federation of the Phonographic Industry (IFPI), the company controlled 44% of the overall global streaming market. In addition, it has been noted that Spotify contributes an average of $20 per user to the music industry, while YouTube (GOOG, GOOGL) returns less than $1. Last year, subscription-based streaming revenue accounted for 38% of all recorded music, up from 29% the year before, per IFPI. In addition, IFPI's Global Music Report 2018 shows total recorded music industry revenue for 2017 was $17.3 billion, with an increase of 8.1%.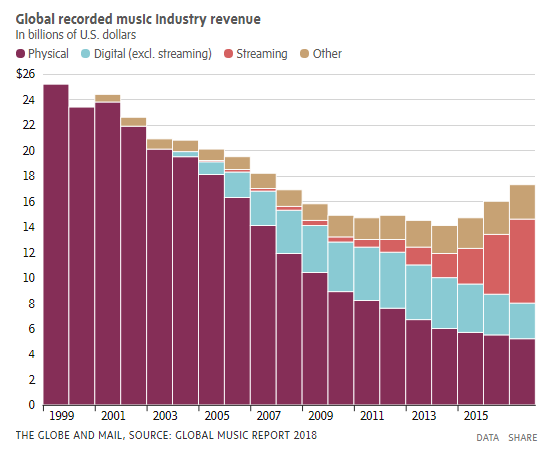 (Source: Global Music Report 2018)
The use of Big Data and artificial intelligence (AI) sets Spotify apart from the pack. Spotify's acquisition of Niland in 4Q2017 allows it to use the product and machine learning to provide users with a better experience allowing more specific search results and recommendations based on user preferences and historical use. In 2018, the company acquired blockchain Mediachain Labs to help develop a decentralized database connecting artists, licensing agreements, and music tracks.
In conjunction with these new AI technologies, Spotify is able to analyze users' behavior via collaborative filtering - this is similar to what Netflix (NASDAQ:NFLX) uses to push recommendations to its users. With this technology, Spotify is able to provide a unique experience for each of its 170 million users. While the following data on Spotify moves so quickly and therefore might be outdated, it shows you the massive market for Spotify. Every day 20,000 new songs are added to the database. Users have created over 1 billion playlists and create 600 gigabytes of data per day.
Competition
While Spotify is still the dominant player, Apple's (NASDAQ:AAPL) growth rate is faster than Spotify's in the U.S. Apple Music has approximately 21 million subscribers in the U.S., while Spotify has approximately 22 million. Last year, Apple had 13 million U.S. subscribers, compared to Spotify's 17 million subscribers. It is expected that Apple might exceed Spotify's number of users by the end of 2018.
Fundamentals
While not stellar, Spotify's fundamentals are improving, with a steady rise in earnings per share through at least fiscal year 2021. Sales are forecasted to grow at over 12% quarterly and over 27% annually. As can be seen below, profit margins are estimated to continue to strengthen and operating cash flow continues to grow.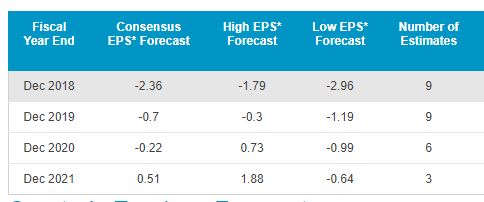 (Source: Nasdaq)

(Source: CNN)

(Source: Bloomberg)

(Source: Bloomberg)
Technicals
Currently, Spotify's relative strength index (RSI) is just above 50 and positive. The MACD is positive. The stock is currently trading above its 20-day and 50-day moving averages of 172.66 and 163.54, respectively. Resistance is 192.80, while support is 162. The stock is trading close to its all-time high of 182.45 reached on June 22.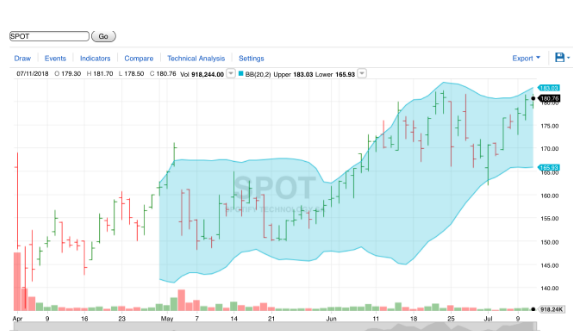 (Source: Fidelity Investments)
Trade Idea
Spotify's second-quarter earnings come out towards the end of July. If one is bullish on the stock, one might consider buying August 3 calls; however, they are expensive. As an alternative, one could enter into a bull call spread (e.g., 185/195), where you buy a call and sell a call further out of the money to offset the cost of the purchased call. For me, I'm long the stock outright, as I believe this stock has a long way to run in the long term.
Important Announcement
I'm pleased to announce that I will soon be launching my own Marketplace service newsletter - Financial Freedom Insights. This new publication will provide detailed technical and fundamental analysis, retirement insights, and trade ideas. Make sure you follow me to get updates on the service launch dates. Feel free to send me a direct message to learn more.
Additional disclosure: Thank you for your time in reading the above article. I read and write on a wide range of companies on a regular basis. If you would like to stay informed with articles like these, please click the "Follow" button at the top of this report and select "Get email alerts." If you have additional insights on the topic or contrasting views, please kindly share them in the comments section.
This article is intended to provide educational information to readers and in no way constitutes investment advice. Investing in public securities is speculative and involves risk, including possible loss of principle. The reader of this article must determine whether or not any investments mentioned in this article are suitable for their portfolio, risk tolerance, and accepts responsibility for their decisions. Neither information nor any opinion expressed in this article constitutes a solicitation, an offer or a recommendation to buy, sell, or dispose of any investment or to provide any investment advice or service. An opinion in this article can change at any time without notice.
Disclosure: I am/we are long NFLX, APPL, SPOT.
I wrote this article myself, and it expresses my own opinions. I am not receiving compensation for it (other than from Seeking Alpha). I have no business relationship with any company whose stock is mentioned in this article.