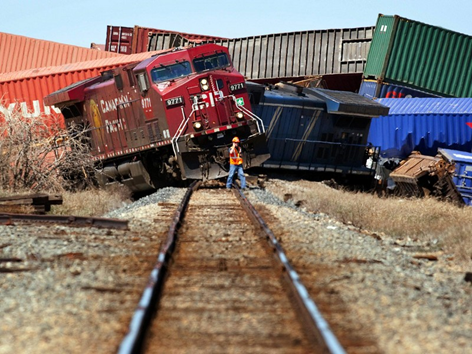 As the ongoing trade tensions escalate, bringing an ever-increasing number of tariffs on the movement of goods around the world, economic growth is now at risk. The dynamics behind this are simple, but the implications can be complicated and severe, with second-order consequences felt for years to come.
How to Shoot Yourself in the Foot
The global economy, led by the U.S., has seen one of the longest periods of economic expansion in history, rising out of the depths of the global financial crisis of 2008-2009. That expansion, which until recently had shown no signs of slowing down, is now in grave danger due to the impact of changing trade policy of the U.S. and its largest trade partners.
Tariffs are nothing more than a tax on the exchange of goods between countries, causing unnecessary and easily avoidable friction. Tariffs, like taxes, can introduce a deadweight loss to transactions between buyers and sellers that cause prices paid by consumers to rise, prices received by sellers to decline, and the total volume of goods traded to also decline. As a result of these dynamics, economic growth in the U.S. and abroad will abate.
What's Wrong with Trade Deficits?
The Trump administration seems focused on trade deficits exclusively. But why? Trade deficits with individual trading partners are not inherently bad. Think about it on a personal level. I can tell you without any doubt that my family and I run a very large trade deficit with Kroger (KR). We buy gas and groceries every week, but Kroger never purchases investment advice from me or medication consultations from my wife who works as a pharmacist. The same could be said of the daycare we use for our youngest, or Netflix (NFLX), or Amazon (AMZN), or Kimberly-Clark (KMB) that manufactures the thousands of diapers we use. However, my wife and I also run equally large trade surpluses with our respective employers. I sell investment advice to clients for which I am compensated by Mosaic Advisors while my wife advises patients on drug interactions and administration for which she receives a salary from CVS Health (CVS).
The point here is that balance of trade between two parties is not particularly important as long as there is balance overall. In the case of the U.S., we don't have that balance, so we rely on foreigners to reinvest their dollars here in our financial markets and Treasury debt.
Tariffs: You're going the wrong way!
The solution to the balance of trade issue is not to increase the cost of goods or reduce the overall level of trade. The solution is to produce goods and services that are demanded by consumers globally, and do so at competitive prices. Doing this increases demand for domestically produced goods, which has the effect of reducing demand for imports. This is complemented by greater foreign demand for goods produced in the U.S., and the dynamics of these two forces is greater trade balance. Imposing tariffs has no role in this equation.
What to Do?
In an earlier article, I described the logic and rationale behind several portfolio strategies that are attractive, leading up to, as well as during a trade war. These strategies are expected to add value to portfolios in any environment, but may not appeal to conservative investors, particularly in a declining growth environment.
Put Your Cash to Work
Cash remains unattractive for long-term investors seeking to maximize expected total returns. However, for those needing or wanting to hold cash, there are numerous short-term holdings that are suitable as a cash replacement for some or all of these holdings. The PIMCO Enhanced Short Maturity Strategy ETF (MINT) has a 30-day SEC yield of about 2.4% and average effective duration of under 6 months. MINT invests in short-term Treasuries, corporate bonds, and asset-backed securities. It also uses a small amount of leverage to achieve its objectives. Similar to MINT is the JPMorgan Ultra-Short Income ETF (JPST), which generates a 30-day SEC yield of about 2.6%, and like MINT, has an average effective duration of about 6 months. The JPMorgan fund achieves its objectives through investing in investment grade corporate bonds and asset-backed securities while holding some cash. It has very little exposure to government or government-related securities.
Buy Food and Toothpaste, Not iPhones
As GDP slows, the strength in employment and recent wage growth is likely to erode, causing consumers to pull back on spending. This will negatively hit the consumer discretionary space first, as well as companies directly impacted by tariffs, through reduced pricing power driven by higher costs and lower consumer demand. As I have explored in a previous article, consumer staples have been the largest laggard year-to-date and are trading at an attractive entry point right now.
I generally try to avoid placing bets on individual names to avoid taking idiosyncratic risks. Although I like companies like Coca-Cola (KO), Kraft Heinz (KHC), Mondelez (MDLZ), Molson Coors (TAP), or Procter & Gamble (PG), I prefer to take a more diversified approach through low cost ETFs. Two low-cost and well-diversified options are the Vanguard Consumer Staples Index Fund ETF (VDC) and the Consumer Staples Select Sector SPDR Fund (XLP). For investors seeking global exposure to consumer staples, the iShares Global Consumer Staples ETF (KXI) offers exactly that. The iShares Global fund is invested approximately 50% in the United States and 50% across foreign developed countries. Going the ETF route allows investors to gain exposure to the sector, at a low cost, while benefiting from broader diversification.
Beyond supplying goods to satisfy domestic household needs, consumer staples companies have historically outperformed the broader equity markets during downturns as investors seek safety in the stocks of companies least impacted by higher unemployment, lower wages, and greater economic uncertainty. I have intentionally scaled the chart below to illustrate the performance of the S&P 500 and consumer staples from peak to trough during the 2007 through 2009 period. As you can see, consumer staples outperformed the broader market by more than 25% over that period.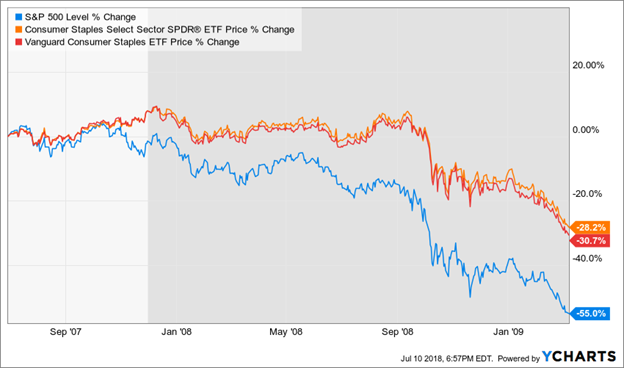 Keep Your Lights On
Look inward to companies that service domestic markets exclusively and require virtually no inputs from outside the U.S. Utilities and telecom will likely lead this space given their stable cash flows, regardless of employment levels, and complete lack of exposure to global trade.
For example, electric utilities generate and deliver electricity to households that require the power, regardless of employment or wage growth. These firms generate power using inputs that are drilled, mined, or collected domestically. Although commodity prices are exposed to global macro factors, power companies are capable of hedging their input costs to smooth any volatility and maintain their ability to deliver consistent prices to customers. Utilities can also be sensitive to interest rates in the short term, but that relationship is unclear over longer periods of time as shown in the chart below.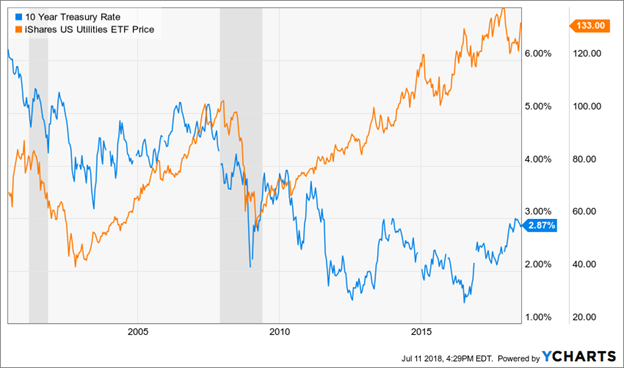 Low cost exposure to utilities can be gained through the Vanguard Utilities ETF (VPU), the iShares U.S. Utilities ETF (IDU), or the iShares Global Utilities ETF (JXI) for global exposure.
Similar to utilities, telecommunication companies benefit from the same dynamics of domestic consumers and limited exposure to foreign trade. Telecom also has virtually no meaningful commodity exposure. Efficient exposure to telecom, now called communication services, can be gained through the Vanguard Communication Services ETF (VOX) or the iShares U.S. Telecommunications ETF (IYZ). For exposure to global telecom stocks, there is the iShares Global Telecom ETF (IXP).
The Tortoise and the Hare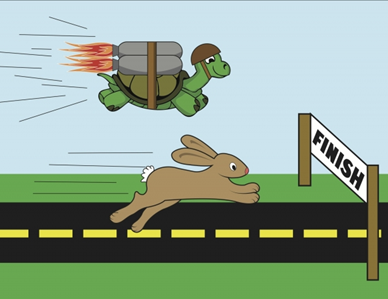 We all know the story of the tortoise and the hare: slow and steady wins the race. In the current environment, with headwinds from trade likely in our (near) future, this simple lesson is more applicable than it has been in years. Investors should consider tilting their portfolios toward value stocks, which have underperformed growth stocks since 2015. The last time value underperformed growth by this wide of a margin was during the dotcom bubble immediately preceding the 2001 recession. Although it is difficult to predict a trend reversal, it is likely to occur once economic growth slows, employment weakens, and the broad equity markets turn negative.
As seen in the chart below, following the peak in stocks in 2000, the trend between growth and value reversed, with value outperforming growth through the financial crisis and as late as 2015. As we approach a similar inflection point now, investors will be well-served by tilting their core U.S. equity holdings toward value relative to growth.
There are numerous options to give your equity allocation a value bias. I suggest broadly diversified and inexpensive ETFs from Vanguard and iShares. The most attractive include the Vanguard Value ETF (VTV) and the iShares Core S&P US Value ETF (IUSV). The Vanguard Value ETF and the iShares Core S&P US Value ETF are very inexpensive at 5 and 4 basis points, respectively. An important distinction between the two ETFs is that the iShares fund holds about 300 more positions than the Vanguard fund. Additionally, despite its broad diversification, the Vanguard fund has about 6% allocated to Microsoft (MSFT), whereas the largest position in the iShares portfolio is Berkshire Hathaway (BRK.B) (NYSE:BRK.A). I don't consider these differences, or the Microsoft position, to be reasons to recommend one over the other, but certainly something to be aware of.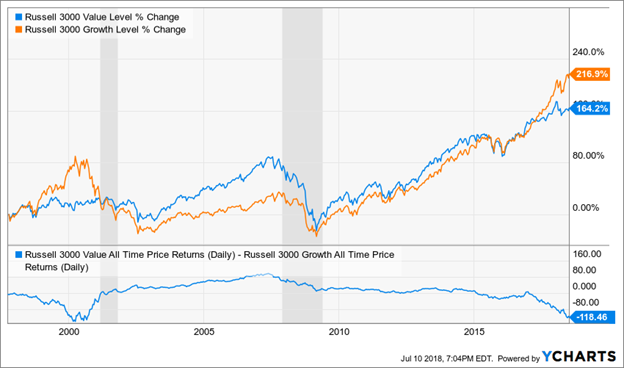 Final Thoughts
The ideas described in this article are more conservative than those I have previously expressed. Although I continue to believe that investors will be well-served by those strategies, I wanted to expand on my recommendations to include more conservatives options, particularly in light of recent escalations in the trade dispute with China. The recent events and changes to trade policy could have long-term implications for expected returns across most asset classes, and this should be factored into investors' decisions on portfolio construction and strategy. I am not advocating distorting investor strategic asset allocations, but highlighting areas that can be tweaked to better reflect the current environment without sacrificing portfolio diversification. Using the above strategies should be looked at within the broader context of the global financial markets and sized appropriately. Any overweight or underweight position needs to be considered carefully to understand its impact on long-term total returns. I look forward to your feedback and answering your questions in the comment section below.
Disclaimer
Please remember that past performance may not be indicative of future results. Different types of investments involve varying degrees of risk, and there can be no assurance that the future performance of any specific investment, investment strategy, or product (including the investments and/or investment strategies recommended or undertaken by Mosaic Advisors ("Mosaic"), including the author, or any non-investment related content, made reference to directly or indirectly in this commentary will be profitable, equal any corresponding indicated historical performance level(s), be suitable for your portfolio or individual situation, or prove successful. Due to various factors, including changing market conditions and/or applicable laws, the content may no longer be reflective of current opinions or positions. Moreover, you should not assume that any discussion or information contained in this commentary serves as the receipt of, or as a substitute for, personalized investment advice from Mosaic or the author. Mosaic is neither a law firm nor a certified public accounting firm and no portion of the commentary content should be construed as legal or accounting advice. A copy of Mosaic's current written disclosure Brochure discussing our advisory services and fees continues to remain available upon request.
Disclosure: I am/we are long CVS JPM KMB KO MINT PG VDC.
I wrote this article myself, and it expresses my own opinions. I am not receiving compensation for it (other than from Seeking Alpha). I have no business relationship with any company whose stock is mentioned in this article.