Every investor understands the concept of diversification. A lot of people diversify in funny ways - they'll buy Apple (AAPL) and Netflix (NFLX) and think that that's diversification, when it's not. Real diversification involves moving across entire asset classes, across entire geographies, across entire ways of thinking.- Simon Black
Home Country Bias
Invest in what you know. Often attributed to Warren Buffett, Peter Lynch, and other investing gurus, this mindset involves investing in asset classes where you have an insider's perspective to gain an edge.
In my own anecdotal experience, this happens at an industry level. My peers in the oil business are always chatting about energy stocks, those in the tech business focus on internet stocks and chipmakers, and those in finance discuss bank stocks, actively managed funds, and structured finance.
But there is something in common across those companies that my peers discuss: it's always US companies that they are discussing. In addition to investing in what they know, investors tend to invest where they live.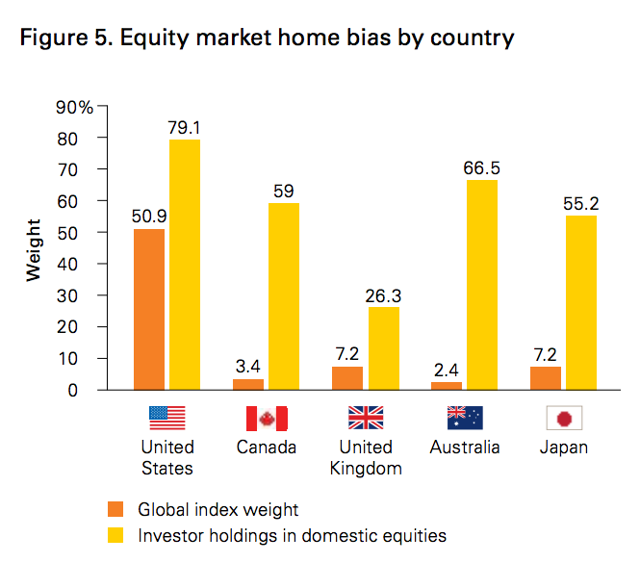 (Source: Vanguard)
Home Country Bias Concentrates Risk
I believe that only investing where you live is a surefire way to concentrate risk into a single country. I liken it to investing in your employer: if the company begins facing hard times and starts losing money and laying off employees, then you may be out of a job and see the value of your portfolio halved or worse.
The same mindset can be applied based on your home country. An economic recession or depression isolated to your home country could have a severe impact on your quality of life. You may lose your job, your closely held business may face a more difficult operating environment, or you may see the value of your home slashed.
Spreading positions in your portfolio across the globe will protect your net worth from country-specific risks. This alone is a good reason to diversify globally.
Spreading Risk Across The Globe
For the passive investor who lives outside of the US, the Vanguard Total World Stock ETF (VT) is effective for diversifying away from home country bias. VT invests in thousands of separate holdings, making it a diversified vehicle to capture the equity premium of global markets without the company-specific risks that arise when investing in individual securities. This ETF works fine for non-US investors because non-US countries individually make up a much smaller portion of the global market.
Because the US market cap is so large when compared to the rest of the world, VT will not cure the home country bias for a US-dominated portfolio. For the passive US investor, I believe a position in the iShares Core MSCI Total International Stock ETF (IXUS) is a great way to get international equity exposure to correct any home country bias in a US-dominated portfolio, with the potential benefit of lowering volatility and boosting risk-adjusted returns.
Additionally, the expense ratios are incredibly low for both funds at just ten basis points.
Taking a Value Approach
There is plenty of empirical evidence to suggest that the higher the valuation at the time of investment, the lower the expected returns over time. This inverse relationship will negatively affect buyers of US equities at the current record valuations, which trade at a steep premium compared to global equities as a whole.
US equity currently trades at a historically high Shiller CAPE Ratio: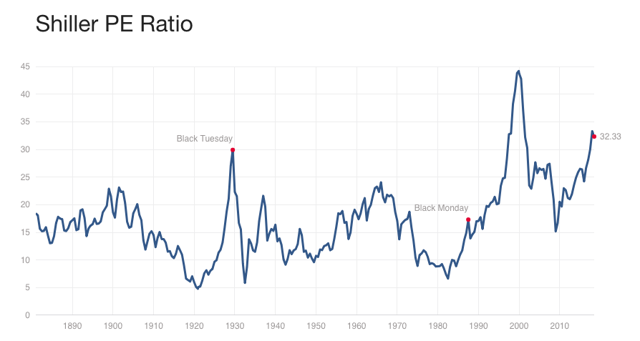 (Source: Multpl.com)
The Shiller CAPE Ratio has traditionally been the most reliable predictor of future stock returns: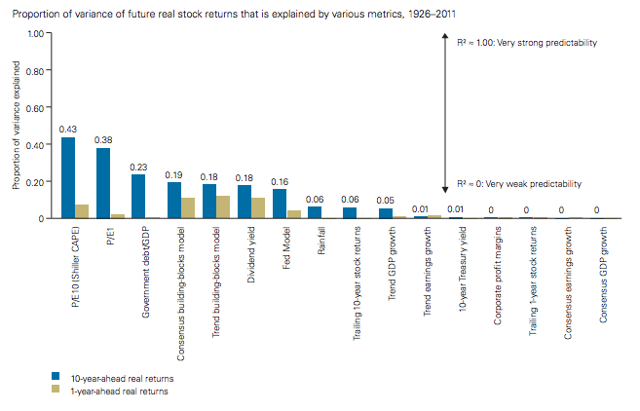 (Source: Vanguard)
Investors deploying capital in US markets at these valuations should expect lower future profits if they believe this correlation will continue. That is not to say the entire word is expensive - there are pockets of value everywhere: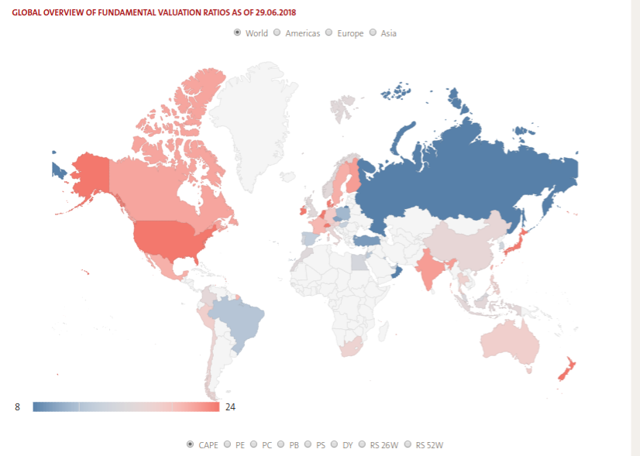 (Source: Star Capital AG)
For those investors who believe in the correlation between CAPE ratios and future returns, Cambria has an interesting ETF called Global Value ETF (GVAL) that invests in the top 25% of the cheapest countries on a long-term valuation basis so long as those countries are considered investable by Cambria.
The strategy takes a top-down approach to avoid the most expensive countries and their corresponding low future returns. I prefer GVAL to IXUS due to the potential to realize the well-studied value premium over a long time horizon.
GVAL provides a rebalancing allocation to cheap global stocks in a tax-efficient manner. It will avoid the most expensive countries, which I believe has the potential to limit drawdown.
The fees are much higher than IXUS or VT, with an expense ratio of 69 basis points. But I think there is value in this product. If I wanted to replicate this strategy on my own, the rebalancing would not be tax-efficient and custody issues for foreign securities could prove challenging.
Investors who wish to take a more passive approach and avoid fees would be wise to choose the passive funds (IXUS or VT).
In Conclusion
Investors should take a look at their portfolio and identify home country bias. If it is a risk they are willing to accept, no action is needed. But if investors wish to cure their home country bias, it can easily be fixed with low-cost passive products.
I use GVAL to gain exposure to the cheapest countries in the world. Passive investors in the US can use IXUS, and passive investors outside of the US can use VT to gain global exposure and reduce home country bias.
Diversification goes beyond industries - geography is an important consideration, especially with many markets trading at historically high valuations. I think it is wise to insulate oneself from black swan events isolated to specific countries and avoid home country bias by diversifying internationally.