Investment Thesis
HubSpot (NYSE:HUBS) looks to be a winning investment for three reasons. It has a flywheel-like business model, strong management and quality financials.
The Flywheel
HubSpot pioneered something called "Inbound Marketing." Instead of cold calling, spam and intrusive ads, Brian Halligan and Dharmesh Shah, MIT students at the time, envisioned a better way of interacting with potential customers. Rather than the size of your wallet, they believed it was the size of your brain that mattered. Their methods were the opposite of outbound tactics like cold calling, instead they focused on drawing customers in (get it… inbound) through blogging, SEO (search engine optimization) and social media. Now, they build software so other small-to-medium sized (10-2,000 employees) businesses can implement inbound marketing seamlessly.
I like to look at businesses with flywheels because they breed business momentum. HubSpot is trying to build out an ecosystem of marketing automation tools to do just that. Recently the company announced its third leg in this flywheel. Up until now, HubSpot only offered its free CRM and freemium versions of its marketing and sales platforms. But now clients can also implement a customer service feature.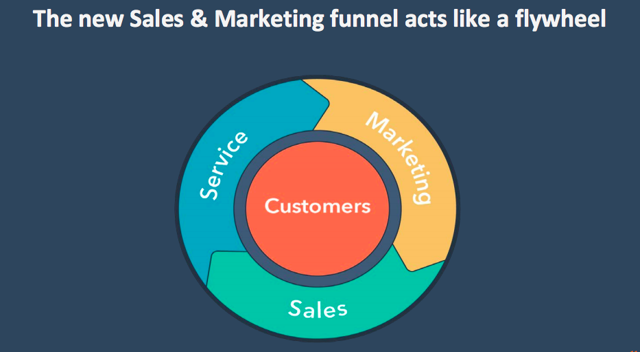 Source: HubSpot Investor Presentation
This service option seems similar to the new platform Wix (WIX) built called Wix Answers that has had great traction with customers. Apparently, it is quite difficult to create a system that deals with customer complaints in a timely fashion. Who would've thought? I'm sure none of us have dealt with any customer service issues before (that is my version of sarcasm). Just read what Mr. Halligan, HubSpot's CEO, had to say about this issue on the last earnings call,
"To do it right, you'd need a knowledge base system, an SEO system so those knowledge articles could get found in Google, a chat system for your website, a messaging system for Facebook, a bot builder, a ticketing system, a Net Promoter Score system and a customer marketing system, and all that would need to constantly sync with your CRM system.

All very doable if you'd like to buy eight systems, pay eight bills and learn eight user interfaces, but it's just too painful for a smaller medium-sized business to pull this off today."
Sounds tough. But frankly, one feature is not going to give a marketing software a competitive advantage since the space is quite crowded. However, HubSpot is the leader, by a sizable margin, in this space. Ease of use, a simple interface, and reasonable pricing are all stated as reasons to favor HubSpot, and coupled with full product features, the company's flywheel is alive and well.
Strong Management
The company is not settling in either. The CEO noted that,
"When I think of HubSpot and the game we're playing today, it doesn't feel like we're in the seventh or eighth inning, it feels like we're still in the second or third inning of the hub spot journey. Lots more innovation, lots more ideas intermission my head for interesting things to build and more value to deliver."
Sure, that could just be lip service, but the company has delivered time and time again. The two founders who are still at the company, Mr. Halligan and Mr. Shah, invented the concept of inbound for goodness sakes. These guys are thought leaders in the marketing world as evidenced by the 21,000 people that show up to their yearly conference.
The two founders are also tirelessly focused on creating a great company work-culture. Mr. Shah went so far as the create a Netflix-esque slide deck, detailing his vision of the culture in-depth. I believe company culture is a vastly underrated source of competitive advantage. And analyzing a company culture is too qualitative for "serious" investors. Therefore, it can give us a slight edge by dissecting whether or not this culture is one that will lead to success in the long run.
HubSpot's Chief People Officer (HR person in non-tech speak) even goes to the lengths of replying to every Glassdoor review left by employees. Its Glassdoor ratings are off the charts I might add.
Quality Financials and Valuation
We can try to dissect and analyze the flywheel and management until the cows come home, but it also does need to be backed up by quality financials. And HubSpot has them.
In the last quarter, revenue grew 39% to almost $115 million and non-GAAP operating margins continued their positive trend to 5% of sales. Free cash flow also jumped 55% year-over-year, to $18 million or 16% of revenue. The company has shown solid operating leverage over the years, even when taking into account the usual 3% decrease in margins in Q3 when the big INBOUND conference takes place.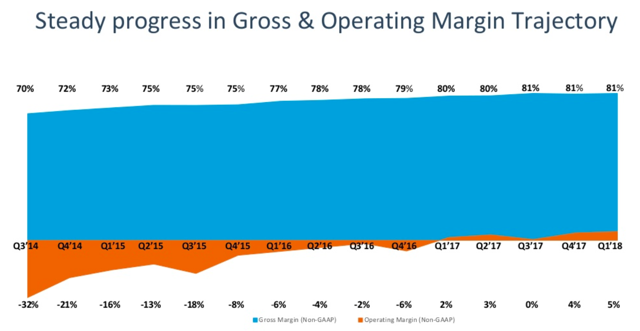 Source: HubSpot Investor Presentation
Overall gross margins have ticked up to 81% and in the last quarter, subscription gross margins came in above 86%. To add, subscriptions make up 95% of overall sales so the company truly offers a SaaS-based model. I wouldn't be surprised to see even more gross margin expansion considering the company's focus on moving to be more of a self-service provider, rather than investing more into sales and marketing. The move to a freemium model within the past couple years has surely enabled this shift as well. Though, it has brought down the average revenue per user 3% to $10,016. Seeing as the company has almost 45,000 customers though, upsell opportunities within the flywheel remain abundant.
The latest market cap for the company was $4.9 billion and it has about $555 million in cash on the balance sheet. So the enterprise value is about $4.35 billion. Full year guidance almost tips the scales at $500 million, so that brings us an 8.7x forward sales multiple, which is on the high end of HubSpot historical range. The question becomes, is the business operating at the high end of its historical range? I am inclined to say yes. In my opinion, the flywheel is spinning at full capacity.
Risks
As stated, marketing software tools are not scarce. There is always the threat of Salesforce (CRM) coming downstream quickly, but this was actually confronted recently by the CEO when asked by an analyst:
"Salesforce has done an unbelievable job moving into the fortune 500. They're killing it, they're doing nine figure deals, and they have a lot of respect for those guys. Genetically we're sort of programmed from the Fortune 5 million. And I think we're exceptionally well position there. Our win rates are high our product value we deliver is high. So honestly no huge shift that we've seen."
HubSpot has created a nice niche in small-to-medium sized businesses. Salesforce was created for the enterprise. But you can't rule out the possibility.
Another risk is if Halligan or Shah ever leave. It seems unlikely since this business is their baby, but I think both of them are absolutely necessary. The company has had some PR issues in the past when Dan Lyons, a Newsweek journalist tried his hand working at the company. He would later write a less-than-flattering article and even a book about his experiences. But the company was really good about addressing the allegations and since then, there have been few PR problems to speak of.
To End
HubSpot is transforming into a mini-Salesforce before our eyes. A flywheel business model, visionary management and strong financials are all evidence that this is the case.
While the valuation may be indigestible for some, HubSpot's brand identity, customer focus and company culture set it apart from the multitudes of marketing automation tools.
Author's Note: Just hit the big, orange "Follow" button to get these articles before they hit the paywall. Thanks so much for your time, it will never be taken for granted. Have yourself a fantastic day and happy investing! Woo-hoo!