I just read a very interesting perspective on the Trade War on Seeking Alpha by Lok Sang Ho titled America Cannot Win The Trade War. While I understand his perspective, I could not disagree more. I will explain exactly why America can and will win the Trade War.
According to the United States Census Bureau, in 2017 the United States ran a $151 Billion trade deficit with The European Union, a $69 Billion trade deficit with Japan, and a whopping $375 Billion trade deficit with China. While Lok Sang Ho argues America cannot win the Trade War with China, it is not just China that the U.S. has massive trade imbalances with. President Trump has launched a Global Trade War, not just a Trade War with China. America's trade imbalance problems are real, not imaginary. Here is a look at the 2017 trade deficit with China:
| Month | Exports | Imports | Balance |
| --- | --- | --- | --- |
| January 2017 | 9,961.1 | 41,343.1 | -31,382.0 |
| February 2017 | 9,735.8 | 32,804.3 | -23,068.5 |
| March 2017 | 9,719.2 | 34,186.9 | -24,467.8 |
| April 2017 | 9,805.7 | 37,465.6 | -27,660.0 |
| May 2017 | 9,862.2 | 41,783.1 | -31,920.9 |
| June 2017 | 9,717.4 | 42,289.2 | -32,571.7 |
| July 2017 | 9,979.1 | 43,589.2 | -33,610.1 |
| August 2017 | 10,828.3 | 45,817.8 | -34,989.4 |
| September 2017 | 10,911.7 | 45,429.7 | -34,518.0 |
| October 2017 | 12,963.4 | 48,167.7 | -35,204.2 |
| November 2017 | 12,765.0 | 48,127.8 | -35,362.8 |
| December 2017 | 13,644.8 | 44,465.7 | -30,820.9 |
| TOTAL 2017 | 129,893.6 | 505,470.0 | -375,576.4 |
The thrust of Lok Sang Ho's argument is two-fold. First, the Chinese Economy is so big and so important to multi-national companies that they cannot afford to leave the Chinese market. He cites for example that "in its Annual Report last year, General Motors (NYSE:GM) reported having sold 4.04 million in China but only 3 million vehicles in America. And whereas America's home market is stagnant, China's market is still growing very fast." It is true that China's has the second largest economy in the world and that that economy has been growing faster than the U.S. economy. That does make the Chinese economy very important to multi-national companies and they will not abandon the Chinese market.
But Lok Sang Ho misses the point of the Trade War launched by President Trump. He is not expecting companies to abandon the Chinese market, or not manufacture some of their goods in China. There are two ways to lower the trade imbalance between China and the United States, either America buys less from China, or China buys more from the United States. President Trump wants China to start buying a lot more products made in America. And when this Trade War ends that is exactly what China will wind up doing.
The second point Lok Sang Ho makes on why he thinks China will win the Trade War is a political argument: "In all likelihood, Xi Jinping's rule will outlast Trump's. Party politics and rebellion within the Republican Party will end the folly of trying to turn the clock of globalization back." I am sure he is listening to the voices of President Trump's long list of detractors and from those benefiting from the current state of global trade. But he could not be more wrong.
There are winners and losers in the U.S. caused by the current trade imbalance with China. And the Europeans and Chinese believe that by targeting retaliatory tariffs designed to hurt Trump Voters the most that they can politically outlast President Trump and break his support. This is highly unlikely to occur.
According to the Gallup Organization, President Trump is more popular with the voters of his own party than any President has been since Gallup began polling weekly for Presidential Job Approval ratings (outside of short-term bumps by Acts of War such as the attack on September 11, 2001). Below is a look at Gallup's recent polling results for the President's popularity with Republicans:
Republicans
Independents
Democrats
%
%
%
2018
2018 Jul 2-8
87
36
9
2018 Jun 25-Jul 1
87
36
10
2018 Jun 18-24
87
38
5
2018 Jun 11-17
90
42
10
2018 Jun 4-10
90
35
8
2018 May 28-Jun 3
87
34
11
2018 May 21-27
85
35
8
2018 May 14-20
89
38
9
2018 May 7-13
84
35
12
2018 Apr 30-May 6
88
37
13
2018 Apr 23-29
89
35
9
2018 Apr 16-22
82
32
10
2018 Apr 9-15
85
33
7
2018 Apr 2-8
89
35
8
Now take a look at Gallup's data for a President's Own Party Approval measured at Day 500 for all of the President's since Harry Truman: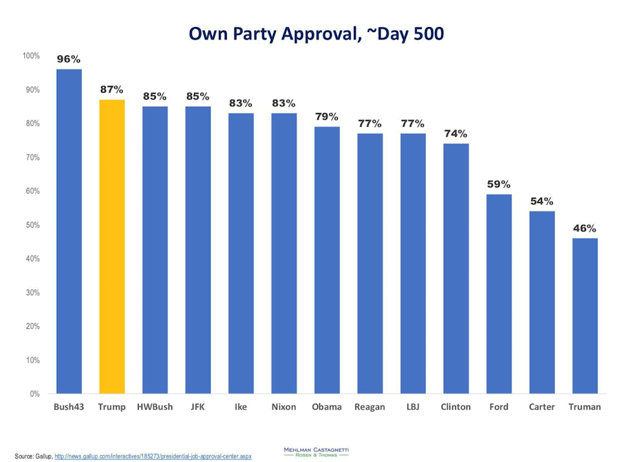 Note that Bush 43's popularity at this point occurred as the country rallied together after the attack on 9/11. As time went on Bush 43's popularity sank, primarily due to negative-news stories like his handling of Hurricane Katrina and the failure to find weapons of mass destruction in Iraq pounded his popularity. President Trump has absorbed much more non-relenting negative news coverage than President G.W. Bush ever absorbed. President Trump's huge popularity among Republican Voters has become Tribal and will not easily be broken, especially by targeted tariffs. The next Republican nominee for President in the 2020 will either be President Trump, or the candidate who convinces voters he/she is most like President Trump.
The point is President Trump has succeeded in convincing Republicans, and some Independents and Democrats, that these trade deficits are unfair to America and things need to change. There is no going back to the good old days for China and other countries when American leadership looked the other way and gave lip-service to the massive trade imbalances. In time, China and other countries will come to realize this.
Here is the one place where I agree with Lok Sang Ho who stated: " My prediction is that the US and China will get back to the negotiation table before long." I too expect them to return to serious negotiations. However, the terms of those negotiations are going to be very different than Mr. Sang Ho expects.
Disclosure: I/we have no positions in any stocks mentioned, and no plans to initiate any positions within the next 72 hours. I wrote this article myself, and it expresses my own opinions. I am not receiving compensation for it (other than from Seeking Alpha). I have no business relationship with any company whose stock is mentioned in this article.