Half of 2018 is officially in the books! I am also another year older and have one year left to enjoy my 20s. 2018 has been an investing year unlike any other in the past. There have been a ton of great buying opportunities and companies are providing shareholders with some crazy dividend increases and share buyback programs. Lanny and I are having a blast following the twists and turns of Mr. Market. Now that another month has come to a close, it is time to take a step back and review the dividends received during the month. Here is my June dividend income summary!
June Dividend Income Summary
This June, I received $1,156.68 in dividend income. This represents a 40.57% increase compared to the dividends received in June 2017. The following chart provides a detailed breakdown of the individual dividends received. Please note that a "W" represents a dividend received in my wife's account.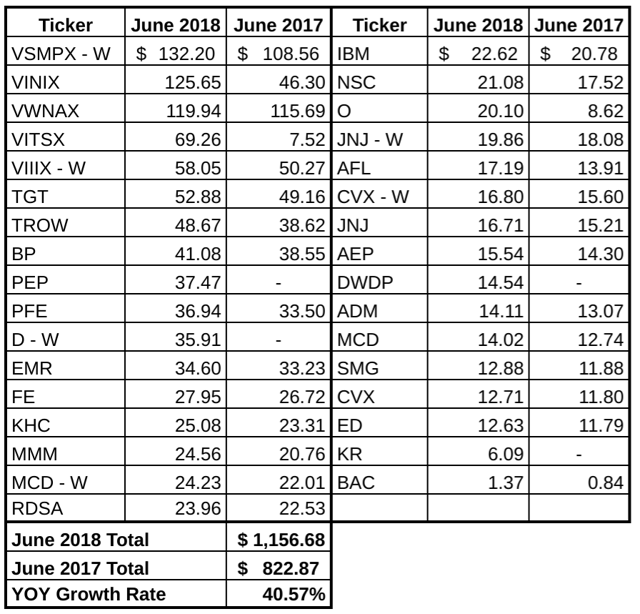 Here are some of the highlights and notes from June:
June Portfolio News And Dividend Increases
In this section, I'll review two different ways that my forward dividend income will increase during the month: dividend increases and investment activity. The first table I will review is the dividend increases during the month.

I happened to receive a ton of dividend increases during the month, which doesn't surprise me based on the last edition of the "expected dividend increases" article series. Of the dividend increases, two jumped out at me and caught me by surprise. First, I was not expecting this large of an increase from Philip Morris (PM) given their recent performance and the downward trend of the industry during the year. I was expecting a much smaller increase!
Second, I think all of us we caught off guard by the 20% Starbucks (SBUX) increase. I did not include the additional 40 shares I purchased at the end of the month in the table above. Instead, I wanted to show how I received an extra $10 in dividend income from this dividend increase alone during the year! As I said earlier, these dividend increases continue to be insane and provide us with great results.
Next, I wanted to take a look at the dividends received from new stock purchases during the month and from our 401(k) and HSA contributions. In total, I added $186 in dividend income from these purchases.
As you can see, I made two purchases during the month. Consolidated Edison (ED) was purchased during the month while Lanny and I were painting his house. I was pretty darn excited to add to my position in this electric utility! Second, as I've talked about countless times over the last week, I added 40 shares to my position in Starbucks.
Both individual stock purchases added $117 in new dividend income to my annual total. In addition to individual purchases, we added additional income from our 401(k) maximization strategy (that I discussed earlier). It has been a treat adding this consistent new dividend income each month and I couldn't be happier that we finally decided to implement this strategy.
In total, dividend increases and new purchases added $221.61 in dividend income! This doesn't even factor in DRIP!
Summary
One again, I couldn't be happier with my June Dividend Income summary. Investing has been a lot of fun in 2018 and I have been blessed with some additional capital to deploy. I'm trying as hard as I can here to make every dollar count and do whatever it takes to continue pushing the dividend snowball forward. The results are real folks. What we are all doing is making a huge difference. Let's do amazing things in the second half in 2018 and finish the year strong.
What was your dividend growth rate this month? Did you set a record in June? What was your largest holding in the month? Are you ready to CRUSH the second half of 2018?