An oft-repeated pattern this year is once again in the process of playing out. I'm referring to the inability of gold bulls to take advantage of a clear-cut opportunity to push the metal price higher. Although there still exists a tiny window of opportunity to force a relief rally in the immediate term, that window is rapidly closing and is nearly shut. Today we'll focus on the indicators which continue to argue for a defensive cash position while the bulls fight their latest battle to regain control of gold's immediate trend.
Gold's safe haven status was once again tested on Wednesday as a revival of trade tariff concerns roiled global equity markets. The White House on Tuesday published a new list of tariffs, with the latest round of duties being the largest to date. It calls for a 10 percent tariff on $200 billion worth of Chinese goods. It won't be implemented for at least two months, however. China meanwhile promised to retaliate, adding to the negative sentiment among equity investors.
The negativity spilled over into gold and even crude oil, with commodity prices across the board taking it on the chin due to a spike in the U.S. dollar index (DXY). Flight-to-safety demand has flowed to the U.S. dollar instead of to the traditional safe haven of gold in the ongoing trade tariff dispute between the U.S. and China. While some analysts may view this as a new paradigm, it's more likely the result of the yellow metal being in a confirmed bear market than any other factor. In a bear market, asset prices are extremely vulnerable to unsettling news headlines as investors look for any excuse to sell. This is the condition that gold now finds itself in, as we discussed in the previous commentary.
After pulling back last week, the dollar index rallied 0.70% on Wednesday. This put the dollar back above its 15-day trend line after falling under it earlier this month. Shown below is a graph of the Invesco DB US Dollar Index Bullish Fund (UUP), which offers a slightly cleaner view of the dollar's trend. A running theme in this commentary in recent months has been that the dollar's residual strength is the bane of the gold price. The rising trend visible in the UUP chart is the primary reason for the metal's weakness due to its currency component. The dollar's strength, and gold's corresponding weakness, has been augmented by the relentless demand for cash among global investors seeking to shield themselves from financial market weakness in China and the emerging markets.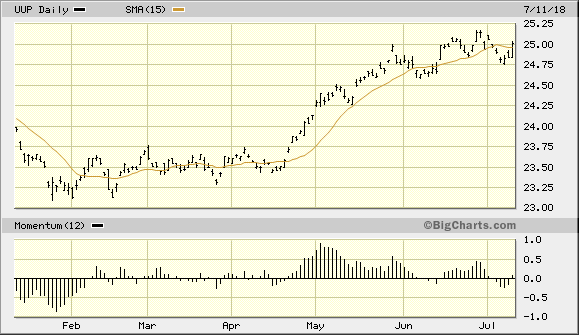 Source: BigCharts
One of the indicators we've closely tracked in recent weeks has been the dollar/gold ratio. This indicator is a simple measure of the dollar's relative strength versus the gold price. As shown below, the dollar remains in a position of relative strength versus gold and never did fall below its short-term rising trend line. Until this trend line is decisively broken, investors should avoid the temptation to "catch the falling dagger" by purchasing gold. Instead, they should maintain a cash position and wait for the dollar to significantly weaken versus gold.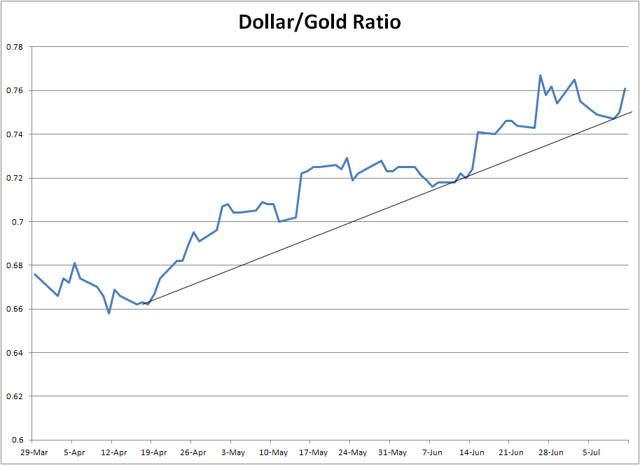 Source: Barchart
In consequence of the dollar's latest rally, the iShares Gold Trust (IAU) fell to a 7-month low on Wednesday - the same level it hit on July 2. If IAU closes below the $11.90 level from here the rally window which opened up last week will have all but slammed shut as the bears would then be in a position of immediate strength.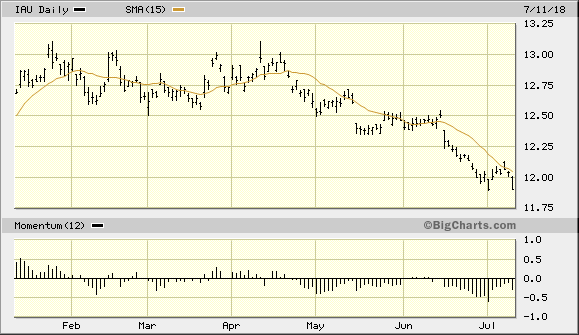 Source: BigCharts
On the mining stock front, the gold miners had been showing a measure of relative strength in recent weeks and gave us at least some hope that gold would eventually reverse its June decline. That hope is still barely alive but is rapidly fading now that the PHLX Gold/Silver Index (XAU) failed to follow through with last week's rally. Gold stocks were heavily sold on Wednesday as the XAU fell 3% and gave back nearly all of its gains since late June (below).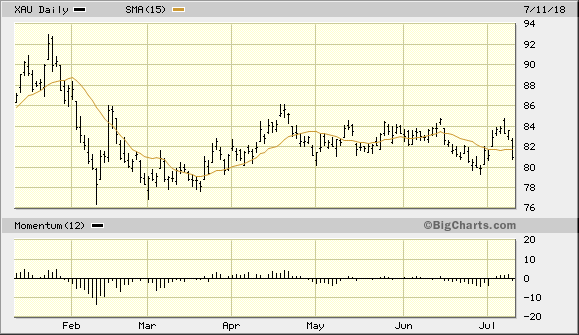 Source: BigCharts
One reason for this failure to follow through is undoubtedly reflected in the following graph. This indicator is the 4-week rate of change of the new highs and lows for the 50 most actively traded gold stocks. This indicator, which measures the incremental demand for gold stocks, illustrates the near-term path of least resistance for the gold stocks as a group as represented by the XAU. In an earlier commentary I mentioned that until this important internal momentum indicator reversed its decline, there was no justification for buying the leading gold mining ETFs or gold stocks. That admonition remains unchanged for now.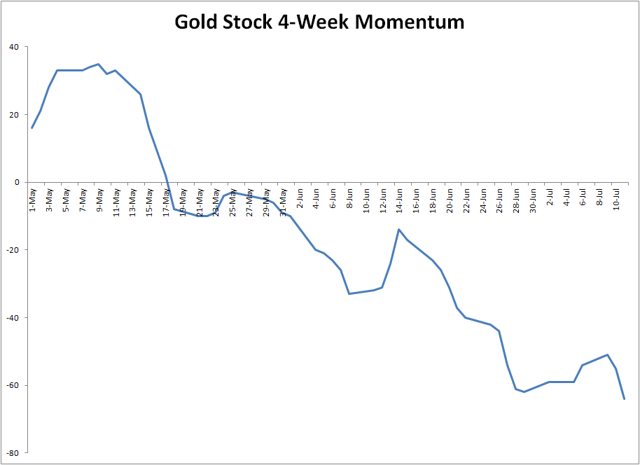 Source: WSJ
On a strategic note, I continue to recommend that investors avoid new commitments to the iShares Gold Trust (NYSEARCA:IAU). As previously mentioned, the burden remains on the gold bulls to prove the metal's immediate overhead supply problem has been resolved and that they are serious about regaining control of gold's short-term trend. Until they do, remain in cash.
Disclosure: I/we have no positions in any stocks mentioned, and no plans to initiate any positions within the next 72 hours. I wrote this article myself, and it expresses my own opinions. I am not receiving compensation for it (other than from Seeking Alpha). I have no business relationship with any company whose stock is mentioned in this article.