Market Intro

CNBC: 10:41 AM EST
US stocks (SPY, DIA, QQQ, IWM) are managing to shake the latest round of tariffs announced by the Trump administration near the market close on Tuesday.
This is a shared global phenomenon (ACWX) from the vantage point of the last couple trading sessions, as international equities are also making a comeback from the initial plunge post-announcement. Spot VIX is likely to make another foray into the 12-handle region, and if "spoos" hang out in this region as they did back in mid-June, there is little to keep it from retesting the ten zone.


Interactive Brokers: Gold Volatility
Copper is falling off some alongside other metals. For all the trade concerns, interest rate moves, inflation pick-up, gold has really not made any headway up or down. I would appreciate any reader commentary on what they believe is necessary to get gold vol on the move.
Thoughts on Volatility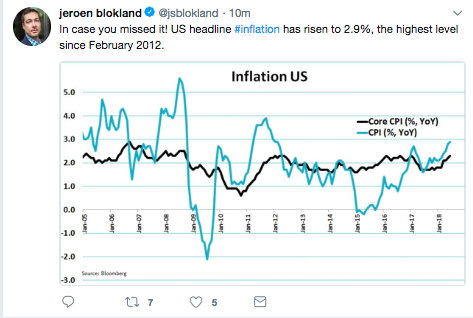 Oil prices can sway headline inflation, and just about anyone who drives knows what gas prices have been doing. Still, even core inflation now reads above 2%. With unemployment so low and inflation trending higher, the stage seems set for a far less accommodative Fed.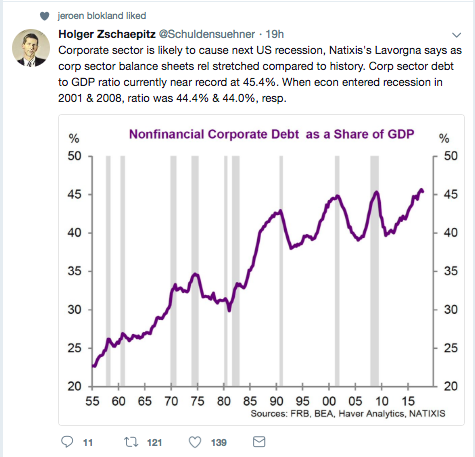 Corporate profit margins are at the highest level on record, and the economy is doing well: this is arguably a reasonably safe time to borrow. However, times change, and I do believe this is one of the issues that could become quite the headline grabber when we finally do go into a recession. We could very well see the metric illustrated above go on to make new all-time highs, which I believe will prove precarious.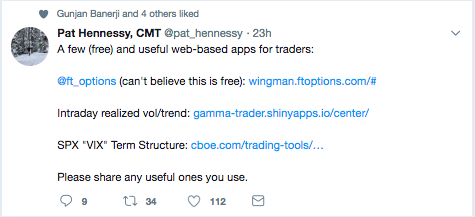 Hats off to Pat Hennessy for sharing resources on volatility and options trading. If we can share what we utilize, or at least what we believe may be helpful for others, people could trade with a greater understanding and set of capabilities. I am copying the link here to his Tweet so you can check out these tools for yourself.
Organic Volatility

11.5 for ATM vol going out a quarter? Well the "trade war" is over so far as SPX options are concerned is what it appears. This important corner of the options universe is calling for smooth sailing basically over the next three months.
Recall that about a month ago, these corresponding weekly, monthly, and quarterly prints arguably got it wrong: vol did pick up in a big way. I'd say that the dump from Tuesday's close may prove to serve as a vote of confidence for stock bulls, as they quickly regrouped following the tariff announcement. The options market looks to be calling for lower realized volatility, and I must say that appears to be the single most reasonable prospect given the market response to the facts on the ground.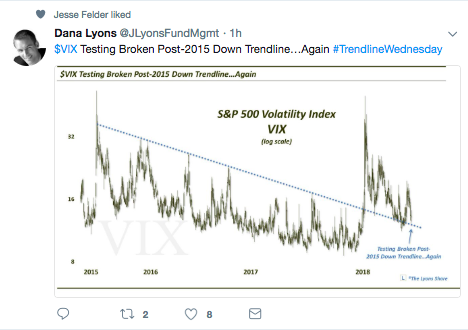 Such a trendline can logically only "work" for so long: vol cannot go below zero. Still, the scare from earlier in the year is exhibiting signs of giving up the last of its struggles to reinvigorate itself. Long vol traders need to be very nimble right now.

IB: S&P 500 futures
That 2700 bottom looks quite firm. We are definitely at the top end of the recent trading range, but the pieces appear in place for a push back into the 2800+ territory. Remember the period from late November/early December: we hung out in a range for a good few weeks before working the new territory. I think that's a pretty solid base case for now.
Conclusion
If this is your first time reading Market Volatility Bulletin, thanks for giving it a try. If you're a regular, we thank you for your ongoing contributions in the comments section.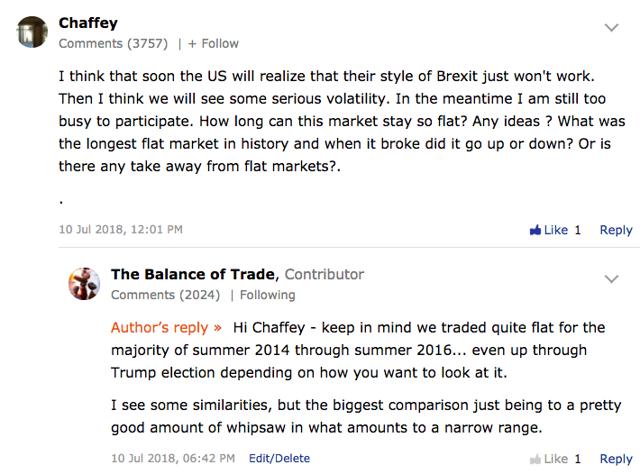 I wanted to share this statement from Chaffey on how flat the market action is. We really have not "gone anywhere" since mid-January… though we've done so frantically!
Sideways markets can be real nail-biters. I strongly suspect that the whipsaw is not over, but that we are due for a breather at present while investors weigh the seriousness of some of the macro concerns such as trade wars and the like.
Thank you for reading.
Please consider following us.