As Independence Day vacation is over it is time to summarize the progress that was made by my 4% dividend yield portfolio during the recent quarter.
I generated this portfolio back in November 2014 and continuously reported its status here in SA. The goal of this portfolio is to generate me a dividend cash flow that is constantly growing.
Currently the portfolio includes a total of 24 holdings.
While the first quarter of 2018 was pretty tough for dividend investors in term of overall portfolio's value, the second quarter demonstrated an impressive bounce back.
As I look at the trend of the quarterly dividend alongside to the overall portfolio's value, the later gained back the majority of the losses that were seen in the first quarter while the dividend slightly climbed. It actually climbed by 1.3%.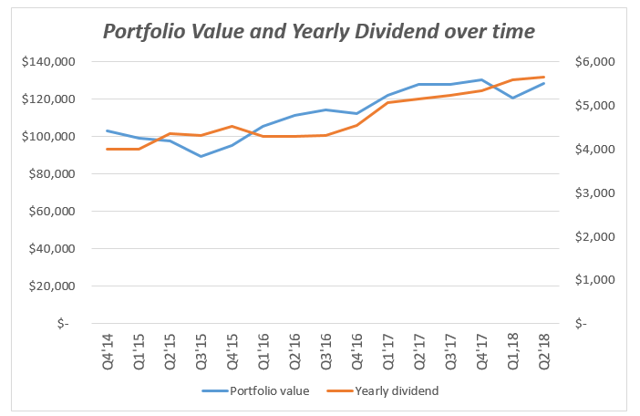 There were 6 holdings that declared a dividend increase during the recent quarter allowing the quarterly dividend to climb by $19 from $1,393 to $1,412. Since Dec'17 the dividend rose by $79, or a total of 6%.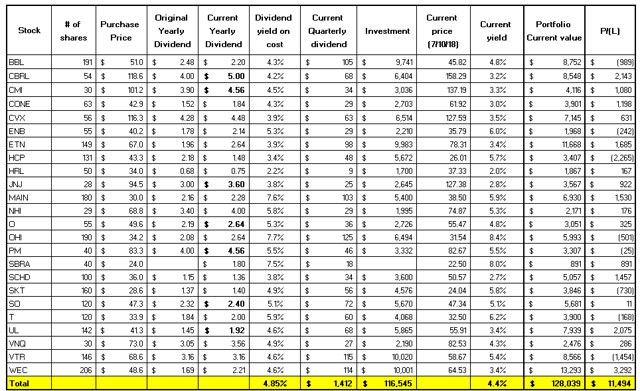 When examining the current stock prices it seems that the portfolio allows investors to enjoy a 4.4% dividend yield.
So, what's next?
The FED took action twice this year and it is expected to have two additional hikes by the end of 2018.
When comparing the behavior of the 2 years Treasury yield's curve (green) to the 10 years (blue) and the 30 years (orange) it seems that all are more or less merging into the same sweet spot of 3% yield.
It means that there is no significant difference between long term and short term expectations, and when this happened in the past, for example back in 2006, it signaled a peak in Interest rate.

My takeaways for this conclusions are:
Dividend investing, even at 4% yield, is still valid and my strategy of picking up great companies that would pay growing dividends throughout time is still relevant and would continue to be so.
The long term bonds seems to be more attractive now. If indeed we are at the end of the rising interest rate era any quake in Main Street would lead to the safe haven of bonds.
The Equity markets are close to all-times-high while the Bonds market signals that there is not more room to hike the interest rate in 2019. At this point I prefer not to buy more stocks but wait for the opportunities that would arrive.
One of the key disciplines I try to maintain is patience. There is no need to rush in to the markets at any price. I currently possess the strategy to accumulate the dividends' flow and to wait for a major signal regarding the long term health of the economy.
I keep my eye of iShares 20+ Year Treasury Bond ETF (TLT) and on Schwab U.S. TIPS ETF (SCHP)
TLT could be interesting in the event that the 10 years Treasury yield would fall down to the levels of 3-3.2% the ETF is expected to drop down below $118. In this case it would deliver a 2.7% dividend yield paid monthly.

SCHP is interesting as the inflation rate reach 2.8% and this ETF tacks the US Treasury Inflation-Linked Bond Index (Series-L). So current yield is 2.3% but with expected inflation it could be much higher in the coming years. SCHP's management fees are very low at 0.05% which makes it very attractive as an alternative to bonds picking.

Conclusions:
The portfolio that was aimed to deliver a 4% dividend yield and grow over time continues to produce positive growth in the dividend front. In 14 quarters the dividend went up from $1,000 to $1,412.
At this point in time, as markets are reaching their all-times-high I prefer to either stay with a cash cushion or to pick up bonds ETF for the time being.
My mantra is: Understand what you are doing, have patience and possess confidence in both decisions and actions.
Happy Investing.
Disclosure: I am/we are long BBL, CVX, CONE, CBRL, PM, T, O, CMI, OHI, NHI, SCHD, VNQ, VTR, HCP, SBARF, MAIN, WEC, SO, JNJ, UL, SKT, ETN, HRL, ENB.
I wrote this article myself, and it expresses my own opinions. I am not receiving compensation for it (other than from Seeking Alpha). I have no business relationship with any company whose stock is mentioned in this article.
Additional disclosure: The opinions of the author are not recommendations to either buy or sell any security. Please do your own research prior to making any investment decision. If you want to get frequent updates on my portfolio, please push on the "Follow" button. Happy investing!