The U.S.'s Steel Tariff Would Be Targeting China's Steel Industry
The U.S has imposed a 25% tariff on steel imports. The steel tariff would be targeting China, the world's top steel producer and exporter. In 2017, China produced 831.7 million tons of crude steel, which comprised 49.2% of total world crude steel production, which was 1,689 million tons.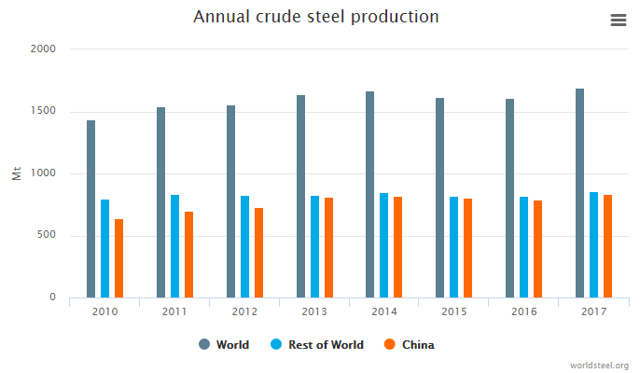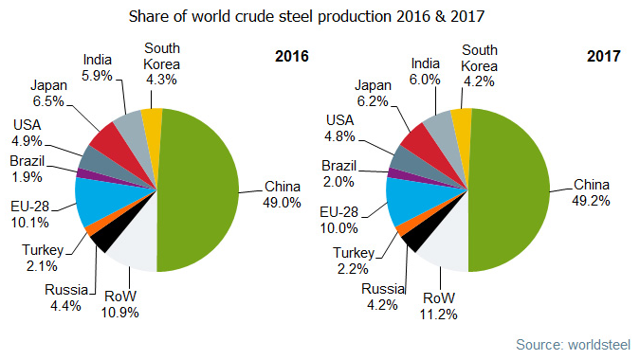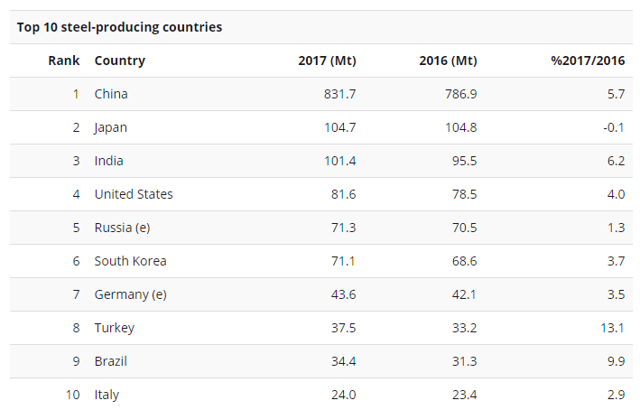 In 2016, China exported $107.5 million tons of steel, which comprises 34.2% of total world crude steel exports. (2017 public data was not available yet.)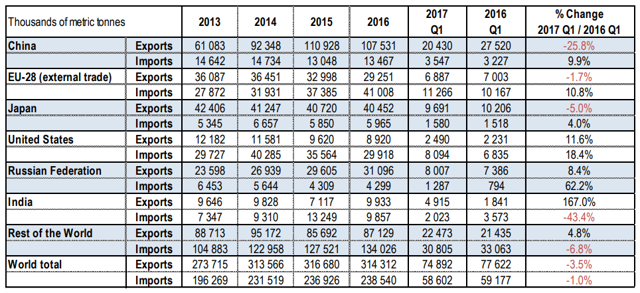 The European Union (EU) is about to implement safeguard measures on steel following the U.S. tariff. Other countries would implement similar barriers on steel to protect their domestic steel industry. Otherwise, low-priced steel products would be dumped to a country that has no barriers. These barriers will negatively impact steel exporters such as China, Japan, and South Korea.
China's steel price index has increased by 96.4% from December 2015 to August 2017 while the World Steel Price Index has increased by 43.7%. China's steel price is increasing faster than the world's steel price. China's government has reformed the steel sector. China has implemented quality inspections on the steel sector and closed and will close more of those who produce below standard measures.
The restructuring has pushed steel prices to increase in China. China's margin on crude steel exports has declined because the cost of production has increased. China's steel sector would experience a hard time to export because of the rising costs as a result of the reform and the global trend of barriers on steel imports.
Stock Markets
China's Shanghai Stock Exchange index has depressed by 16.02% year-to-date, compared to the S&P 500 stock index which appreciated by 3.79% year-to-date.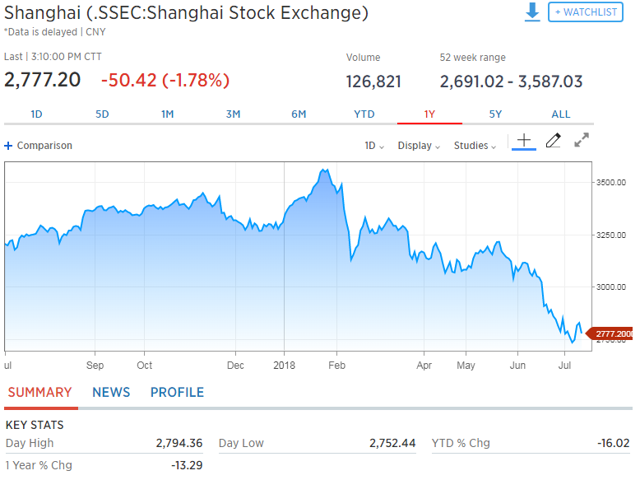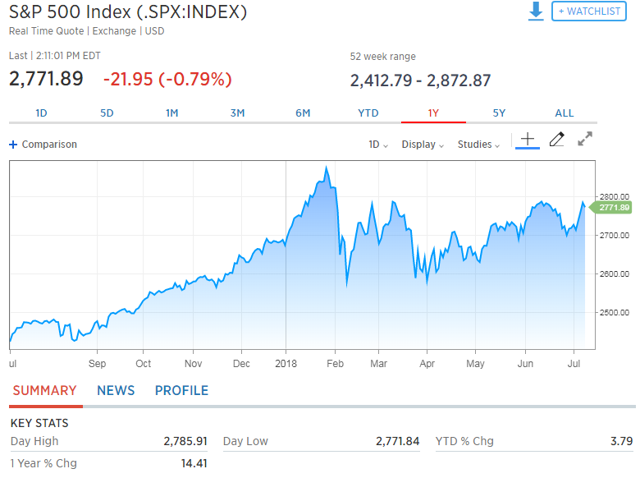 China's stock market would continue to suffer in 2018 because of the ongoing economy reform, demographic risk (which is covered in China: Demographic Crisis and Economic Outlook), and trade war with the U.S.
China Is More Vulnerable In A Trade War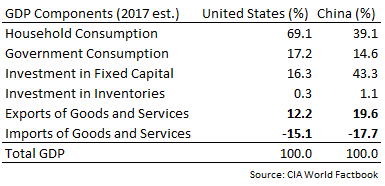 China is more of an export-driven economy (see above chart, exports of goods and services) and the U.S. is more of a consumption-driven economy (see above chart, household consumption). China is more vulnerable in a trade war because its economic growth is highly dependent on exports.
In 2017, the U.S. imported $505 billion from China and China imported $130 billion from the U.S. China would be able to impose tariffs on $130 billion of the U.S imports and the U.S would be able to impose tariffs on $505 billion of imports from China. Therefore, the impact of tariffs on the trade war between the U.S. and China would be more destructive on China.
5 Companies To Watch
Due to the trade war, U.S. companies operating business in China would face China risk; China's government might impose a sanction or penalty on American companies or Chinese would ban U.S. products.
Tesla (NASDAQ:TSLA) increased price by about 20% in China this month. Tesla's revenue from China was about $2 billion in 2017. General Motors (NYSE:GM) sold more cars in China than America. China is GM's largest market. Ford (NYSE:F) sold 6.6 million cars in 2017 and 1.2 million cars, 18% of total sales, were sold in China. Both Yum (NYSE:YUM) (NYSE:YUMC) and McDonald's (NYSE:MCD) operated about 17% of restaurants in China in 2017. These well-known U.S. companies would experience significant revenue decline in China due to the trade war.
This article is informative use only. This article represents my personal opinion. Each investor's buy, sell, or hold decision is based on one's risk tolerance, time horizon, and investment strategy. My personal opinion will not fit each reader's current investment strategy.
Disclosure: I/we have no positions in any stocks mentioned, and no plans to initiate any positions within the next 72 hours. I wrote this article myself, and it expresses my own opinions. I am not receiving compensation for it (other than from Seeking Alpha). I have no business relationship with any company whose stock is mentioned in this article.