India Inflation Signals More Hikes
Growth, inflation, and fiscal outlooks remain challenging in many emerging markets.
India's latest inflation numbers show that breathing space for the central bank remains limited. Even though headline inflation accelerated less than expected in June (to 5% year-on-year), it remains well above the target, while core inflation rose to 6.35% (see chart below). Another round of the Indian rupee's weakness and higher oil prices pose additional inflation risks going forward. It is with these considerations in mind that markets continue to price in 21bps of hikes for the next three months and two full hikes for the next six months.
The weakness of the growth momentum in parts of Latin America is concerning - especially in regards to potential implications for the fiscal outlook. Brazil's retail sales remained lukewarm in May (up 2.7% year-on-year), while Mexico's industrial production (a mere 0.1% month-on-month and 0.26% year-on-year) undershot consensus by a very wide margin. The fiscal connection (stronger activity=higher revenues) is moving to the forefront now given the sheer size of pre-election commitments in Mexico and reports that Brazilian Members of Parliament are weakening budget commitments for next year to the tune of BRL100B.
The U.S. dollar was a bit disappointed by June's inflation print, sliding by 22bps vs. the euro after the release. Even though both headline and core inflation accelerated last month, there were no upside surprises, and the inflation momentum now looks weaker than in early 2018. Thursday's numbers had little impact on market expectations regarding September's rate hike by the U.S. Federal Reserve, but the implied probability of the December increase is now below 50%.
Chart at a Glance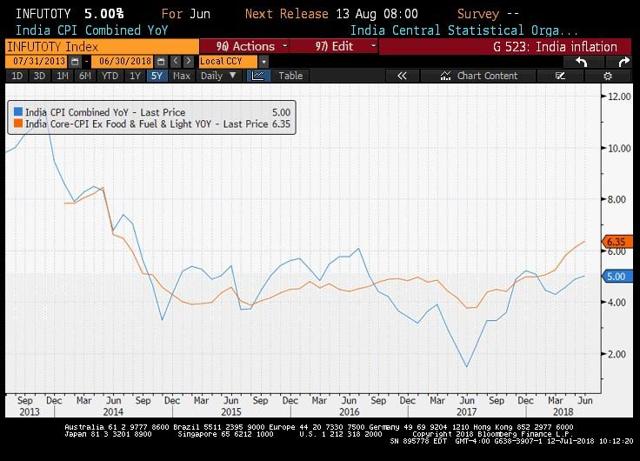 Source: Bloomberg LP
Important Definitions & Disclosures
PMI - Purchasing Managers' Index: economic indicators derived from monthly surveys of private sector companies; ISM - Institute for Supply Management PMI: ISM releases an index based on more than 400 purchasing and supply managers surveys; both in the manufacturing and non-manufacturing industries; CPI - Consumer Price Index: an index of the variation in prices paid by typical consumers for retail goods and other items; PPI - Producer Price Index: a family of indexes that measures the average change in selling prices received by domestic producers of goods and services over time; PCE inflation - Personal Consumption Expenditures Price Index: one measure of U.S. inflation, tracking the change in prices of goods and services purchased by consumers throughout the economy; MSCI - Morgan Stanley Capital International: an American provider of equity, fixed income, hedge fund stock market indexes, and equity portfolio analysis tools; VIX - CBOE Volatility Index: an index created by the Chicago Board Options Exchange (CBOE), which shows the market's expectation of 30-day volatility. It is constructed using the implied volatilities on S&P 500 index options.; GBI-EM - JPMorgan's Government Bond Index - Emerging Markets: comprehensive emerging market debt benchmarks that track local currency bonds issued by Emerging market governments.; EMBI - JPMorgan's Emerging Market Bond Index: JPMorgan's index of dollar-denominated sovereign bonds issued by a selection of emerging market countries; EMBIG - JPMorgan's Emerging Market Bond Index Global: tracks total returns for traded external debt instruments in emerging markets.
The information presented does not involve the rendering of personalized investment, financial, legal, or tax advice. This is not an offer to buy or sell, or a solicitation of any offer to buy or sell any of the securities mentioned herein. Certain statements contained herein may constitute projections, forecasts and other forward looking statements, which do not reflect actual results. Certain information may be provided by third-party sources and, although believed to be reliable, it has not been independently verified and its accuracy or completeness cannot be guaranteed. Any opinions, projections, forecasts, and forward-looking statements presented herein are valid as the date of this communication and are subject to change.
Investing in international markets carries risks such as currency fluctuation, regulatory risks, economic and political instability. Emerging markets involve heightened risks related to the same factors as well as increased volatility, lower trading volume, and less liquidity. Emerging markets can have greater custodial and operational risks, and less developed legal and accounting systems than developed markets.
All investing is subject to risk, including the possible loss of the money you invest. As with any investment strategy, there is no guarantee that investment objectives will be met and investors may lose money. Diversification does not ensure a profit or protect against a loss in a declining market. Past performance is no guarantee of future performance.
This article was written by
VanEck's mission is to offer investors intelligently designed investment strategies that capitalize on targeted market opportunities. VanEck seeks to provide long-term competitive performance through active and index strategies based on creative investment approaches and portfolio delivery.At VanEck we are driven by innovation, our hallmark since the company's founding in 1955. Our efficiently-constructed investment strategies benefit from our experience and in-depth knowledge of targeted asset classes. Our actively managed VanEck Funds target natural resource equities and commodities, emerging market equities, global fixed income, and liquid alternatives. Security selection is the cornerstone of our approach to managing these funds. Our index-based VanEck Vectors ETFs are purpose-built, aimed at either providing exposure to asset classes that are underrepresented in investor portfolios or offering a superior approach to established investment categories. We offer unique, actively managed investment portfolios in hard assets, emerging markets, precious metals including gold, and other alternative asset classes. Headquartered in New York City, we have a network of offices worldwide, including offices in Sydney (Australia), Shanghai (China), Frankfurt (Germany), Madrid (Spain), and Pfaeffikon (Switzerland).Disclosure: http://www.vaneck.com/seeking-alpha-terms-and-conditions/