We wrote not all that long ago that we didn't think the big Trump tax cuts would do all that much for the economy, and so far there is little reason to change our minds.
The main argument we used was that in order to have a substantial impact, the tax cuts need to move the needle on business investment quite substantially.
While it's likely it will have at least some effect (more especially for smaller businesses which couldn't hire expensive tax lawyers or make profits appear in low tax jurisdictions abroad), but we always thought that most of the money would simply go to buybacks.
The reason is simple, as we explained here: capital isn't scarce, it's abundant. Corporate America wasn't capital-constrained, as it:
Enjoyed record profitability
Enjoyed record high
Enjoyed record low interest rates
As we described in that article, the problem is not how to increase capital of job creators, but to activate the abundant (but dormant) capital they already have. We also provided a few suggestions in that article, but the Trump tax cuts are probably not the most effective way.
And indeed, so far, there is little in the way of a CapEx bonanza, but it's early days yet, even though there is already quite a share buyback bonanza.
We also argued that the timing of the tax cuts was unfortunate as the economy is in full swing already and close to full employment. Any stimulus, especially one of the considerable size of the present tax cuts could run up against capacity constraints in the economy.
Simply put, the US economy cannot grow beyond the growth of production capacity for any length of time. The growth of the production capacity is given by demographics and labor productivity: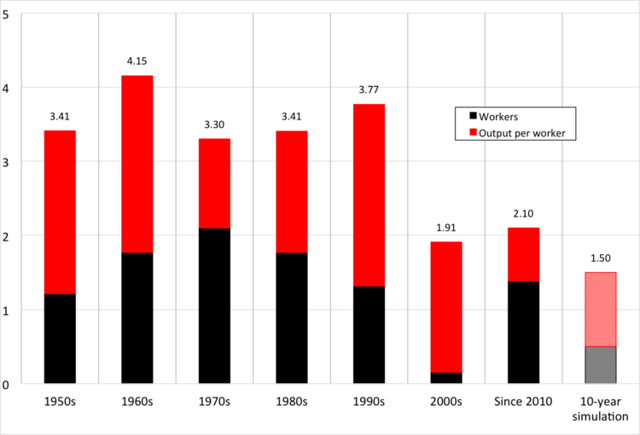 This isn't a pretty picture, as you see. The slow growth after the financial crisis was no accident, it was simply a reflection of demographics and productivity, for which there are no easy policy fixes, especially in the short run.
The simple fact is that the labor force is growing much slower now that the baby boomer generation is retiring and immigration is made more difficult. These are not things that policy can change especially not instantly.
We can think of two policies that might boost labor supply in the short term:
Expand day-care, maternity leave, stuff like that to attract more women into the labor force.
Expand retraining and active labor market policies to entice discouraged workers who have given up looking for a job.
Productivity increases really depend mostly on CapEx, which is why we keep stressing that throughout all our writings about the tax cuts.
The Tax Foundation, basically the only think tank that argued growth would get a substantial boost from the tax cuts, argued for an increase in business investment around $600B a year.
The funny thing here is, as Krugman has pointed out, that if this were true, this would also lead to a massive inflow of capital to finance the CapEx boom, as there is no increase in domestic saving (quite the contrary, the higher public deficit uses more savings).
This would lead to a higher dollar, a much ($600B) higher trade deficit and lead to a loss of manufacturing jobs. But the evidence so far is that there is no such boom in CapEx, just a little bit of a trickle: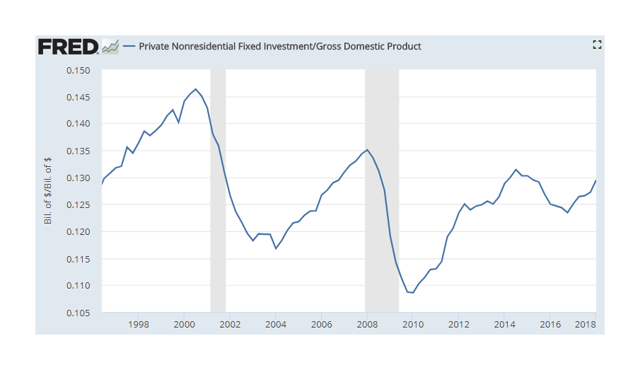 But surely, this must have some economic effect: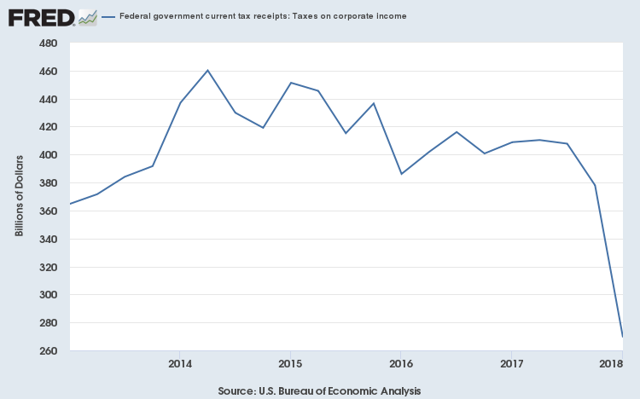 Well, as we argued this has gone mostly into buybacks (NBC):
Over the past year, S&P 500 companies have given their shareholders a record $1 trillion in the form of buybacks and dividends, led by Apple, Cisco Systems, and other technology giants. Stock repurchases hit nearly $190 billion in the first quarter for the S&P 500, according to preliminary results from S&P Dow Jones Indices. The last time that record was set was just before the Great Recession, when companies bought up almost $172 billion of buybacks.
That's still more money in the economy, especially as the Federal government is not cutting back in response to the tax cuts. And there is a lot of optimism surrounding the tax cuts that is likely to have some economic effect in itself.
But the more this would boost the economy, the more likely it is to run into sharp objects, like:
Produce higher wage and/or price inflation and a more hawkish Fed.
Risk the wrath of the bond markets and rising yields.
Higher interest rates could boost the dollar and let much of the stimulus leak abroad.
On all three fronts, there has been some movement, but not necessarily any decisive one. But now we have the San Francisco Fed whose researchers argue that the tax cuts might not even stimulate the economy at all. Why is that?
Well, because the actual Federal budget deficit is larger than the cyclical component of the Federal budget deficit, and this unusual gap is expected to widen further. That is, fiscal policy is extremely pro-cyclical.
This has two possible consequences for the effectiveness of fiscal policy:
Raising concerns over the capacity to respond to future crisis and the ability to finance the growing Federal debt. These worries could increase the risk premium for US bonds.
The authors cite a wealth of studies showing that the fiscal multiplier is much weaker during boom times.
There is a proviso that these studies are generally about the multiplier effects of increased public spending, and that evidence is pretty solid. There is little research on the effects of tax cuts during boom times because these tend to be rare.
However, the authors argue that during boom times, the amount of people who are liquidity-constrained (unable to borrow or easily liquidate assets to finance spending) is substantially less which should produce a substantially reduced fiscal multiplier from cuts during booms. Here is the conclusion of the authors (our emphasis):
To put the above results in perspective, note that a number of macroeconomic forecasters expect the TCJA to boost 2018 GDP growth by around a percentage point. The literature discussed above suggests the true boost is more likely to be well below that, as small as zero according to some studies.
Should investors worry? Not really. While the tax cuts are unlikely to boost the economy much (even if we're likely to get a large Q2 GDP print, but this has more to do with distortions from the trade front, like countries which used to buy soybeans from Brazil shifting to the US), investors get the boost from the optimism and the buybacks.
Disclosure: I/we have no positions in any stocks mentioned, and no plans to initiate any positions within the next 72 hours. I wrote this article myself, and it expresses my own opinions. I am not receiving compensation for it (other than from Seeking Alpha). I have no business relationship with any company whose stock is mentioned in this article.