I have owned shares of IBM (NYSE:IBM) since 2013. The market has performed remarkably well since I originally purchased those shares. As a matter of fact, it's up ~91%. I've heard jokes about how it would take skill to lose money being long equities in such a market. Some say that a monkey could have thrown darts at the S&P 500 chart and done quite well for itself. Actually, it was me who said that, many times. Well, apparently, that monkey is a better stock-picker than me. At least, some of the time.
Thankfully, I manage a very broadly diversified equity portfolio, and IBM makes up only 0.35% of my overall holdings. I'm currently sitting on a 19.8% loss on my shares, but I don't fret much because, on the whole, the size of my investment portfolio is much larger today than it was in 2013. Also, when I factor in the dividends I've received since my original purchase, I'm actually close to breaking even. I have no ill will towards IBM, either. Holding grudges in the market doesn't make much sense, if you ask me. So, in this piece, I pose the question: is IBM worth another look?
Why am I interested in taking a look at this stock again, now that it's been one of the biggest dogs in my portfolio for years now? Because the dividend recently crossed above the 4.5% threshold, and, at a certain point in time, reliable income outweighs future growth concerns. As you can see in the graphic below, IBM's dividend yield recently hit a 5-year high.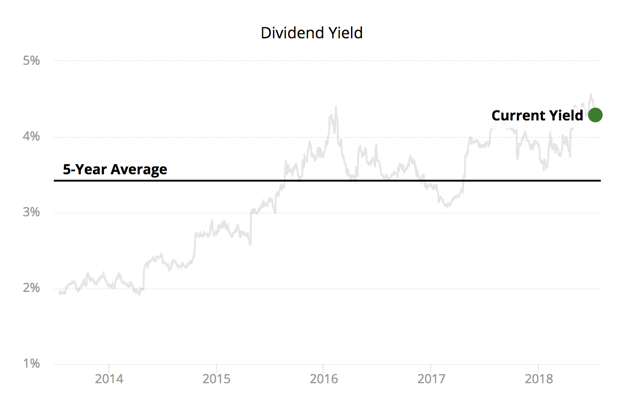 Source: Simply Safe Dividends
When I invest in high yielding names, I only expect 5-7% total return from them. The majority of this total return comes in the form of the dividends they pay me. In other words, a high income investment in my portfolio is about just that: high income. I get total return, growth, and dividend growth elsewhere.
When I bought IBM, I expected it to be a strong dividend growth story. Those were the days of the 2015 roadmap, calling for all sorts of things that never came to fruition. Needless to say, IBM has been a fountain of disappointment for me personally. It's funny, going back and reading the article I wrote about my original purchase of IBM in 2013, I sided with Big Blue over Microsoft (MSFT). Now, it's worth admitting that those were the dog days of Microsoft as well. The company was widely viewed as a cash cow surviving off of legacy hardware without any growth prospects big enough to move the needle.
Here's what I said about MSFT in relation to IBM back then, "I've also considered Microsoft for its Azure platform, but can't get past several other roadblocks: my personal distaste for Windows 8 and belief that while Xbox is a wonderful gaming system with a bright future, it doesn't have the muscle to move this lagging behemoth along."
History can be cruel, can't it? Sometimes, it makes you look silly. Thankfully, it didn't take me all that long to change my mind on MSFT, and I bought shares in March of 2015 for $41.46 a piece, locking in what was a 2.99 yield at the time. I've added to MSFT several times since then, and now, I'm sitting on a sizable gain.
What's more, MSFT has morphed into one of my favorite DGI stocks in the market under new CEO Satya Nadella. Obviously, revolutionary CEOs don't simply grow on trees, but Nadella is a great example of what a change of leadership can do for a company, and I think it's too bad that IBM's board has stuck with CEO Ginny Rometty for so long. As much as I hate to say it, Rometty's name has become synonymous with underperformance in the big-tech world, and, frankly, I'm flabbergasted that she's been allowed to stick around Big Blue for so long.
But, all negativity aside, IBM does have a handful of positive aspects that could result in solid future returns. First of all, there's the dividend. As previously stated, IBM is yielding nearly 4.5%. This is impressive in itself. However, when you factor in the company's 23-year dividend growth streak and its 20-year dividend growth CAGR of 14.8%, you begin to realize how special this dividend just might be.
Now, I admit that I'm looking in the rear-view with regard to that dividend growth CAGR. IBM's most recent increase was only 4.6%. The one before that was 7.1%. The one before that was 7.6%. The one before that was 18.2%. As you can see, we're headed in the wrong direction here.
Why? Because earnings growth is no longer supporting annual double-digit dividend growth. To sustainably raise a dividend like that, a company must increase its EPS over time in a similar fashion to the dividend growth. And to grow EPS sustainably over time, companies must increase their sales (financial engineering, cost cutting, efficiency measures can only take a company but so far; there has to be ongoing demand for their products and services creating growth). This second bit, regarding rising sales, is where IBM as struggled so much.
When it announced Q4 earnings back in January, IBM broke a notorious streak of consecutive negative top-line growth that spanned back more than 5 years. That's incredible isn't it? At a certain point, over 20 consecutive quarters of negative growth, you'd think that easier comps would have resulted in yoy growth. Well, that just shows how dire things have gotten for Big Blue under Rometty.
Every year, they set records for patents. Every year, they buy back a ton of stock. IBM is still very profitable and maintains respectable levels of cash flows, but with so much talk about the cloud and A.I. and Watson, the company simply hasn't found a growth vehicle powerful enough to cancel out the slowing legacy segments.
Since 2013, IBM's total annual revenues have fallen approximately 20%, from $99b to $80b during the TTM. Net income and EPS are trending negative as well. Free cash flow has remained fairly steady over the past 5 years, hovering around $13b per year. Margins are trending in the wrong direction as well, and long-term debt has increased from ~$32b to ~$40b.
Really, looking at a 5-year chart, the only redeeming quality of IBM's financials, other than its impressive cash flows, are its dividend, which has increased from $3.70 in 2013 to $6.00 today, and its share count, which has been reduced by 12.9% since 2013.
But, as I said, IBM finally returned to growth earlier in the year, so are things beginning to turn around? Was I simply 5 years too early on my IBM call? Could Big Blue become the next "old tech" company to revolutionize itself, returning to growth, and blowing investors away like Microsoft?
Without change at the top, I doubt it.
But, even without change and revolutionary growth, IBM could still provide investors with satisfactory total returns over the short-medium term from this price point, assuming management sparks just the slightest uptick in the flat to slightly negative growth status quo. Assuming IBM could grow sales at 2-4% per year, use their cash flows to pay a ~4.5% dividend, and retire a percent or two worth of the float with buybacks, we're talking about the potential high single-digit total returns.
What's more, the market has put such a low valuation on IBM that is sentiment changed just a smidge because of reliable growth in the low-mid single digits, an expanding multiple, from the 10.5x multiple that IBM is trading at today, to say, a 12x multiple, which is still well below the broader markets, we're looking at ~20% returns. You give me 20% returns on any investment in any year and I'm going to be a happy camper.
So, what could spark that tad bit of growth that might change the tune the market whistles when thinking about IBM? Even though IBM had one of its worst trading days in years after its most recent earnings, where guidance was tepid, and analyst believed that expectations were primarily met due to tax benefits, there were positives.
The company highlighted its "strategic imperatives" segment, which is its growth engine, including cloud and security. Strategic imperatives posted 15% revenue growth during the quarter (SI revenues were up 10% in constant currency measures). Trailing twelve-month revenues from the strategic imperative segment totaled ~$39b at the end of the quarter, representing approximately half of the company's sales.
So, roughly half of IBM at the moment is posting double-digit growth. This is something to hang your hat on. Cloud, security, and A.I. are the places to be in big tech at the moment. The questions remain, can IBM continue to execute and change its growth narrative, and how much should investors be discounting the legacy sides of the business?
These are obviously difficult questions to answer. That's probably why IBM has analyst estimates for price targets all over the board. According to Yahoo Finance, IBM has 20 analysts who cover it with PT's ranging from $125/share to $200/share. Right now, the average price target is $167.70, representing nearly 15% upside from here.
Only time will tell if IBM will continue to post growth or if it will fall into another slump. I typically don't like investing using so many backwards looking metrics, but when it comes to IBM, I can't help but focus on the abysmal last 5 years or so. This stock meets so many of the income/value-oriented thresholds that I would love to buy into; however, because of its perilous growth history, I'm still in a show-me state of mind.
At the bottom of the great recession, IBM shares bottomed out with a ~9.3x multiple. Being that I'm fairly cautious on this name, I think that ~9x area seems like a pretty safe multiple to buy the stock at. As ridiculous as it might seem, a company with the name recognition and dividend yield of IBM trading at such low multiples, it's worth noting that the stock actually got cheaper than that, falling to an ~8.5x TTM multiple during the sell-off in early 2016. Shares bounced off of $125 then, which happens to correspond to 9x 2018's consensus EPS estimate of $13.83.
At $125, I think I'd be locking in a fairly wide margin of safety. I'd also be receiving a dividend yield of 5.02%. The fact that the 9x area also lines up with the 5% threshold leads me to believe that I'm sniffing up the right tree here. Bottoms often form around round yield thresholds. A 5% yield would help to ease many of my growth concerns, paying me a hefty sum annually as I watch and wait for a turnaround.