A notable victim of the strong U.S. dollar this year has been China. The extent to which a strong dollar is undermining China's economy cannot be understated, and the magnitude of this problem is something every investors should understand. In this commentary we'll examine the ways in which a strong dollar will continue to pressure China's financial market and how U.S. investors will benefit from this.
The dollar's strength of the last few months has had an indisputably negative impact on China. That impact can be seen in both the weakness of China's yuan currency along with the decline of its stock market, as reflected in the SSE Composite Index shown below.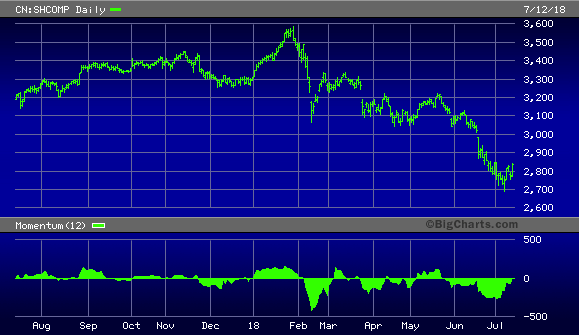 Source: BigCharts
One problem facing China is a slowdown in its manufacturing sector. The Chinese economy is starting to feel the effects of an internal crackdown on lending and risky financing. China's equity market volatility is also being fueled by fears over a trade war with the U.S. One indication of China's slowdown was seen a few months ago when its purchasing managers' index, China's official gauge of manufacturing activity, suffered its biggest decline in six years which left it near the zero-growth level.
Along with a slowing economy, China has also had to deal with a weakening of its yuan currency. After an impressive rise in the yuan in 2017 and the early part of 2018, the yuan has been in decline since April. China's loss has been America's gain, however, as the U.S. dollar index (DXY) has strengthened since April. The graph below shows the inverse correlation between the two currencies. Plotted here are the trajectories of the Wisdom Tree Chinese Yuan Strategy Fund (CYB) and the dollar index (DXY) over the last three years. It's clear enough to see here that the dollar's gradual consolidation of strength beginning in February this year was a prelude to the yuan topping and eventually declining.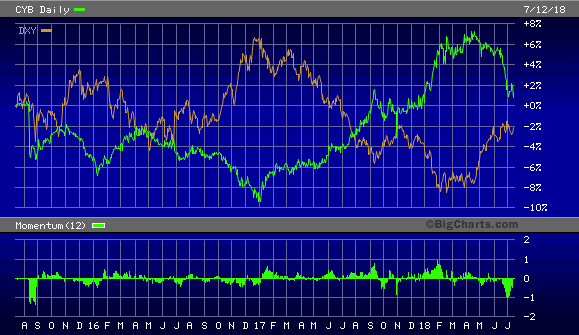 Source: BigCharts
More recently, the dollar has strengthened as the result of flight-to-safety demand among foreign investors - some of them from China - as several major emerging and developed markets overseas experience declines. Foreign investors view the dollar as a safe haven right now and are helping to push the greenback's value up while other currency values diminish.
The rising dollar is accelerating outflows from China, which in turn is putting additional pressure on its already weakened currency and equity markets. The last time the dollar showed significant strength versus the yuan in late 2016, many Chinese investors began quickly moving money out of the country in an effort to keep their savings from losing value. They now have an incentive to do the same thing as the dollar continues to strengthen.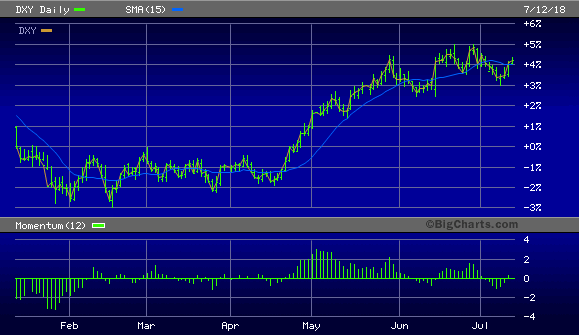 Source: BigCharts
The Chinese economy has built up dangerous debt levels that will sooner or later have to be dealt with, and China's government has even acknowledged that domestic economic growth will slow. In the meantime, China must fight a war against outflows as it attempts to shore up its financial market. As with its currency weakness, the decline of China's equity market is once again the benefit of U.S. investors. U.S. equities have benefited from foreign "hot money" inflows in recent months as investors from other countries seek shelter from the emerging market decline by purchasing U.S. stocks. This trend shows no signs of slowing anytime soon.
Shown here is a graph which reflects the relative strength of the S&P 500 Index (SPX) compared with the iShares China Large-Cap ETF (FXI), which can be used as a rough proxy for China's stock market. This graph clearly illustrates the extent to which the U.S. stock market is outperforming China's. Consequently, it argues for a U.S.-centric investment strategy which is focused heavily on owning U.S. publicly traded companies while avoiding China stocks.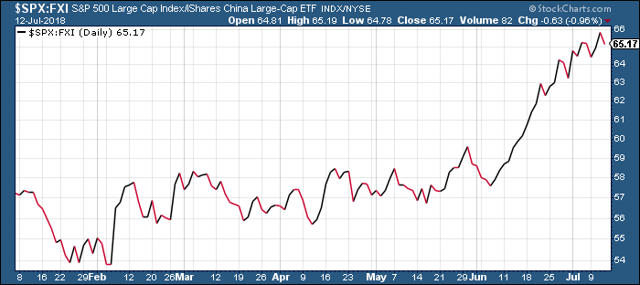 Source: StockCharts
With the U.S. currency and equity market showing impressive levels of strength, investors would do well to maintain heavy exposure to domestic equities and avoid the temptation to buy what appear to be bargains among the beaten-down ETFs and ADRs of emerging market stocks, including China. As I've argued in previous commentaries, the U.S. financial market is the proverbial "only game in town" right now and isn't likely to surrender the mantle of leadership anytime soon. Investors should position their portfolios accordingly.
Disclosure: I am/we are long XLK, IYR. I wrote this article myself, and it expresses my own opinions. I am not receiving compensation for it (other than from Seeking Alpha). I have no business relationship with any company whose stock is mentioned in this article.