Major bear markets in grain prices tend to be related to several countries having huge crops and beneficial global weather at the same time. This results is demand destruction and lower prices. Companies such as Monsanto Co. (MON) and John Deere & CO (DE) tend to see their stock prices drop. However, low grain prices can help livestock producers, as feed costs are lower.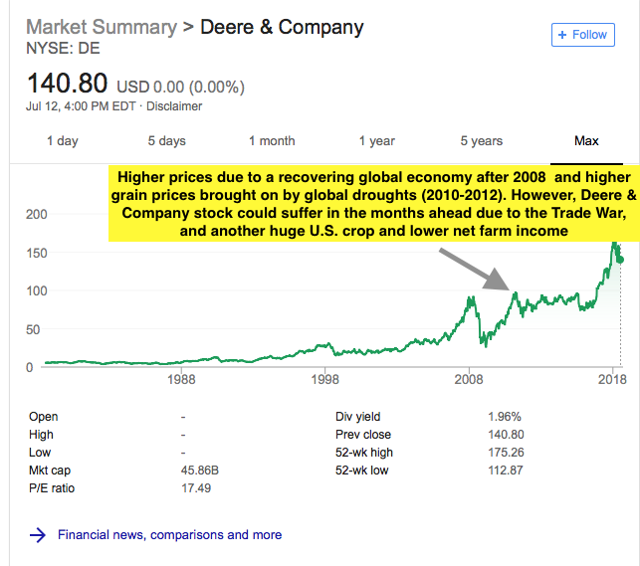 The great bull market in corn (CORN), soybeans (SOYB) and wheat (WEAT) between 2010-2012, was partly responsible for the "Arab Spring" (A series of protests and demonstrations across the Middle East and North Africa), due to the political instability over high food prices. Back then, soybeans hit $15 a bushel, corn $8 and wheat over $10. Net farm income hit an annual $95.7 billon a year.
Today, global instability is not being affected by higher grain prices, but due to Trade Tariffs put on by the Trump Administration on Canada, the EU and China. This is not new news. Grain prices have taken it on the chin because of these Tariffs, but adding to their demise is the fact the Midwest weather has been ideal for early corn and soybean crops. I see little hope of this changing in coming weeks. Global weather issues have remained for wheat, but large stocks remain due to six consecutive years of bumper wheat crops. Wheat, out of all of the grain, has the best potential to rally, or at least not fall out of bed. This is because of lower wheat crops in Europe and Australia where hot-dry Pre El Nino type weather, could continue to lower crops
My forecast several weeks ago painted a rosy picture for U.S. grain crops, but problems for global wheat production. You can see some of my predictions here
Agricultural tends to be very cyclical. For the U.S. economy and the average consumer, low grain prices are of course beneficial. Lower grain prices and big crops also help alleviate food shortages in developing countries. However, as a trader, I see little hope for any sustained rally for these two popular grain ETF/ETN. The PowerShares DB Agriculture ETF (DBA) and IPath Bloomberg Grains Total Return ETN (JJG) .
BestWeather Spider and Commodity Sentiment
My last article on Seeking Alpha showed my prediction (below) for lower corn and soybean prices. Since that time, corn and soybeans have fallen an additional 10-15%. Wheat and cotton (BALB) have the best potential to rally. While sugar prices (CANE) have collapsed due to the over hang of large global crops and Indian policies, drought in Brazil and higher crude oil prices (CO) may possibly help sugar prices stabilize in the months ahead. Natural gas (UNG) on the other hand, saw a bullish reaction on one of the warmest May and June periods on record, but a cooler mid-late summer could keep prices from rallying very much
Old June 12th, BestWeatherSpider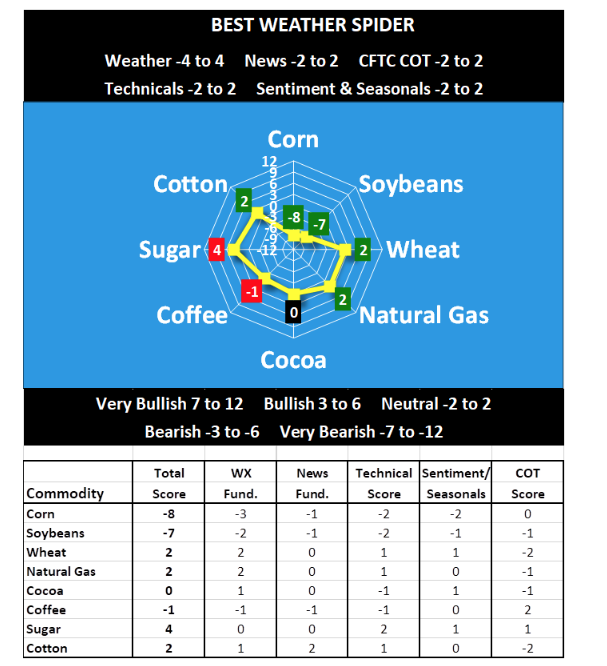 My BestWeatherSpider above will be updated every week for interested traders, farmers and commodity enthusiasts in a new "paid subscription" service I will be offering soon. For more information, please email me at subscriptionsbestweather@gmail. com
Disclosure: I/we have no positions in any stocks mentioned, and no plans to initiate any positions within the next 72 hours.
I wrote this article myself, and it expresses my own opinions. I am not receiving compensation for it (other than from Seeking Alpha). I have no business relationship with any company whose stock is mentioned in this article.