Propelled by strength across the portfolio, JPMorgan (NYSE:JPM) delivered a beautiful quarter this Friday morning.
Net revenues of $28.4 billion (on a managed basis) topped last year's $26.7 billion by 6%, with EPS of $2.29 beating consensus expectations by seven cents and suggesting 2017 and early 2018 momentum appears to have carried forward into 2Q18.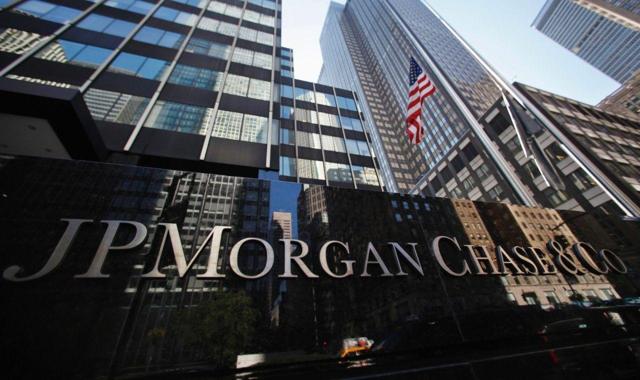 Credit: Varchev
On the numbers
It's hard to pick an area of material weakness in the bank's results. Impressive to me at first was a CCB (consumer and community banking) division that saw growth across all its sub-segments, largely supported by a 13% YOY increase in net interest income, except for the long struggling (but much smaller) home lending business. The combination of double-digit net revenue growth, improved non-interest cost efficiency (overhead ratio of 55% vs. 57% last year) and much lower tax expenses translated into impressive net income growth above 50% within this segment.
Also worth mentioning here was a substantial drop in credit loss provision, following previous net reserve builds in cards that concerned me for a moment. In addition, 30-day delinquencies fell sharply on the home lending and auto sides of the business, which I find encouraging, even though cards did not experience the same positive trends. As I have argued several times in the past, I worry about the double-whammy impact of rising interest rates and increasing debt balances on individual consumers' ability to meet their obligations, particularly if (better yet, when) macro forces turn negative following a rare, near decade-long stretch of economic strength, low unemployment and (more recently) rising wages.
Supporting my sector-wide credit concerns for the long term is the total U.S. non-housing debt chart below. It suggests to me that, outside mortgage, the Great Recession seems to have done little to reduce leverage in the country - which I see as a risk.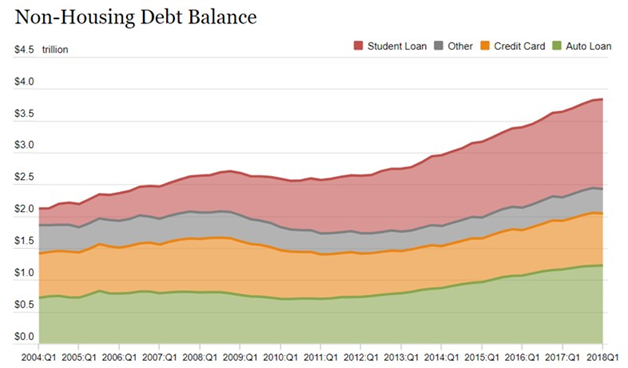 Source: Federal Reserve of New York
Otherwise, I was impressed with the performance of the CIB (corporate and investment banking) division, despite the management team's May projection for flat trading revenue in the quarter. Not unlike 1Q18, JPMorgan was once again able to marry recent strength in investment banking with a much better performing markets and investor services business, following a brutal 2017. The return of market volatility this year is very likely behind the strong fixed income revenue growth of 7% and the equity market's 24% rebound off a low 2Q17 base. Given JPMorgan's leadership in investment banking and the active secondary market environment, I expect this division to continue to perform well at least in the next quarter or two.
On the stock
There's little doubt in my mind that the banking sector is looking healthy as it undergoes a period of economic strength and slowly rising interest rates that I believe bodes well for banks in general. Within the peer group, JPMorgan appears to be one of the best-performing institutions, which I believe is reflected in a series of 11 consecutive all-around quarterly beats and a high-performing stock that has pulled ahead of the sector average, along with my favorite name in the space, Bank of America (BAC). See chart below.

Source: Yahoo Finance
That said and considering (1) relatively low current-year P/E of 11.9x and (2) moderate but healthy next-year EPS growth expectations of nearly 9%, JPM is looking compelling at current levels. I would be remiss, however, to ignore the risks associated with being overweight banking shares right when the sector seems to be going through a macro cycle peak. For that reason, I would gladly consider adding JPM to my current BAC position, but would only do so within the context of a properly risk-balanced portfolio.