Lithium production from brine is expected to grow significantly in the next decade, with the lithium triangle in South America as its epicenter. Brines from which lithium is extracted also contain high concentrations of potassium, leading to fears that potash production will increase in tandem and disrupt the potash market.
As a shareholder of a few potash names, I take seriously any factor that can disrupt the market, and I want to assess how tangible the risk is. In this article, we will investigate whether the lithium boom is indeed a threat to the current potash producers or if fears are overblown.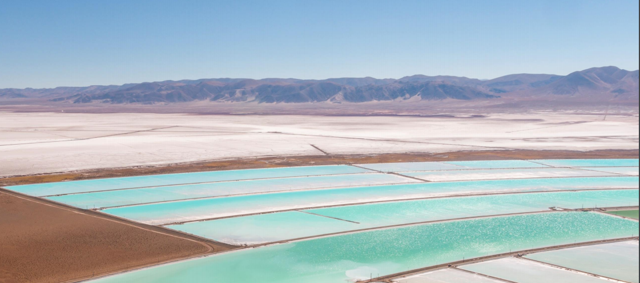 (Orocobre's Salar de Olaroz. Source: Orocobre's presentation at the Noosa Mining Conference)
What Lithium And Potash Have In Common
Lithium and potash can either be mined from hard rock or extracted from brine. Pegmatites (hard rocks) from which lithium is mined do not contain commercially viable amounts of potash. The overlap happens in the case of brine, a salt solution rich in both lithium and potash.
As an example, Sociedad Quimica y Minera de Chile (SQM), the world's largest producer of lithium, extracts both lithium and potash from its Salar de Atacama. The process is depicted by the chart below: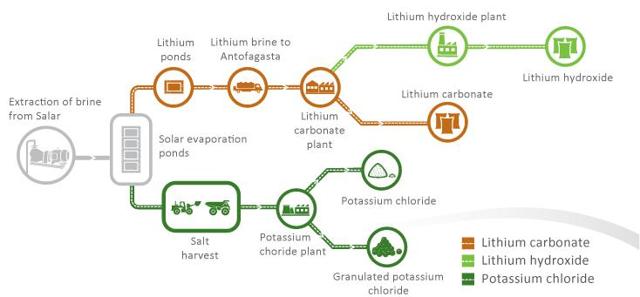 (Source: SQM's website)
How The Lithium Boom Could Disrupt The Potash Market
The lithium-ion battery technology has risen to prominence whenever mobility is required, thanks to lithium's high charge-to-weight and power-to-weight ratios. The rise of hybrid and full electric vehicles is already having a big impact on the lithium market and demand is expected to soar in the next decade.
As a result of high lithium prices and strong growth prospects, lithium projects have multiplied, with a pack of junior miners exploring the Chilean and Argentine salars, while major producers like SQM, Albemarle (ALB), and FMC (FMC) are also busy expanding their current brine operations.
Note: companies with new projects in the lithium triangle include Orocobre (OTCPK:OROCF), Galaxy Resources (OTCPK:GALXF), Neo Lithium (OTCQX:NTTHF), Lithium Americas (OTC:LAC), Lithium Power International (OTCPK:LTHHF) Millennial Lithium Corp (OTCQX:MLNLF), Advantage Lithium (OTCQX:AVLIF), LSC Lithium (OTC:LSSCF), Wealth Minerals (OTCQX:WMLLF), Lithium Chile (OTCQB:LTMCF), Eramet (OTC:ERMAF) among others. Investors interested in lithium names can refer to Matt Bohlsen's articles on the topic.
What does this mean for the potash market? As we saw above, lithium and potash are often found in the same brines, and the newly-explored salars are no exception. As an illustration, the resource estimate below for Orocobre's Salar de Olaroz lithium operations shows significant amounts of potassium (its concentration is actually much higher than that of lithium):

(Source: Orocobre's Orocobre's 2017 annual report)
Interestingly, when the resource estimate was first released in 2011, Olaroz was labelled as a "lithium-potash" project. 10 million tons of potassium translates into 19.3 million tons of MOP (muriate of potash). This is not a small amount: it equates to about 30% of annual global consumption. Of course, only a fraction of the resource would be extracted from the salar each year, but with so many projects underway, the impact on the potash market could, on paper, be significant.
The economics of potash in 2011 were much stronger than they are now, and lithium prices much lower. With lithium now in such high demand, Orocobre has prioritized the production of lithium, putting potash on the back burner - and this is of importance to potash investors.
Lithium Producers Cannot Do Two Things At Once
As it is, Orocobre is not alone in giving priority to lithium. I think this trend is key when trying to assess any potential impact on the potash market. The potassium resources exist, no doubt, but they will not be tapped as long as producers have more incentives to pursue lithium.
As we saw earlier with the chart from SQM, the lithium and potash processes are not the same, and potash is not a by-product of lithium production. Historically, SQM has run both operations, but new producers cannot afford to do two things at a time: their efforts and, importantly, the funding they get, are focused on lithium.
Even SQM has been prioritizing lithium. The company's potash production has been retreating for the past few quarters, leading to significant declines year-over-year.

(Source: SQM's Q1 earnings press release)
This strategy is explicitly pursued by management, as they prefer to allocate more brine to lithium extraction:
Revenues in the potassium chloride and potassium sulfate business line were impacted by lower sales volumes during the first three months of 2018, which decreased 58.8% compared to the first quarter last year. These lower sales volumes follow the same trend we saw during the second half of 2017, as we began to focus our efforts in the Salar de Atacama on increasing lithium production. We believe that total potassium chloride and potassium sulfate sales volumes will be under 1 million MT during 2018.

(Source: SQM's Q1 earnings press release)
It's still early days, but ironically, the lithium boom has had an unexpected short-term effect on the potash market: far from creating a glut, it has withdrawn some tons from the market. The SQM shortfall was a factor in the firming of potash prices in S1 2018.
Cost Considerations
Let us now assume that lithium producers actually decide to produce potash in parallel (which looks unlikely at this stage, as we have just seen). How would they fare against the current potash producers?
There are two main forms of commercial potash: potassium chloride, aka muriate of potash (MOP), and sulphate of potash (SOP).
MOP is usually mined in the big, hard rock, operations of potash giants like Nutrien (NTR), Mosaic (MOS) and Russian/Belarussian producers such as Belaruskali, Uralkali, and Eurochem.
The most modern mines, like Nutrien's Rocanville or Mosaic's Esterhazy expansion, typically exhibit cash costs per ton of MOP in the region of $50. Helped by a weak ruble, Eurochem's new Usolskiy and Volgakaliy mines will have costs even lower than that. There is, of course, significant capex upfront, but once built, the mines can run for decades at these low cash costs.
Brine operations are more expensive, and cash costs in excess of $100 are the norm. Once the upfront capex for greenfield projects is factored in, all-in sustaining costs (AISC) are too high to compete in the MOP space, where prices have been stuck below $300 since 2016.
One area where new producers could compete is SOP, which commands a significant premium and is already produced from brine by the likes of Compass Minerals (CMP) and Intrepid Potash (IPI) - in addition to SQM which produces all potash types. SOP is probably the type of potash that lithium producers would target, but not all of them have the right resource.
Takeaways
Based on current developments, I do not think the lithium boom will result in a potash glut. Lithium producers are busy developing their core lithium business, and potash, though abundant in brine, is not a natural by-product of lithium production.
There is one scenario in which I can see lithium producers turning to potash for good. New technologies will emerge, possibly in the next decade, that will make the lithium-ion batteries redundant. At that point, lithium producers may be confronted to a dramatic fall in lithium prices, and opt for potash production instead.
Given the significant cost advantages enjoyed by hard-rock MOP producers, I don't see the likes of Nutrien and Mosaic being threatened by brine operations. SOP producers like Intrepid Potash or Compass Minerals could experience more competition. But this is a very distant prospect, and changes will not happen overnight. For the time being, investors in the potash space should not lose sleep over the lithium age.
Disclosure: I am/we are long NTR, MOS, CMP. I wrote this article myself, and it expresses my own opinions. I am not receiving compensation for it (other than from Seeking Alpha). I have no business relationship with any company whose stock is mentioned in this article.
Additional disclosure: The opinions and views expressed in this article are for information purposes only and should not be used or construed as an offer to sell, a solicitation of an offer to buy, or a recommendation to buy, sell or hold any security, investment strategy or market sector.
Editor's Note: This article discusses one or more securities that do not trade on a major U.S. exchange. Please be aware of the risks associated with these stocks.