The USD continued its firming path this week, building on US' strong jobs report last Friday. The main catalyst was Thursday's strong CPI data, which showed a 2.9% YoY rise in inflation for June. The Federal Reserve has been looking far and wide for signs of inflation to support their 3-rate-hikes-a-year plan, but they have been failing for years. All of a sudden it seems, the long lost guest has finally made its grand appearance at the front door of his own welcome party.
Surprisingly, traditional safe havens like XAU and JPY have performed terribly of late during a period when trade tensions remained high. Instead, the markets have been flocking to the USD as a safe haven asset, causing the USD to remain the strongest G10 currency of 2018. It is of no coincidence that rising interest rates (increasingly supported by rising inflation) have played a major part in stemming inflows into zero-carry instruments like the XAU and JPY. Why do so, when holding the USD provides safe-haven status as well, while at the same time providing investors with positive carry?
This week's move in USDJPY was extremely significant. As seen from the chart below, USDJPY fired past 112, forcing the currency pair out of the downward sloping channel. With this assertive breakout, this brings the next resistance levels around 114-115, and it is very likely these levels will be tested soon. USDJPY has historically been an early indicator of where Treasury yields are headed, and this week's breakout sends a strong signal that Treasury yields are most probably headed higher. 3% on the 10-year looms psychologically large in the distance.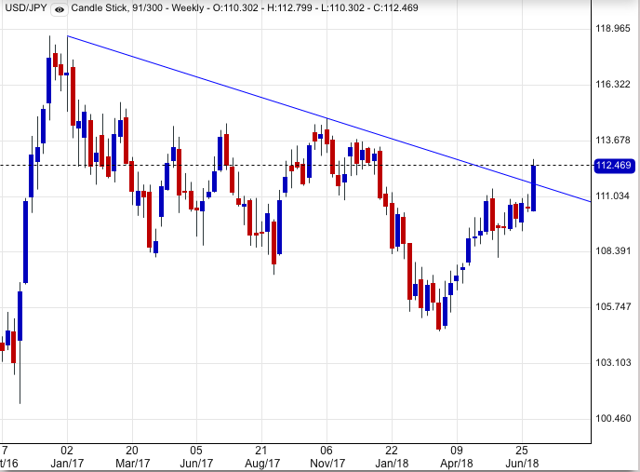 For investors who want to obtain USD exposure, I suggest entering Invesco DB US Dollar Index Bullish Fund (UUP), an ETF that gives investors broad USD exposure against a basket of currencies - the exact composition can be seen below, with EUR comprising more than half of the short position against the USD.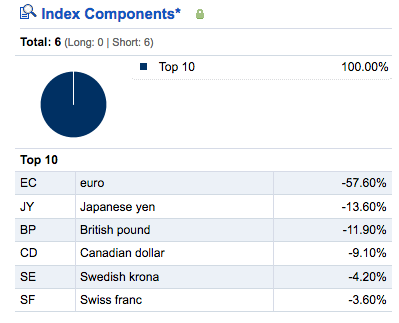 Alternatively, investors who want to focus on a USDJPY spot trade can consider placing a limit buy at 112, with a stop loss just below 110, and a take profit of 115. Inflation is King Dollar's best friend at the moment, and should we see the delayed inflationary effects of higher oil prices feeding into the economy, this could well provide another boost for a leg higher in the USD.
Disclosure: I/we have no positions in any stocks mentioned, and no plans to initiate any positions within the next 72 hours. I wrote this article myself, and it expresses my own opinions. I am not receiving compensation for it (other than from Seeking Alpha). I have no business relationship with any company whose stock is mentioned in this article.