Real Estate Weekly Review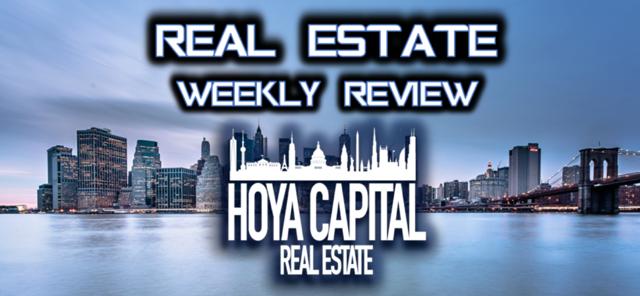 After reaching a fever-pitch last week with tit-for-tat tariff announcements between the US and China, geopolitical and trade concerns eased this week following reports of a productive and constructive European tour by the Trump Administration. The S&P 500 (SPY) jumped nearly 2% as equity markets cheered the nomination of Brett Kavanaugh to the high court, who has a demonstrated record of scrutinizing government overregulation on businesses. Inflation and JOLTS data also suggested that the "Goldilocks" economic environment of solid growth and modest price pressure appears to be continuing in 2018.
The REIT ETFs (VNQ and IYR) finished the week modestly lower ahead of earnings season, which kicks-off next week. The 10-year yield held steady as oil prices (NYSEARCA:USO) retreated following Libya announced it will re-open oil ports following a two-week hiatus. Homebuilders, (XHB and ITB) meanwhile, climbed 1%.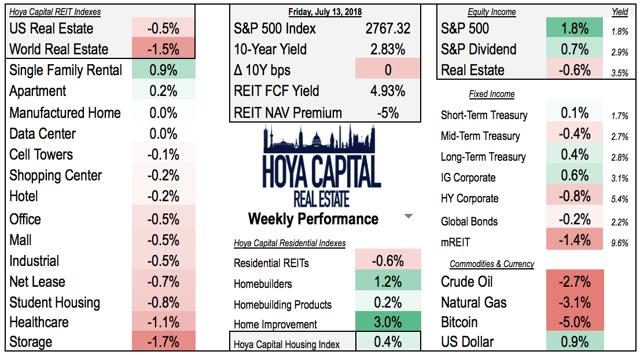 (Hoya Capital Real Estate, Performance as of 2pm Friday)
In other areas of the real estate sector, mortgage REITs (REM) finished the week lower by roughly 1% while international real estate (VNQI) finished lower by 1.5%. The Hoya Capital Housing Index, which tracks an average of residential REITs, homebuilders, homebuilding products, financing, and home improvement retailers, climbed 0.5%, powered by strength in the home improvement sector.
Real Estate in the News
Earnings season kicks off next week in the real estate sector with industrial REIT Prologis (PLD) and cell tower REIT Crown Castle (CCI) set to announce earnings on Tuesday and Wednesday, respectively. In our 1Q18 Earnings Recap, we discussed that REIT metrics appear to have bottomed in 2017. Same-store NOI growth rose 2.5% on a TTM basis. Dividends and FFO/share improved in 1Q18 but remain modestly lower YoY. Fundamentals are showing signs of improvement across most sectors, reversing a downtrend that began in late 2016. Resilient demand has buffered the impact of peaking supply growth. Private market valuations remain firm. The persistent NAV discount across most sectors, however, has made acquisition-fueled growth more difficult.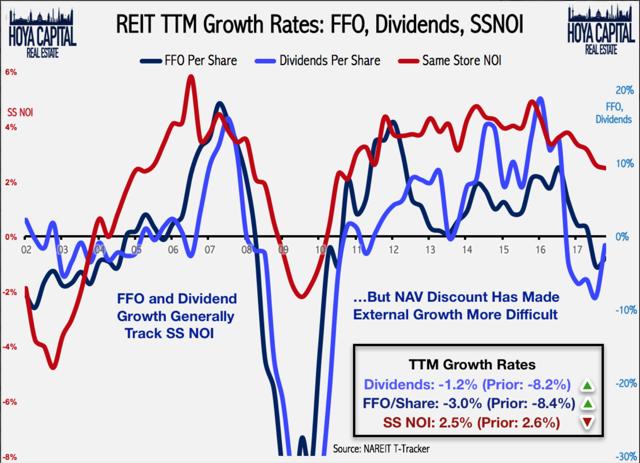 National Storage Affiliates (NSA), the smallest of the five self-storage REITs, announced a joint venture plan to contribute 25% of the financing to purchase a $1.325 billion self-storage from a Brookfield Asset Management-owned fund, according to a GlobeStreet report. Heitman Capital Management, NSA's JV partner, will contribute the other 75% for the 112 unit portfolio, which will significantly increase the size of NSA's current 551-unit portfolio. NSA's portion of the financing will come from roughly $160 million in cash and a public offering of nearly 6 million new shares. NSA finished the week lower but has considerably outperformed the other storage REITs over the past two years by pursuing an aggressive growth-oriented strategy despite the broader slowdown in self-storage fundamentals. We wrote about the sector in Self-Storage REITs: Light At The End of The Tunnel.
Home Depot (HD) and Walmart (WMT) each announced plans to expand their network of distribution centers. In a battle against Amazon (AMZN) encroachment into the home improvement category, Home Depot plans to invest more than $1 billion over the next five years in their supply chain, largely in logistics warehouse space, to improve the speed and efficiency of order fulfillment. In a similar move, Walmart plans to open an e-commerce fulfillment center in New York City for its Jet.com division. We discussed how the "need for speed" in goods distribution has been a boon for industrial REITs in Industrial REITs: The Strong Get Stronger. Separately, a Wall Street Journal article this week discussed that the availability rate for warehouse space is at the lowest level since 2000.
Invitation Homes (INVH) and American Homes (AMH) were featured in a prominent Wall Street Journal article on Monday discussing how institutional interest in buying single family rental homes remains strong, in part because of the proven operating performance of SFR REITs over the last several years. In a trend that we discussed in Single Family Rental REITs: Growing Pains, the "institutionalization" of the single family housing market is still in the very early innings and is being powered by a younger generation of households that don't appear to have the same homeownership desire as prior generations. Rising home values and relatively easy financing conditions for large SFR portfolios have allowed institutional investors to expand within the space.
2018 Performance
REITs are now higher by 0.1% YTD on a price-basis, continuing a steady recovery after a brutal start to 2018 that saw the sector down nearly 10% on the year in mid-February. Despite the recent strong performance, REITs are still underperforming the S&P 500 on the year, which is higher by roughly 5%. Homebuilders are off by 14% after rising more than 50% last year. The 10-Year yield has climbed 43 basis points since the start of the year, aided by the 21% climb in the price of crude oil.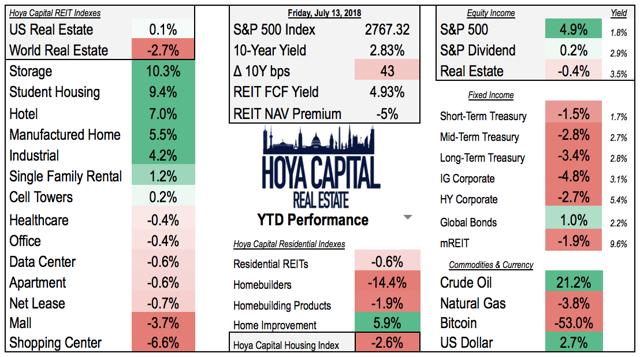 Hotel, manufactured housing, storage, and industrial REITs have led the way so far in 2018 while retail REITs have continued to lag. Below is the total return performance by the real estate sector, as categorized by NAREIT.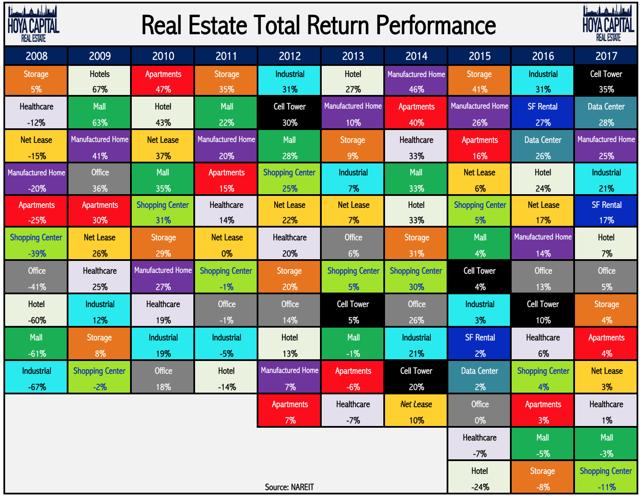 REITs and housing-related equities have outperformed the broader US stock market over the last 25 years. The NAREIT All-Equity REIT Index has delivered a 12.1% average annual return while the Fidelity Construction & Housing Fund (FSHOX) has delivered a 10.8% annual return since 1994. Going forward, absent continued cap-rate compression, it is reasonable to expect REITs to return an average of 6-8% per year with an annual standard deviation averaging 5-15%. This risk/return profile is roughly in line with large-cap US equities.
Real Estate Economic Data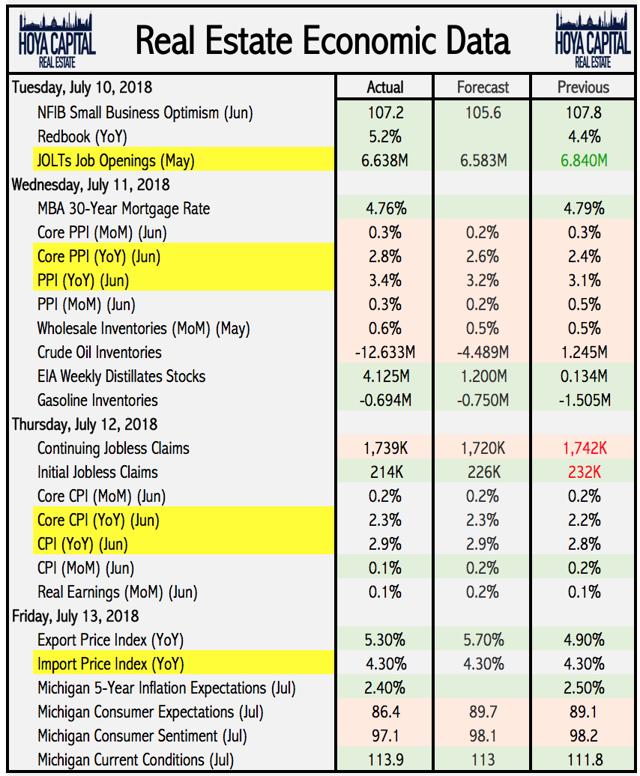 (Hoya Capital Real Estate, HousingWire)
Inflation Heats Up
Since the passage of tax reform last December, inflation has become a central focus for investors. There is concern that we may be entering a new "economic regime" of faster growth and higher inflation, a departure from the "Goldilocks" environment of moderate growth and low inflation that was seen as favorable to asset valuations. A tighter labor market, a significant rise in oil prices, and the effects of proposed tariffs also add to inflationary concerns.
June inflation data was broadly in-line or slightly below expectations, a welcome relief for investors fearing a continued uptick through 2018. Core CPI ticked up to 2.26%, the highest level since late 2016, while the broader CPI level rose 2.9%, the highest level since 2012. Driven by higher oil prices, producer prices are rising at a faster rate with Core PPI rising 2.76%, the highest since late 2011. Inflation expectations, however, remain muted as investors appear to believe that this recent uptick in price pressure is largely a transitory effect of higher oil prices. The 5-Year, 5-Year Forward Inflation Expectation rate peaked on February 2 at 2.35% and has retreated back down to 2.15%.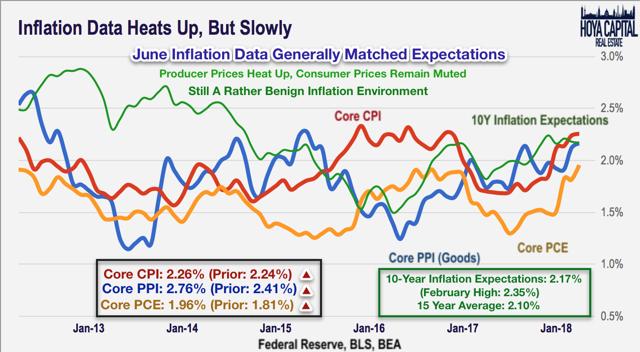 Shelter accounts for 34% of the CPI weight and since 2013, it has been significantly above the overall inflation rate. From 2015 through late 2016, shelter inflation was the one of the only component keeping Core CPI out of deflationary territory. We have discussed for several quarters that we expect shelter inflation to moderate as the lagging CPI data "catches up" with current market conditions in the rental and housing markets. Core CPI excluding shelter, however, is quickly approaching its fastest rate since 2012, again fueled by the bleed-through from rising oil and gasoline prices.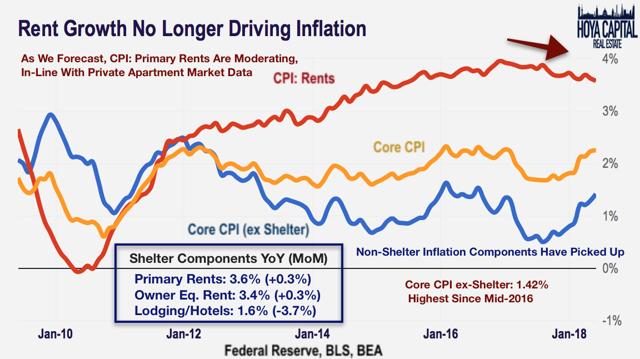 Our models suggest that CPI data tends to lag the current market conditions by 12-24 months, a function of the calculation methodology of the data series. As highlighted by the Zillow ZRI data above, private rent inflation data shows that national market rents are rising at a roughly 2% rate, far short of the 3.6% rate in the CPI data. This would suggest that as shelter inflation reverts to current conditions, it will serve as a significant drag on the overall inflation rate.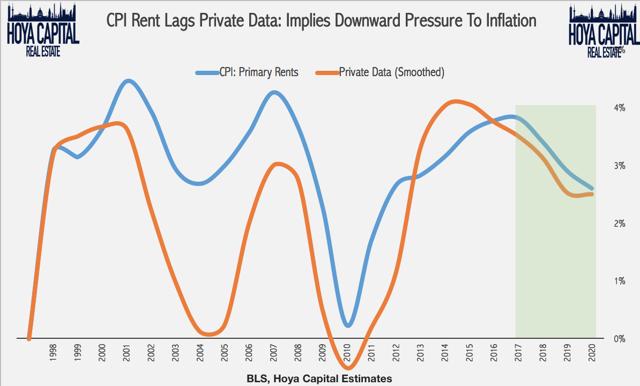 Ultimately, we believe that the path of inflation will largely depend on two critical variables: the price of energy and the trade-weighted value of the US dollar. Even though Core CPI excludes energy, the price of gasoline and utilities typically flow through into core components. Oil prices are higher by 50% YoY while gasoline prices are up 25%, both of which will contribute to upward inflationary pressure. Natural gas prices, however, have decreased 3% over the last year, keeping electricity price pressure muted. The US Dollar, which has rallied over the past quarter, remains lower by 1% YoY.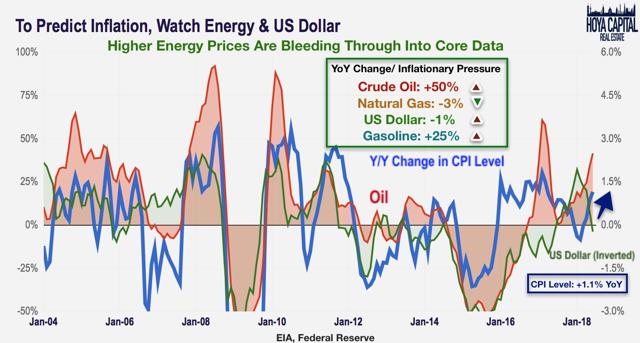 So long as real estate equities are being driven by interest rate movement, commodity prices become an important factor determining weekly price movements in the real estate sectors. REIT and homebuilder investors should be hoping for a moderation in oil and gasoline prices to the "Goldilocks" environment of solid growth and low inflationary pressure.
JOLTs Data: A Job For Every Unemployed Person
Evidence of broad-based strength in the labor markets continues to show across nearly all metrics, as deregulation and corporate tax reform appear to have added another leg to the labor market recovery. Last week, nonfarm payrolls data showed that 1.29 million jobs have been added so far in 2018, representing a significant uptick in hiring from the rate of 2016 and 2017. This week, JOLTs showed that 6.6 million jobs are available and the rate of hiring rose to 3.9%, the highest rate since 2015.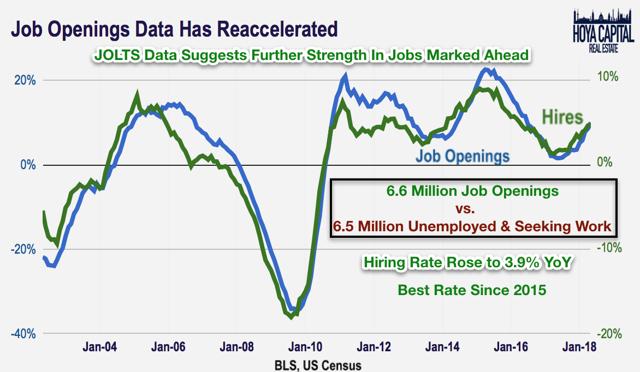 The rate of voluntary quits continues to rise, a sign of increased labor market dynamism and an indication that workers are feeling more confident about their financial situation. The lack of labor market dynamism in the post-recession period has been blamed for weak productivity growth and there is hope that the uptick in the quit rate may foreshadow future productivity gains as workers pursue jobs that better maximize their skills. Despite several announced layoffs that are given extensive media coverage, the rate of involuntary layoffs remains near record lows.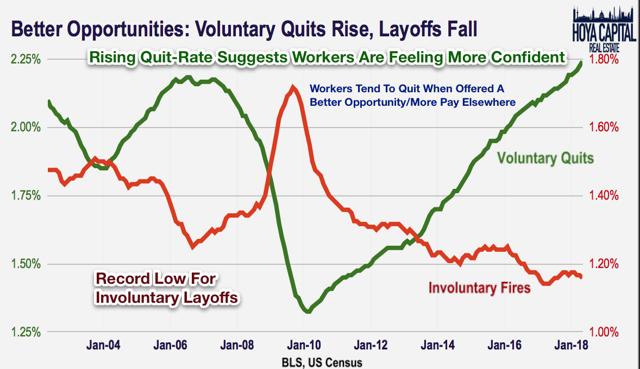 The continued strength in the labor markets has been one of the ongoing conundrums for economists, many of whom had expected the rate of hiring to slow and wage pressures to accelerate as the unemployment rate declined to multi-decade lows. We have discussed for many quarters that traditional measures of unemployment are not comparable to past decades due to the extraordinary amount of individuals that are entirely out of the workforce, and thus not counted in the headline "unemployment" figures. Even after 93 consecutive months of job growth, there remains nearly 30 million unemployed prime-aged (25-54) Americans. Structural reforms may be needed to fully unleash this segment of the workforce. If this can be accomplished, we believe this suggests further slack in the labor markets and continued modest pressure on wage growth.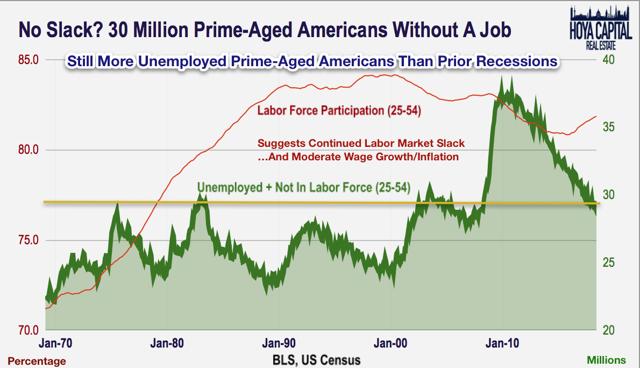 Bottom Line
US equities jumped nearly 2% this week as trade and geopolitical tensions appeared to ease following reports of constructive meetings with NATO and the UK. Homebuilders climbed 1%. REITs held steady ahead of earnings season, which kicks off next week. The sector has climbed into positive territory YTD as fears over rising rates and inflation have subsided.
Fueled by rising oil prices, consumer prices are rising at the fastest rate since 2012. Core CPI and PPI in June, however, were roughly in-line expectations and inflation expectations remain muted. Evidence of broad-based strength in the labor markets continues to show across nearly all metrics. The rate of hiring increased to the fastest rate since 2015 according to JOLTS data. The rate of voluntary quits continues to rise, a sign of increased labor market dynamism and indicating that workers are more confident about their financial situation. Layoffs are near record lows.
Be sure to check out all of our reports to see how each real estate sector stacks up: Net Lease, Malls, Industrial, Data Center, Apartments, Shopping Center, Hotel, Office, Healthcare, Industrial, Single Family Rental, Cell Tower, Manufactured Housing, Storage, Homebuilders, and Student Housing.
Please add your comments if you have additional insight or opinions. We encourage readers to follow our Seeking Alpha page (click "Follow" at the top) to continue to stay up to date on our REIT rankings, weekly recaps, and analysis on the real estate and income sectors.