June 2018 is over, which ends the second quarter of the year as well. I am always excited to see quarter ending results. I was not able to break the all-time high dividend record, but I did come very close. March of this year still holds the dividend record for a single month.
Here is how the stats are broken down from the seven companies that paid me in June. Let's see how we did.
Dividends
June dividends add up to $138.39, which represent a 48.7% increase from last year where I made $93.03. Here are some charts to show the comparison and progress, but you can always see the full dividend income breakdown here.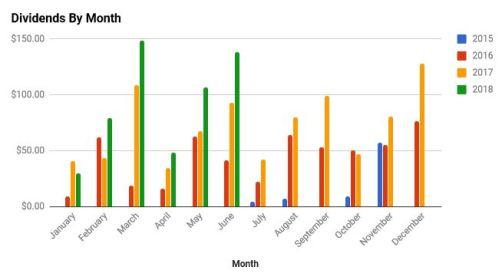 Even though I did not break the record for most dividends in a single month, I did make a new record. This is the first time I have received triple-digit dividend income for two months in a row! I would ideally like to keep this streak going, but the January dividend cycle is usually very low for me. I buy for value and not the month something pays out in, so it usually doesn't build up as fast as the other months. My portfolio will get there one day, with being able to consistently hit the triple-digit mark every month. It is still in the early phases.
Last year at this time I only received dividends from five companies. This year seven paid out, so the new additions are working. Most of the growth is coming from my two newer utility sector purchases. When that sector was way down a little while back, I was able to add D as well as SO to my portfolio. A few dividend increases since last year helps this growth also.
Quarter Updates
2017 Q2 Dividends: $194.97
2018 Q2 Dividends: $293.22
YoY% Gain: 49.6%
I use Personal Capital to track as well as my own spreadsheets to analyze a lot of my data. Last year I was able to collect $194.97 in the second quarter of 2017. I was able to blow that out of the water with the $293.22 from Q2 2018. Even though April was a very light month for dividends, the average for the quarter is almost $100 a month. This is the closest I have ever gotten to an average of triple digits per month. At almost $300 for the second quarter, this represents an almost 50% growth from last year!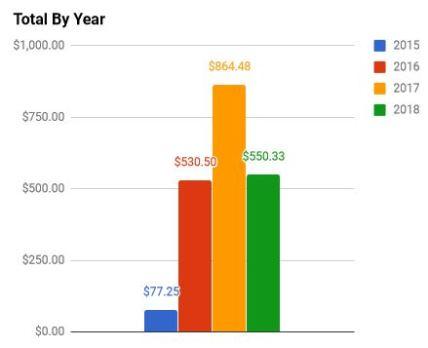 Can't believe the year is already half way over. But on the bright side, I have just surpassed what I made from dividends two years ago in 2016. The strategy is working and can't wait to see how my numbers look for the rest of the year.
How did your portfolio perform in June? Did anyone break any records or post huge gains? What big accomplishments have you had this year or are still striving for? Your comments are welcome below.