We suggest a risk-on stance in portfolios given decent economic growth and strong earnings, but we see a greater need for ballast given heightened economic uncertainty and tighter financial conditions.
We see steady global growth ahead, but with a broader set of possible economic outcomes. Tightening financial conditions, building trade tensions and procyclical U.S. fiscal stimulus all add to the uncertainty, as we detail in our outlook. Protectionist pressures and higher interest rates would likely have an outsized negative impact on the Canadian economy, which is highly reliant on both trade and credit expansion to fuel growth. Fortunately, U.S. fiscal stimulus is giving a helpful boost to the Canadian economy at a time when oil prices are also firming.
Economic activity has slowed in Canada this year from the heady pace of late 2017. Our BlackRock Growth GPS points to growth of nearly 2% over the next twelve months, in line with consensus and consistent with the Bank of Canada's (BoC) assessment of economic activity over 2018 and 2019 (see the chart below). Recent economic data have been consistently solid even though exports and investment in expanded productive capacity have undershot for this phase of the cycle.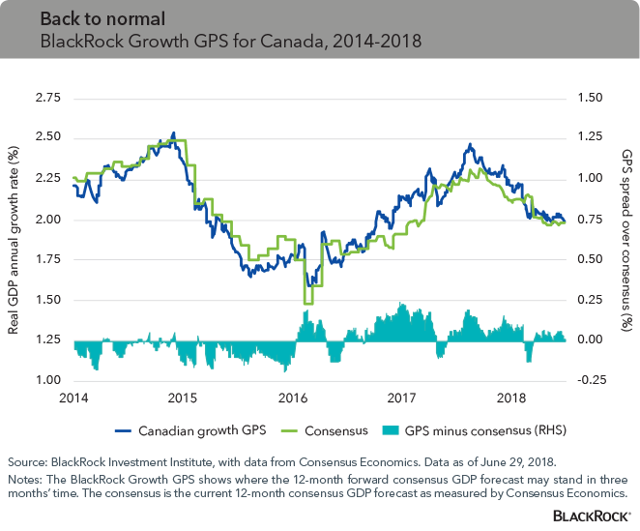 Canada's potential growth is being revised higher, but production constraints are beginning to appear across many sectors and real wages are suddenly showing signs of life. Our own BlackRock Inflation GPS for Canada shows inflation firming but not to a level that would pose a problem from a policy perspective (see the chart below). We think the BoC will lag the Fed's rate normalization path given the high domestic debt burden in Canada, the increasing rate-sensitivity of the economy and the slower pace of economic activity. The big debate rests on how much weight the Bank gives to trade uncertainty at a time when economic activity remains decent.
Weaker growth, trade uncertainty and divergent monetary policy paths have taken their toll on the Canadian dollar, which has steadily weakened in 2018. Unlike the euro, Japanese yen and British pound, the loonie is following short-term interest rate differentials. Had it not been for oil price strength, the loonie would be even weaker. We think the loonie's depreciation may have gone too far, especially if oil prices remain firm. Escalating trade tensions, especially surrounding auto tariffs, remain the key risk to the Canadian dollar.
This mix of monetary policy and economic fundamentals sets up a rather different investing environment for the second half of 2018 for fixed income. We believe shorter-maturity Canadian fixed income represents better value than longer maturity bonds. This echoes the preference for short-duration debt expressed in our outlook, although the advantages at the front end of the curve are more extreme in the U.S. And we still see a role for long-term debt as portfolio ballast against any risk-off episodes. The Canadian rate curve is also very flat, mirroring moves south of the border. We reiterate our global bond preference to move up in quality in credit and see selected opportunities in hard currency emerging market debt.
Canadian equities outperformed global equities by a wide margin in local currency terms in the second quarter, shrugging off escalating trade tensions and slowing economic activity. This marked a turnaround after substantial underperformance in the first quarter and much of 2017 (see the chart below). Yet, year to date, the Canadian stock market has lagged other developed equity markets after adjusting for the weak loonie.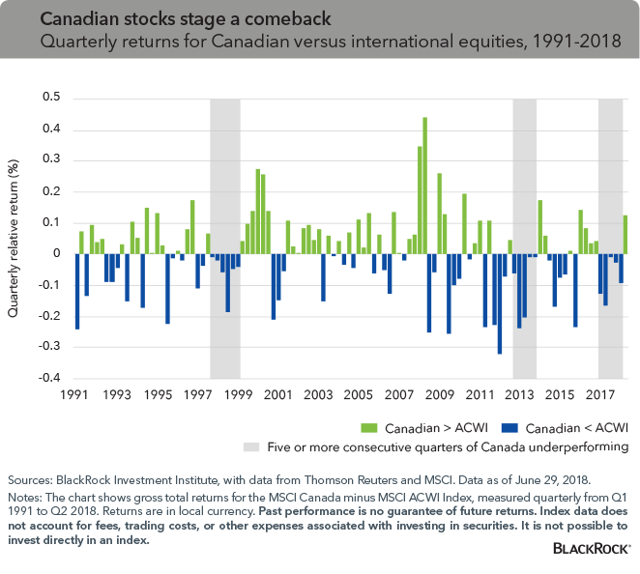 There is still a large valuation discount in Canadian stocks relative to the U.S., especially on a price-to-book basis. Worries about Canadian competitiveness, NAFTA termination, high household indebtedness and a correction in the housing market have kept the risk premium for owning Canadian stocks elevated. While expected earnings growth this year of 16% and next year of 12% (buffeted by strong real wage growth and high oil prices) is reasonably healthy and would suggest decent returns for Canadian stocks, it's unclear what will unlock this value amid persistent trade, housing and rate hike uncertainties.
As we note in the midyear outlook, we see increased need for portfolio resilience amid rising uncertainty. To this end, we recommend taking some risk out of equities and investing the proceeds in short-duration fixed income. We have downgraded our view on Japanese and European stocks, where upside appears more limited. We prefer equity markets with the greatest earnings growth, like U.S. equities and the technology sector. We like the momentum factor still, but we have recently begun to favor quality (i.e., companies with solid balance sheets and ample cash flow generation) over value.
This post originally appeared on the BlackRock Blog