A recent post from the International Monetary Fund suggests slower productivity growth is a cause of slow employee pay growth.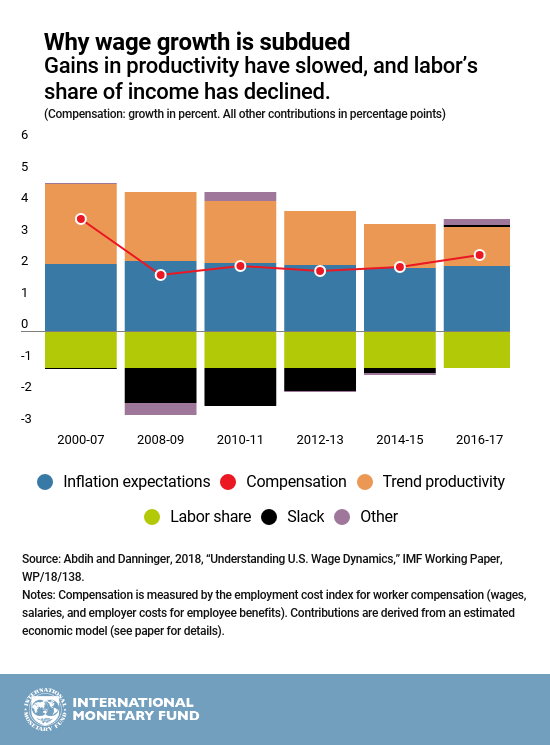 The chart shows that worker compensation (the red line) has increased just 2 percent or so each year, on average, since the Great Recession, down from 3½ percent in the eight years before. That's barely keeping up with expected inflation - the blue bars - even though unemployment, or "slack," has diminished, as indicated by the black bars.

A key explanation lies in slower labor productivity growth, as depicted by the orange bars. How productive workers are is a key factor for employers when making compensation decisions. If workers aren't producing as much, employers need to restrain pay growth to sustain profitability.
In the potential universe of possibilities of the relationship of productivity and wage growth:
productivity is affecting wage growth,
or wage growth affecting productivity,
or are both affected similarly by another variable not identified,
or ???
I see competitive pressures as the primary reason wage growth is not more robust. Consumers have a choice what product or service to buy. The IMF added two more possibilities for low wage growth:
Another factor that has held down wage growth is a falling share of income that is paid to workers (the green bars). In an earlier study, we examined the reasons behind this decline and found that the bulk of the effect came from changes in technology that are linked to the automation of routine tasks, followed by import penetration.
Labor productivity is the relationship between inputs (total employees) and output (amount of product or service produced). Here is how this relationship compares to real wage growth.
When employment levels and output grow at nearly the same rate - there is little productivity growth. In other words, the graph below confirms the IMF position that when productivity growth is small - wage growth is small. Real average hourly earnings (blue line) is well below the growth of GDP (output - red line) and employment growth (green line).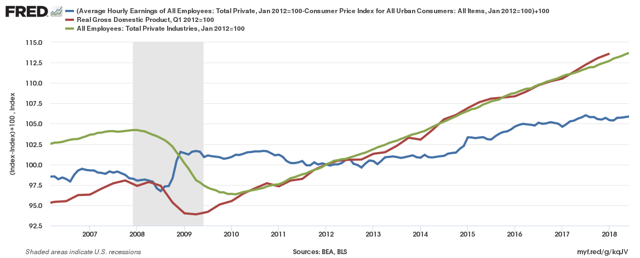 There is significant productivity growth in retail trade. Notice with significant productivity improvement (the spread between real sales and employment) real wages are lagging (and have plateaued) even though the spread between employment and retail sales grew. This graph contradicts the IMF theory that productivity growth drives wage growth. [Note that the similar graph for manufacturing tells the same story].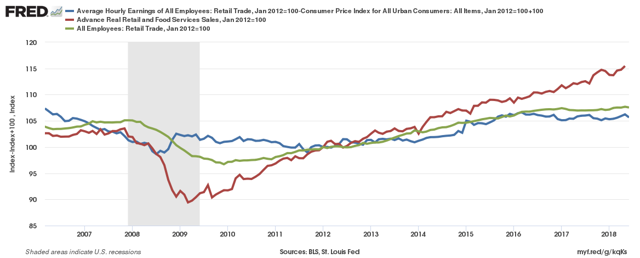 There seems to be a modest productivity improvement in health care - but again wages are not being driven by productivity.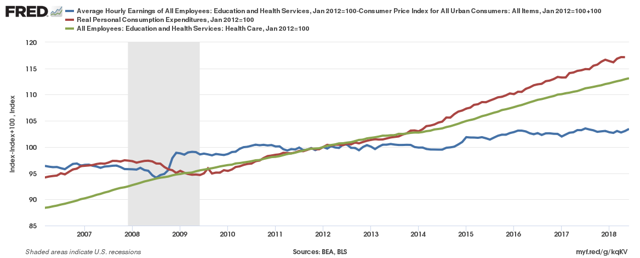 The above look at productivity vs. wages is down and dirty. But this quick analysis indicates productivity has little more than a weak effect on wages - at least this is true in the current economic climate.
Higher wages would translate into more consumer spending. The current mediocre growth of wages will not push higher growth for a consumer based economy. And this will impede higher inflation adjusted sales growth for business.
My usual weekly wrap is in my instablog.