The MSCI US REIT (RMZ) had a return of -0.2% for the week, trailing the S&P 500 (SPY) with a return of 2.3% as trade tensions eased towards the end of the week. Self-Storage, Specialty, and Timber REITs pulled back the most, while Single Family Home REITs led all sectors with a 1% return, led by both Invitation Homes (INVH) and American Homes 4 Rent (AMH).
Data Center REITs followed up a strong week last week with a modest 0.5% return on average but Lodging REITS, which posted a 4.2% return last week, and were the second best performers, fell in line with the broader index. That is, with the exception of InnSuites Hospitality (IHT), which followed up a 20% return with another 9%.
To the downside, Farmland Partners (FPI) was down 39% mid-week as reports alleged shady accounting practices. The stock recovered 13% later in the week and was upgraded by at least one analyst even as that analyst reduced his price target by $0.50 to $8.00 – a 50% upside from the then current price.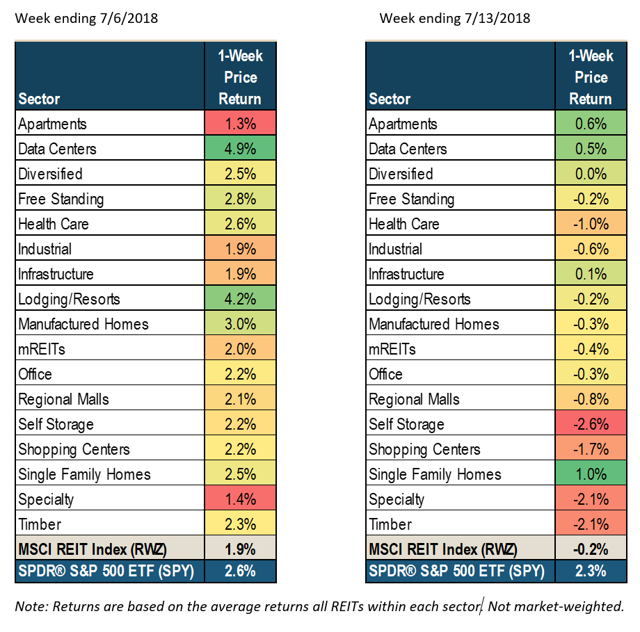 Top and Bottom Performers
Top 5

Bottom 5

Economic Summary
Economic news continues to be positively skewed but I will point out that some metrics, such as CPI and mortgage rates could potentially become headwinds to continued economic expansion. With CPI reaching 2.9% on a year to year basis, there is a good chance – and the probability according to forecasts, is that there will be more rate hikes than initially thought.
NFIB Small Business Optimism
The small business optimism index keeps humming along, coming in at 107.6 this week – yet another all-time high. The underlying components also reveal a high level of expectations. 18% of those surveyed expect to increase employment while 30% plan to increase capital investments. Since small businesses account for the majority of jobs in the US, there is a good chance that the labor market continues to improve.
The biggest positive change in the NFIB survey, however, was an 11% increase in the number of respondents who thought this was a good time to expand. Considering that any trade spats will be less likely to affect smaller businesses, it's not surprising the index remains elevated.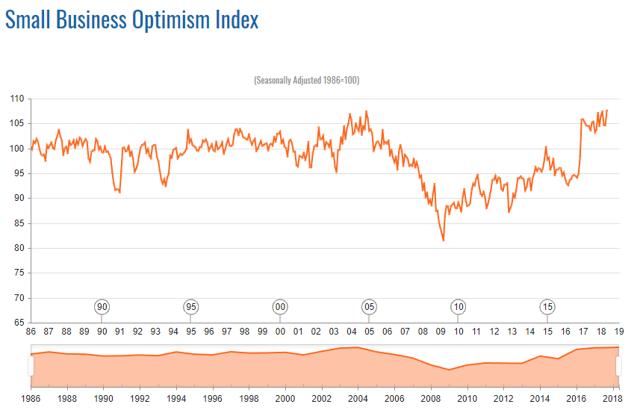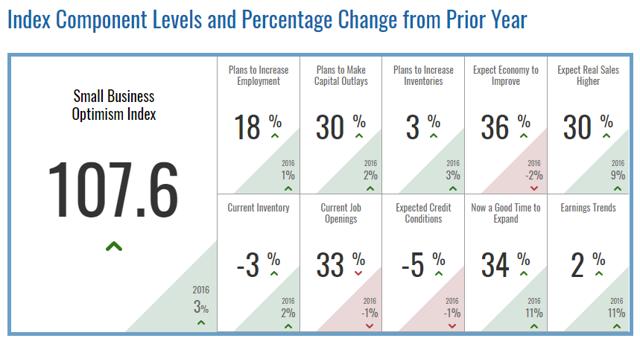 Redbook
The Redbook index popped up again and although the index is volatile, the general trend since early to mid-2016 has been upward. This is indicative of strong consumer spending and even though online sales continue to grow at a faster pace than brick and mortar sales, almost 90% of retail sales are still attributable to physical locations. This is positive for Mall and Shopping Center REITs even as they adjust their strategies to focus more on experiential products and retailers with less online competition. Furthermore, many retailers are restrategizing using on omni-channel approach which will still include a strong physical presence, even as business models evolve.
I do want to point out that the period to period data for the Redbook index has become more volatile lately and that the last time the index exhibited this type of movement in late 2014, it quickly declined and remained depressed for a couple of years.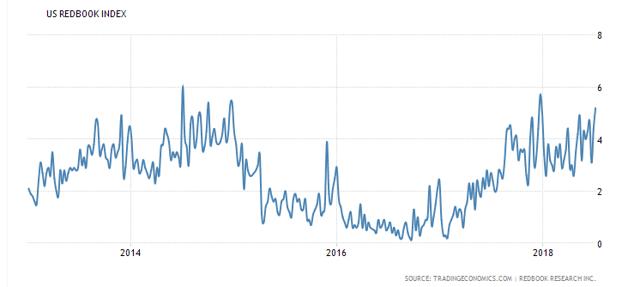 MBA 30-Year Mortgage Rate
Mortgage rates seem to have stabilized at around 4.5% and although they are higher than they were just 2 years ago, from a long-term historical perspective, rates are still very low. I've mentioned on several occasions the improvement in new home sales but the still relatively low levels of existing home sales – which make up for an overwhelming majority of single family home sales. The latter have improved, but remain at levels well below previous highs due to limited inventory of homes on the market. This is driving up prices, which when combined with even a small increase in mortgage rates, could start impacting affordability and buying decisions. Just as millennials began to be interested in homeownership, home affordability could limit their participation until rental rates become even more painful. Low affordability is positive for Apartment REITs and Single Family REITs.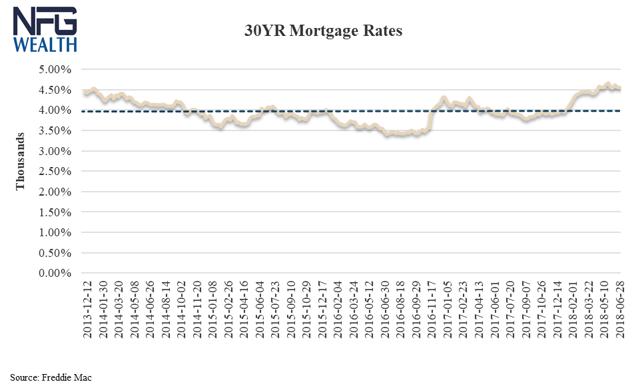 Core PPI/CPI
It's official. We have inflation. The headline CPI number came in at an annual increase of 2.9% while the core CPI figure was up 2.3% year over year. The chart below shows the period to period change.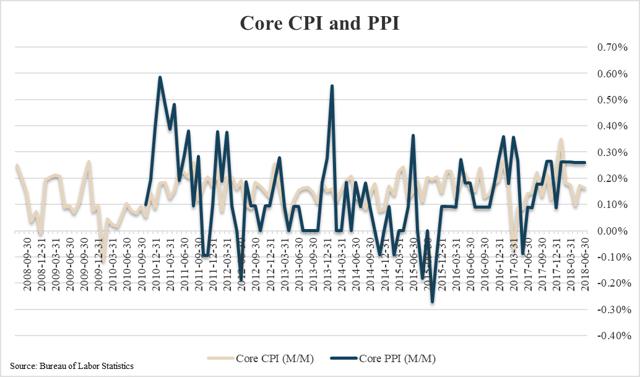 Initial Jobless Claims
Initial claims reversed on upward trend and the 4-week moving average declined slightly to 223,000. This is a good indication that the labor market remains strong even after last week's increase in the unemployment rate.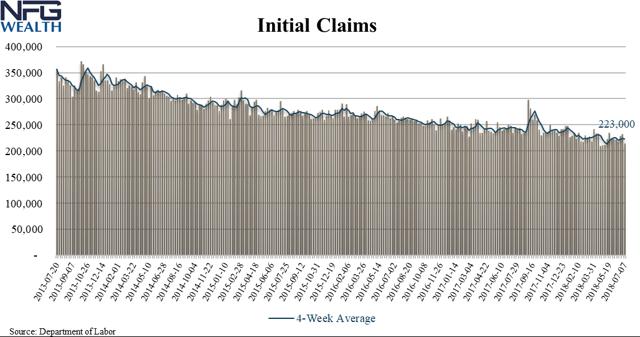 Michigan Consumer Sentiment
Two declines in a row on the Michigan Consumer Sentiment index is nothing to worry about in light of the still lofty 97.1 reading. However, it is definitely something to watch. Trade tensions seem to have eased towards the latter part of the week so it will be interesting to see if the index recovers back to its previous high and/or trade war talks had any impact on consumer confidence. By the looks of retail sales and labor market, consumer sentiment will likely remain high for the time being.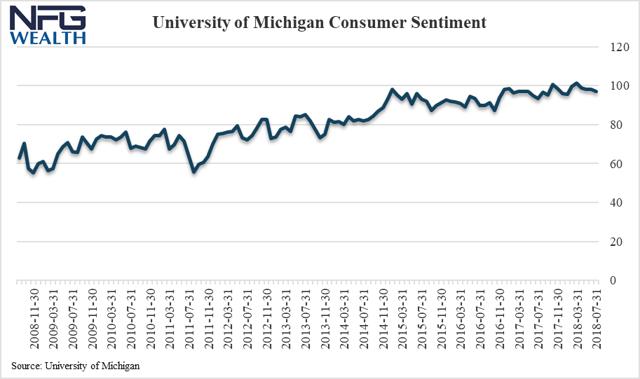 Select News Highlights
Please note these are highlights and have not been further analyzed beyond announced information.
Kimco (KIM) sales activity was $330M, which brings $556M for 1H 2018. The company sold 17 shopping centers totaling 2.7 million square feet. The target remains total dispositions of $700-$900 million.
With earnings season starting soon, not much on the news front. However, earnings calls will be starting soon and I will try as much as possible to provide summaries of as many of the calls as I can possibly cover with my team.
Analyst Upgrades/Downgrades
Upgrades
DA Davidson increases Armada Hoffler Properties (AHH) to $18 from $15.
Downgrades
American Tower (AMT) downgraded by Raymond James to market perform and was also cut by JP Morgan to Neural.
Next Up:
We've published the article on Potlatch Deltic (PCH). I am currently in the process of editing a report on Preferred Apartments (APTS) and Global Self Storage (SELF) is still in the pipeline.
Disclaimer: Please note, this article is meant to identify an idea for further research and analysis and should not be taken as a recommendation to invest. It is intended only to provide information to interested parties. Readers should carefully consider their own investment objectives, risk tolerance, time horizon, tax situation, liquidity needs, and concentration levels, or contact their advisor to determine if any ideas presented here are appropriate for their unique circumstances.
Past performance is not an indicator of future performance.
Investing in any security has risks and readers should ensure they understand these risks before investing.
Real Estate Investment Trusts are subject to decreases in value, adverse economic conditions, overbuilding, competition, fluctuations in rental income, and fluctuations in property taxes and operating expenses.
This post is illustrative and educational and is not a specific offer of products or services.
Information on this blog is not an offer to buy or sell, or a solicitation of any offer to buy or sell the securities mentioned herein, nor is the author compensated by any of the products mentioned.
Information presented is believed to be factual and up-to-date, but we do not guarantee its accuracy and it should not be regarded as a complete analysis of the topics or subjects discussed.
Information presented is not believed to be exhaustive nor are all the risks associated with the topic of each article explicitly mentioned. Readers are cautioned to perform their own analysis or seek the advice of their financial advisor before making any investment decisions based on this information.
Investment decisions should be based on an individual's own goals, time horizon, and tolerance for risk. Nothing in this content should be considered to be legal or tax advice and you are encouraged to consult your own lawyer, accountant, or other advisor before making any financial decision.
All expressions of opinion reflect the judgment of the author, which does not assume any duty to update any of the information
Any positive comments made by others should not be construed as an endorsement of the author's abilities to act as an investment advisor.
If you enjoyed this article, please click on the "Follow" link at the top of the article.
REITs, Opportunities, & Income (ROI): High potential ROI investment ideas for your portfolio
ROI is focused on more than single REIT stock ideas. It's highly valuable, in-depth, institutional-quality research designed to save you time while helping you become a better-informed investor. At ROI, I share my best ideas on REITs and other asset classes, including a concentrated REIT portfolio designed to outperform the MSCI US REIT Index with lower volatility. Join our community today!
Disclosure: I am/we are long BXP.
I wrote this article myself, and it expresses my own opinions. I am not receiving compensation for it (other than from Seeking Alpha). I have no business relationship with any company whose stock is mentioned in this article.
Additional disclosure: Long
BXP
CIO
MNR
KIM
RPAI
SPG
MAC
STOR
O
EDR
IRT
APTS
UMH
AMH
AHT
SELF
GMRE
HTA
SBRA
PCH
AMT
UNIT
CCI
CORR
CONE
QTS
IIPR
BXMT
Editor's Note: This article covers one or more microcap stocks. Please be aware of the risks associated with these stocks.